13 UT Football Players Test Positive for COVID After Returning for Practice
Thirteen members of the University of Texas football team who returned to the campus on June 8 for off-season workouts have tested positive for COVID-19, according to Bleacher Report.
The players reported to the U.T. training facility in Austin for voluntary workouts and were tested when they arrived, John Bianco, spokesman for the University of Texas athletic department, said in an email to Newsweek. The university declined to release the names of the players, or say what impact this could have as players begin preparing for the upcoming NCAA season.
The 13 players who tested positive are in self-isolation, while 10 others who came in contact with the players are asymptomatic. Four players have tested positive for the coronavirus antibodies, according to the university.
"We did have some student-athletes test positive for COVID-19 and are following all of our protocols, policies, and procedures for self-isolation, contact tracing and management of those affected," UT Athletic Director Chris Del Conte said in a Texas Tribune report. "We will continue to report the number of cases as we receive confirmation and clearance to do so."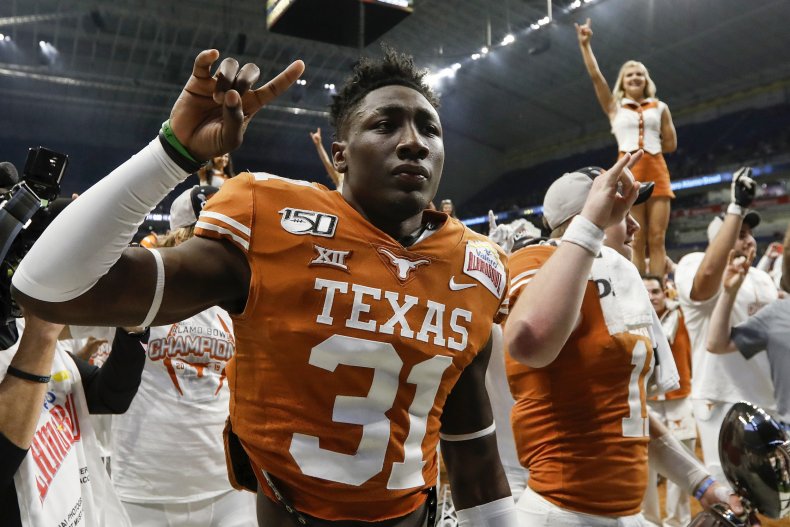 Last week, the university announced that two of its players had tested positive for COVID-19 and were self-isolating, while another tested positive for the antibody.
Players will not be allowed to return to the facility until they are symptom-free without the use of medication.
Meanwhile, players at other universities have also tested positive for COVID-19
On June 5, Sports Illustrated reported that five players from the University of Alabama had tested positive for the novel coronavirus, while CBS sports reported that three players on the Oklahoma State University football squad had also tested positive.
On June 9, the Miami Herald reported that four players from two Florida universities had tested positive for COVID-19
The University of Texas canceled spring workouts in March and closed its practice facility prior to Texas Governor Greg Abbott issuing a state-wide stay-at-home order that went into effect March 30.
The school issued a statement on its website on Wednesday that a plan was being implemented for Austin Public Health to contract with Dell Medical School to conduct contact tracing for UT community members who test positive for COVID-19 when the campus reopens for the fall semester.
"As a university, we are continuing to use all of the talent on our campus, as well as the guidance of epidemiologists and other medical experts, to finalize a strategy for the upcoming fall semester," the university said.