A 13-year-old was arrested and charged with a hate crime after allegedly assaulting two Sikh teens at a Long Island mall on May 29, according to a police report.
The police said that the teen, whose name was not released, was arrested and charged for punching another teen and making biased comments, reported WNBC.
Yuvraj Bindra, 13, and his friend, Chaz Bedi, also 13, were at the shopping mall in Huntington, N.Y. when another group of teenagers allegedly began to verbally harass them, and Bindra recalled one attacker shouting, "Hey, Mohammed, come here. I'll knock that ball off your head," in reference to the Patka—Sikh head coverings—the teens were wearing.
Bedi told WABC that he and Bindra walked up to the teenagers, exchanged a few words, and decided to walk away. Bedi said that the group began to follow them and that one of the other teenagers might have been recording the interaction on their phone.
Then one of the teens allegedly punched Bedi in the face. They told WABC that they ran and hid inside a clothing store, and then found their way into a Macy's department store, where a worker asked them if they needed help.
The worker reportedly called mall security, who kicked the group of teenagers out.
Police reportedly found the teens back on the property a few hours later and detained them for questioning. WABC reported that the teenagers had tried to justify their actions by allegedly telling the mall security that the two Sikh teens were going to blow up the mall.
"You're going to stereotype them and say like now we're terrorists! This is so disturbing that young kids can say something like that to protect themselves," Bedi's father, Satbir Singh, told WABC.
The teenagers were released to their parents later that night, and police had been investigating the incident as a hate crime. On Friday, Suffolk County police announced the arrest of a 13-year-old teen on a charge of aggravated harassment as a hate crime, WNBC reported.
Suffolk County Police told Newsweek that "the teen will be arraigned at Suffolk County Family Court at a later date."
"We applaud the young boy's and his family's courage to speak out about this hate incident," Afaf Nasher, executive director of the New York Council on American-Islamic Relations told WABC. "Too often, our Sikh brothers and sisters are targeted in hate crimes and other forms of discrimination."
Neither teen suffered any serious injuries, reported WNBC.
In May, another incident took place in New York when a Sikh man, Sumit Ahluwalia, was hit in the back of the head with a hammer by a man who attacked him at the hotel where Ahluwalia worked. The suspect was arrested shortly after and charged with assault, menacing and criminal possession of a weapon, reported WCBS.
The Sikh Coalition reported that recent data showed a 200 percent uptick in hate crimes against the Sikh community.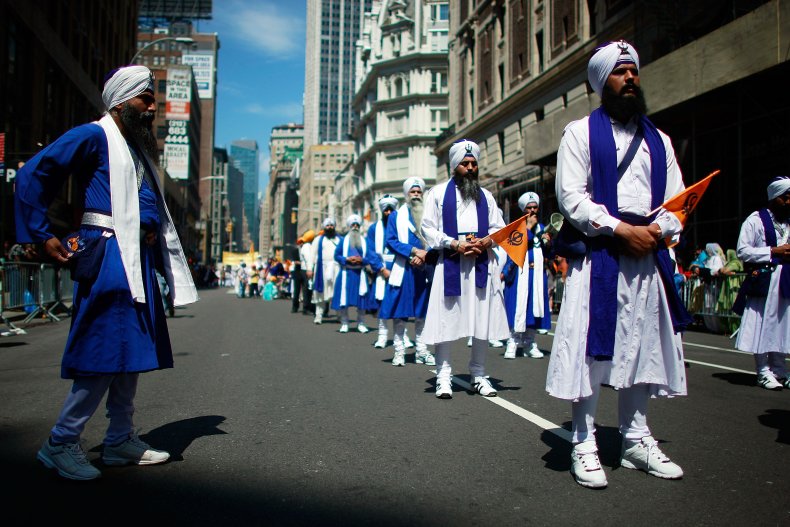 Correction 06/04/21, 4:50 p.m. EDT: The headline in this story was corrected to add "allegedly."