Police in Tuscon, Arizona, say that a 13-year-old boy killed his mother on Tuesday during a fight over video games.
Tucson news station KGUN reported that the boy allegedly admitted to police that he attacked his mother.
In a news release on Wednesday, the Tucson Police Department wrote that around 9 p.m. on Tuesday a 911 caller told dispatchers that his neighbor "came over seeking help, after she had been stabbed in her home."
"Dispatchers were also informed that the suspect was the victim's son and that he fled from the area after the stabbing," police said.
First responders arrived and began giving aid to the victim. Police eventually located the suspect and identified him as 13-year-old Isaiah Ainuu.
Hours later, the victim, who was identified as 60-year-old Mary Ainuu, died from her injuries and was pronounced dead at a hospital, police stated.
"After processing the scene and collecting evidence, detectives believe Isaiah was in a verbal confrontation with his mother. As the confrontation escalated, the victim was physically assaulted and ultimately stabbed. No one else was present in the home at the time of the incident," police wrote in the news release.
Detectives charged Isaiah Ainuu with 1st degree murder/domestic violence and he has been booked into the Pima County Juvenile Detention Center.
Citing a sworn statement from Tucson police, KGUN reported that investigators said Ainuu told them he had been arguing with his mother over video games on the night of the attack.
According to KGUN, the boy allegedly told police he hit his mother in the head with an exercise weight before stabbing her eight to nine times.
When reached for comment, the Tucson Police Department referred Newsweek to its initial press release about the alleged killing.
In a separate incident in November, police said that a 15-year-old boy in Texas admitted to fatally shooting his mother in the head. When police spoke with the 15-year-old, they said he "provided a full confession to the homicide detective."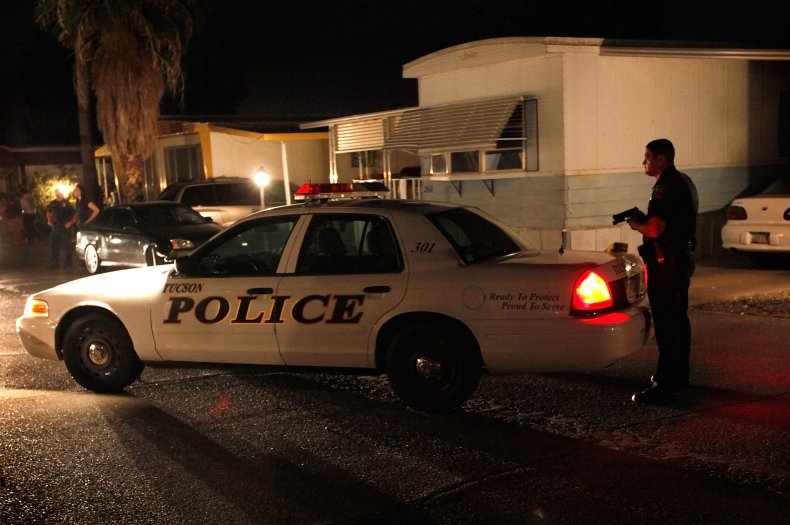 At the time, police said the teenager would be charged with capital murder.
On Thanksgiving Day in 2021, an 18-year-old was charged in connection with the death of his mother. Police said that Marcia Chance, 42, was stabbed to death at her home near Lawrenceville, Georgia. Police arrested her son, Varian Hibbert, who was at the scene.
He was charged with felony murder, aggravated assault and possession of a knife during the commission of a felony, according to police.