13-Year-Old Student Arrested for Threatening to Shoot up Florida School, Saying 'I'm Ready Let's go'
An 8th grade student in Florida was arrested yesterday after allegedly taking part in an online conversation which made reference to a school shooting, police say.
The youth division of the Leon County Sheriff's Office said it received information about a threat of violence that was made on social media. Upon investigation, it was tracked to a 13-year-old student at Swift Creek Middle School, Tallahassee. The teenager was not named.
Police said the student had posted a picture of himself holding a bag roughly two months ago alongside the caption "Let's see if I can shoot the pistol with my left hand."
Two weeks ago, another person commented on the picture, stating: "Let's see if we can shoot up the school with both." The 13-year-old student allegedly then responded "I'm ready let's goo."
The comment was not appreciated by the local police department, which charged the teen with Written Threats to Do Harm, despite finding no evidence he planned to act on the threat. The Leon County Sheriff's Office said in a release yesterday its probe remains ongoing.
"As we start the new school year, Leon County Sheriff's Office would like to remind everyone it takes all of these threats seriously and those making them will be dealt with accordingly," read a no-nonsense statement released by law enforcement officials said following the boy's arrest.
The graphic below, provided by Statista, illustrates how the pro-gun lobby outspends those calling for gun control.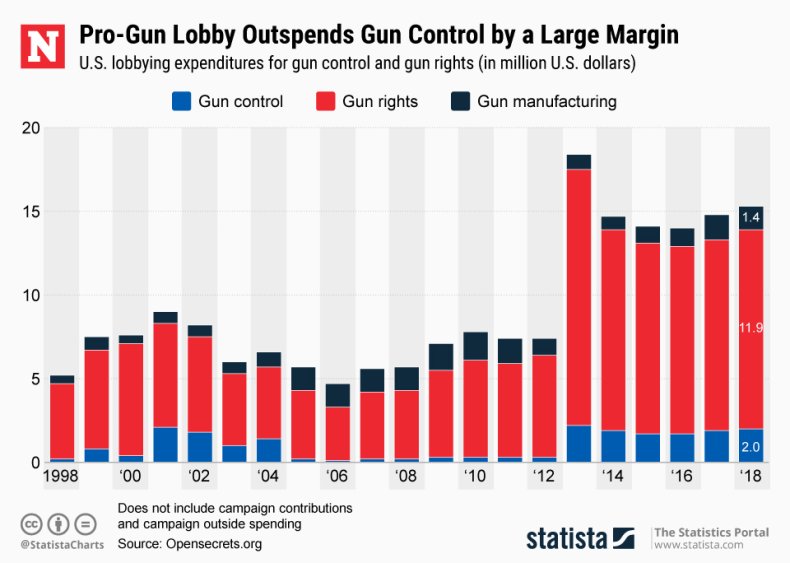 In a similar but seemingly separate case this week, the Wakulla County School Board announced that a high school student who had made a social media threat had been flagged by the FBI.
Federal agents told the board of the potential threat on Tuesday at approximately 7:45 p.m. The student was questioned at his or her home and parents had been made aware of the incident.
"The person who made the post is currently enrolled at Wakulla High School. After talking with the parent and the student, an investigation was opened and is currently ongoing," the sheriff said in a statement that was posted to Facebook yesterday, without naming the suspect.
"See Something, Say Something worked to the safety of everyone in our community. We do not have any reason to suspect that there is a threat to anyone's safety at the school," he added.
The FBI found the teenager's address by tracking the location of the device from which the threat was first sent.
Yesterday, WCTV reported officials in Georgia had launched an investigation after a Snapchat post was made by a teenager which included a message threatening to bring weapons into Lowndes Middle School. The suspect was taken into custody on Monday after a tipster spotted the message and reported it to police. No weapons were found during a search of the juvenile's home.
Sheriff Ashley Paulk said: "Anything like that we're going to take very seriously, especially in this climate. Look at El Paso, look at Ohio, loot at all the other things. I want the public to be aware, and I want parents to be aware that they need to kind of monitor what their children do."