130 Mice Rescued From Home After Mating Situation 'Spiraled Out of Control'
Britain's largest animal charity is looking to rehome more than 130 mice that were rescued from a home where a pet owner found themself in over their head.
The RSPCA was called to a house in Atherstone, Warwickshire, in April after becoming aware Natal Multimammate mice were being kept in poor conditions. Upon arrival, they found 136 mice in the home, which may have been the result of the breed being able to have large litters and the owners failing to neuter them or separate the mice by sex.
"The situation had spiraled out of control," the RSPCA told Newsweek.
Rodents, in general, are known for having active mating habits and with up to 24 nipples, many more than the standard mouse, the Natal Multimammate is known for being a prolific breeder. Females breed throughout the year and a litter can range from 10 to 16 babies.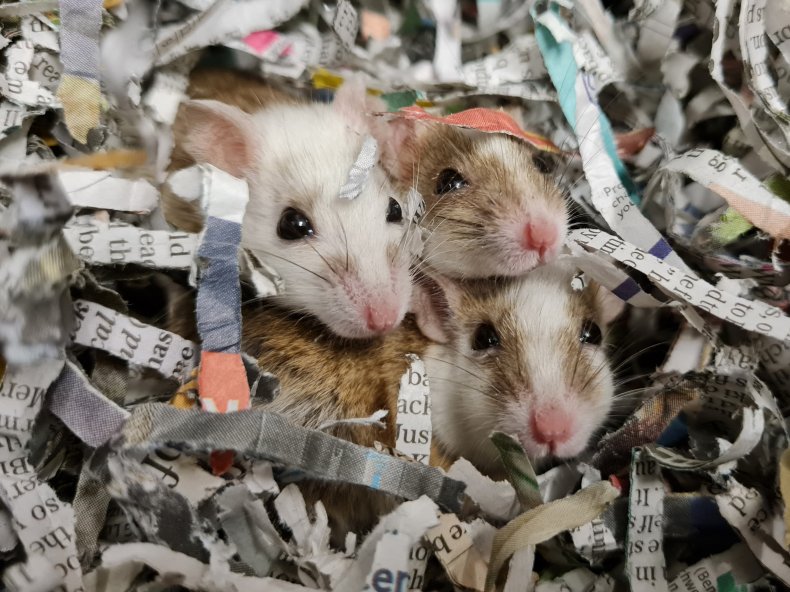 RSPCA inspector Richard Durant, who went to the property, said some people may not realize animals will inbreed and therefore need to take steps to prevent reproduction.
It's unclear how many animals the owner originally purchased but Durant noted that it can be difficult to properly care for 136 rodents. So, the RSPCA was "happy to step in" to provide advice to the owner and help re-home the mice.
Given the large number of animals, the RSPCA spread the rodents out among centres in seven locations. The West Hatch Animal Centre in Taunton took in the largest number, 36 mice, followed by the Millbrook Animal Centre in Chobham with 16 mice.
The RSPCA noted that the mice, also referred to as the Common African Rat, aren't "always the easiest to handle." Ideally, the group is hoping to find a pet owner who has experience with small furries and rodents so they are used to handling the animal and have the right environment in place.
The mice, the RSPCA said, will need a "spacious glass home with good ventilation" so they can explore but not escape. Several websites suggest a glass aquarium with a mesh top. A listing on the RSPCA's website notes that the mice at the Chobham facility are being adopted in pairs or as a group of four and that they will need gentle regular handling since they're "a bit shy."
Along with the mice the centre in Martlesham took in, they noted on their website that they had several mice born at the facility so they have more to rehome than initially expected.