Tragic images have emerged showing at least 135 short-finned pilot whales dead on a western Australian beach, as a mass beaching left the shoreline littered with giant carcasses.
At least 135 whales have been confirmed to have died in Hamelin Bay, on the tip of Western Australia state, The West Australian reported. The whales were first discovered by a local fisherman early on Friday morning.
Rescuers were rushing to save 15 survivors, with local volunteers and vets attempting to keep them alive while they waited for a suitable time to help them back out to sea. People are now being asked to avoid the beach to prevent overcrowding.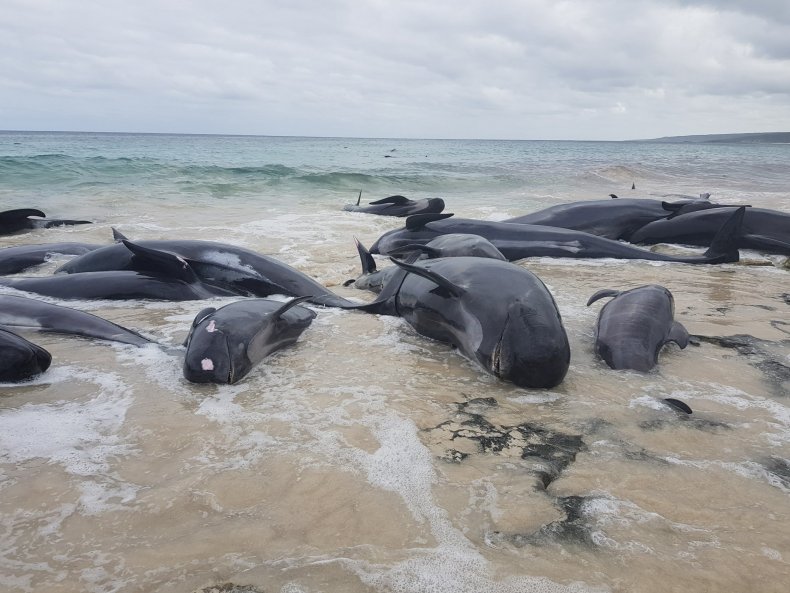 Jeremy Chick, incident controller at Western Australia's conservation department, explained, "Most of the whales beached themselves on dry land overnight and have not survived."
While rescuers are hoping to be able to get the survivors back out to deeper waters, "The strength of the animals and the windy and possibly wet weather conditions will affect when and where we attempt to move them out to sea," Chick said. Witnesses described seeing one whale being herded back out into the ocean, only to return and re-beach itself.
Authorities also warned people to stay out of the water, noting that the smell of dead and dying whales could lure sharks to the waters off the beach. Within hours, a 10-foot shark had been seen swimming in the bay.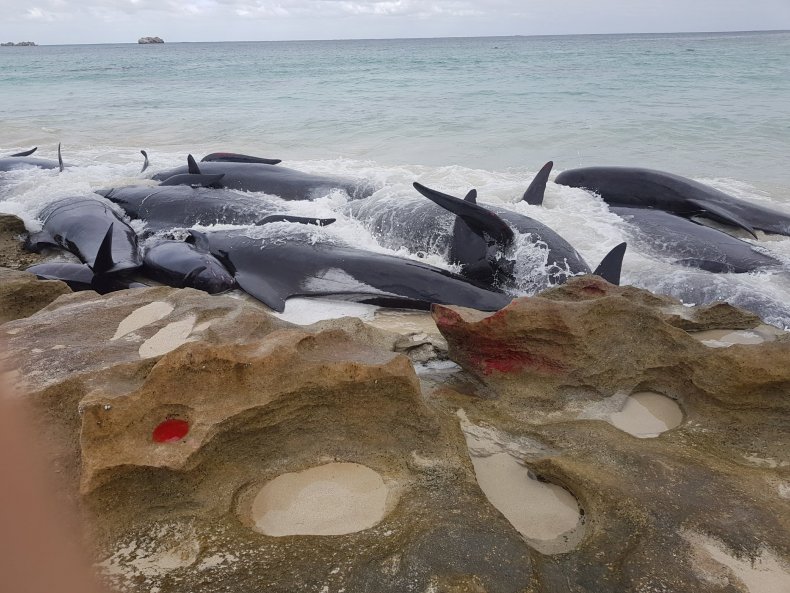 Whales regularly beach themselves while migrating between feeding grounds in Antarctica and warmer northern waters where they raise their calves, but it is striking to see such a large number stranded at once.
Fully-grown adult pilot whales generally weigh between 2,200 and 6,600 pounds, and adult makes grow to around 18 feet long. The lifespan of a female pilot whale can be around 60 years; longer than males at around 45.
Melissa Lay, manager at the Hamelin Bay Holiday Park, spoke to Reuters by phone and said this was the second large beaching event she had seen during her 15 years living nearby. "There are some that are still alive but barely," Lay said. "The last time it happened, none survived."
The largest mass beaching in Western Australian history was in 1996, when 320 long-finned pilot whales were stranded on a beach in Dunsborough, some 50 miles from Hamelin bay, the Guardian reported. The newspaper said it was unusual to see groups of short-finned pilot greater than 100.