14 Children With Disabilities, Families Sue Gov. Abbott Over Ban on Mask Mandates
Fourteen children with disabilities and their families have filed a federal lawsuit against Texas Governor Greg Abbott and Texas Education Agency Commissioner Mike Morath, arguing that the statewide ban on mask mandates puts up an "unlawful barrier" for children with disabilities to access public education.
The lawsuit, filed Tuesday night by Disability Rights Texas on behalf of 14 children with disabilities (and other conditions that put them at high risk of serious illness or death if they are exposed to COVID-19), contends that the GOP governor's executive order banning mask mandates "violates the federal Americans with Disabilities Act and Section 504 of the federal Rehabilitation Act."
The anonymous plaintiffs, ranging in age from 4 to 11, are seeking a federal temporary restraining order to stop enforcement of the mask mandate ban, which would allow public health authorities and school district officials to require masks indoors.
They hope the temporary stop would lead to a permanent ban, arguing that the order violates anti-discrimination language in federal law. In addition to the alleged violation of the Americans With Disabilities Act, Section 504 of the Rehabilitation Act prohibits "deny[ing] access to programs, services, benefits or opportunities to participate as a result of physical barriers," which includes children's access to public education.
On May 18, Abbott, who recently confirmed he has COVID-19, issued an executive order banning governmental mask mandates, saying that "Texans, not government, should decide their best health practices." The order bars counties, cities, school districts and public health authorities from requiring mask-wearing.
Many districts have sought workarounds through dress code loopholes or temporary restraining orders, via state courts, that have been struck down. This is the first federal lawsuit that seeks a restraining order from a federal judge.
"Disability Rights Texas is working overtime responding to parents in the same horrible predicament of our plaintiffs," Dustin Rynders, an attorney for the plaintiffs, wrote in an email to Newsweek. "Children with disabilities need to attend school, but can't do so in this environment without universal masking for all who can wear them. We won't stop fighting for children with disabilities to be able to attend schools safely. The Governor's order cannot stand."
"Governor Abbott cares deeply about the health and safety of disabled students, as he does for all Texas students," Abbott's press secretary wrote in an email to Newsweek. "Since his accident that left him paralyzed, the Governor has worked throughout his career to protect the rights of all those with disabilities in Texas."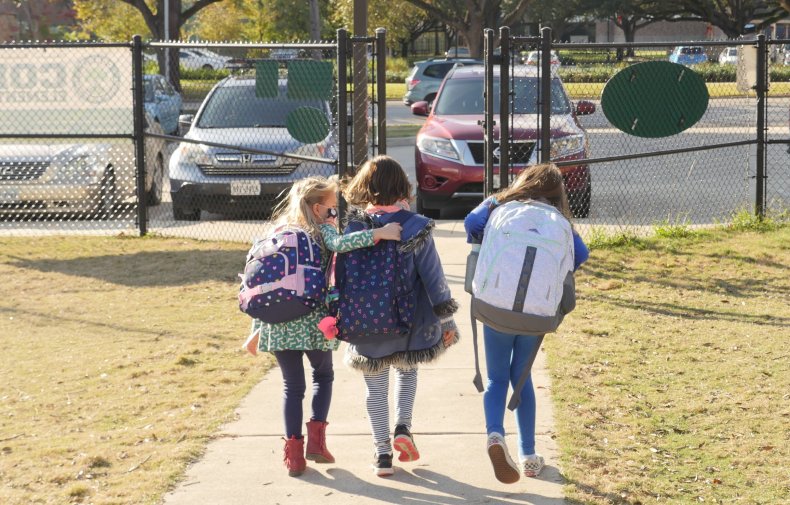 The families of the plaintiffs say they are just trying to ensure a safe learning environment for their children.
"Having to make a choice between my daughter's education or her life—what kind of choice is that?" Julia Longoria, whose 8-year-old daughter is a plaintiff in the lawsuit and goes to school in San Antonio, told the American-Statesman.
According to an online list kept by Texas Attorney General Ken Paxton, 48 Texas school districts, charter schools and seven counties have implemented mask mandates in defiance of the executive order.
Updated 08/18/2021, 6:28 p.m. ET: This story has been updated with a statement from Governor Greg Abbot's press secretary and another from a lawyer for the plaintiffs.