14 John Lennon Quotes to Celebrate What Would Have Been His 80th Birthday
Today, John Lennon fans are celebrating what would have been the artist's 80th birthday.
As a co-lead singer and guitarist for The Beatles, Lennon has won and inspired countless fans with his impeccable songwriting and vocal talent. However, he was beloved just as much for his avid activism and constant calls for peace. His words at peace rallies and concerts captured the hearts of millions, and have since become quotes people live by even today.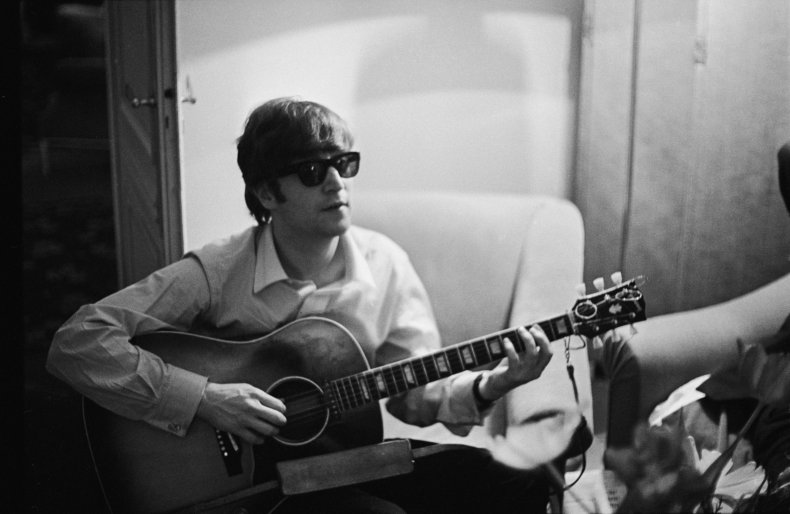 To celebrate Lennon's milestone birthday, we've compiled a list of quotes to comfort and enlighten fans today and beyond.
"All we are saying is give peace a chance." — "Give Peace a Chance," 1968
"You don't need anybody to tell you who you are or what you are. You are what you are!"— statement to the press in 1969, The Beatles: An Oral History
"Remember love. The only hope for any of us is peace. Violence begets violence. If you want to get peace, you can get it as soon as you like if we all pull together." — statement to the press in 1969, The Beatles: An Oral History
"We're trying to sell peace, like a product, you know, and sell it like people sell soap or soft drinks. And it's the only way to get people aware that peace is possible, and it isn't just inevitable to have violence. Not just war—all forms of violence." — The David Frost Show, 1969
"When we say, 'War is over if you want it,' we mean that if everyone demanded peace instead of another TV set, we'd have peace." — Bed-In for Peace, 1969
"When it gets down to having to use violence, then you are playing the system's game. The establishment will irritate you—pull your beard, flick your face—to make you fight. Because once they've got you violent, then they know how to handle you. The only thing they don't know how to handle is non-violence and humor." — Bed-In for Peace, 1969
"When I was about 12, I used to think I must be a genius, but nobody's noticed. Either I'm a genius or I'm mad, which is it? 'No,' I said, 'I can't be mad because nobody's put me away; therefore I'm a genius.' Genius is a form of madness and we're all that way. But I used to be coy about it, like me guitar playing. But if there's such a thing as genius—I am one. And if there isn't, I don't care." — Rolling Stone magazine, 1970
"The thing the '60s did was to show us the possibilities and the responsibility that we all had. It wasn't the answer. It just gave us a glimpse of the possibility." — KFRC RKO Radio, 1980
"Life is what happens to you while you're busy making other plans." — "Beautiful Boy (Darling Boy)," 1980
"I really thought that love would save us all." — RKO Radio, 1980
"I don't believe in yesterday, by the way. You know I don't believe in yesterday. I am only interested in what I am doing now." — Playboy, 1980
"Nobody controls me. I'm uncontrollable. The only one who controls me is me, and that's just barely possible." — Playboy, 1980
"Happiness is just how you feel when you don't feel miserable." — The Beatles Anthology, 2000
"Reality leaves a lot to the imagination." — as quoted in the Sunday Herald Sun, 2003