14 Members of Texas Family Contract Coronavirus After Backyard Barbecue
Fourteen members of a Texas family tested positive for the novel coronavirus after some attended a small barbecue and went on to spread the illness to their relatives.
Tony Green, a Dallas resident, detailed his extended family's experience with COVID-19 in a personal essay published on Friday. The essay's publication came nearly one month after his father-in-law's mother passed away from health complications caused by the respiratory infection. Green and his father-in-law, Rafael Ceja, were both hospitalized one week earlier.
"The virus had attacked my central nervous system, and the staff stopped me from having a stroke," Green wrote in Friday's essay.
The family get-together, which Green's parents and in-laws both attended, took place at his home on June 13. All six went on to test positive for COVID-19 during the week that followed, as did additional family members visited by his in-laws at the onset of their symptoms. Five more of Green's family members tested positive in mid-July, on the day of Ceja's mother's funeral.
Ceja was placed on a ventilator roughly three weeks into his hospital stay. He remained in critical condition on Friday. Green created a GoFundMe campaign to raise money for Ceja's medical bills last week. The campaign has raised more than $7,250 of its $10,000 goal as of Sunday afternoon.
Green admitted he underestimated the coronavirus pandemic's seriousness before his family became ill.
"I admit traveling deep into the conspiracy trap over COVID-19," he acknowledged. Green described himself as a gay conservative in his recent essay, and said he voted to elect President Donald Trump in 2016.
"You cannot imagine my guilt at having been a denier, carelessly shuffling through this pandemic, making fun of those wearing masks and social distancing," he continued. "For those who deny the virus exists or who downplay its severity, let me assure you: The coronavirus is very real and extremely contagious. Before you even know you have it, you've passed it along to your friends, family, coworkers and neighbors."
Newsweek reached out to Green for additional comments, but did not receive a reply in time for publication.
Almost 376,000 people have tested positive for COVID-19 in Texas throughout the pandemic, according to the Texas Department of State Health Services (DSHS). Of those diagnosed, at least 4,885 have died. The health department estimates roughly 221,000 people who contracted the virus earlier during the outbreak have since recovered.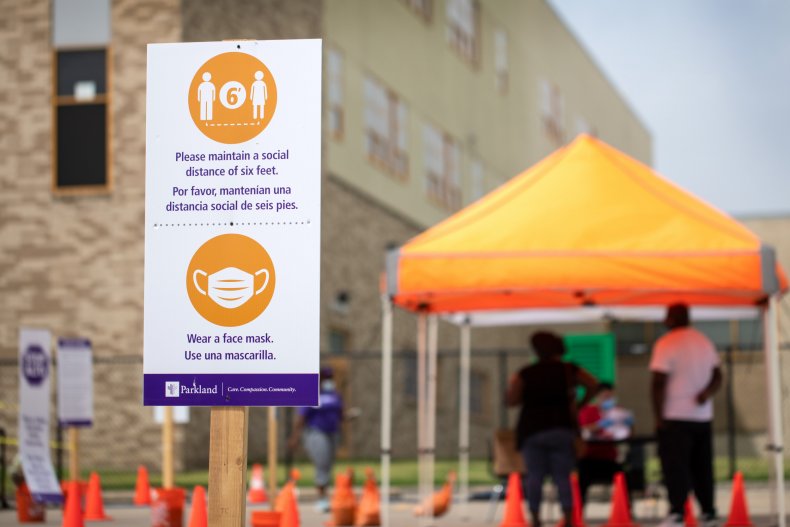 Texas is one of several U.S. states where virus transmission spiked in early June. Officials have confirmed the vast majority of Texas' total diagnoses—more than 300,000—since June 1. Dallas County has confirmed the state's second-highest overall incidence of COVID-19 infections. Its case total is less than 20,000 infections behind diagnoses confirmed in Harris County, which encompasses Houston.
Businesses and public spaces began to reopen across Texas at the end of April. In response to rising case counts and an influx of new hospitalizations related to COVID-19, Texas Governor Greg Abbott and the DSHS scaled back reopening permissions, implemented a face mask order for most counties and lowered capacity limits for group gatherings to 10 people. The updated protocols urge anyone socializing with individuals outside of their immediate household to maintain six feet of distance from one another in all group settings.