14-month-old Twin Girls Joined at Stomach to be Separated with Surgery
14-month-old conjoined twins who are connected at the stomach have been flown to Australia for separation surgery.
Nima and Dawa Pelden, who are from Bhutan, will be operated on at The Royal Children's Hospital in Melbourne. Following extensive scans, doctors have identified that the two likely share a liver and part of a bowel, but that each has their own heart and lungs. The sisters are joined facing each other, making it impossible to sit down. They can stand at the same time, however.
The mother, 38-year-old Bhumchu Zangmo, said it was becoming increasingly difficult to care for her two girls. Speaking to reporters on Tuesday, Dr Joe Crameri said his staff need to "very quickly gather a lot more information.
"Once we have the information we will be able to formulate a more correct plan for how we can separate these twins but at the moment we remain confident that we should be able to achieve that in a single operation and we should be able to achieve a good outcome for both twins," Crameri said, according to The Guardian.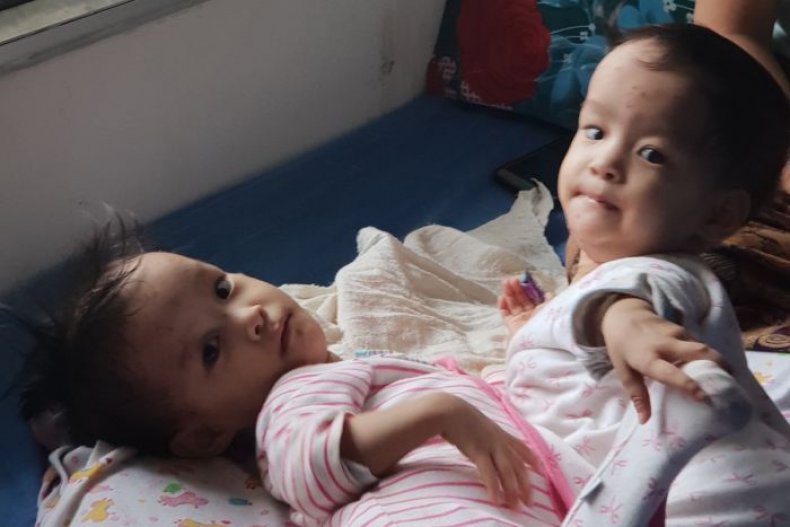 "We know the key areas we are going to have to focus on are going to be the bowel and liver, they seem to be the major areas. Their life is getting very complicated now that they are old enough to mobilise when essentially they are facing one another and that makes it very difficult for the twins."
The operation is being paid for by a fundraising campaign, orchestrated by the Children First Foundation. So far, it has raised just under 46,000 Australian dollars out of its AU$350,000 goal. The money will cover the operation as well as 24-hour care for the twins as they recover. Two teams of surgeons will be on hand, one for each twin, during the operation.
Children First Foundation chief executive Elizabeth Lodge said the twins will be looked after at a farm house in Kilmore following the surgery. "Mum says the twins are getting frustrated with each other," Lodge said, according to the Sydney Morning Herald.
"We have a team of physiotherapists working with us pro bono, which is amazing. So we'll get them crawling and rolling and hitting all those marks that most 14-month-old girls are probably hitting by now," said Lodge.
Speaking to the ABC, Dr Mark O'Brien said the operation appeared to be "at the easier end of the spectrum" in regards to separating conjoined twins. "Sometimes you have to make a decision that one twin would not make it," O'Brien said.
"That does not appear to be the case with these two and we are hoping with the information we have to date that both twins will survive the surgery and go back to Bhutan."