14 U.S. Cities Still Waiting for Trump Campaign to Pay Nearly $2M in Police, Public Safety Bills
President Donald Trump's re-election campaign owes nearly $2 million to 14 U.S. cities for unpaid police and public safety bills.
According to the Center for Public Integrity (CPI), interviews with municipal officials and municipal records and statements show that Trump's campaign has not paid at least 14 bills totaling more than $1.82 million. The unpaid money was used to cover public safety and police costs related to the president's campaign rallies.
The 14 cities are Spokane, Washington; Billings, Montana; Mesa and Tucson, Arizona; Albuquerque, New Mexico; El Paso, Texas; Minneapolis and Eau Claire, Minnesota; Green Bay, Wisconsin; Battle Creek, Michigan; Lebanon, Ohio; Erie, Pennsylvania; Burlington, Vermont; and Wildwood, New Jersey.
The Trump campaign's largest unpaid bills were from El Paso and Minneapolis, with $569,204 and $542,733, respectively, according to CPI. Both of these cities are awaiting payment for campaign rallies in 2019.
Other cities, such as Spokane, Tucson, Burlington, Eau Claire and Green Bay, are still waiting to be reimbursed for rallies in 2016.
"Without this money, we cannot help our most vulnerable, and I guarantee we do not have enough money to prevent lives lost and homes lost," Kate Burke, a City Council member in Spokane, told CPI.
Rebecca Fleury, city manager of Battle Creek, told CPI that "any revenue received would be helpful to our general fund." Her city billed Trump's campaign over $93,000 for a rally in December 2019.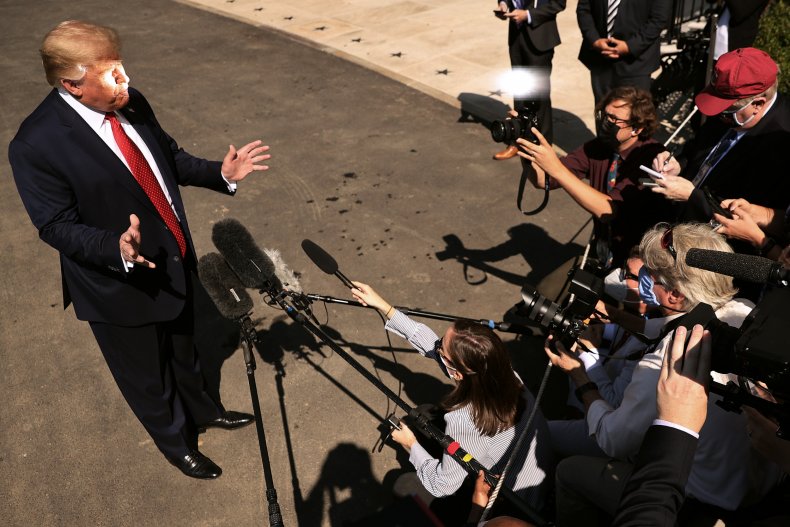 Lane Mandle, a spokesperson for Tucson, told CPI, "What the city of Tucson needs, like every major municipality, is a direct infusion of cash from the federal government that can be put toward our general fund to offset the millions currently being lost in sales tax revenue."
A statement sent to CPI by Trump's campaign said the billing should be directed to the Secret Service and not the campaign.
"It is the U.S. Secret Service, not the campaign, which coordinates with local law enforcement. The campaign itself does not contract with local governments for police involvement," the statement said.
Newsweek reached out to Trump's campaign for comment but did not receive a response in time for publication.
Despite these unpaid bills, the president has been known to express his support for law enforcement during many of his rallies and press conferences.
On August 14, Trump tweeted that he was accepting an endorsement from the New York Police Department (NYPD).
"Today it is my great honor to proudly accept the endorsement of the @NYCPBA," Trump wrote. "I have deeply and profoundly admired the brave men and women of the #NYPD for my entire life. New York's Finest are truly the best of the best — I will NEVER let you down!"