14 Ways to Keep Connections Authentic Over Video
Being able to balance leading an organization and meeting the expectations of others while remaining authentic will be a key skill in a primarily remote world.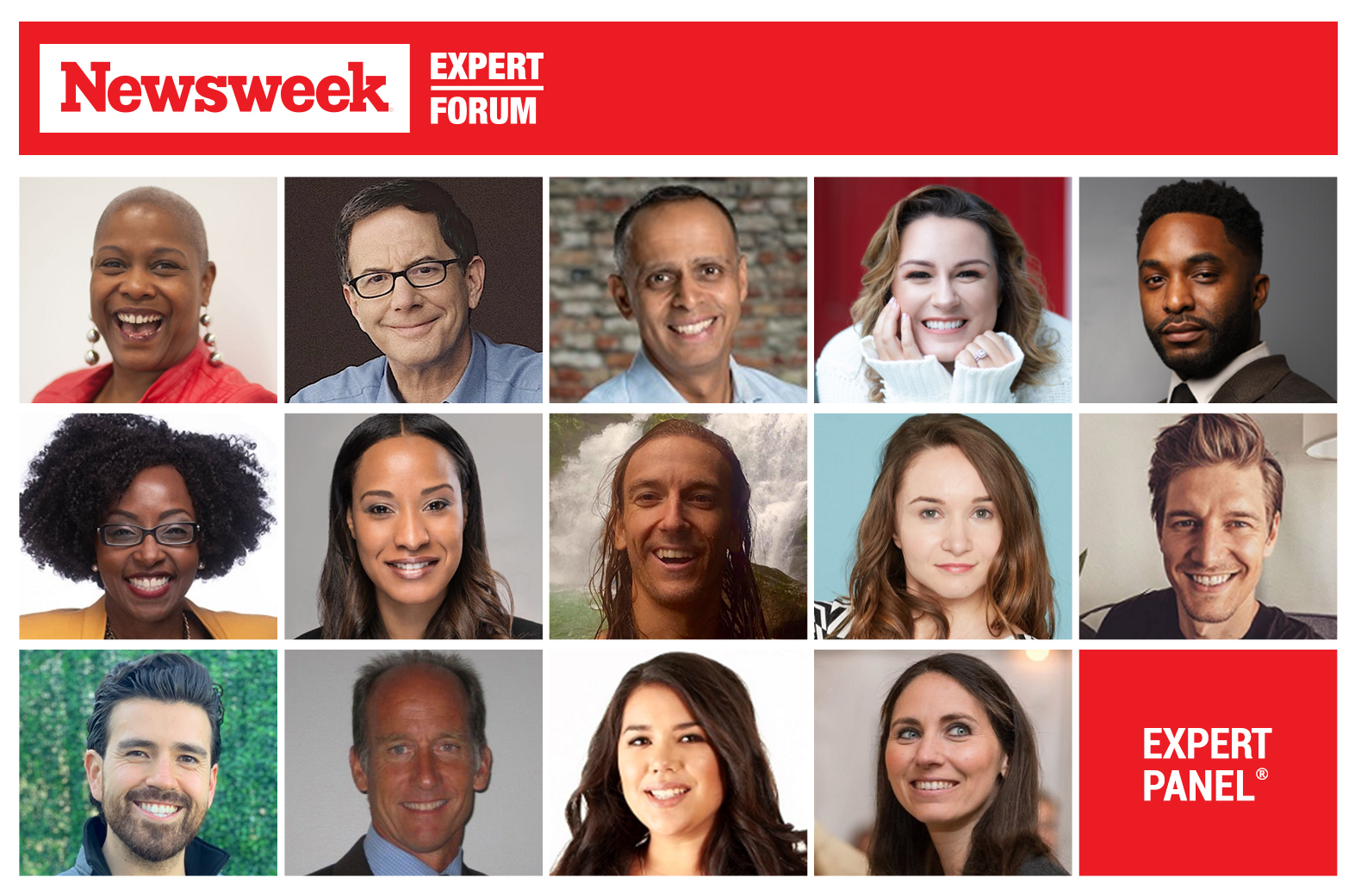 Leadership today looks a lot different than it used to. While employees and clients still value strong leaders who take charge and project strength, many resonate with those who are vulnerable and true to their authentic selves.
This change will come with new challenges. Being able to balance leading an organization and meeting the expectations of others while remaining authentic will be a key skill in a primarily remote world. Below, 14 Newsweek Expert Forum members look at the most effective ways that leaders can enhance their authenticity.
1. Keep it Real
The best way to project authenticity is to keep things real, show your human self and vulnerable side, and be transparent. It's okay to say no if you don't have the bandwidth or energy to take your tenth Zoom call that day. Ask if the meeting can be rescheduled and admit to not having all of the answers to leading in the virtual world, but make sure you look for the answers. Leverage the magic and skills of your support team if you have one by exercising inclusive delegation. Showing up fully and authentically, especially during these times of uncertainty, will help build a bridge of stronger communication and teamwork. - Joyel Crawford, Crawford Leadership Strategies, LLC
2. Show Your Unflappability
In the virtual world, thought leaders can project authenticity by showing up and being unflappable. Take charge and be knowledgeable, but also be gracious and humble. Why do that? When you show up and demonstrate these attributes, you engender trust, confidence, safety, respect and admiration in everyone you interact with. And if you're still not convinced, how effective of a leader do you think you'll be if, instead of the above, you show up as someone controlling, passive or arrogant? This will instead trigger distrust, doubt and fear. - Mark Goulston, Mark Goulston, M.D., Inc.
3. Be Your True Self
Thought leaders and professionals can share a new perspective on the topic at hand that is backed by data for validity and coupled with timely insights. Regardless of what world we live in, virtual or in-person, authenticity comes through by just being one's true self. The mode of communication might differ (a Slack or text versus popping your head into someone's office to check in on them), but the true nature of a leader's concern should not be affected by the medium of communication. The virtual world may require more written communication in the form of group emails or one-on-one texts, but the basic messages should not differ. - Minal Patel, Abacus Insights
4. Seek to Actively Engage Others
In a way, our now mostly virtual world is a way to weed out those who aren't truly authentic or actively engaged. We can instantly tell when someone isn't making us a priority virtually, so to project authenticity and engagement in a primarily virtual world, you have to set the intention of being present from the start. Ensure your phone is away, close your email and channels where people can message you and listen to understand versus listening to speak. And don't forget pleasantries; check in with small talk and connect on a personal level! - Brooke Sellas, B Squared Media, LLC
5. Acknowledge Your Own Struggles
Leaders should acknowledge the struggles they've had. Authenticity starts with acknowledging your relationship to a problem. Being able to articulate that is essential for engagement because it then makes it easy for you to invite collaboration. - Tayo Rockson, UYD Management
6. Use Your Personal Social Media Accounts
Create a social media outlet that's largely focused on your personal life and leave it open and public. Frankly, I was surprised to learn that prospective clients were really digging my personal Instagram. In more than one conversation, I've connected with a prospective client over what they see there, which facilitated into doing business together. I also think those leaders who aren't fully aligned between their lived and espoused values will have to do that work because you can't be authentic when you have contradictions. - Mylena Sutton, Voltage Vista
7. Hone Your Authentic Voice
The best content creators have honed their authentic voice, which is why their readers feel more connected to them. Authenticity is what differentiates content creators who offer similar value and what attracts a real tribe. It's worth mentioning that taking authenticity "too far" (ie. discussing politics or religion) could potentially hurt a brand. Being authentic means not 'walking on eggshells,' exuding confidence in what you know and being okay with the fact that everyone will not agree with your opinions. Chief among ways thought leaders could project authenticity and engagement is to focus on being of service. When crafting content, keep things simple and engaging, and always keep your avatar at the top of your mind. Before publishing a piece of content, ask yourself, "Is this valuable? Will this motivate, inspire or enlighten someone?" - Lakrisha Davis, Lakrisha Davis & Co.
8. Make Visible Efforts
Leaders need to make an effort to be seen and heard on their professional channels because they aren't being seen in person. Learning to develop your voice online takes practice just like writing, but clearly explaining yourself to people on video calls is the biggest way people can project authenticity. Slack messages and emojis can be misinterpreted, so remember that two-way conversations are the best way to understand each other. - Matt Wilson, Under30Experiences
9. Personalize Your Virtual Space
The virtual world enables us to be in our natural habitat – at home! Leaders should make sure to have an interesting background versus a white wall behind them. Are there interesting posters or books that can be in the background? A pet? A relative who can come say hello? This personalizes leaders as real people with real lives. - Eva Sadej, Floss Bar
10. Embrace Different Ways of Listening
Leave old and stale hierarchical communication behind and embrace into more versatile ways of listening. Listen with curiosity and with space for what can emerge, both for the well-being of individuals and for the profit of the company. Make space for training programs for people that can create this transformation. Leaders can show authenticity when they create this space as demanding people be in Zoom meetings all day long is a shared experience and burden. - Julian Guderley, GreenPlanet BluePlanet
11. Join Virtual Conferences and Sessions
Engage in video conferences and sessions as much as possible. There are incredible opportunities to attend conferences that I would have never considered because they were held across the world. I can now participate. - Arturo Elizondo, Clara Foods
12. Hire Those With Virtual Experience
I think this is something that every single solitary leader has to grapple with. Hiring professionals that have expertise in recreating an experience virtually versus in-person will be paramount to success. This will require a significant strategy and being able to recreate the "personal touch" virtually. It is not easy, and just having a Zoom call with breakout rooms is not a strategy. I do not think virtual will be the primary way of communication in the second half of 2021, and by 2022, there will be more in-person interactions with virtual mixed in. - Bruce Wilson, The Conversation
13. Bring Your Ideas to the Table
I work in the book industry, which requires personality-driven sales and marketing. I find that authenticity comes from bringing more of your ideas to the table, especially those ideas that are at the edge of your book's content. For example, if you have a book about entrepreneurship for women, it's okay to bring your ideas about feminism or Ruth Bader Ginsberg to the table. In the context of your larger topic, even as standard practice around professionalism might indicate that you shouldn't share your beliefs publicly, there is a fine line to toe. - Monica Leonelle, The World Needs Your Book
14. Change Your Perspective
You can't be authentic without first being empathetic. The virtual world will make that difficult by providing you with all sorts of distractions: a browser full of open tabs, a camera field placed in such a way that it's easy to check your phone while appearing to keep eye contact or a never-ending influx of notifications. You've got to fight that. Turn everything off. Look and listen to what other people are going through. Then, reflect that in your own perspective and work. Doing so will give your own work the substance and authenticity to break through in a virtual world. - Meghan Keaney Anderson, HubSpot