14-Year-Old Learns to Drive as Family Escapes California's Creek Fire
A 14-year-old boy got an education in driving while helping his family escape California's Creek Fire.
According to Agence France Presse (AFP), Ruben Navarrete was required to learn how to drive, as the Creek Fire moved closer to his home on the Cold Springs Rancheria of Mono Indians—a Native American reservation in Fresno County.
Navarrete lives with his uncle, Joshua Smith, his aunt Jamie, three younger cousins, and a disabled brother. They were prompted to leave the reservation on Monday, as officials ordered evacuations.
AFP reported that Navarrete's aunt led the family's evacuation by driving a Kia SUV, while Navarrete drove a Chevrolet accompanied by his brother. They were followed by Navarrete's uncle, who was in a pickup truck.
Navarrete and his family were able to escape the dangers of the Creek Fire, which has burned over 175,000 acres and is currently 6 percent contained, according to Cal Fire.
"When it came down to when I had to drive, I was really nervous, scared," Navarrete told AFP. He recalled his uncle telling him that driving is "like a video game."
Navarrete noted that flames from the fire were gaining on the family's fleet, but said: "I didn't want to look because I was so focused, I didn't want to crash or anything."
According to AFP, Navarrete remembered that while evacuating there was a "a really big steep hill," but he began feeling comfortable driving nearly halfway through the 20-mile trip.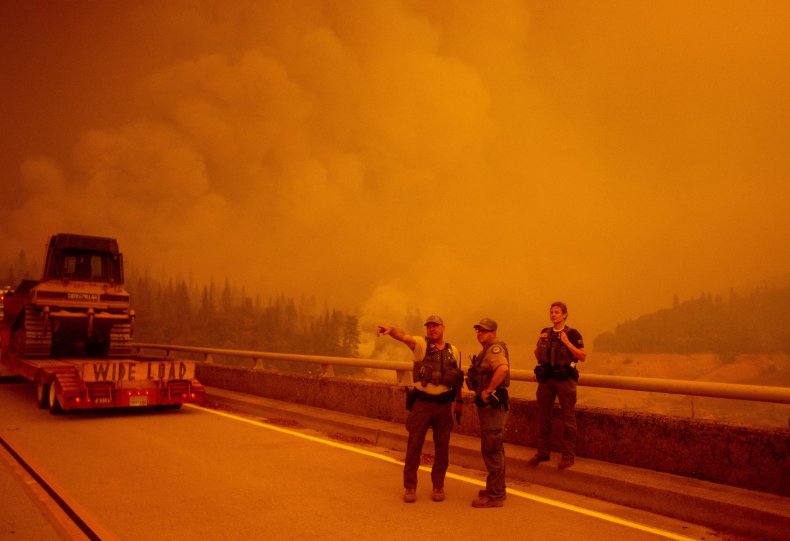 Navarrete's aunt said that her nephew's education on how to drive during their escape "was a crash course because all he had ever driven was about a quarter mile from our home."
"It was really nerve racking for all of us," she added.
In addition to the Creek Fire, California is battling a number of other fires as a map of the fires, according to The Los Angeles Times, shows 45 active fires across the state.
Navarrete and his family are currently staying at a hotel in Clovis, courtesy of the American Red Cross, which told AFP that over 1,200 hotel rooms have been designated for fire evacuees.
According to a press release issued by the Red Cross, since July, the organization "has responded to a string of crises across the country—from Hurricane Laura, one of most powerful storms to ever hit the U.S.; to devastating wildfires igniting across California and other western states."
Amid the novel coronavirus pandemic, the Red Cross has implemented new plans to mitigate the spread, "such as social distancing protocols, face coverings, health screenings, prioritizing individual hotel rooms and opening more shelters that can support fewer people than normal."
In an email sent to Newsweek, a spokesperson for the Red Cross said: "The Red Cross is continually amazed by the resilience of people who are coping with disasters and the lengths they will go to protect their families."
"We are proud to be able to help thousands of people fleeing the wildfires and offering them safety during this tragic time," the spokesperson added.