14 Years After Meeting on 'My Super Sweet 16' Parody, Colin Jost and Scarlett Johansson Are Married
Congratulations are in order for Colin Jost and Scarlett Johansson! The A-list couple has tied the knot. People reported that Jost and Johansson told had an intimate ceremony over the weekend. The Meals on Wheels Instagram account announced their union on Thursday with a picture of the Staten Island ferry, referring Jost's native borough. The ferry aptly read "Jost Married."
"We're thrilled to break the news that Scarlett Johansson and Colin Jost were married over the weekend in an intimate ceremony with their immediate family and love ones, following COVID-19 safety precautions as directed by the CDC," the post read, adding that the newlyweds asked for donations to Meals On Wheels as wedding gifts.
"Their wedding wish is to help make a difference for vulnerable older adults during this difficult time by supporting @mealsonwheelsamerica," the post continued. "Please consider donating to celebrate the happy couple by clicking the link in our bio."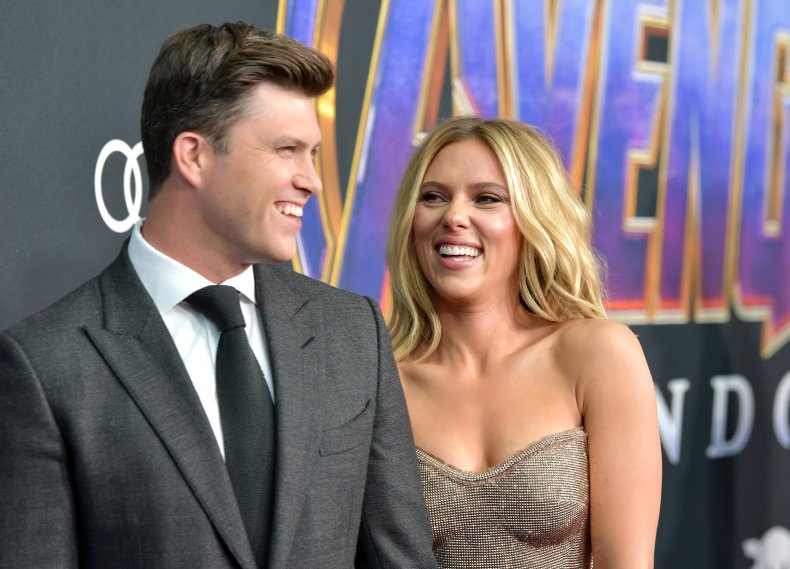 Though they only began making headlines as a couple three years ago, Jost and Johansson originally met in 2006 on Saturday Night Live. "The first time she hosted was the first year I was a writer on the show," Jost revealed. "So, we've kind of known each other since then ... she's the best."
He elaborated on their first meeting in his memoir A Very Punchable Face. "I got eight sketches on the show my first year, including one cold open and a parody of MTV's My Super Sweet Sixteen, starring first-time host Scarlett Johansson," he recalled.
"She has just turned 20 and I was 23, but in terms of status and maturing she was here [holds hand above head] and I was here [ holds hand one inch off ground]. She claims that she remembers thinking I was 'cute,' but I know what I looked like and that's not the word I would have used. ('Shaggy' would have been generous. 'Slovenly,' more accurate)."
Jost wrote that Johansson has "a grace and a smile that I've still never seen in any other human." As far as details from the skit goes, Jost revealed: "The only line I remember from the sketch is when Scarlett's bratty character says, 'This party is literally worse than the Holocaust.' That was my Shakespearean sonnet for the woman I would one day fall in love with."
Johansson also recalled that sketch to Hollywood Reporter in 2019. "It was some dumb parody that he had written, and he was in there partly directing this segment we had to do," Johansson said at the time. "That's my first memory of him. He seemed very confident at the time. I don't know if he felt that way, but in that environment, if you're not confident as a writer, your stuff just never gets produced."
Johansson returned to host Saturday Night Live in 2007, 2010, 2015, 2017 and 2019. Jost has been a writer on SNL since 2005, and became co-anchor of the SNL "Weekly Update" segment in 2014.
Rumors swirled of them dating after Johansson was spotted kissing Jost after her May 2017 hosting gig. They made their public debut as a couple in November 2017 at the Museum of Natural History Gala. After two years of dating, they got engaged in May 2019.
This is the third marriage for Johansson; she was married to Ryan Reynolds from 2008 to 2011, and journalist Romain Dauriac from 2014 to 2017. She has joint custody of daughter Rose with Dauriac. This is Jost's first marriage.