$1,400 Stimulus Checks Boost GOP Support for Biden's Relief Package: Poll
New polling data shows that President Joe Biden's proposed stimulus check of $1,400 is boosting Republican support for his $1.9 trillion economic relief package.
A Wednesday Yahoo! survey, which sampled 1,556 U.S. adults between February 20-22, showed that 77 percent of respondents were in favor of sending $1,400 COVID-19 relief checks, including 61 percent of people who identified as Republican and 89 percent of people who identified as Democrat.
Republicans were not as supportive of Biden's overall stimulus package. Only 28 percent backed the sprawling legislation currently under consideration in Congress, while 36 percent opposed it and another 36 percent were unsure about their position. Additionally, 55 percent of Republicans opposed the $1.9 trillion price tag attached to the legislation, while 32 percent said Congress should spend "whatever it takes" to provide relief to Americans.
Sans the checks, Republicans were also less supportive of the other measures in the package.
Under half supported providing $130 billion to help schools reopen safely, increasing federal unemployment payments to $400 a week, canceling $10,000 in student debt and raising the federal minimum wage to $15 an hour. However, 60 percent supported extending child-care tax credits for one year and 51 percent supported extending the current pause on student loan repayment.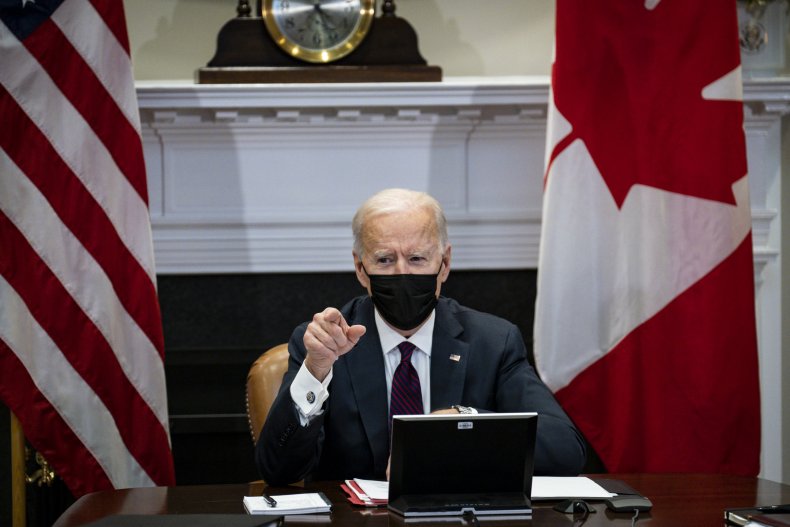 Newsweek reached out to Senate Minority Leader Mitch McConnell for comment.
A Quinnipiac University poll from February 3 also indicated that Republicans believe Biden's package should be passed because of the $1,400 checks. In it, 64 percent of Republicans supported the $1,400 direct payments while just 37 percent supported the overall package.
Treasury Secretary Janet Yellen said sending the checks "is the right thing to do" on Monday as Republican lawmakers continued to voice opposition to Biden's relief plan. Her remarks came after Biden affirmed on Friday that his administration remains "committed" to delivering the payments.
"That really helps to make sure that pockets of misery, that we know exist out there, that aren't touched by more targeted things, that help is provided there as well. I believe we're going to be better off for it, and that it's the right thing to do," she said.
Under the legislation, people earning under $75,000 a year would receive $1,400 and married couples earning less than $150,000 would receive $2,800. Those who earned above the threshold would receive lesser payments and people who earned over $100,000 would be phased out completely.