$1,400 Stimulus Checks Boosted Sales But Rates Will Slow as Relief Runs Dry, DoorDash Says
DoorDash, an online food ordering company, has partially credited Joe Biden's $1,400 stimulus checks for its sales increase amid the coronavirus pandemic, but predicts that rates will slow as federal relief runs dry in the summer.
In a Thursday letter to shareholders, the company reported revenue growth of 198 percent year-over-year in the first quarter of 2021 to $1.1 billion, with total orders spiking 219 percent to 329 million.
"We believe stimulus checks were partially responsible for this, as their issuance increased consumer demand on our platform at the same time as in-store dining rates accelerated in many markets," the company said in the report.
DoorDash warned shareholders that sales could decrease in the coming months without further stimulus relief.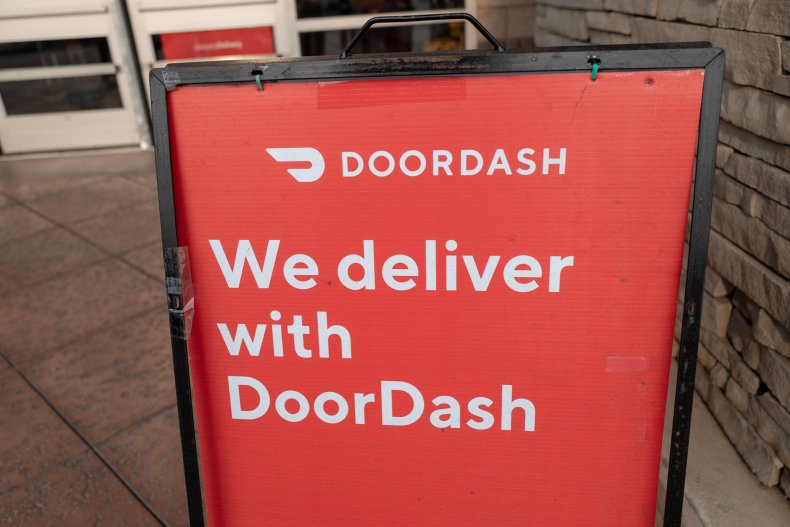 "We expect the combination of summer seasonality, market reopenings, and the waning impact of stimulus to result in some impact to our business in the near term," the company said.
"Nonetheless, we are encouraged by the consumer behavior we have observed thus far and are more optimistic with regard to our full-year prospects than we were at the beginning of the year."
While direct payments boosted DoorDash sales in the short-term, the company revealed that the relief contributed to an "undersupply" of freelancers at the end of the first quarter.
"Stronger-than-expected consumer demand, along with extreme weather events and the impact of stimulus checks, resulted in a meaningful undersupply of Dashers in the latter part of Q1," the company said. "Stimulus checks created a particularly acute challenge, as we believe they drove a short-term increase in consumer demand and a simultaneous decrease in Dasher hours."
It added: "We believe the impact of stimulus checks on Dasher supply highlights a critical point about the nature of Dashing; it is an ephemeral and low barrier-to-entry working experience that helps people earn temporary or top-up income."
DoorDash declined Newsweek's request for further comment.
Congress passed President Joe Biden's $1.9 trillion stimulus package largely along party lines in March. Since then, at least 74 congressional lawmakers have pushed the Biden administration for recurring monthly checks until the end of the pandemic.
In January, 53 House Democrats signed a letter urging Biden to back monthly direct payments. "One more check is not enough," the group wrote. Roughly 21 Senate Democrats joined the effort by sending their own letter to Biden on March 30.
But the president has ignored their calls, pivoting instead to focusing on garnering bipartisan support for his infrastructure plan.