$1,400 Stimulus Checks Used by Struggling Americans to Pay for Bills, Taxes and Debt
Most Americans financially struggling during the pandemic's economic downturn will use their $1,400 stimulus checks to pay bills, taxes and debt.
Stimulus checks began appearing in millions of Americans' bank accounts last week after President Joe Biden signed a $1.9 trillion stimulus package into law. The checks arrive at a time when an estimated 10 million people remain unemployed, according to the Department of Labor. An estimated 80 million are also having trouble paying for basic household expenses like rent, food and utilities, according to the Census Bureau.
As such, many struggling Americans will spend their checks trying to stay afloat, recent interviews and studies suggest.
Nearly a dozen Americans—including a nurse, a plumber, a teacher, a bar owner and a man who lost his housing due to the pandemic—told Reuters that they'll use their checks to pay debts that they've racked up over the past year.
"I'll try and get ahead on my mortgage a little bit," 45-year-old construction worker Michael Johnson said, noting that he wouldn't be going on a spending spree. "You know, we are still in this pandemic."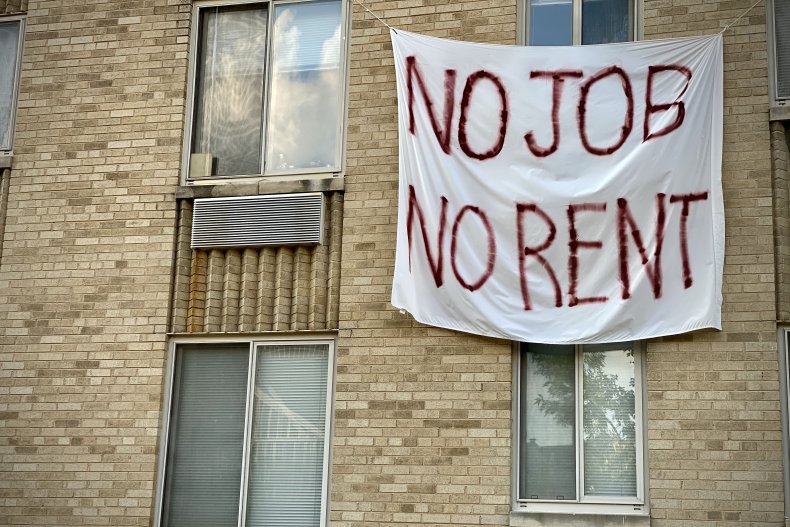 Thadd Ernstmeyer, a man who runs a family plumbing business in Reedsburg, Wisconsin, said he will use his stimulus check to pay taxes owed to the federal government.
Misty Mcdade, a 40-year-old woman who lost her job and house when the pandemic began, told USA Today that she owes over $1,100 in utilities and two months on her car loans. She'll use her stimulus to pay down those bills while she continues living in a rural mobile home with her three teenage children.
Roughly 52 percent of all Americans who receive stimulus checks say they'll mostly use them to pay off debt, according to the Household Pulse Survey conducted from February 17 to March 1 by the U.S. Census Bureau.
However, many Americans feel uncertain about when the economic downturn will end. In response, roughly 15 percent of past stimulus check recipients put their past stimulus checks into savings, according to two surveys. One survey was conducted by the Census Bureau among 73,472 households in June 2020. The second survey was conducted by the publication Apartment Guide among 1,000 renters during January 2021.
When asked on Monday how Biden thinks Americans should use their stimulus checks, White House Press Secretary Jen Psaki answered, "The President believes that this relief will help Americans get through this difficult period of time, and they will use it for different means."
"Some Americans will use it to ensure they can put food on the table; that certainly is a form of stimulus," she continued. "Some will use it to ensure they can pay their rent; that's also a form of stimulus. Some will use it to, you know, pay back some loans they may have taken out. It's really up to family to family."
Newsweek contacted the White House for comment.