Putin Gravestones Spring Up Around Russia, Call President 'Thief, Liar and Political Corpse'
Mock gravestones bearing the image of President Vladimir Putin have been appearing in cities across Russia.
The most recent appeared in the city of Voronezh, with the year of Putin's death listed as 2019 and emblazoned with the unflattering epitaph: "Incredible thief and liar. Political corpse."
An image of the tombstone was tweeted by the anti-establishment group Agit Russia, which posts messages and images of protest in the country. The group has claimed responsibility for putting up at least some of the tombstones.
Mock Putin gravestones have appeared in eight cities across Russia. The first one in the city of Naberezhnye Chelny, in Tatarstan led to two men being arrested in March, independent news outlet Meduza reported.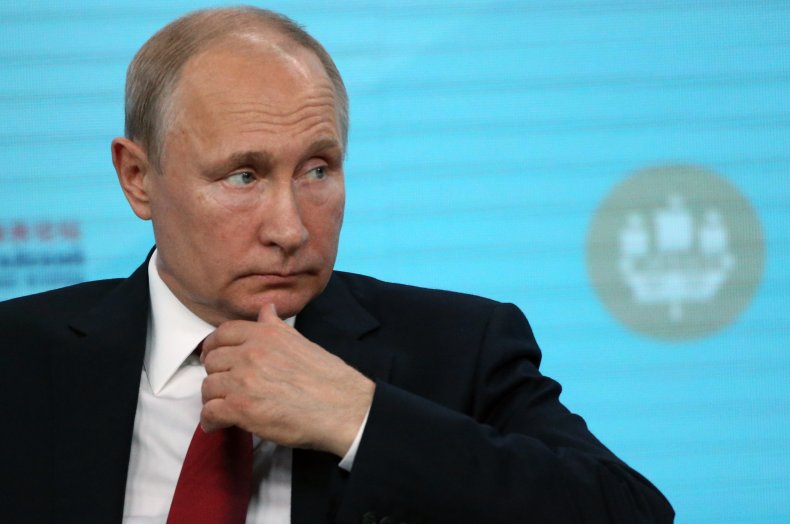 Another gravestone appeared in Moscow soon after and in April, another was placed opposite the renowned St. Isaac's Cathedral, in Putin's home city of St. Petersburg, Radio Free Europe reported.
With the image, Agit Russia tweeted: "What we wanted to say was that Putin died for laws that went against the people, his constant lies and his appalling period in power."
Agit spokesman Grigory Kudryavtsev said his group was trying to fill the gap left by the lack of street protests in Russia and that the group was "united by a common desire to fight dictatorship and totalitarianism, with Putin's propaganda."
"Most activists and supporters are not personally acquainted; communication is anonymous. Even when the action takes place, many do not know each other and do not contact one another afterwards," he told Meduza.
Laws have been introduced this year criminalizing the dissemination of "fake news" and language deemed to disrespect public officials. The crimes carry heavy fines and repeat offenders face up to 15 days in jail.
Last December, Agit Russia activists put up posters in St. Petersburg's subway system that showed Putin and Prime Minister Dmitry Medvedev in Christmas hats, criticizing Russian government policy.
The posters said: "Our gift to you is a rise in prices, a rise in utility bills, a rise in gas prices, a raising of the retirement age." However images that appeared on Russian-language social media site VKontakte were deleted.
The social network said that the images propagated "knowingly false information about the fictional death of a well-known figure" and could be mistaken for an indication of a national emergency.
A survey by Russian polling agency WCIOM showed that Putin's popularity has taken a hit as the country's economy falters. Furthermore, trust in the Russian president has fallen to 31.7 percent, the lowest level since 2006, The Moscow Times reported in May.