The criminal case against a journalist renowned for his reporting of graft in Russia has been dropped after a huge outcry from people across the political spectrum.
Ivan Golunov, 36, was unflinching in his investigations into corruption for the independent news outlet Meduza and other publications.
His most recent reports included how loan sharks forced hundreds of Muscovites from their homes and how relatives of Moscow's deputy mayor had made a fortune in real estate.
Last weekend, he was arrested and charged with possession of the synthetic drug mephedrone, which his lawyer said was planted in his backpack. His lawyer also said that he was beaten up in custody.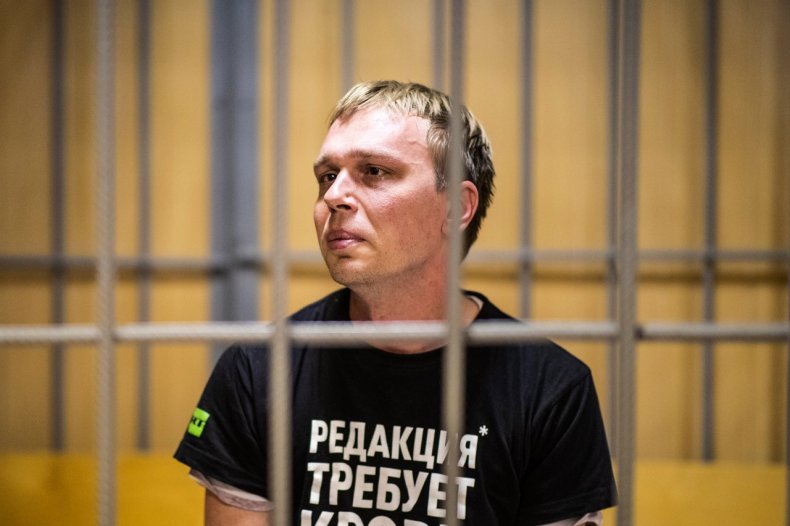 However his case prompted a rare demonstration of solidarity within Russian media, with even state-backed channels voicing their support for him.
Three major business-focused newspapers, Vedemosti, RBK and Kommersant ran front pages headlined "I/We are Ivan Golunov" in an echo of the "Je Suis Charlie" movement in France after the murder of journalists at the satirical newspaper Charlie Hebdo.
But Russian Internal Affairs Minister Vladimir Kolokoltsev said Tuesday that the charges would be dropped due to a lack of evidence and that the journalist would be freed from house arrest before the end of the day.
This decision followed "forensic, biological, fingerprinting and genetic tests."
Kolokoltsev also said he would ask President Vladimir Putin to fire two high-ranking municipal police officers over the case, while the officers who arrested Golunov will take a leave of absence pending an investigation.
In a video statement on the government website, Kolokoltsev said: "I believe that, regardless of their professional affiliation, the rights of any citizen should always be protected."
Russia was ranked 83rd out of 100 countries for press freedom by Freedom House in 2017 and much of the country's media is controlled by the state.
Supporters of Golunov had made plans to protest his arrest in Moscow on Wednesday.
Director-general of Meduza Galina Timchenko told the news agency Interfax: "I am happy, I am crying. We are well aware that this was due to the efforts of hundreds and thousands of people. Many thanks to all of them."
Since his arrest, protesters had picketed around the country holding signs that read "Free Ivan Golunov." Prominent figures from the world of film and television also professed their support in video messages that were widely shared in YouTube.
Among them were rapper Oxxxymiron, TV host Vladimir Pozner, leader of the band DDT Yuri Shevchuk as well as award-winning filmmaker Andrey Zvyagintsev.
Some pro-Kremlin broadcasters even showed their sympathy. Anchor Irada Zeynalova of pro-Kremlin channel NTV had said that if there were no drugs on the journalist then "those who created this crazy situation must be punished," the BBC reported.
Even Russian state TV presenter Dmitry Kiselyov, known as the "Kremlin's chief propagandist", said that the officers who arrested Golunov "were not blameless and had acted quite roughly."