Trump Says He'll Be Working on His 73rd Birthday: 'There's...Plenty of Time to Take It Easy'
President Donald Trump has appeared on his favorite network for a birthday morning interview that started with him saying he was too busy to celebrate.
Trump turned 73 on Friday and Fox and Friends marked the occasion with a 50-minute phone interview. The hosts kicked things off by wishing the president many happy returns.
When co-host Ainsley Earhardt asked the president what he would do, Trump replied: "Well I'll think I'll just work if you want to know...I don't have time to celebrate.
"We'll have a little piece of cake tonight, but in the meantime, we are doing a lot of things...a lot of good things that are turning out to be good for our country.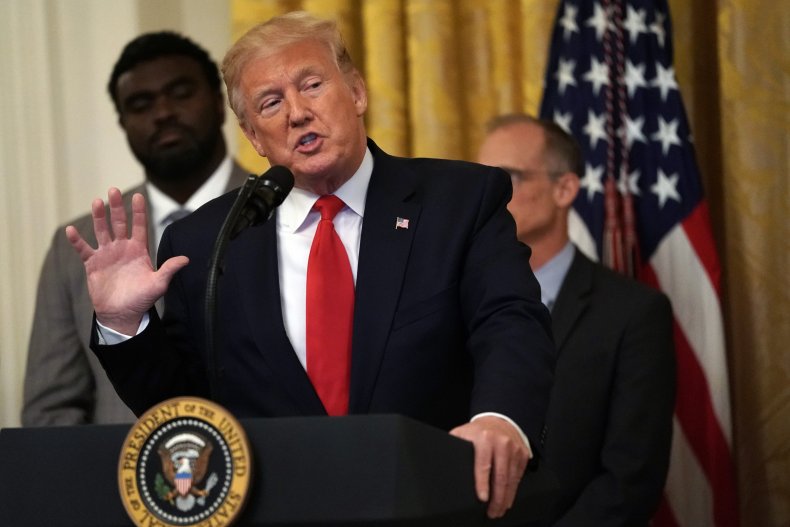 "I enjoy that more, that's better than taking it easy. There's always going to be plenty of time to take it easy, I guess."
The wide-ranging interview started with Trump saying that he didn't think "anyone had accomplished so much in the first two-and-a-half years in what we've done."
He doubled down on criticism of Iran for the oil tanker that was damaged in an attack in the Gulf of Oman, saying, "It's got Iran essentially written all over it... It was them that did it...they are a nation of terror and they have changed a lot since I become president."
He also defended his comments made on ABC in which he said he would there was nothing wrong form taking intelligence from a foreign power if they had dirt on a political opponent.
"I think it was accurately stated and I've had a lot of support. First of all, I don't think anyone would present me with anything good because they know how much I love this country.
"Of course you have got to look at it [information] because if you don't look at it, you're not going to know if it's bad."
Then, in what appeared to be a row back from his comments on ABC, he said: "But of course you give it to the FBI or report it to the attorney-general...of course you would do that.
"I thought it was made clear [in the ABC interview] in fact I actually said...I would do both."
He said that as president he was in constant contact with world leaders, pointing out that "if they say 'we don't like your opponent'... [like] the president of France.. am I supposed to report him to the FBI?"
Trump also defended senior aide Kellyanne Conway, dismissing the recommendation the Office of Special Counsel (OSC) that she be dismissed for violating a federal law prohibiting political speech in her official capacity.
Conway disparaged Democratic presidential candidates and spoke for and against Alabama candidates for U.S. Senate in 2017, the OSC said, counter to The Hatch Act.
When asked what he would do, Trump said: "No, I'm not going to fire her. I think she's a terrific person... I think you're entitled to free speech in this country."
Trump went on in the interview to disparage his prospective 2020 election rival Joe Biden, saying that he "never did have what it takes...I used to call him one percent Joe."