U.S. Border Patrol agents stopped a commercial trailer near Laredo, Texas, that was carrying a total of 149 undocumented immigrants inside.
The incident—which the agency described as a human smuggling attempt—happened on April 16, when the vehicle came to a checkpoint on Interstate Highway 35 (I-35), according to a press release.
When the border agents conducted a non-intrusive scan of the trailer, they saw "multiple anomalies" inside. They then discovered more than a hundred people locked inside the cargo area.
None of the undocumented immigrants were wearing personal protective equipment (PPE). Border Patrol said they medically screened each person and provided them with PPE.
All of the individuals—whom agents determined were from Mexico, Guatemala, Honduras, Venezuela, El Salvador, Peru and Ecuador—were arrested. The driver of the commercial trailer, who is a U.S. citizen, was also arrested. The case is now in the hands of Homeland Security Investigations, which will look into the matter further.
"Human smugglers continue to have no regard for the safety and health of the people they exploit for profit," Border Patrol said in their April 19 press release about the incident. "With a noted increase in COVID-19 infections among detainees, the transporting of large groups of people without PPE in close dangerous quarters endangers the individuals and safety of our Nation."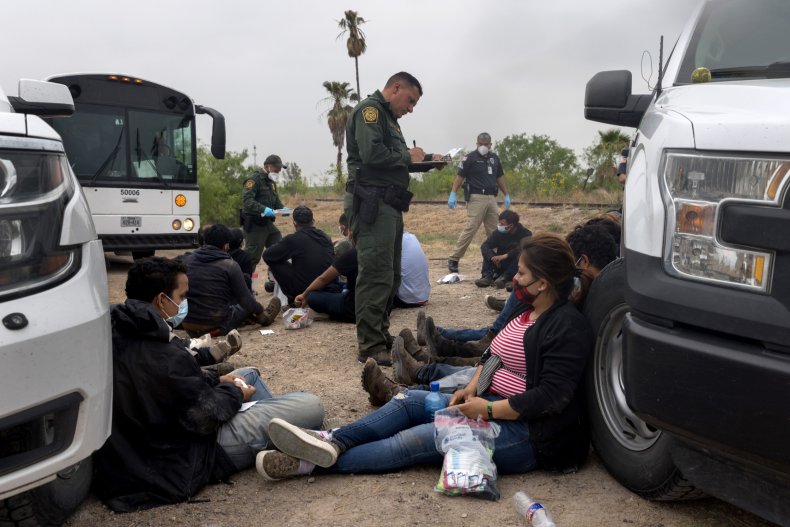 The number of migrants caught attempting to cross the U.S.-Mexico border spiked last month to 172,000 in March—which U.S. Customs and Border Patrol said was a 71-percent increase from the previous month. Nearly 19,000 of the migrants border officials encountered in March were unaccompanied children.
President Joe Biden has tapped Vice President Kamala Harris to lead efforts to stem migration across the southern border. Harris said at the time there "is no question that this is a challenging situation."
Earlier this month, the administration reached a deal with Guatemala, Honduras and Mexico to place more troops on their own borders to help stem the flow of migration.
Mexico will keep 10,000 troops along its southern border, Guatemala will have 1,500 military and police officials placed on its border with Honduras, and Honduras has committed 7,000 military and police officials to the cause.
Harris has said she plans to work with leaders in the private sector and civil society in other countries, as well as with members of Congress, on immigration. She also recently announced an upcoming trip to Mexico and Guatemala to address the situation.
"Our focus is to deal with the root causes, and I am looking forward to traveling, hopefully as my first trip, to the Northern Triangle, stopping in Mexico and then going to Guatemala," Harris said last week.
Newsweek reached out to the Department of Homeland Security for further comment on the case, but did not receive a response prior to publication.