15 Bathroom Organization Upgrades You'll Wish You Had Bought Sooner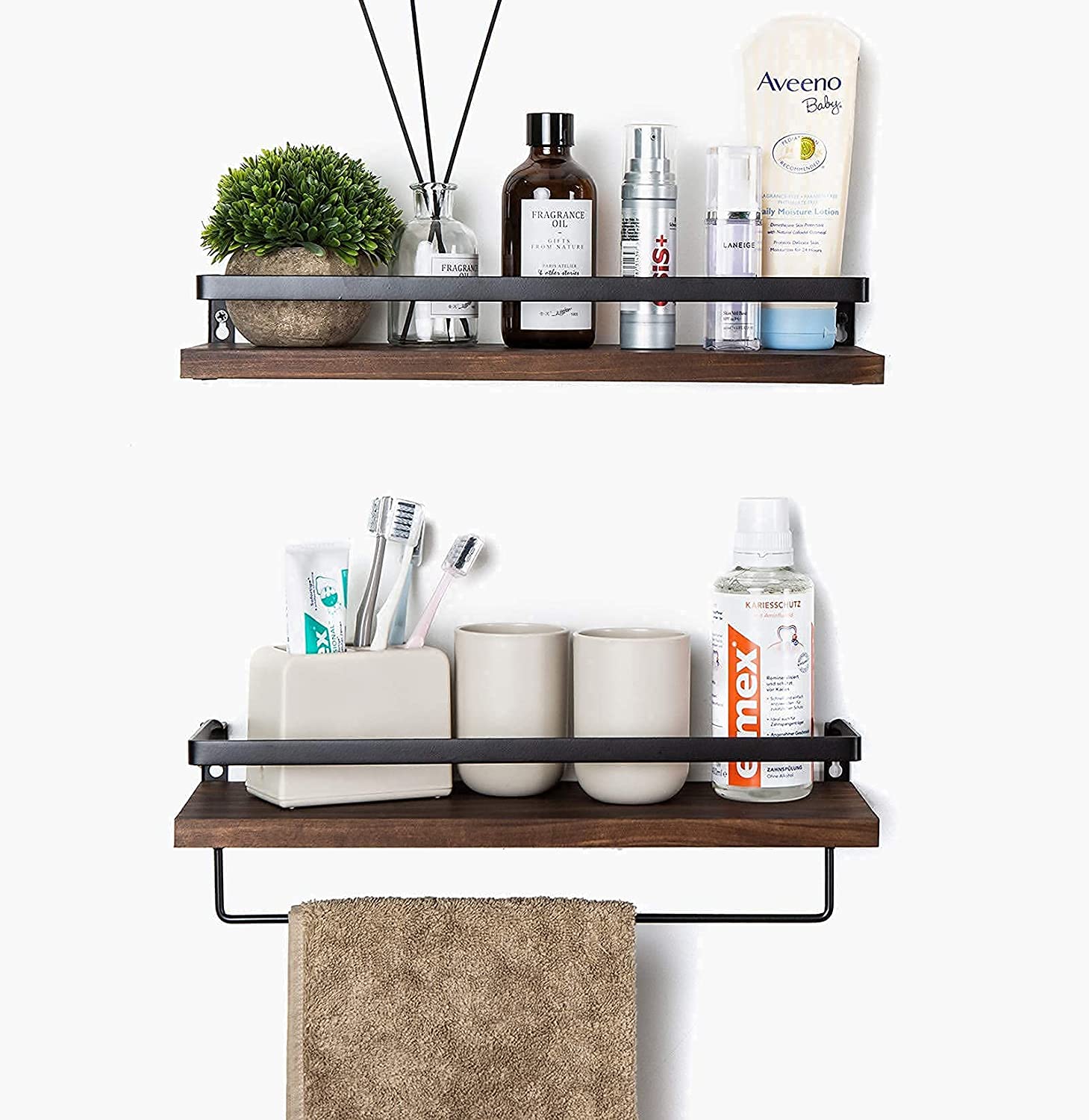 When you think of a bathroom upgrade, you may not realize how budget-friendly and easy it can be. Sure, you can pay thousands of dollars to completely redo your lavatory and gain more storage space and organization. First, though, consider some of the simpler and less costly alternatives.
You don't need an oversized bathroom or bank account to rehabilitate your powder room or en suite. Consider the 15 highly rated-products we found to boost your bath's look and storage.
Boost Your Bath With These 15 Top-Rated Products
It's the rare person who has enough bathroom storage. Thankfully there are plenty of easy-to-love organizational products that upgrade your bath to best suit you. Here are the best we found. As always, the prices listed may fluctuate over time.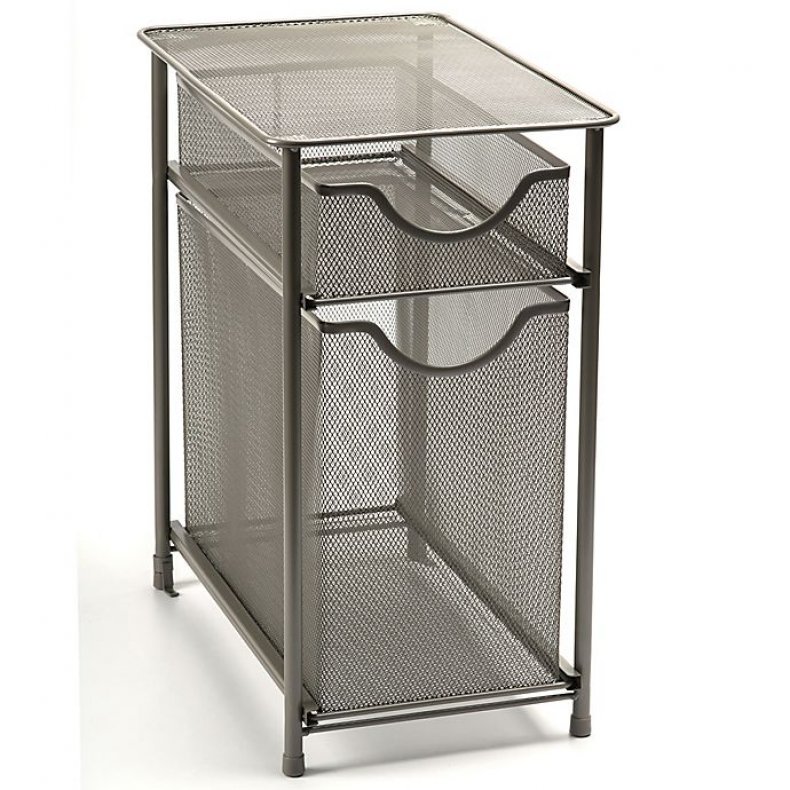 Let's be honest; there is never enough space to store all the items you have in your bathroom. That's why the 16-inch by 10-inch by 18-inch Squared Away 2-Tier Metal Mesh Drawer is a top organization upgrade. These conveniently stackable organizers have see-through mesh siding, so you don't have to guess what is inside. That's especially handy if you place the metal and plastic crafted drawers in a closet or under a vanity. The top drawer is sized for smaller items such as toilet tissue rolls, and the bottom drawer fits full-sized bottles. Each drawer holds up to 20 pounds. This organizer is just what you need to conquer that clutter.
Buy at Bed Bath & Beyond for $50.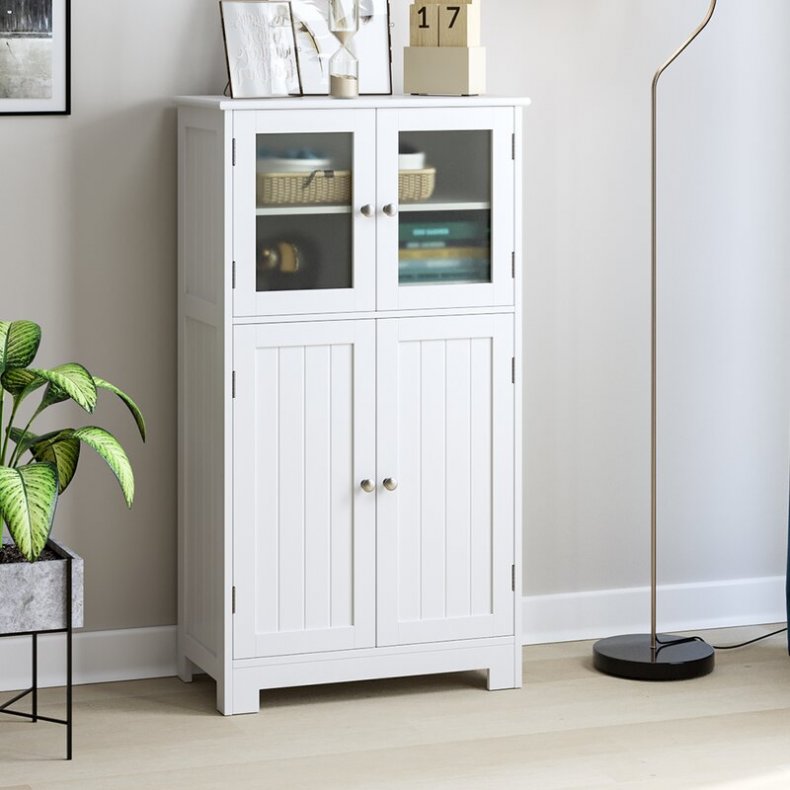 If you are constantly scrambling to put fresh soaps, air fresheners and hand towels in the guest bathroom, the Red Barrel Studio Hortence Linen Cabinet is for you. It's white, so it goes with any decor. Plus, it's crafted from manufactured wood, finished with lacquered paint and a waterproof surface so it will last. The frosted glass on the upper door hides personal items such as medications. Open the lower doors to access two shelve where you can store towels, toilet paper or other items. The cabinet is elegant enough to live in a guest or craft room, too. The anti-toppling device ensures this 23.6-inch by 42.7-inch by 11.8-inch cabinet is steady, too.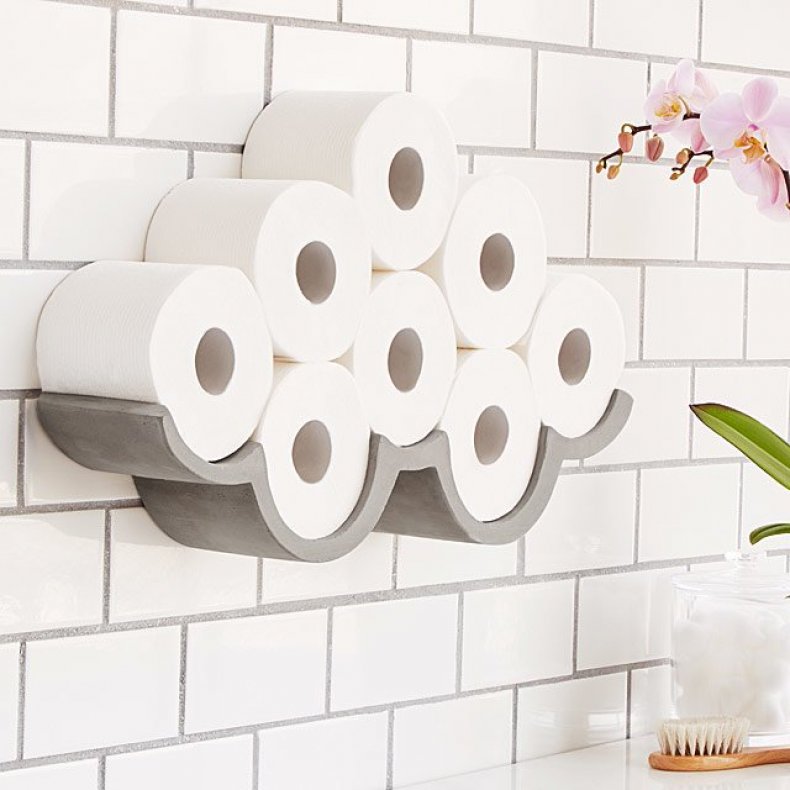 Who says a toilet paper holder can't be something akin to a work of art? The distinctive style of the wall-mounted Bertrand Jayr Cloudy Day Toilet Paper Storage unit does just that. It's available in two sizes. The standard measures 21.65 inches by 3.94 inches by 4.72 inches and holds eight rolls or more. The large, which measures 29.13 inches by 6.69 inches by 3.94 inches, can fit 13-plus rolls. Each unit is made of concrete and comes with mounting hardware and instructions. This storage item is sure to spark all kinds of conversations.
Buy at Uncommon Goods from $115.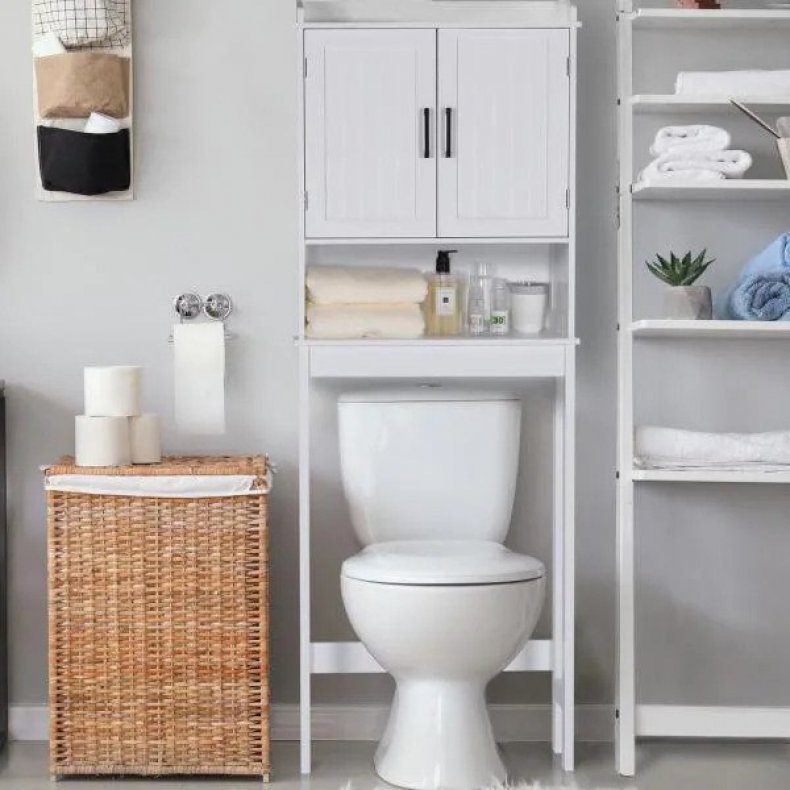 Smaller bathrooms need organizational options, too, but how? The answer is as simple as Veikous Over-the-Toilet Storage Cabinet Organizer. It measures 22.4 inches by 7.4 inches by 66.9 inches. With legs that are 36.2 inches tall, it's sure to make the most of the space above the toilet. And you can put plenty of towels, soaps and other needed supplies in the 20.4-inch by 6.7-inch by 18.1-inch cabinet. The two cabinet doors have magnetic catches to keep your items safe from dust and moisture. Use the open shelf for things you often use or even pretty decor. Not only does this give you storage options in a small bathroom, but the anti-tip design keeps everyone safe.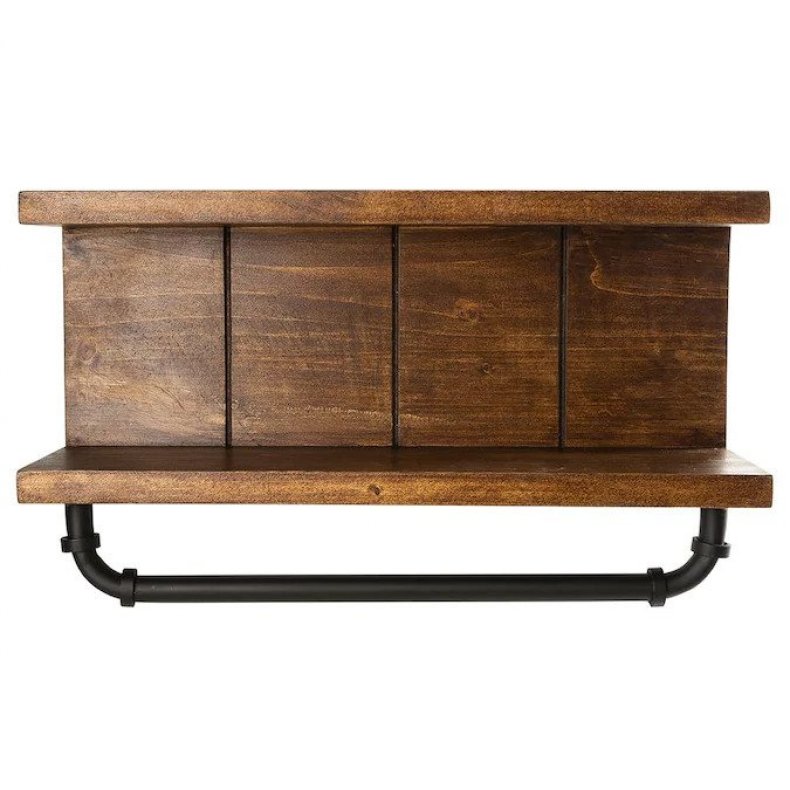 The allen + roth Wall Mount Bathroom Shelf is a great way to upgrade your bathroom with some needed decor and storage space. The 19.7-inch by 6.1-inch by .87-inch shelf has two shelves––on top and in the middle––where you can place towels, soap and even decor. Plus, there's a bar for an extra towel. The wood-and-pipe construction gives an industrial feel to the bathroom, so it adds style on its own.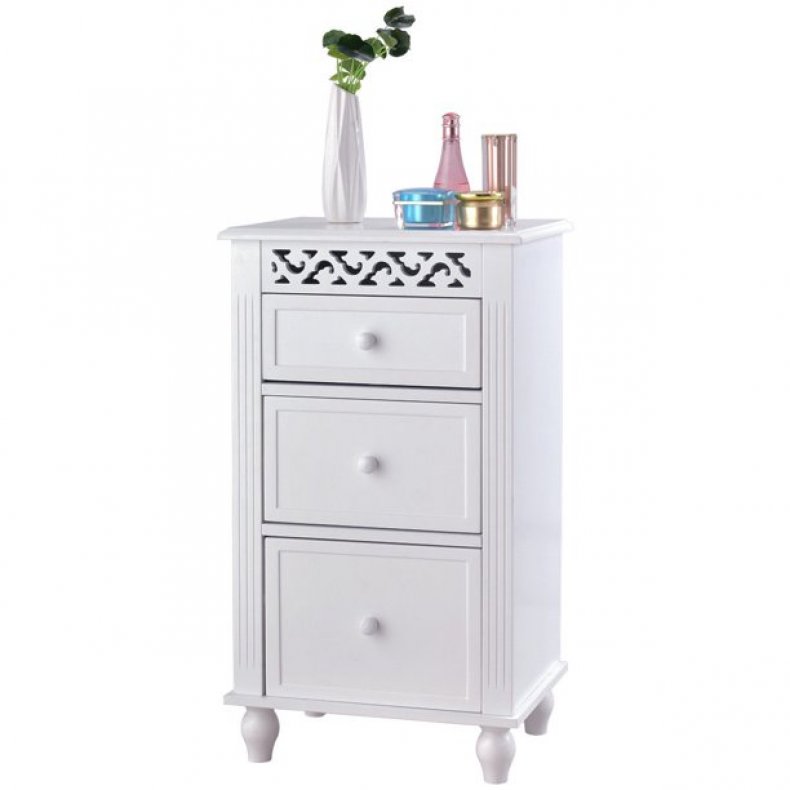 The Gymax Bathroom Floor Cabinet Chest Storage is all about versatility. Yes, it's a great way to upgrade and organize the bathroom, but it looks just as home in the hallway, bedroom or guest room. It measures 16 inches by 12 inches by 28.5 inches, so it's just large enough for ample storage but doesn't hog too much space. Each of the three drawers measures 10.5 inches by 9.5 inches by 3.0 inches, so they're ideal for towels, cosmetics and other items. The Gymax is constructed of wood material and pine, so just wipe it down to keep it clean. The white exterior and carved pattern ensure it makes the most of whatever space you choose to put it in.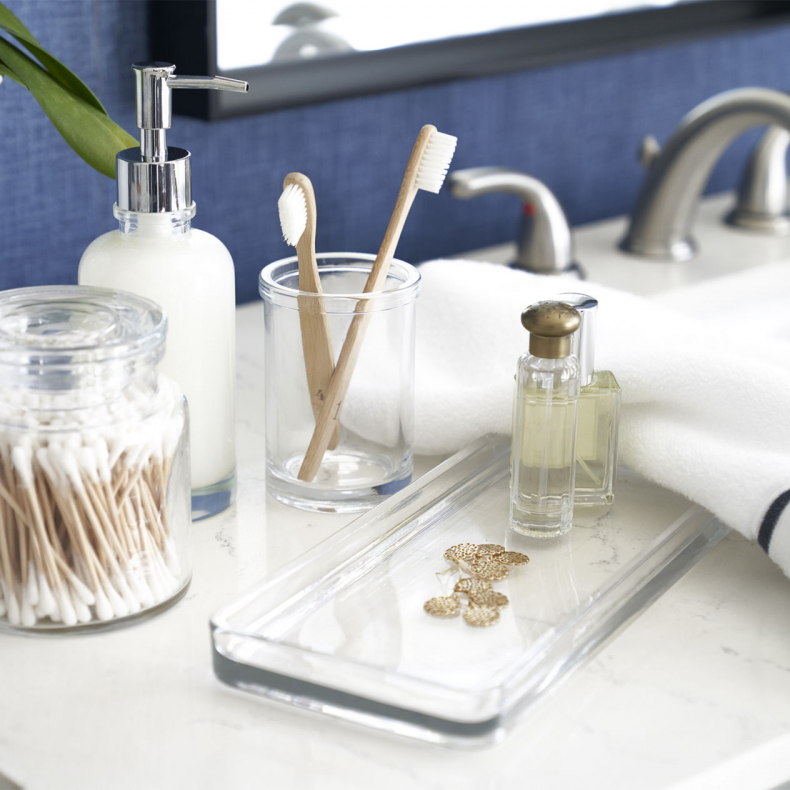 Sometimes the little things in your bathroom make all the difference in style and organization. Consider the Fieldcrest Luxury Glass Bath Accessories Collection. The soap dispenser (7.87 inches by 2.8 inches), vanity tray (12 inches by 5 inches), tumbler (2.95 inches by 4.09 inches) and canister (3.94 inches by 4.72 inches) have a minimalist design that adds flair to your bathroom as it keeps your organized. Each item is glass and sold separately, so choose what you need.
Shelves are such an easy way to upgrade your bathroom and add storage. We always recommend them. Why let wall space go to waste? We like these Soduku Floating Shelves Wall Mounted because you can place them together or separately. Plus, they are made of high-quality radiate pine wood that is both dampproof and heat resistant. The metal structure ensures they are strong enough to hold just about anything you want to place there, including towels, bottles, toothbrush holders, and more. The shelves measure 16.53 inches by 5.83 inches and come with mounting supplies.

Buy at Amazon from $21.99.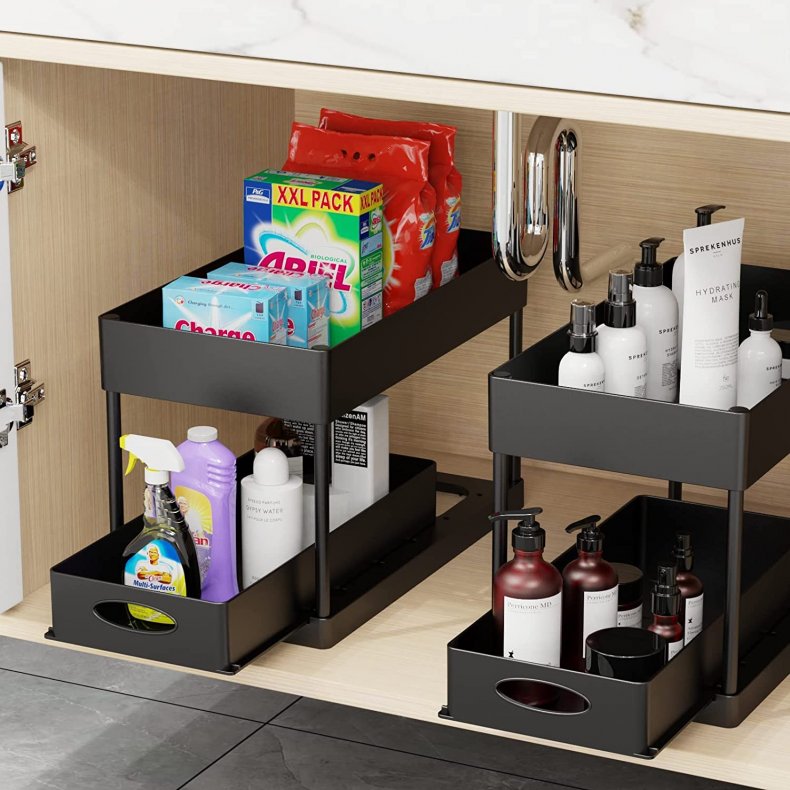 If the space under your bathroom cabinets is messy, you're not alone. Many of us face that problem. The Puiluo Under Sliding Cabinet Basket Organizer is designed to tame that mess. The two-tier plastic organizer is easy to assemble, so that you can organize in minutes. It measures 8.5 inches by 15.5 inches by 11.6 inches overall. The top basket (8.5 inches by 2.5 inches) is stationary, but the bottom basket (6.5 inches by 2.4 inches) pulls out, so you don't have to struggle to see what's in it.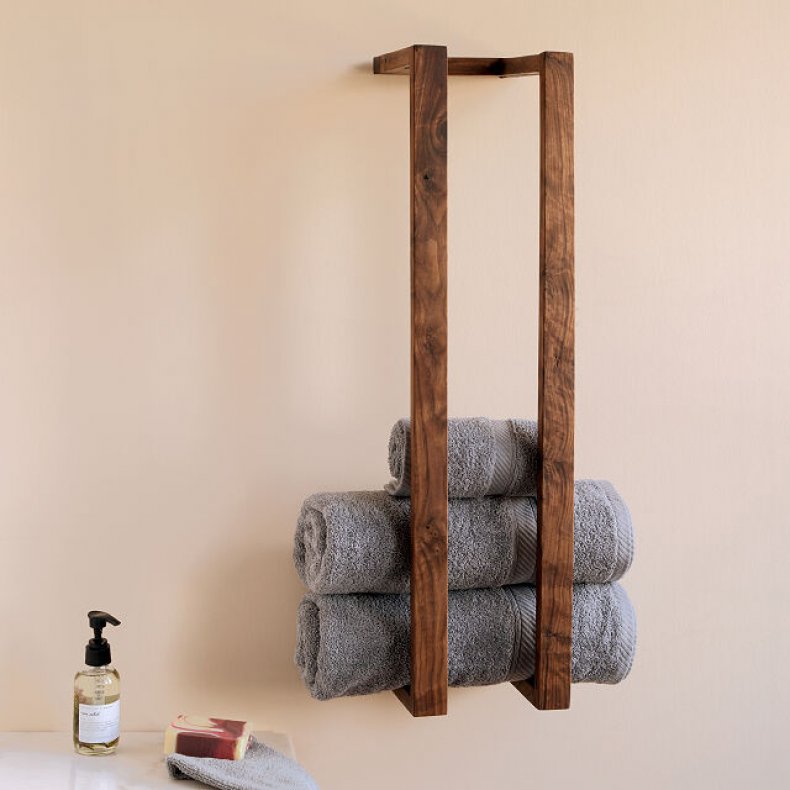 No one says that a bathroom tower has to be clunky. Consider Phillip Stone Minimalist Towel Storage and Display. This 7-inch by 7-inch by 28-inch tower is a study in minimalism yet holds an estimated 15 towels. It's made out of black walnut and metal, so it's easy to care for, too. Just rub it with oil every six months to keep it looking new.
Buy at Uncommon Goods for $120.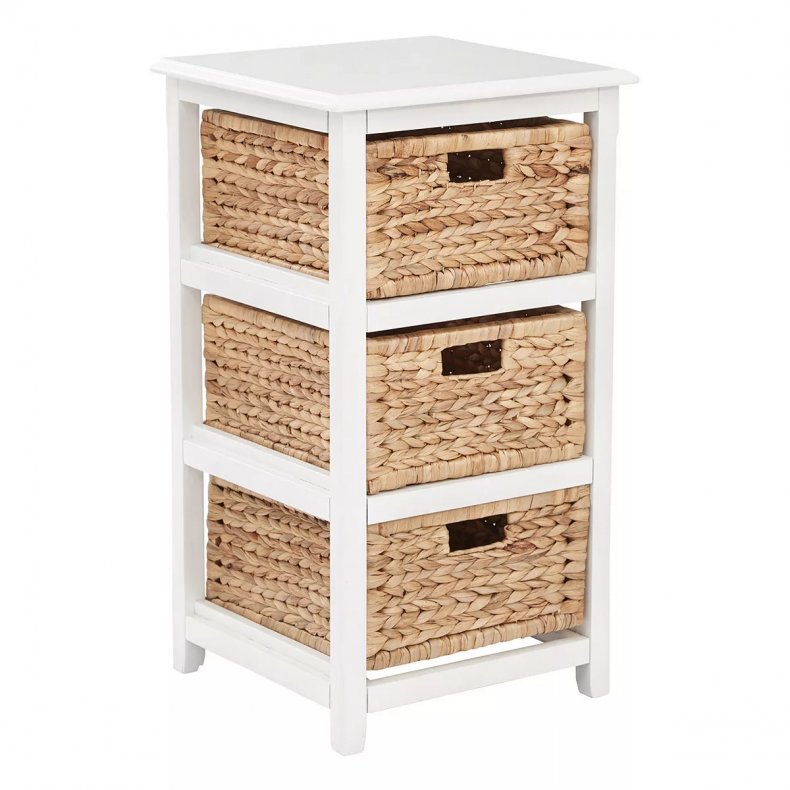 OSP Home Furnishings Seabrook Three-Tier Storage Unit is made of solid wood with three woven storage baskets. It measures 29.75 inches by 16.5 inches by 15.75 inches and has a perfectly flat back, which fits perfectly against a wall. Use the baskets to squirrel away towels, shampoo, first aid supplies and more.
Buy at Kohl's for $168.74 with code SHOP25.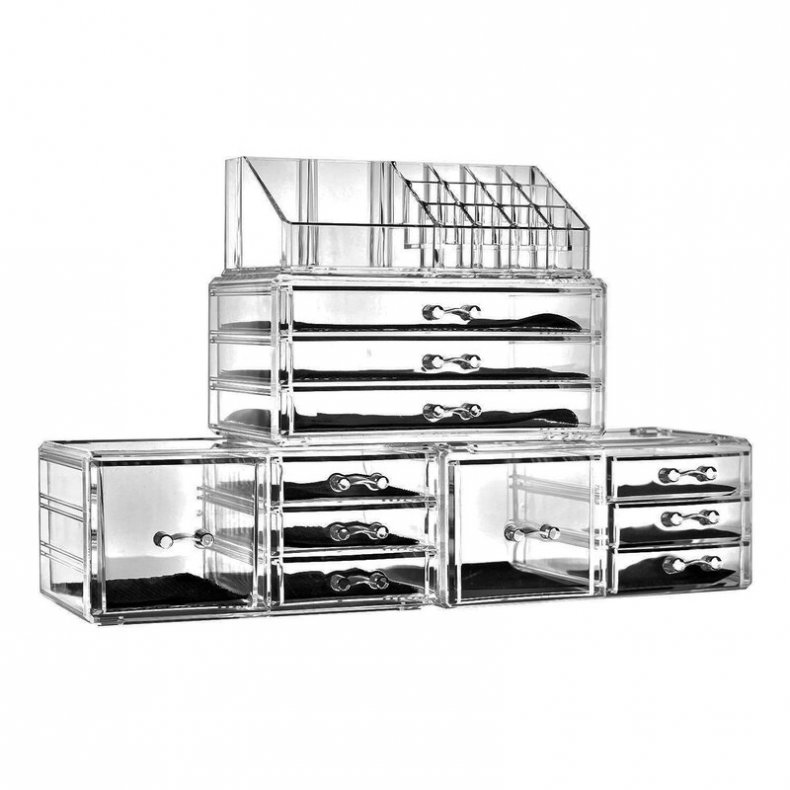 Are you or someone you know always chasing down hand cream, mascara, lipstick and more? That's when the 10-drawer Willa Arlo Interiors Saulsbury Cosmetic Case is a lifesaver. It's made of high-quality plastic material, so it's built to last. It measures 15.94 inches by 9.45 inches by 5.91 inches, so it has plenty of space for your essentials.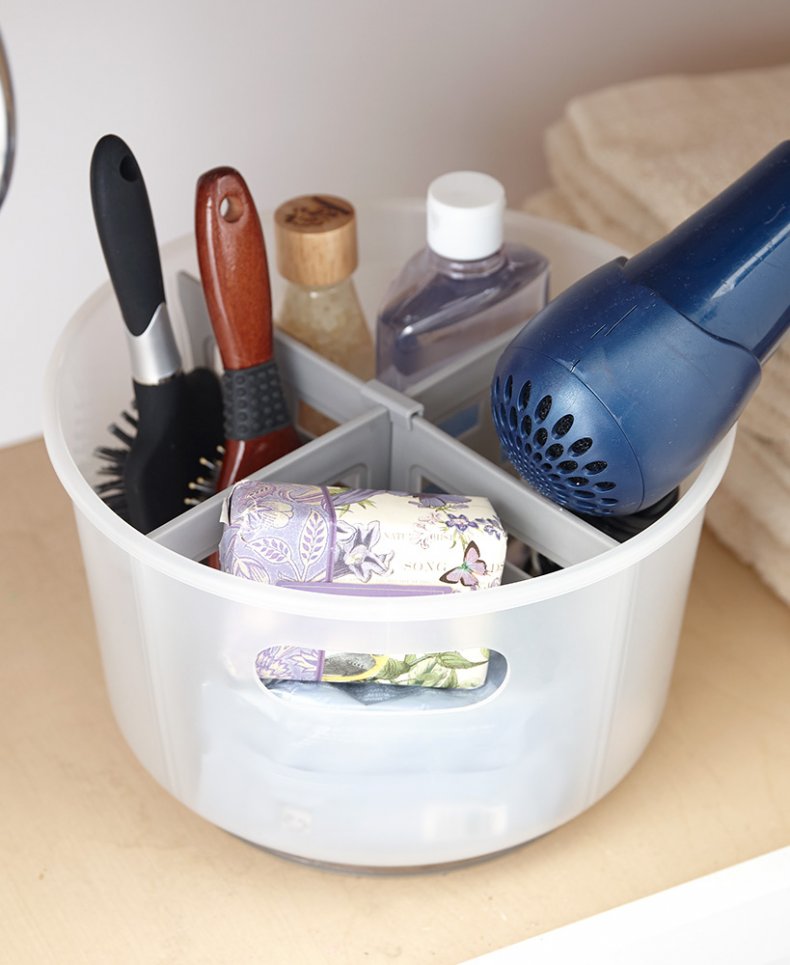 Are you forever chasing down your lip balm, mascara and other cosmetics here, there and everywhere? The Lakeside Collection Rotating Divided Organizer is the answer. It is made of high-quality plastic material that makes it durable. And it's 15.94 inches by 9.45 inches by 5.91 inches, so there's plenty of room for your essentials.
Buy at The Lakeside Collection for $7.19.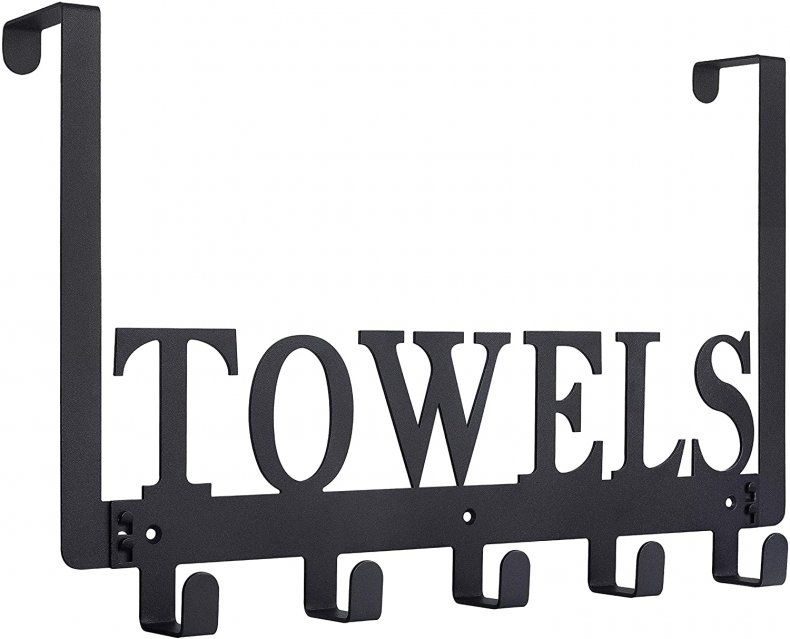 You can move the black manganese steel Kuhome Over the Door Hooks wherever it's needed. Use it, as it states, for "Towels" in the bathroom or hang robes, nightgowns or whatever else you have to organize. It's 15 inches by 1.7 inches by 10.3 inches, so the five hooks are spaced so they can easily hold thick towels and fluffy robes.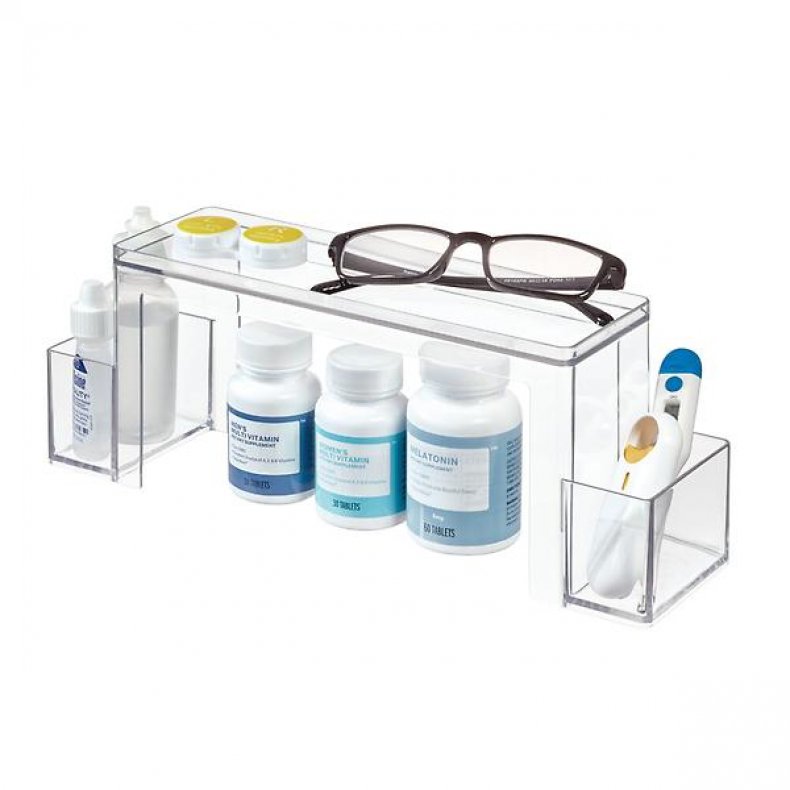 The Home Edit by IDesign 2-Tier Organizer is thin enough so you can organize items on narrow shelves, such as those inside medicine cabinets. That's a fantastic way to organize medicines, keep glasses handy and even hold eyedrops and other must-haves. This organizer, which measures 12.5 inches by 3 inches by 4.5 inches, is made of durable, clear plastic, so it's made to last.
Buy at The Container Store for $12.99.
Newsweek may earn a commission from links on this page, but we only recommend products we back. We participate in various affiliate marketing programs, which means we may get paid commissions on editorially chosen products purchased through our links to retailer sites.