15 Bathroom Storage Upgrades You Need in Your Life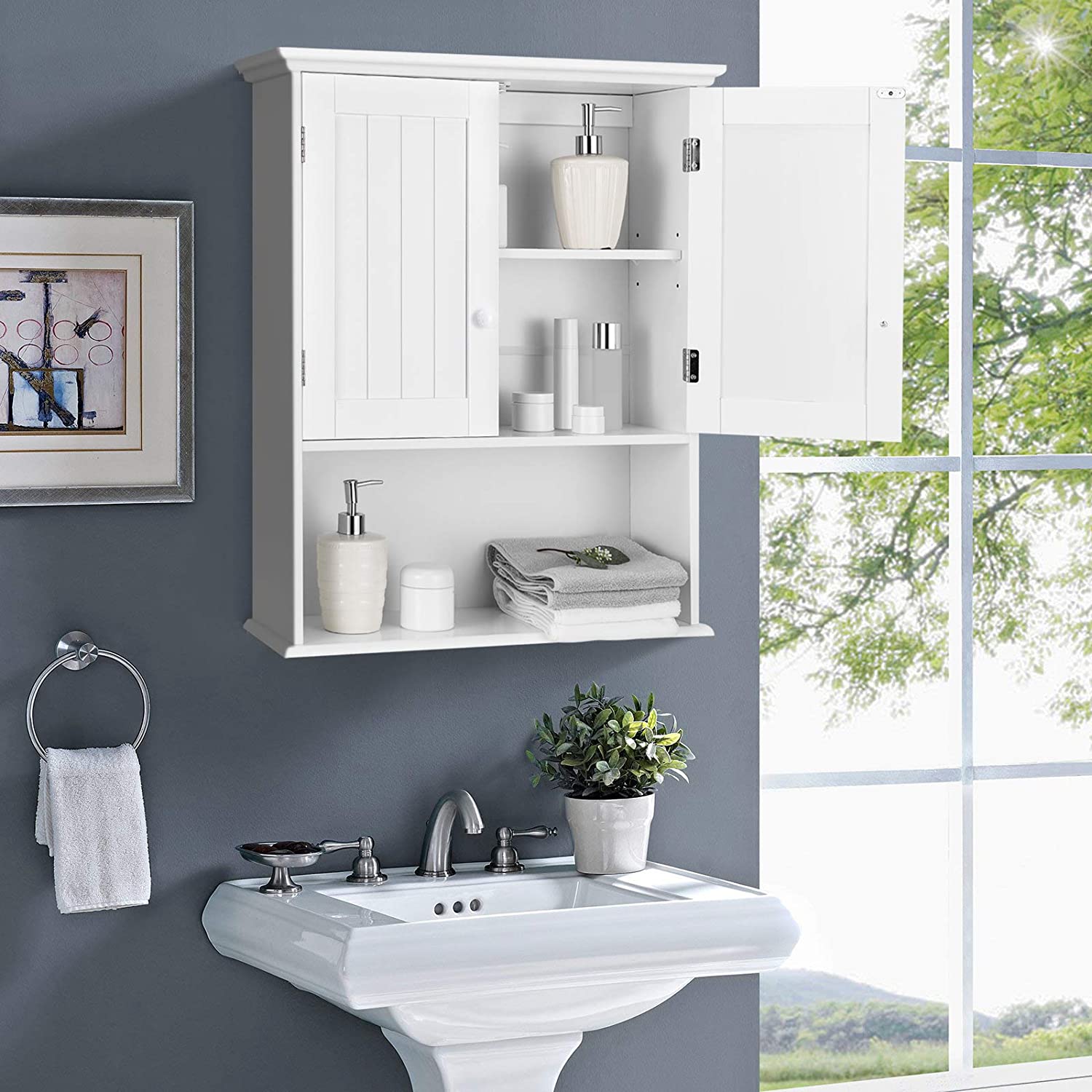 Most of us spend considerable time upgrading and organizing our "public rooms," you know, the kitchen, living room, theatre room and patio. Don't forget that the bathroom is also a public room. True, guests won't traditionally hang out there for extended times, but the powder room and guest room are arguably your most "public" private rooms.
Some people don't realize that it's fun to upgrade and organize a bathroom. One reason is that the home decor rules that guide you in most rooms don't apply to bathrooms.

Top-Rated Bathroom Upgrades at Budget-Friendly Prices
We think one of the best ways to begin to upgrade your bathroom is to organize all of the odds and ends (think cosmetics, toiletries) and necessities (toilet paper, soap) then add fun and modern touches. You can add plenty of upgraded style to your guest, powder or main bathroom with these 15 top-rated products we found. As always, the prices listed may fluctuate over time.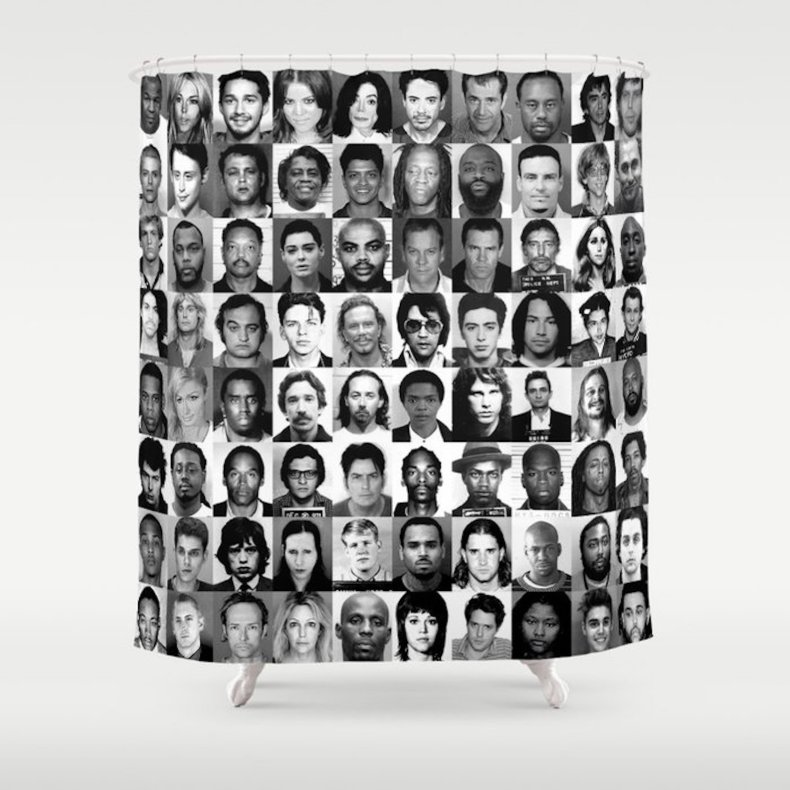 One great way to upgrade your guest bath in a way that sparks conversation is to bring Michael Jackson, Frank Sinatra and Snoop Dogg into the mix. The Imitation Crab Celebrity Mugshot Shower Curtain does just that with an array of mugshots (yes, all three of those celebs are on there) printed on one side. The 100 percent polyester-crafted curtain measures 71 inches by 74 inches. It's a shower must-have that you can toss in the washer and dryer to clean. It features 12 buttonholes on the top for hanging. The design is on one side with print on the reverse.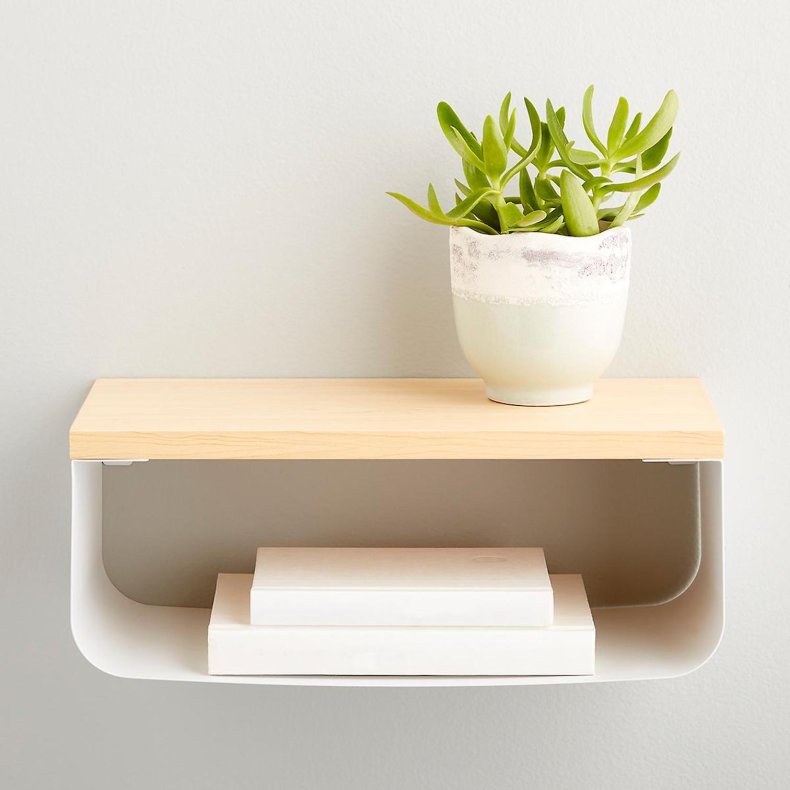 It's easy to love Umbra Bijou Floating Shelf Cubby. It's a modern wall shelf constructed of iron sheeting and medium-density fiberboard with a melamine top, so there are no cracks or seams that allow water to seep in. It's a perfect bathroom upgrade that looks sharp and provides space for you to organize hand towels, soaps, a small plant or just your jewelry and glasses. It looks great but also is sturdy, holding up to 10 pounds.
Buy at The Container Store for $29.99.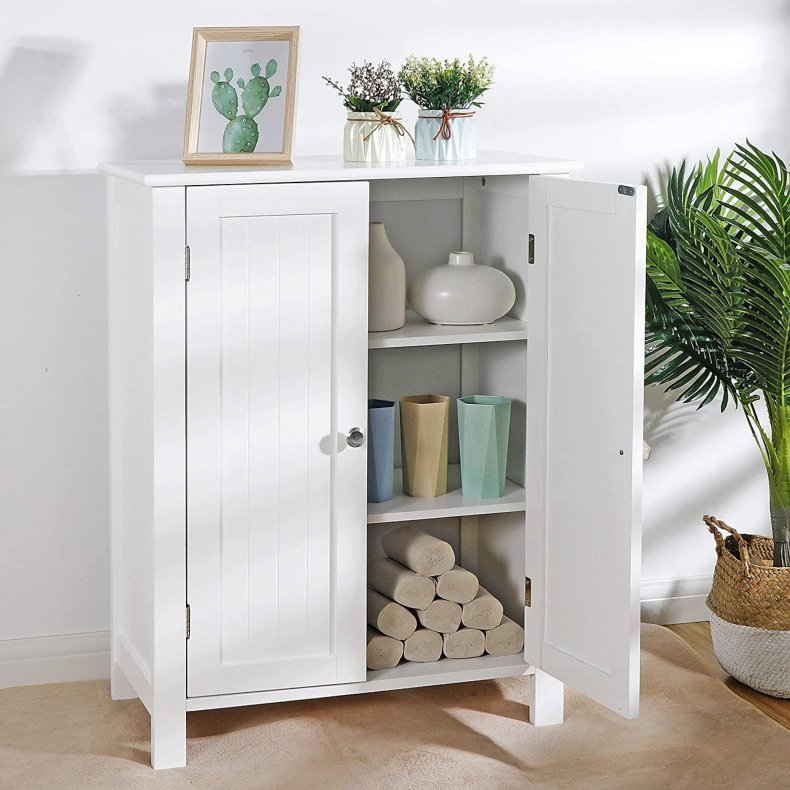 Waterproof fiberboard and rust-proof hardware make Super Deal Modern Bathroom Floor Cabinet a must-have for durability and style. This cabinet is warp-resistant so it looks great for years because it can survive a damp, humid bathroom. And you'll want to enjoy the storage for years in this 23.6-inch by 8-inch by 31.6-inch cabinet that has two interior shelves with three adjustable heights. This cabinet keeps your bathroom organized and stylish. The white cabinet has three built-in storage cubbies for toothbrushes, soaps, and other toiletries.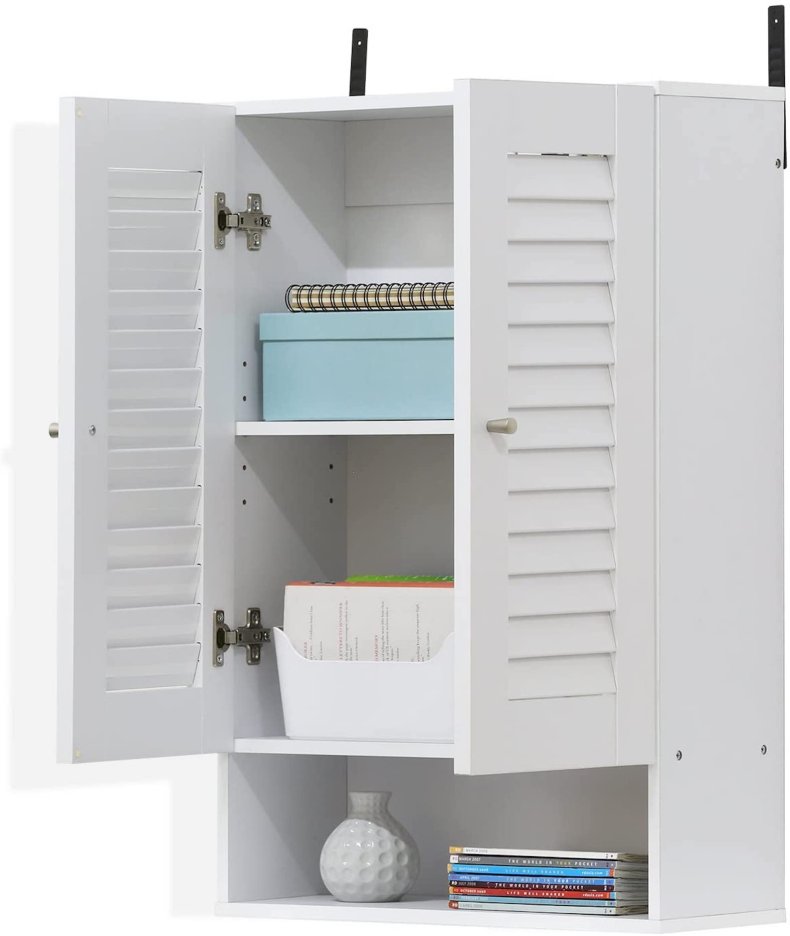 This double-door louvered cabinet looks great and expands your storage space. The Furinno Double Door Wall Cabinet is made from particleboard, available in white or espresso and has two shelves, one of which is adjustable. Each shelf holds up to 4.5 pounds so it's a great place to store shampoo, shaving cream, lotions and more.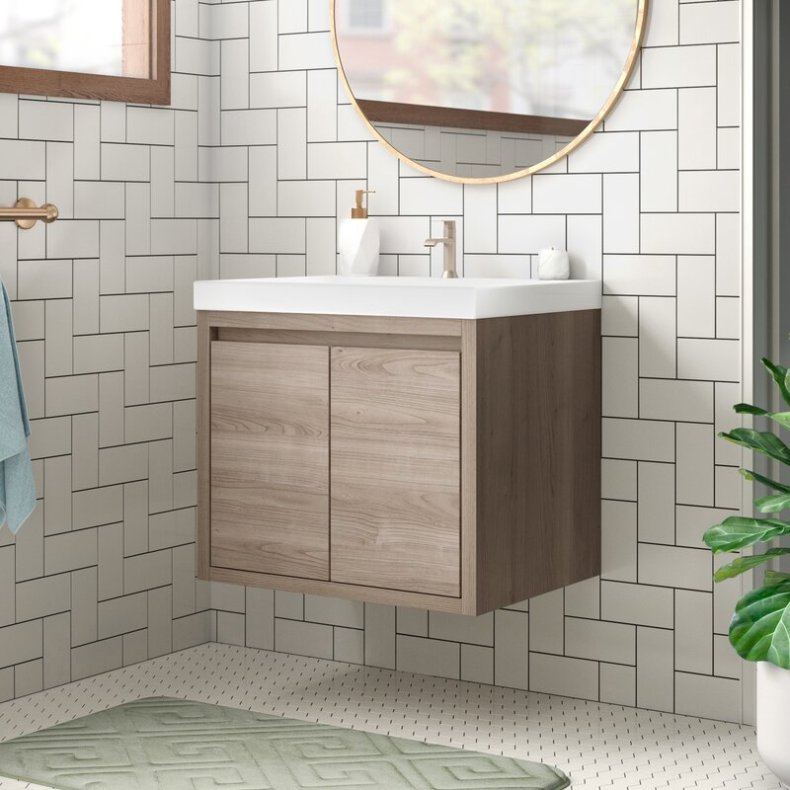 When you're ready to upgrade your powder room or guest bath, you need to consider Mercury Row Altenburg Wall-Mount Vanity Set. The small size of this 25-inch wall-mounted vanity is ideal for opening up needed bathroom space. Its rectangular acrylic integrated sink gives your bathroom a modern, streamlined look. Are you worried about storage? Open the two inset doors beneath the sink and store your towels and other needed goods. One caution: The manufacturer recommends you purchase a wall mounting bracket for easier installation. Choose caramel or Forest Elm.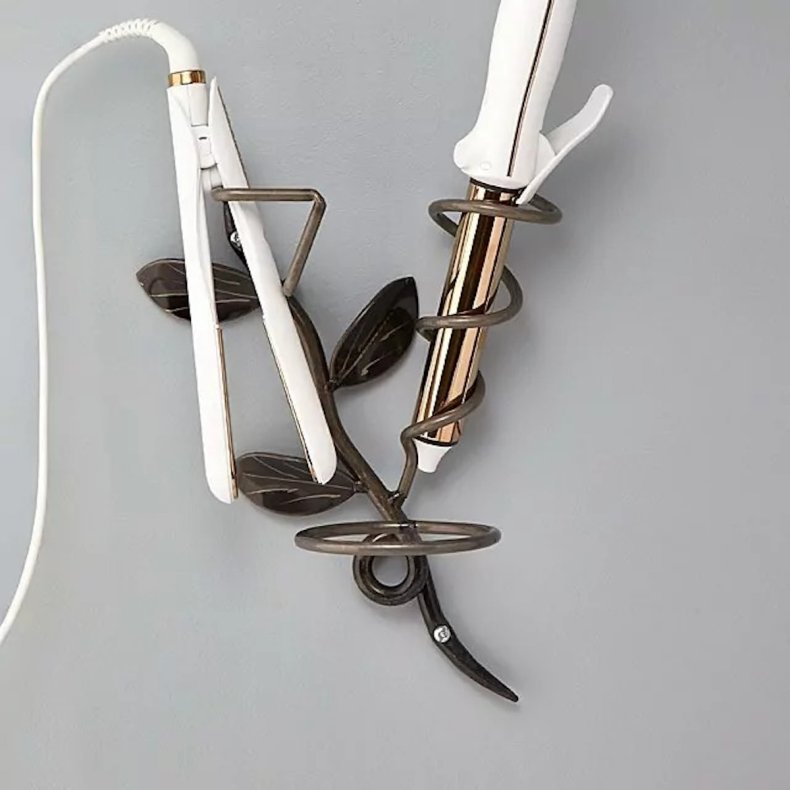 It's such a hassle to dig through a cabinet or closet to unearth your hairdryer, curling iron or other hair appliance. The Michael McNeil Hair Care Holder keeps your products in easy reach in an attractive, handmade powdered-coated metal art. Mount this 13-inch by 10-inch by 5.5-inch holder in your bathroom with the included hardware. It looks great and keeps your needed products handy.
Buy at Uncommon Goods for $45.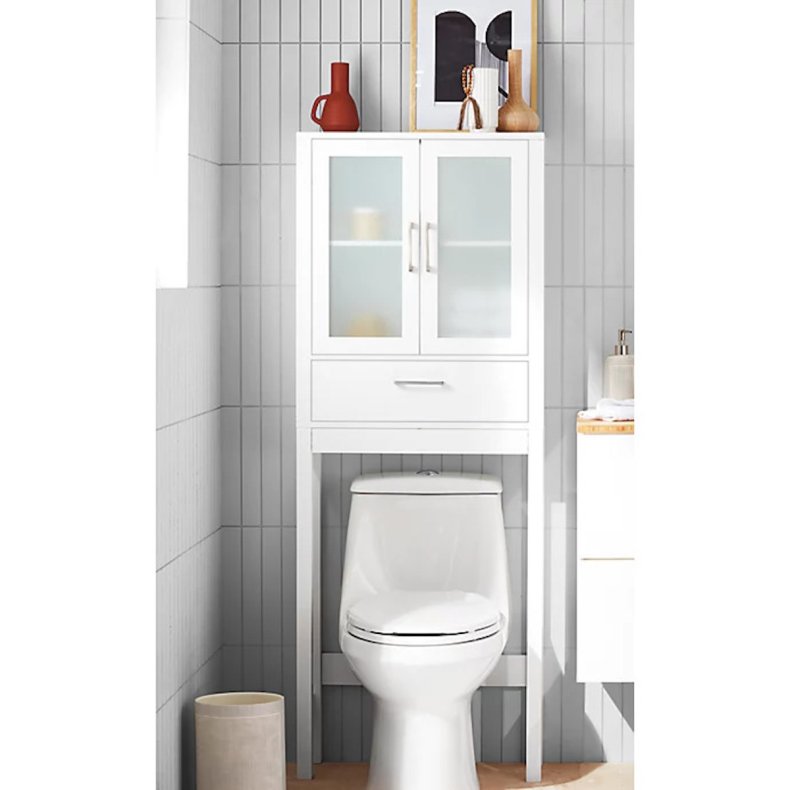 Yes, over-the-toilet storage can be sleek and modern, and that's proven by the stylish Studio 3B Hudson Bathroom Space Saver Cabinet. The white cabinet includes a single bottom pull-out drawer (8.07 inches by 20.6 inches by 5.7 inches) and a single, adjustable wood shelf behind two frosted glass cabinet doors that have a magnetic closure. The stand measures 8.86 inches by 23.6 inches by 62.2 inches, so there is plenty of room for storage inside this medium-density fiberboard, glass and metal constructed cabinet. Choose white or gray.
Buy at Bed Bath and Beyond for $150.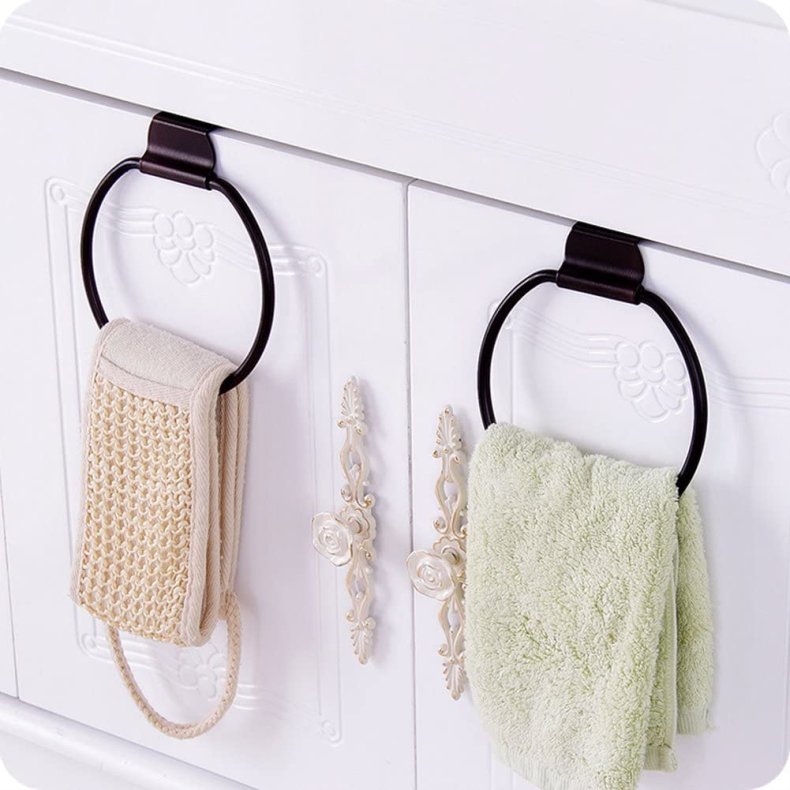 You don't have to mark up your walls to organize your bathroom towels. Fashionclubs Iron Towel Ring Over-the-Cabinet Door wraps around the top of a cabinet door without screws, nails or other fasteners. The holder is made of metal and backed with padded foam to avoid scratches.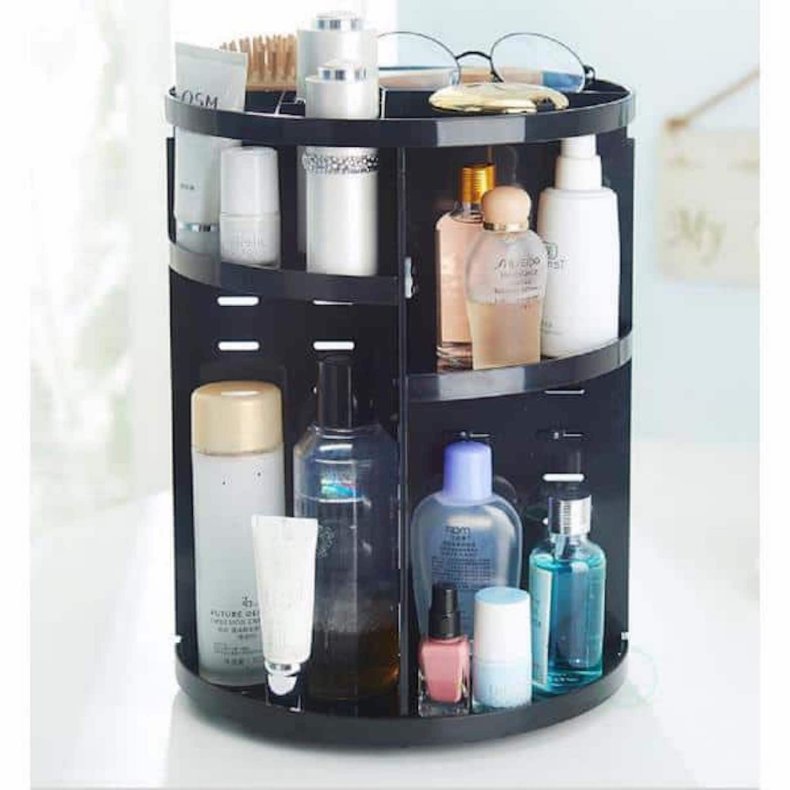 One way to organize your bathroom is to take control of lipsticks, razors, combs and other small toiletries. Basicwise Rotating Cosmetic Storage Tower Makeup Organizer has adjustable tiers so you can make this organizer work for the items you need to store. It measures a dainty 9 inches by 12 inches, so you can easily use it on the counter or in a cabinet.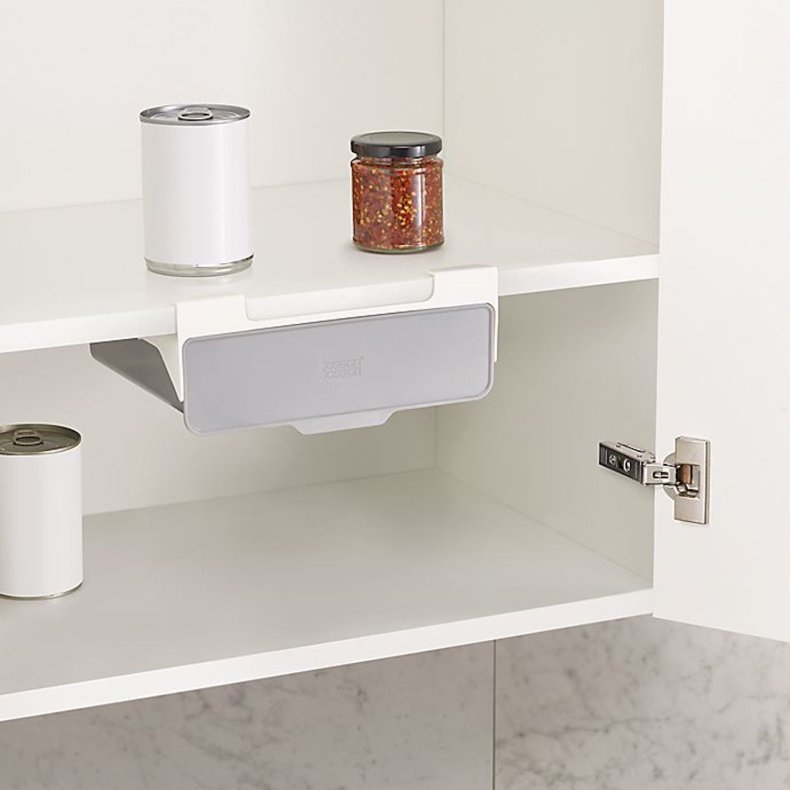 Make use of that space right under the top of the shelf with the Joseph Joseph CupboardStore Under-Shelf Drawer Organizer. The 8.8-inch by 9.25-inch by 3.94-inch organizer slips right under a 9-inch wide shelf. It's a perfect place to store tweezers, contact lenses and other small items you want to organize in your bathroom.
Buy at Bed Bath and Beyond for $14.99.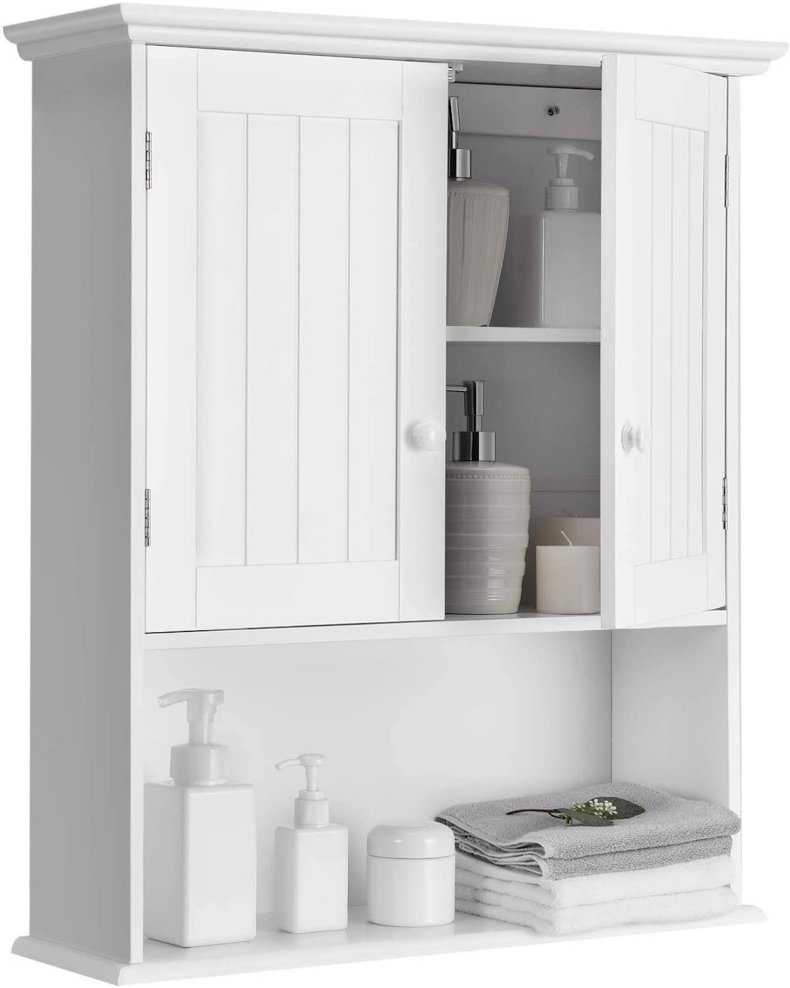 You don't have to invest money, time or space in an oversized cabinet to organize your bathroom items. Tangkula Wall Mount Bathroom Cabinet is a minimalist style storage unit that measures just 23.5 inches by 8 inches by 28 inches and has three shelves, two of which are behind doors. The internal shelf can be adjusted to accommodate different size bottles. Choose white or gray.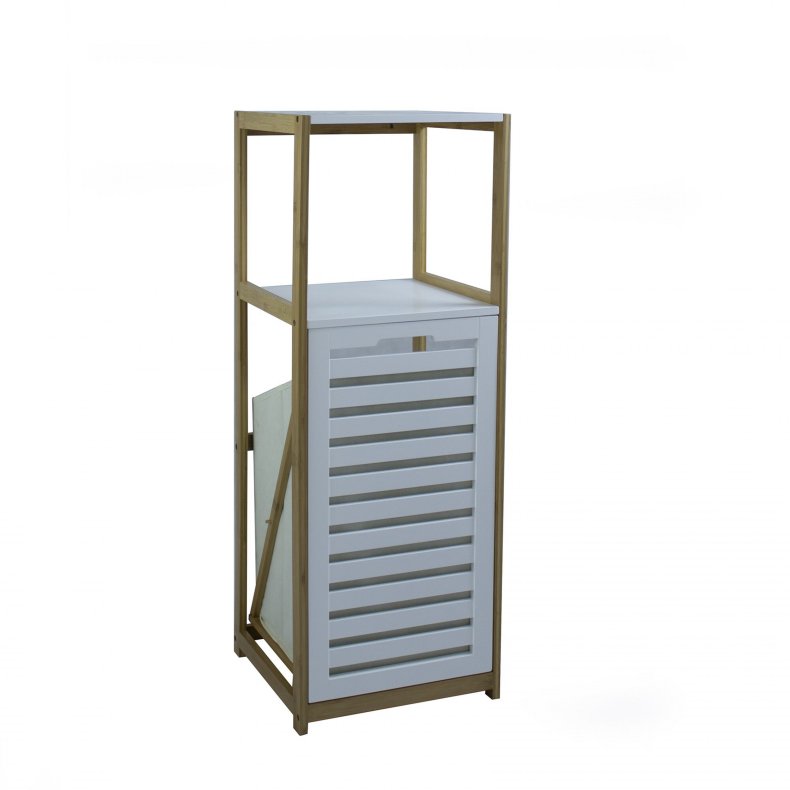 The Latitude Run Arrthor Bathroom Decor and Accessory Shelf is a funky answer to your bathroom organization needs. The 38.59-inch by 14.18-inch by 13-inch cabinet serves as a place to store laundry and includes a shelf that's an ideal place to hold your dryer sheets, stain stick and more. You can remove the laundry bag from the manufactured wood frame to make it easy to unload your dirty laundry. It's an upgrade that is plenty useful, too.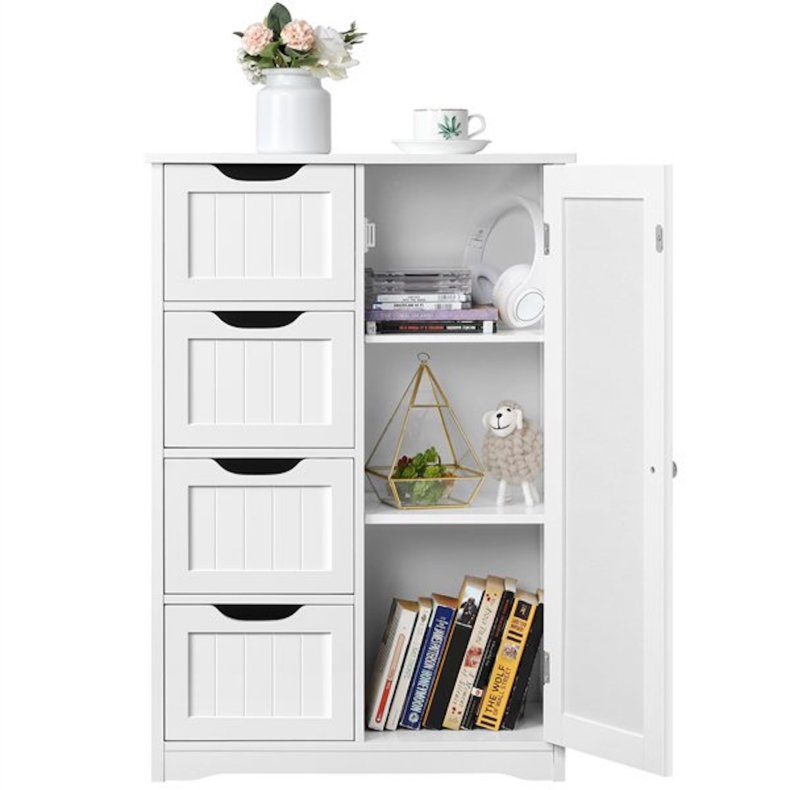 The Easyfashion Bathroom Floor Cabinet Free Standing Storage Organizer can hold up to 88.2 pounds of towels, toiletries, and anything else you need to organize and store. The 22-inch by 12-inch by 32.5-inch cabinet is crafted from manufactured wood and boasts a water-resistant surface. Organize your toilet paper, towels, cosmetics and more in one of the four drawers or three adjustable shelves that are hidden behind a door. Every drawer has a plastic stopper to keep it from pulling completely out. This is an upgrade that looks great and lasts.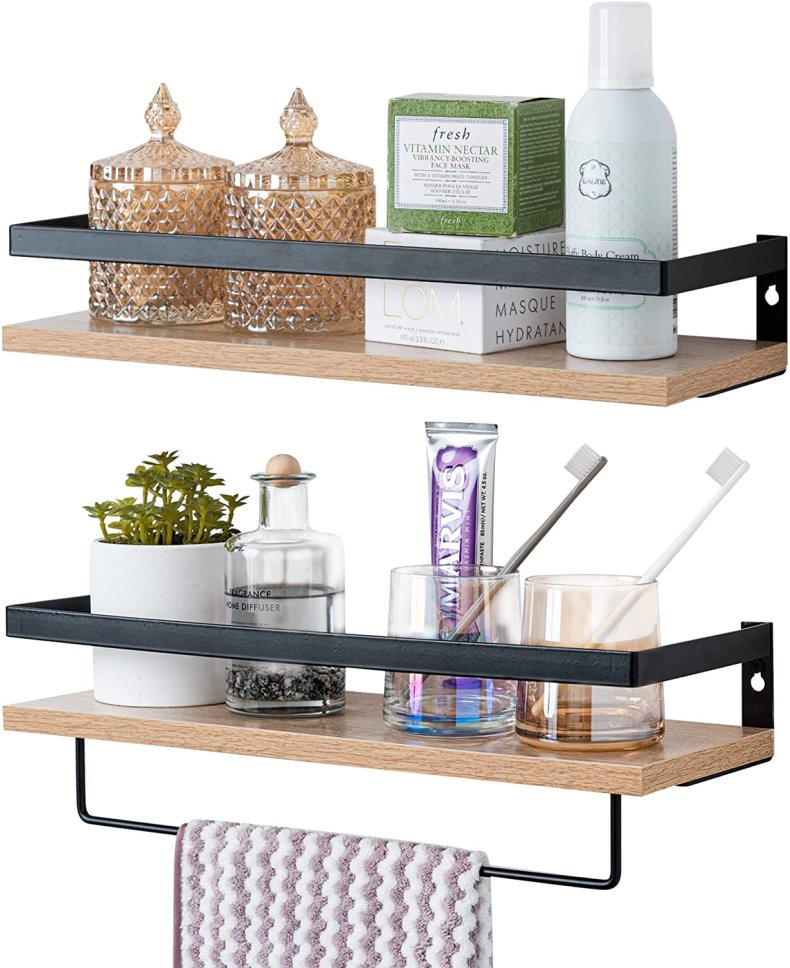 The Labcosi Rustic Grey Floating Shelves offer a fashionable way to organize bathroom must-haves and add small art pieces and other beauty. Each of the two engineered wood shelves in this set measures 16.7 inches by 5.9 inches. They are ideal upgrades for any bathroom style, from rustic to industrial and modern.
Newsweek may earn a commission from links on this page, but we only recommend products we back. We participate in various affiliate marketing programs, which means we may get paid commissions on editorially chosen products purchased through our links to retailer sites.