15 Must-See Events at BookCon 2015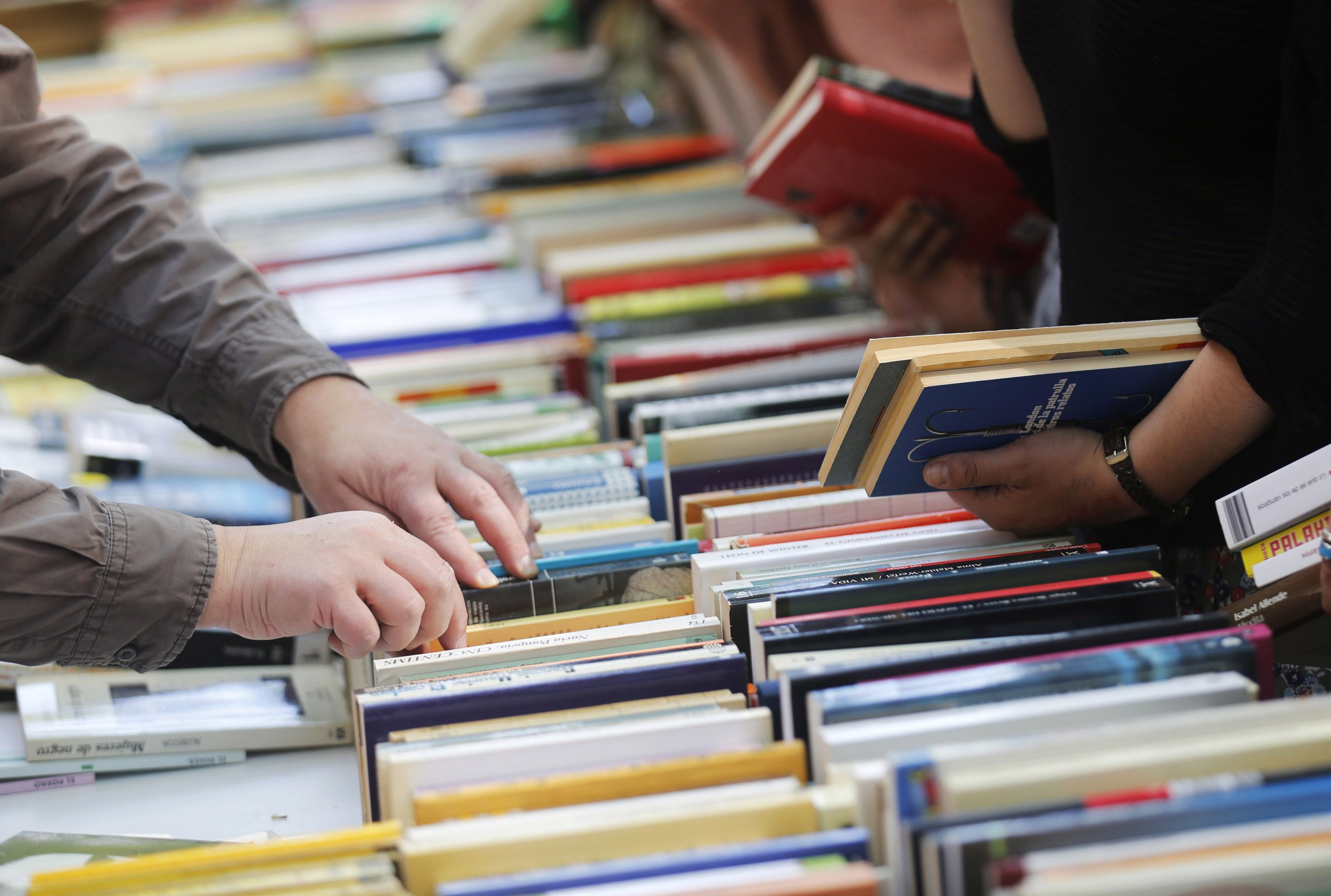 BookCon, an event that describes itself as the place "where storytelling and pop culture collide," is taking over Manhattan's Javits Center for the second year in a row, on May 30-31.
Organized by ReedPop, the group behind New York Comic Con, and affiliated with BookExpo America, the largest publishing event in North America (also taking place at the Javits Center, earlier the same week), BookCon gathers some of the biggest names and titles in books, TV and film and mixes them together for some pretty weird results.
Brien McDonald, BookCon's show manager this year and last, handles all BookCon programming and logistics, from booking big names to setting up the publishing floor for die-hard lit folks. He's responsible for letting Nick Offerman, the burly man's man of Parks and Recreation fame, host an old-timey revival to promote the actor's second book, Gumption.
"We've got his stage order in," McDonald says with a laugh. "There's props, there's flags, wooden rocking chairs, instruments. So who knows what that's gonna bring."
When it comes to getting a mix of book world stars and celebrities, McDonald has a simple metric: "In everything we do, we want to be unique. You definitely need the marquee names to draw people in and build excitement and buzz for the event, but we do have a really strong literary backbone as well: James Patterson is coming, Brad Meltzer, Candace Bushnell."
He also cites the book-to-film events on the docket—John Green's Paper Towns, Jesse Andrews's Me and Earl and the Dying Girl—as one of the Con's biggest draws. But, McDonald says, it's more of a choose-your-own-adventure event.
"Some people may just want to hear about those films, or they may want to go meet a sci-fi author at the autographing area. Maybe they'll want to have discussions with the publishers on the show floor and just kind of take a dive on what publishing means today," he says. "I'm thrilled about the entire event."
Tickets are still available on BookCon's site. For a little primer on this huge, weekend-long event, Newsweek has selected 15 panels (plus some bonus ones) worth checking out.
Aziz Ansari's panel on Modern Romance
When: Saturday, May 30, 4:15 p.m.
What: Standup comedian and Parks and Recreation star Aziz Ansari discusses his new book, Modern Romance, with The New York Times's "Modern Love" column editor, Daniel Jones. "Aziz is taking people behind the scenes of his latest book, which is actually quite interesting," McDonald says. "It's not just a memoir, it's a whole deep dive into modern relationships and the social science behind them, and technology.... We get to see a different side of him."
We Need Diverse Books panels
When: times vary
What: We Need Diverse Books is an example of what even just starting a dialogue about diversity can accomplish. In April 2014, two authors of Young Adult books, Ellen Oh and Malinda Lo, began a Twitter conversation about last year's BookCon, and specifically about their frustration that the panels for children's books featured only white, male authors. After an event that May to discuss solutions, We Need Diverse Books was born. Their goal is simple: to make children's books reflect the diversity of the kids who will be reading them. This year, a movement that started as a critique of BookCon will be hosting two panels at the very event that initially prompted disappointment. On Saturday, the group will present "Our World and Beyond," about diversity in science fiction. On Sunday, it's "Luminaries of Children's Literature," featuring speakers like David Levithan and Aisha Saeed.
Marvel Presents...
When: times vary
What: The comic book/film production behemoth hosts several cool events during BookCon. Some highlights include Saturday's "Women of Marvel" panel, a conversation between author Margaret Stohl and Marvel Social Media Director Adri Cowan about women "tackling the superhero genre" on the page; Saturday's "Marvel Presents Star Wars," about the soon-to-be-relaunched Star Wars comics; and Sunday's "Marvel Presents: Max Ride, Dark Tower and More," featuring best-selling author James Patterson alongside other writers who have watched their novels reimagined by Marvel artists.
Book-to-Film events
When: times vary
What: The events where books and the film world collide usually draw a big crowd at BookCon. There are four in total, but we're keeping our eye on Saturday's discussion of Room, in which author Emma Donaghue talks to actress Brie Larson, who stars in the film adaptation, about turning a novel into a motion picture. Later that day, author Jesse Andrews does the same, this time alongside actor Thomas Mann and director Alfonso Gomez-Rejon as they discuss the Sunday Grand Jury Prize-winning Me and Earl and the Dying Girl.
Felicia Day Discusses You're Never Weird on the Internet (Almost)
When: Saturday, 1 p.m.
What: Felicia Day—Twitter celebrity, actress, nerd goddess—sits down with Jill Pantozzi, editor of the funny feminist site The Mary Sue, to discuss her new memoir about how to be weird on the Internet and successful IRL.
HOLY COW, Meet David Duchovny
When: Saturday, 2 p.m.
What: David Duchovny, when he wasn't recording albums or finding out if the truth really is out there, kept busy by writing books. He'll be on hand to talk about and sign his latest one, Holy Cow. He's a writer and he played one on TV.
Girls Online/Girls IRL: Women in the New Media
When: Saturday, 2:30 p.m.
What: YouTube star Akilah Hughes leads Rookie founder and Editor-in-Chief Tavi Gevinson, Rookie writer Jamia Wilson, Hello Giggles founder Sophia Rossie and Hello Giggles contributor Ruby Karp in a talk about what it means to be a young woman on the cutting edge of Internet publishing and a sister doin' it for herself.
Mindy Kaling in conversation with B.J. Novak
When: Saturday, 11 a.m.
What: Actress/writer/showrunner Mindy Kaling and actor/writer B.J. Novak met on the set of The Office, co-starred on that show and occasionally on The Mindy Project, and maintained an on-again-off-again relationship off-screen. Now the two are writing a book about everything they went through, professionally and romantically, and discussing it first at BookCon. It's already getting a ton of buzz, so get there early.
Welcome to Night Vale
When: Saturday, 5:30 p.m.
What: Joseph Fink and Jeffrey Cranor, creators of the beloved hit podcast Welcome to Night Vale—structured like a morning radio show from a Southwestern town where all conspiracy theories are true—have written a novel! To celebrate, they'll sit down with Cecil Baldwin (voice of Night Vale and the forthcoming audiobook) and Meg Bashwiner (voice of Deb on the podcast) to discuss the novel and its podcast roots. Baldwin will even read a special excerpt.
Nick Offerman's Gumption Revival!
When: Saturday, 2:30 p.m.
What: Ansari's Parks and Recreation co-star Nick Offerman hosts Gumption Revival!, moderated by The Daily Show's John Hodgman and featuring "conversation, music and muckraking." The event also promises a very special guest, to be announced. We're crossing our fingers that it's Offerman's wife, the beautiful and terrifying Megan Mullally.
Paper Towns Film Panel
When: Saturday, 6 p.m.
What: Best-selling YA megastar John Green's novel Paper Towns will get the movie treatment this summer in what's sure to be the biggest premiere in the teen world since, well, the last John Green novel got the movie treatment. At BookCon, he'll be joined by cast members Justice Smith and Nat Wolff (but, sadly, no Cara Delevingne) as well as the film's composer, Ryan Lott (Son Lux).
Jason Segel Talks Nightmares! The Sleepwalker Tonic
When: Sunday, May 31, 12:45 p.m.
What: Actor, songwriter, comedian, dream boyfriend Jason Segel has written the follow-up to his best-selling YA novel Nightmares!, out this September. In the meantime, he joins author Lev Grossman (The Magicians) for a sit-down. We're hoping their talk is secretly going to be a trip to magicians' school accompanied by the Muppets, but we'll live if it ends up just being a chat between these two.
Fierce Is My Middle Name
When: Sunday, 1 p.m.
What: Prolific-in-their-respective-rights authors Charlaine Harris, Rae Carson and Sarah J. Maas will take the stage to discuss how they create strong female characters within the supernatural genre.
Judy Blume in Conversation with Jennifer Weiner
When: Sunday, 2:30 p.m.
What: It's hard to outshine nine-time best-seller Jennifer Weiner in a room, but something tells us it'll be a close call on Sunday, when she hosts iconic Young Adult author and multigenerational hero Judy Blume in a conversation.
See also: Meg Cabot, mastermind of the well-loved Princess Diaries series, which turns 15 this year, has been hard at work on a new novel, this time about heroine Mia's half-sister. It's called From the Notebooks of a Middle School Princess. On Sunday at noon, Cabot joins The Mary Sue's Sam Maggs for a chat about her badass literary legacy.
Goosebumps Movie Panel with R.L. Stine
When: Sunday, 4:15 p.m.
What: For anyone who grew up in the late '80s or '90s, the BookCon closer needs no introduction. It's R.L. Stine, creator of the staggering Goosebumps series, master of YA horror and the reason so many millennials lost sleep as youths. At BookCon, he'll talk about the upcoming celluloid iteration of his books, which to date have sold over 350 million copies worldwide. Goosebumps (the movie) will be released this August, and Stine will be joined on the panel by actors Ryan Lee and Dylan Minnette.