15 Best-Selling Fitness Products on Amazon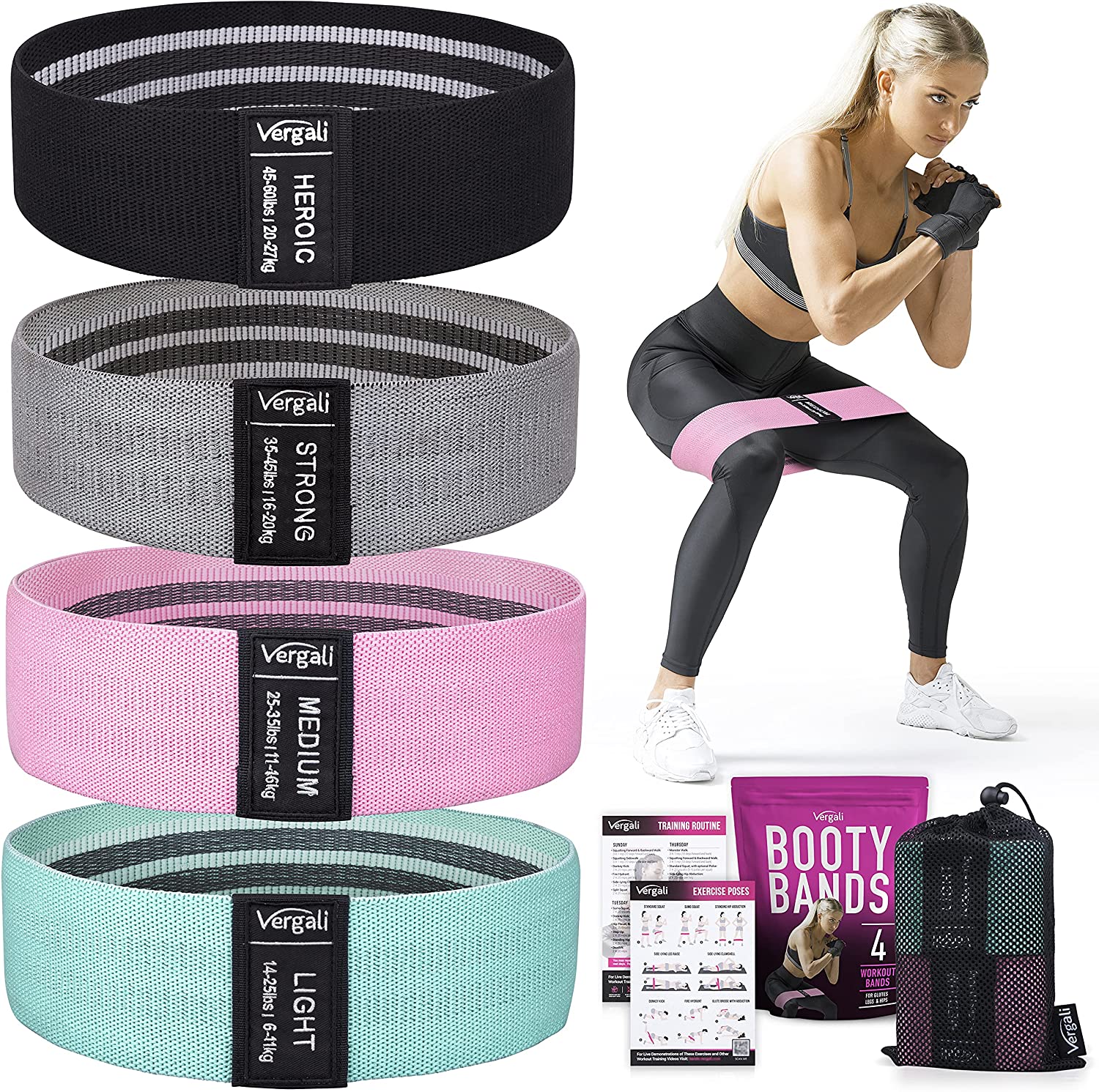 If you're like many of us, the approaching New Year brings a new commitment to eating right and exercising. As the pandemic continues, many of us are wary about gym memberships, even at facilities we've used in the past. And a lack of living space and concern about the effectiveness of personal workouts leaves many of us hesitant even to try home exercise.
Our advice is don't give up on personal workouts. There are an array of top-rated fitness products that make home exercise effective, easy and fun. One look at the best-selling fitness products on Amazon proves that.
Amazon Products To Shape a New You
There's no shortage of home exercise products available, but you want to choose the right ones for your abilities, lifestyle and finances. Whether you're an experienced athlete, an exercise newcomer or somewhere in between, you'll find a best-selling product on Amazon that suits your fitness level and budget.
Check out the 15 top-rated products we found. As always, the prices listed may fluctuate over time.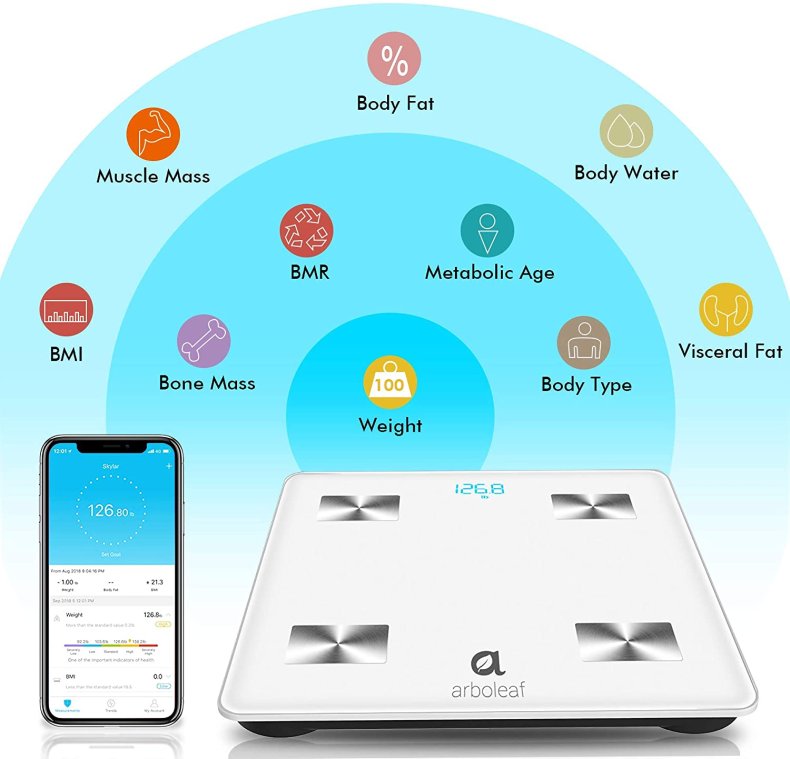 When you begin your quest for fitness, it's a smart idea to understand your starting point. All weight isn't equal––some is from water, other is from muscle mass, then there's bone mass and more. Arboleaf Digital Smart Scale details 14 essential body compositions, displays trend graphs that track your progress and even sends your data to Apple Health, Google Fit and Fitbit App via Bluetooth. This 11.8-inch by 11.8-inch by 1-inch scale has four high-precision sensors and four sensitive electrodes that provide accurate measurements for multi-users that weigh between 5 and 400 pounds. Plus, the scale sells for a budget-friendly price.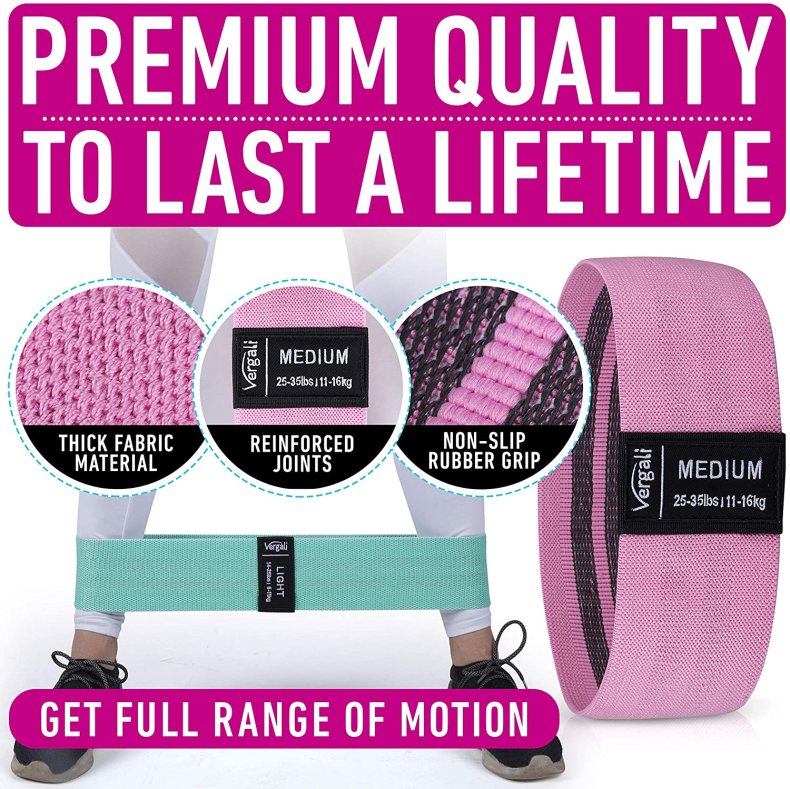 Booty, hips and legs are popular target areas for strengthening and toning. Almost 10,000 Amazon users tackle those tough-to-tone areas with Vergali Fabric Booty Bands for Women. And the buyers have given it a perfect 5-star score. Yes, there are all kinds of bands available, but these have rubber grips on their inner side, so they don't slip. Plus, the set comes with four bands for light, medium, strong and heroic. Use the video library of exercise and the training guide to get your best booty, abs, glutes, hamstrings and quads. And there's even a mesh carrying bag included so you can take the bands to the gym, on vacation, or wherever else you travel.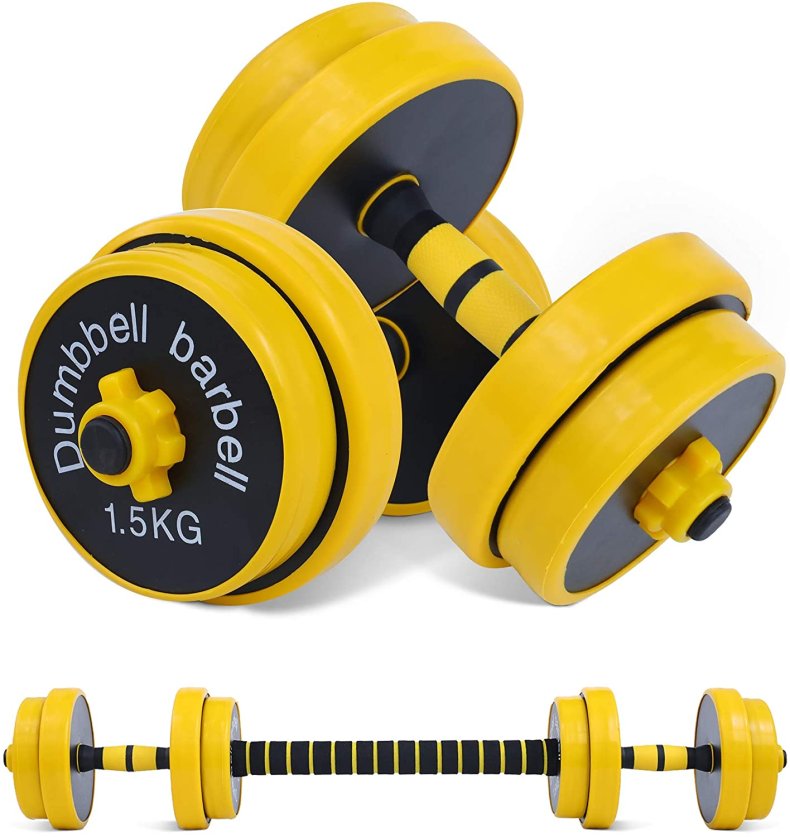 Sometimes you are supercharged for your workout and add extra weight training. Other times it's all you can do just to get through a basic routine. Nice C Adjustable Dumbbell Weight Pair is ready for either exercise routine. It has adjustable plates, so you can customize the weight of each dumbbell to suit your needs. Use them to sculpt your arms and hold them as you do deadlifts or squats to encourage weight loss. Another bonus: Neoprene covering and an upgraded curve-shaped handlebar help you properly grip the weights. Choose pairs ranging from 22 pounds to 88 pounds.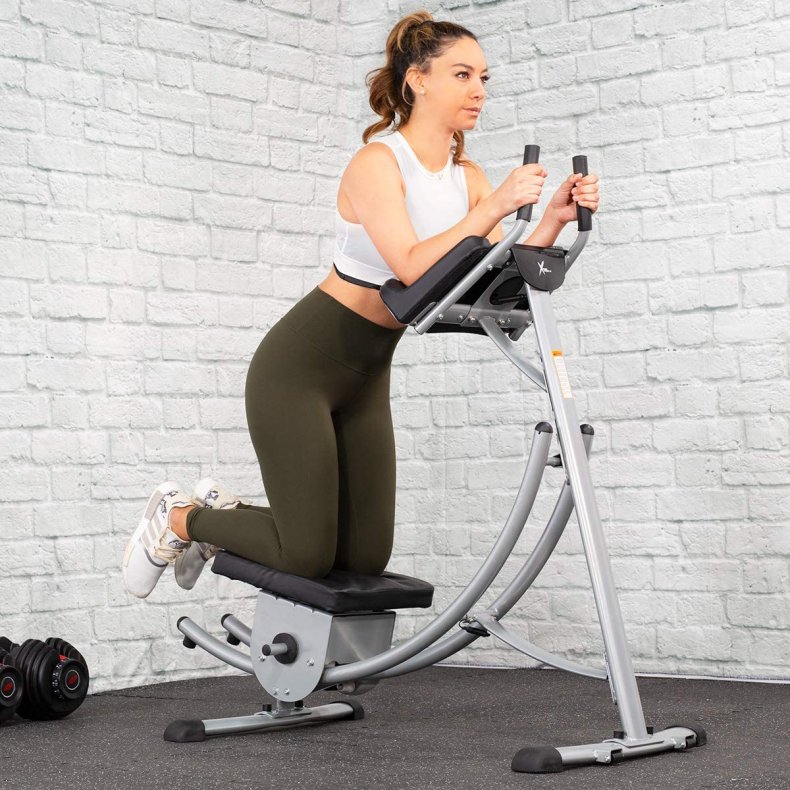 Whittle that waist with XtremepowerUS Deluxe Abdominal Crunch Rolling Fitness Machine. Whether you're a beginner or avid fitness fan, anyone up to 300 pounds can use this 50.5-inch by 15-inch by 15-inch machine to slim the waist and get an overall workout. It's designed as a bottom-up workout so it works the shoulders, back, arms and legs as well as your abs. Kneel on the contoured cushion of the multi-angle adjustable seat and add weight to the plate-loading posts to get your best work out.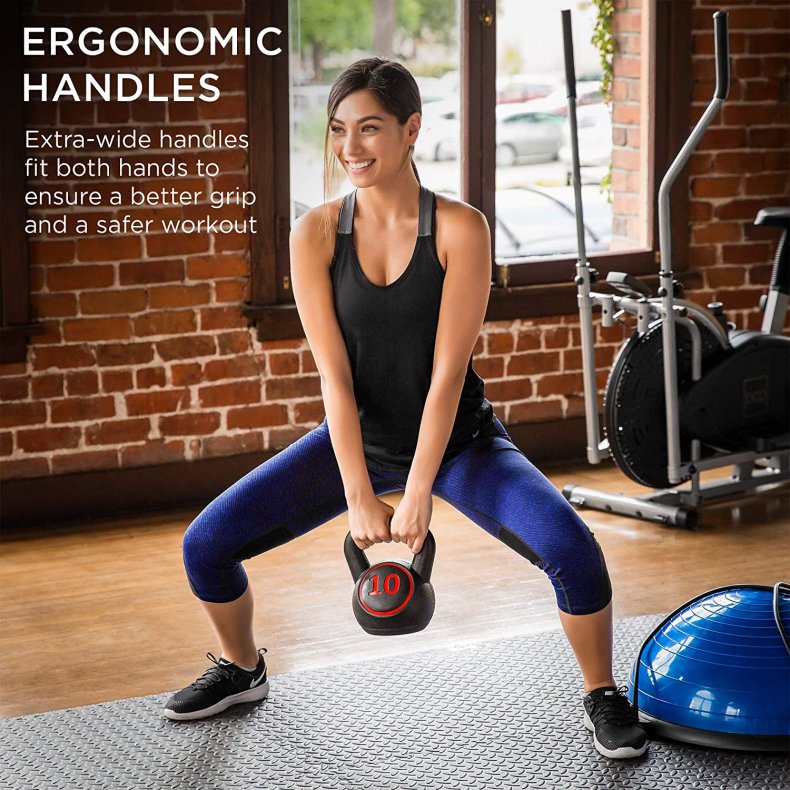 I'm living proof that you should try exercising with kettlebells if you want to lose weight. I lost almost 100 pounds using them and feel great. The problem many people encounter is that they use kettlebells that are too heavy for them, resulting in all kinds of injuries. I'm no fitness expert, but my advice is to start with light weights. Best Choice Products 3-Piece Kettlebell Set includes 5, 10, and 15-pounds kettlebells so you can use the weight that works for you. And yes, lighter weights are effective. This set has ergonomic handles with comfortable grips to avoid slipping out of your hands. And there's even a storage rack included to keep them out of the way when you aren't using them.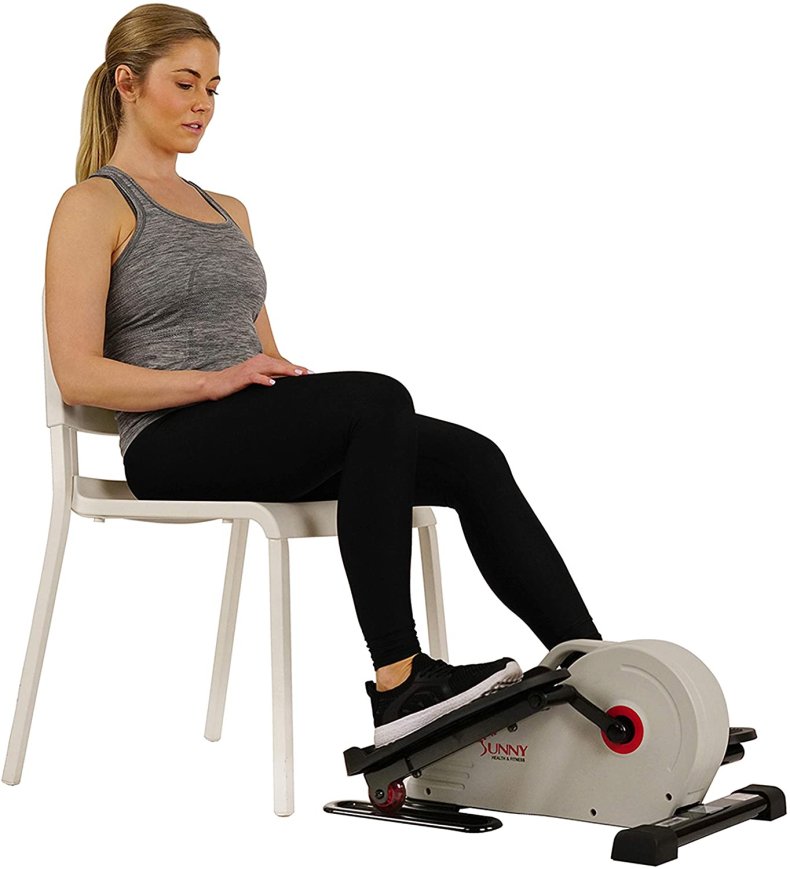 Sedentary lifestyles feel more like the norm as more of us work at home. The Sunny Health & Fitness Under Desk Elliptical can help you get more movement into your day. The 24-inch by 19-inch by 11-inch machine is designed to fit under a desk or table. Plus, it's ready to use, right out of the box. Choose one of the eight levels of magnetic resistance and start pedaling. The digital monitor tracks speed, time, calories and distance. It's available in pink or gray.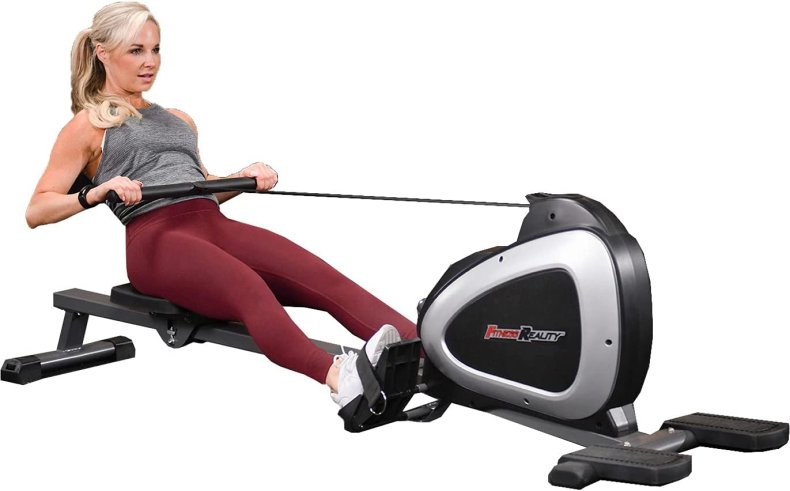 The Fitness Reality 1000 Plus Bluetooth Rowing Machine works your legs, butt, arms and shoulders whether you're a beginner or expert. Fitness levels go from 1 for beginners to 14 for the expert exerciser. Users up to 250 pounds will see it works with Mycloud Fitness App on either IOS or Android, so it tracks distance, calories, count and strokes per minute on the 3.5-inch LED display. Plus, it includes a 30-Day MyCloudFitness Premium Membership so you can try exercises including yoga and bodyweight workouts and track your calories, carbs and other nutrition. The rower measures just 88.5 inches by 21.5 inches by 21.5 inches, which fits into almost any room.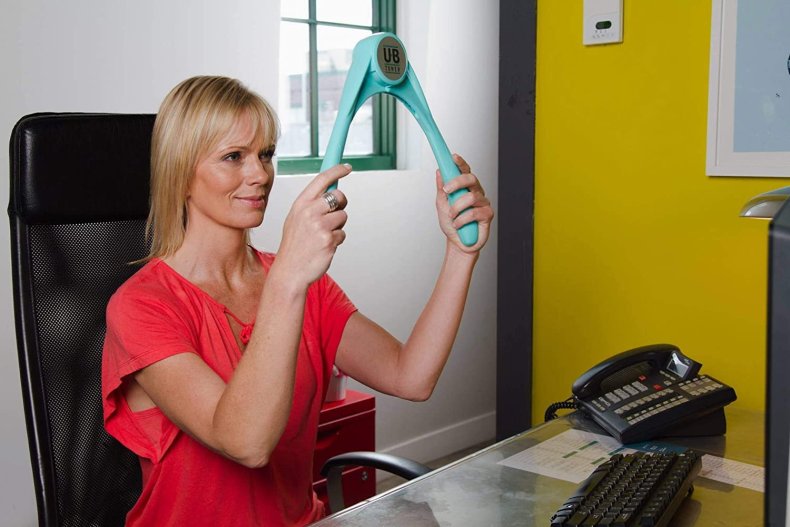 Try the four exercises recommended with the UB Toner for Upper Body Fitness, and you'll have sculpted arms and lifted breasts plus more upper body strength. The Toner only weighs one pound, so you can take it with you when you travel to use the recommended 10 minutes a day for three to four days a week. It provides 18 pounds of resistance, so it works your upper body, including your back muscles.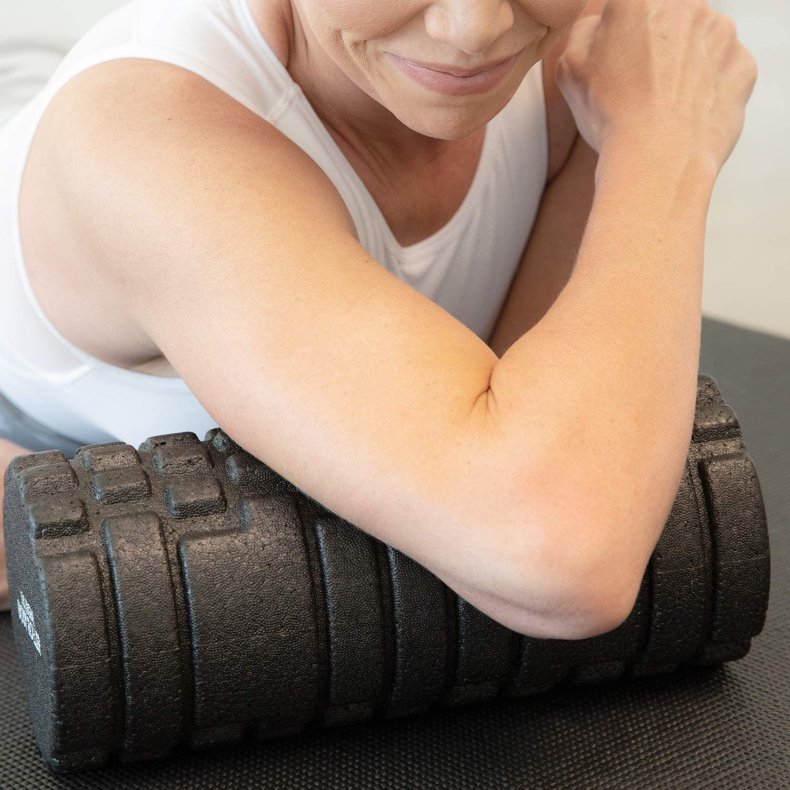 I never thought a roller massager would be helpful until I tried one after a particularly strenuous workout. I could immediately feel the difference in my muscles and didn't have any cramping, either. I was lucky, though. Some friends have used cylinders that were too hard and made cramping worse. The Original Body Roller is 16.89 inches by 12.71 inches by 5.47 inches of just-firm-enough foam to release knots and adhesions. You can use the spiky side to massage your feet, and that's especially soothing for those with plantar fasciitis. Of course, it's also great for your quads, glutes, upper back, and other body parts. This massager truly rolls away the pain. It comes in your choice of colors.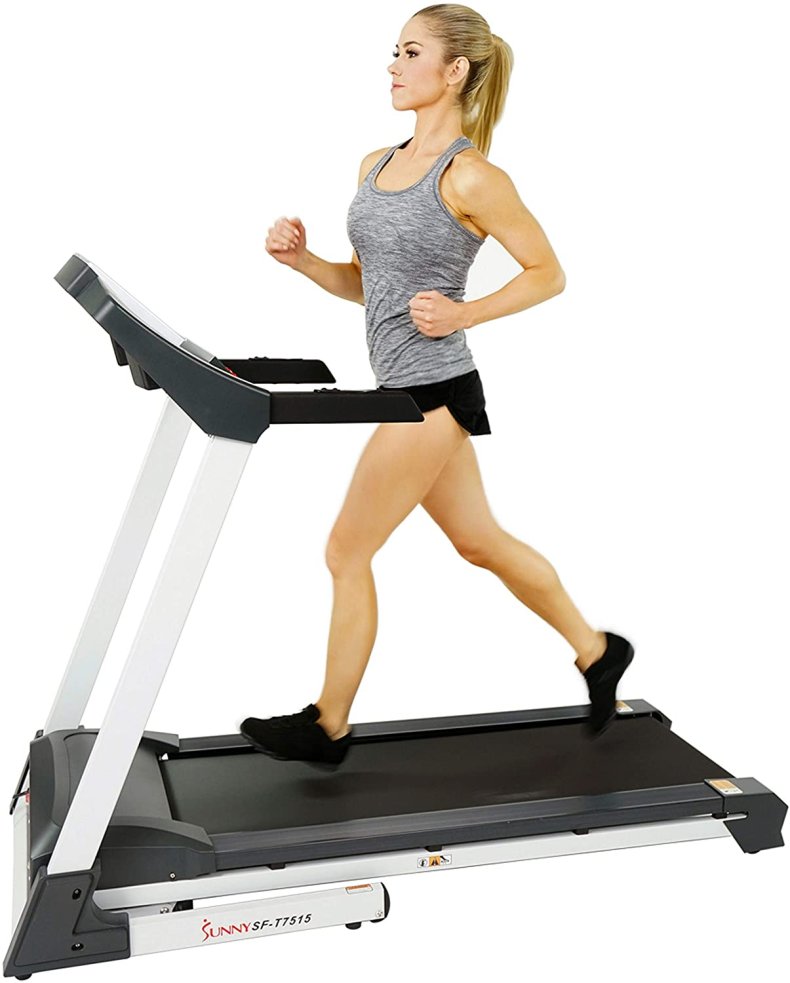 You don't have to spend a fortune on a quality treadmill with Bluetooth and other top features. Sunny Health & Fitness Smart Treadmill has an auto incline, Bluetooth and MP3 technology. It also has a large backlit LCD that clocks time, distance, speed, calories, incline and heart rate. It even has a microphone, so you don't need to break your stride for phone calls. The treadmill measures 49.5 inches by 16.5 inches and has speeds from 1 to 8 miles per hour. You can fold it and use its wheels to tuck it away when it's not in use.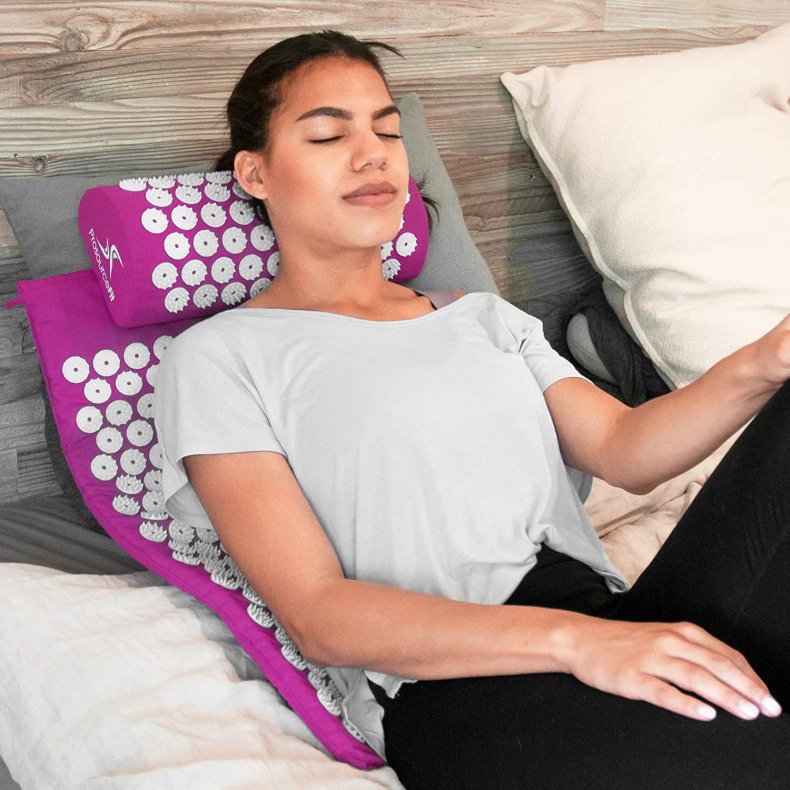 It's difficult, and likely unwise, to exercise when you're in pain. The ProsourceFit Acupressure Mat and Pillow Set naturally eases back pain and muscle tension so you can stay on your fitness course. This cushioned mat is large enough for your entire back and has acupuncture points for neck support. The set is crafted from 100 percent high-quality thick cotton and plant-based eco foam. The 6,210 acupressure points in the mat (it measure 25 inches by 15 3/4 inches) and 1,782 acupressure points in the pillow (measures 14 1/2 inches by 4 inches) stimulate nerves and improve blood circulation for increased energy and faster muscle recovery. It comes in your choice of colors.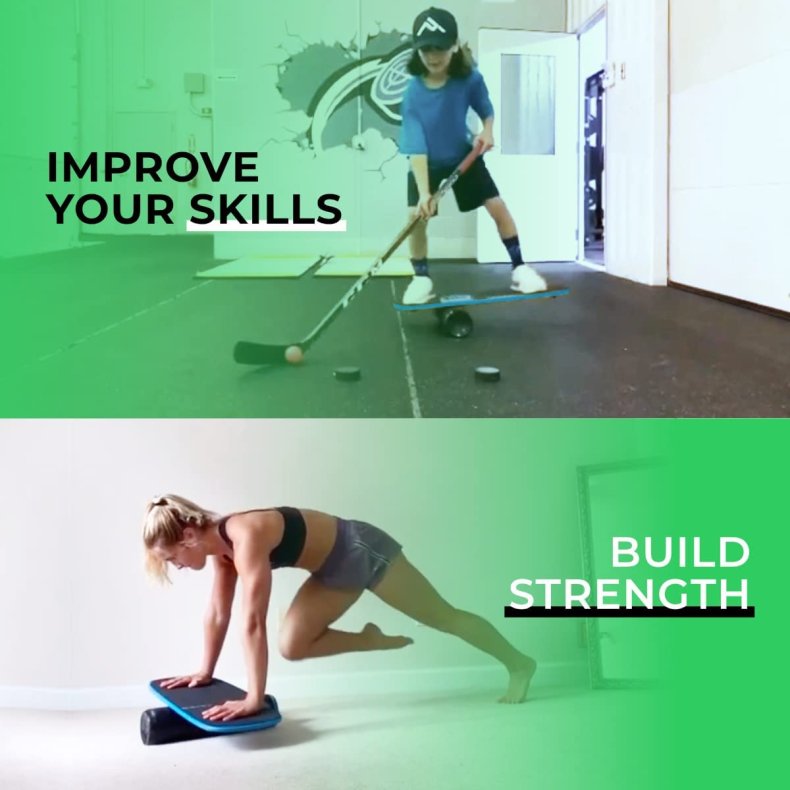 Balance is key to proper fitness. Revbalance 101 Balance Board Sports Trainer is ideal for beginners and exercise experts who want to improve balance and body control for skateboarding, snowboarding, surfing, stand-up paddling, gymnastics and more. Even if you don't participate in those sports, this board, which spins in any direction, helps strengthen core muscle groups, including the stomach, waist, legs, glutes and hips. This highly rated best-selling board measures 29 inches by 11 inches by 5.5 inches. Its poly-wrapped roller and board grip combine to ensure it doesn't come off the edge of the platform. It's available in your choice of colors.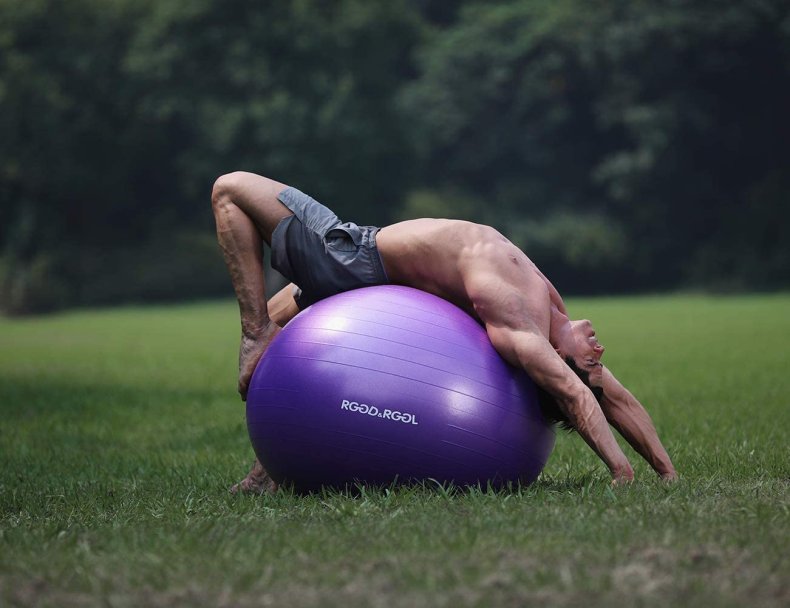 Beginners, intermediate and advanced athletes will build core strength using Rggd&Rggl Yoga Ball Chair. It has two detachable resistance bands on the base, so you can use it as part of a full-body workout that includes crunches, lunges, backbends, inverted push-ups and yoga moves. Use it to replace your office or living room chair, so you build abdominal muscles and improve your posture while you work or watch TV. Every package includes a workout guide, foot pump and replacement plugs. The ball works great for anyone 5 feet 2 inches to 5 feet 10 inches tall. It's available in your choice of colors.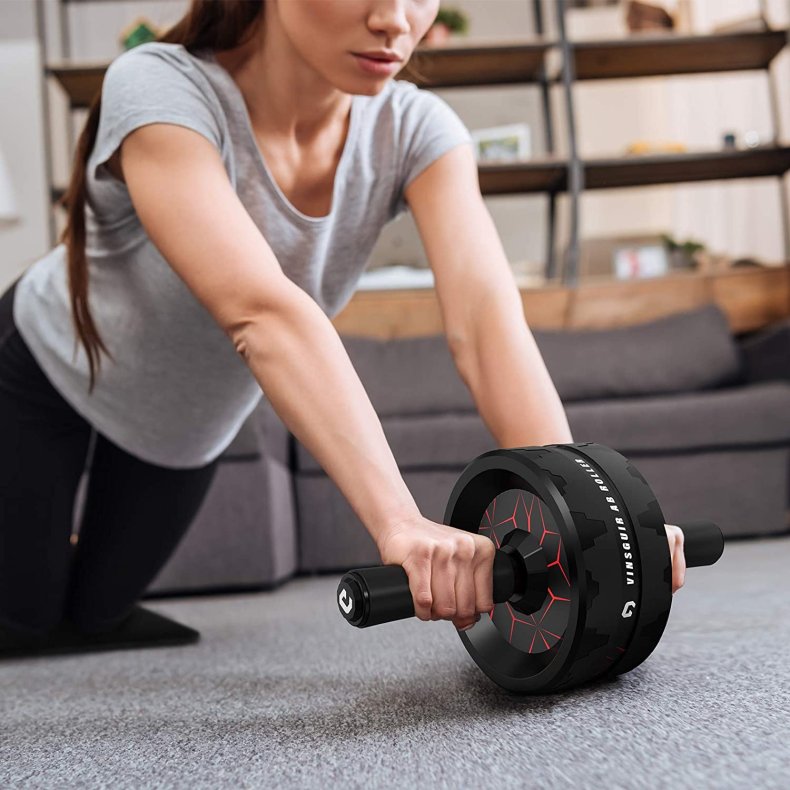 You don't need an oversized machine to build strong abs. Vinsguir Ab Roller Wheel does the job, and it's portable so take it on vacation, business trips and wherever else you might want to work your abs. The wheel's soft TPR rubber smoothly moves back and forth without noise. It comes with a knee mat for your comfort as you build abs, arms, back and other muscles.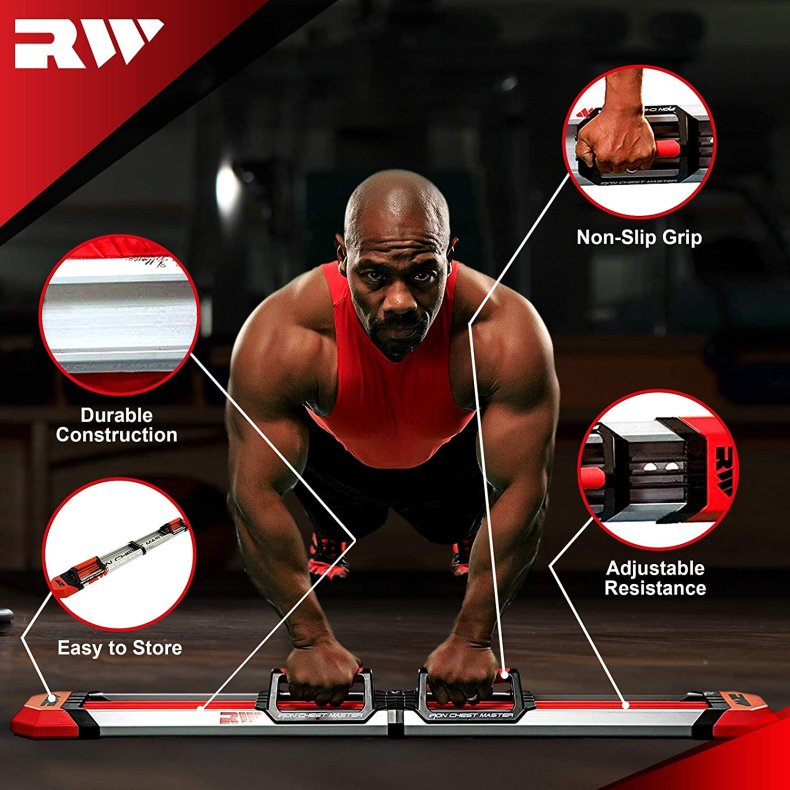 If you want to build chest and arm muscles, you need Iron Chest Master Push Up Machine. This machine uses resistance bands to build strength, unlike push-up bars and handles. In fact, the manufacturer notes that it activates 58 percent more peak muscle than a bench press. It combines the exercise you'd get from a bench press, dumbbell press, push-ups, cable cross overs and other exercises. The standard machine includes six resistance bands, nutrition guidance and six Iron Chest Master workouts.
Newsweek may earn a commission from links on this page, but we only recommend products we back. We participate in various affiliate marketing programs, which means we may get paid commissions on editorially chosen products purchased through our links to retailer sites.