Study Finds $15 Minimum Wage Would Lift 1.3 Million Out of Poverty, But May Increase Joblessness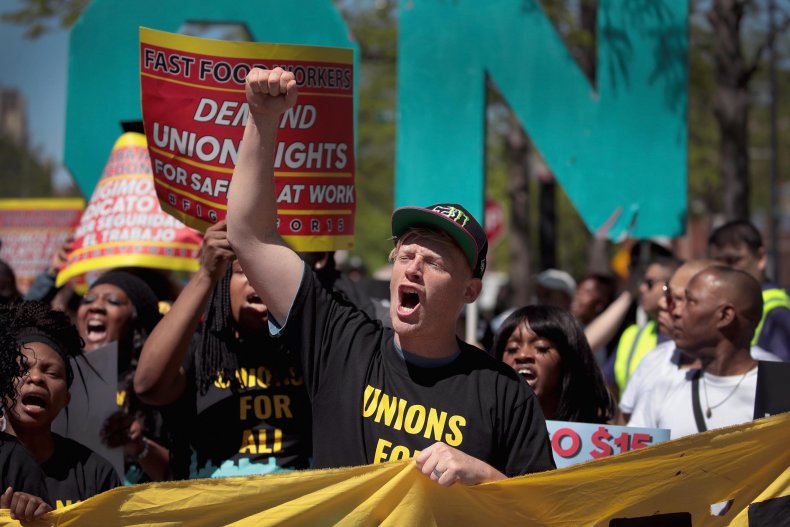 A new report from the Congressional Budget Office (CBO) released on Monday found that if the minimum wage were increased to $15 an hour, 17 million workers who earn less than that amount would see their earnings rise by the year 2025.
According to the report, another 10 million workers earning just above that threshold could benefit financially as well, and 1.3 million people could be lifted out of poverty in about half a decade.
But the report also came with a significant caveat, that 1.3 million workers otherwise employed in the current economy would be jobless over the same span of time.
When considering all the positive and negative effects of a nationwide wage increase, a $15 dollar plan would reduce real family incomes overall by 0.1 percent in 2025, though the lion's share of the gains would accrue towards the bottom of the income spectrum.
A minimum wage increase to this amount, according to the CBO, would lift family incomes by 5.3 percent on average for those below the poverty threshold. For families with incomes between one and three times the poverty level, their incomes would rise by 3.5 percent.
Only for families earning above three times the poverty threshold—$25,465 for a family of four in 2018—would real incomes start to decline, and only marginally at first. Families with incomes between three and six times the poverty rate would only see their earnings fall by 0.1 percent. For families making more than that, incomes would fall by 0.3 percent.
Other effects of a minimum wage increase could include a reduction in business income and an increase in prices.
The Economic Policy Institute, a non-partisan, liberal think tank, took issue with the way the report characterized some of the negative effects of wage increases.
"The crucial fact is that an employment decline as a result of a minimum wage increase doesn't necessarily mean any worker is actually worse off," Heidi Shierholz, the institute's senior economist and director of policy, said in a statement. "For a wide variety of reasons, a sizeable share of low-wage workers routinely cycle in an out of employment... This means that even if employment does decline as CBO predicts, workers who work less can still come out ahead because they earn much more when they are working."
The Raise the Wage Act, introduced in the House of Representatives by Democratic Congressman Bobby Scott in January, would act on research showing benefits for many low-income workers by raising the minimum wage to $15 an hour by 2024.