15 Families Displaced After Motel Fire Near Chicago's O'Hare Airport
At least 100 people were inside a motel in Leyden Township, Illinois, when a fire broke out around 2 a.m on Monday. NBC Chicago reported at least 15 families who were staying in the O'Hare Kitchenette Motel have been displaced by the early morning blaze.
The American Red Cross of Illinois confirmed to NBC Chicago the families would be given shelter on Monday.
"Our volunteers have been out since early this morning assisting families displaced by a fire at a residential hotel in Melrose Park," the American Red Cross of Illinois said in a tweet. "Volunteers are providing a safe place to stay, meals, emotional support and mental health services to those impacted."
Only one injury caused by the fire has been reported as of Monday morning. A woman was burned by the flames in the motel near O'Hare International Airport in Melrose Park. Tenants acted fast to help the woman they said was burning.
"So I went in and got a blanket, and I put her out," Tenant Alvin Willis said to CBS 2 Chicago. "But she was trying to get back in there to get her cat. I kept telling her go downstairs, but she wouldn't move. But then I had to get my mother out because I was concerned about my mother."
One resident told CBS 2 Chicago he heard a "crackling" noise and went to check for the source of the noise. He helped the woman who was burning as well as his own mother.
"She was on fire, her hair was on fire so my son put it out," Ernestine Dinkins, another tenant, said to CBS 2 Chicago. The woman who was reportedly on fire was taken to a hospital.
Flames were reportedly seen shooting from the building and the second floor, where residents lived, was entirely destroyed. One resident told ABC7 Chicago that she did not know about the fire until a firefighter was banging on her door. A smoke alarm she installed herself failed to alert her of the flames, and the motel room did not have a fire alarm when she moved in.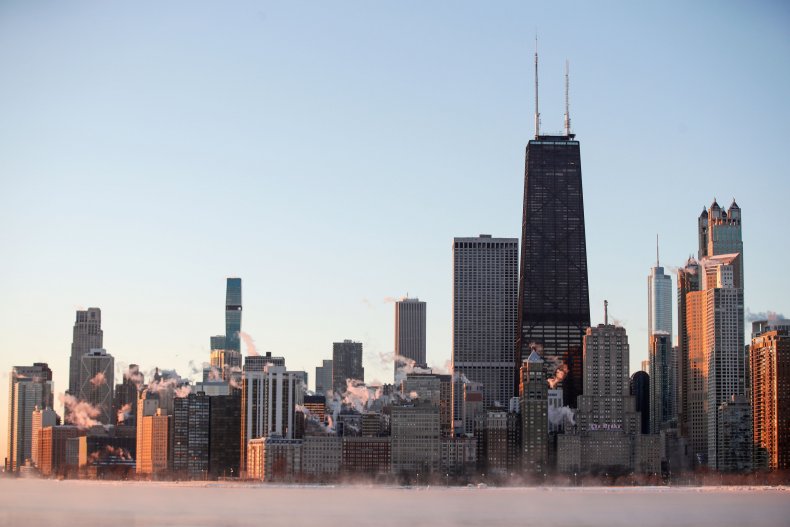 Firefighters struggled to respond to the extreme blaze amid bitter cold temperatures in the Chicago area. According to the National Weather Service, wind chills of 5 to 15 degrees below zero were expected on Monday morning. Sunday was reported as the coldest day of the year so far, with temperatures feeling like 20 to 25 degrees below zero.
Taming fires in arctic temperatures has posed a challenge for firefighters across the Chicago area, ABC7 Chicago reported. Water from hoses can freeze and cover firefighters' equipment in ice. Snow plows bury fire hydrants, making it next to impossible for fire officials to quickly access the hydrants.
The cause of the fire is not yet known. Newsweek has reached out to Leyden Fire Protection District for comment.