With the drudgery of dull winter food now a distant memory, the arrival of fresh fruit can add a spring to anyone's step.
Embracing seasonal eating involves finding fruits at their very freshest, which is rewarding for several reasons.
Aside from the obvious economic argument—local produce in season is at its most plentiful and cheapest—fresh fruit found this spring is fizzing with flavour as well as contributing towards your five-a-day target.
This makes March, April and May the perfect time to banish those winter blues by rediscovering those tastes of childhood and maybe even experimenting with more exotic fruity offerings.
Newsweek presents a guide to the most delicious and nutritious fresh fruits in season this spring.
Apricot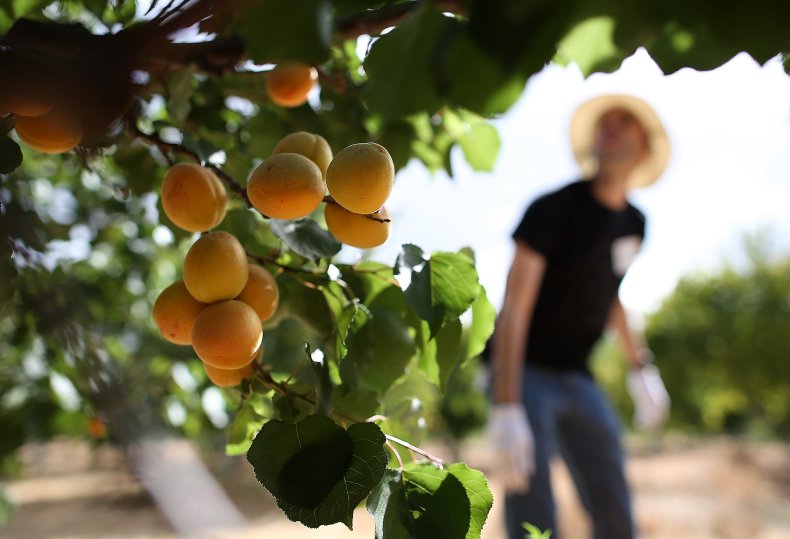 Fresh apricots are available from the start of May and remain in season throughout those long, hot summer months.
The fragrant sweet fruit flesh found beneath that faintly fuzzy-pink skin is as healthy as it is delicious.
The U.S Department of Agriculture (USDA) recognises apricots as containing potent antioxidants vitamin A, beta-carotene and the immune system-boosting vitamin C.
And in addition, apricots contain only 48 calories per 100 grams, making this fruit an excellent low-cal option to a healthy, balanced diet this spring.
Avocado
Avocados are actually available for much of the year, especially in warmer areas of the U.S, with California's growing season lasting from February right through to September.
Avocado's mottled, alligator-like skin hides a garishly green fruit with a uniquely nutty, creamy taste and texture.
Both the fruit's taste and versatility makes this superfood popular in everything from trendy guacamole to salads and smoothies.
The FDC reveals avocados are packed full of healthy fats, vital vitamins C, E, K, and B-6, as well as magnesium and potassium.
Cherry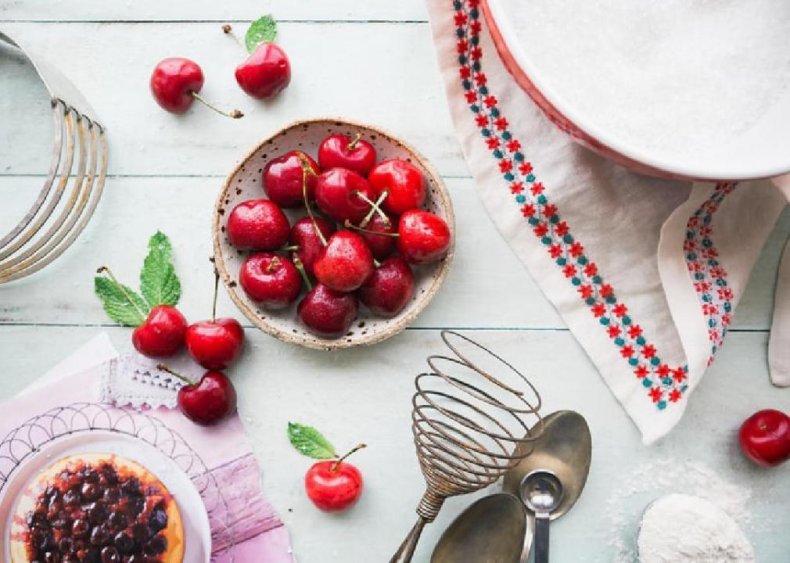 Despite cherries' strong association with summer months, this fruit is actually harvested from late spring in the U.S.
These juicy ruby-colored stone fruits are actually incredibly versatile as they can be both sweet and tart.
Sweet cherries are often best savoured freshly picked from the tree, while the tarter variety—which have a much shorter growing season—more frequently feature in cooking.
Cherries are known as a fantastic source of fiber, antioxidants and minerals, including potassium, calcium, vitamin A and folic acid.
Grapefruit
The pick of the grapefruit are reportedly found in the area from Florida to Texas, with the peak lasting between January until April, when they are considered at their sweetest and juiciest.
These heavy tropical citrus fruits are highly prized for their distinctive sour and semisweet juicy segments, making them a popular staple around breakfast tables in spring.
Because grapefruit is both low in calories and rich in antioxidants, fiber and vitamins A and C, this is one of the healthiest citrus fruits freshly available this spring.
Honeydew melon
Honeydew melon's rather lacklustre reputation is due to the fruit often being eaten out of season.
The peak season for a perfectly-ripe honeydew melon arrives right at the end of spring in the U.S.
The fruit's coarse, vibrant yellow skin shields a tender flesh with a very sweet, yet complex taste.
Both types of honeydew melon are worth seeking out when in season, as they are an excellent source of vitamins A, B, C, K, potassium, and fiber.
Jackfruit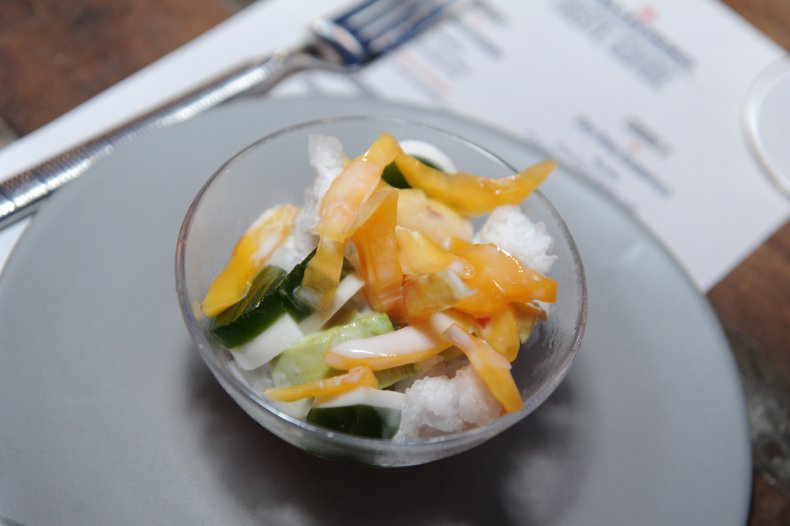 Jackfruit is commonly found at its ripest between March and June in the U.S.
With its distinctive sweet flavor and astonishing versatility, this unique tropical fruit has ballooned in popularity in recent years.
Jackfruit's texture and robustness make it an ideal alternative to meat in savory vegetarian dishes, while the spring-time fruit is equally at home in sweet courses too.
And Jackfruit also boasts an impressive nutrition profile, with its saturated fat-free flesh a source of vitamins C and B2, fiber, magnesium, and potassium.
Kiwi
Kiwi fruits begin to ripen in late winter and the season can continue through to mid-spring in the U.S.
Despite the name, kiwis are no native to New Zealand, with the seeds introduced to the country in the early 20th century from a schoolteacher returning from China.
Plenty of flavor is packed into Kiwi's vibrantly bright-green sweet flesh encased in its equally-edible fuzzy brown skin.
As well as being rich in other nutrients, kiwis are recognised for vitamin C concentrations so high, a fruit contains more than an orange.
Kumquat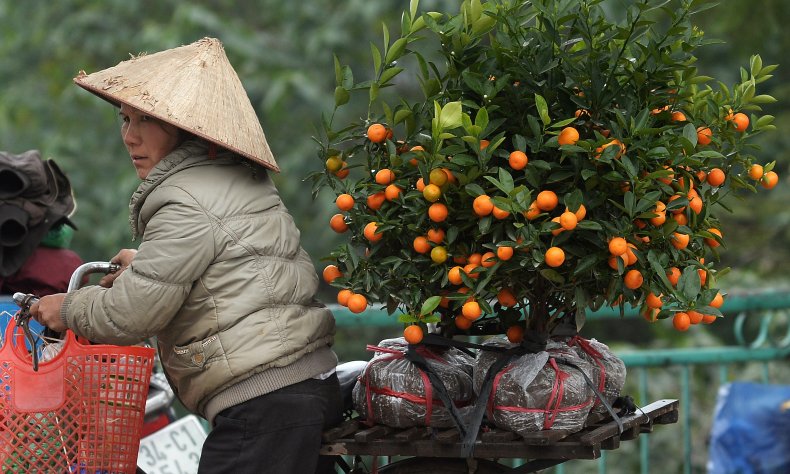 Kumquats are in season from November through to spring in the U.S, depending on the variety of fruit.
The fruit's unusual name originates from the Cantonese "kam kwat", which translates as "golden orange"—a perfect description of their distinctive hue.
These bite-sized fruits are well-known for serving a mouthful bursting with sweet-tart citrus flavor.
The USDA confirms kumquats are notable for their rich supply of vitamin C in addition to providing more fiber than most other fresh fruits.
Lemon
Although lemon trees bloom all year-long in the U.S., the kitchen-friendly Meyer variety is reliably available at the start of each spring.
When life gives you lemons, you can make more than lemonade, with these oval-shaped sour citrus fruits offering a wonderful accompaniment to a wide-range of ingredients and dishes.
Lemons are perhaps best known as being an excellent source of vitamin C and fiber, making the fruit key to maintaining a healthy heart and improved digestion.
Lime
Belonging to the same family as lemons, limes typically come into season toward the end of spring in the U.S., although the popular Persian lime is available almost year-round in warmer climes.
These bombs of bright-green citrus fruits are renowned of providing a sophisticated sour element to a drink or a dish.
And despite their small size, limes are loaded with healthy nutrients — particularly vitamin C, riboflavin, phosphorus and magnesium.
Lychee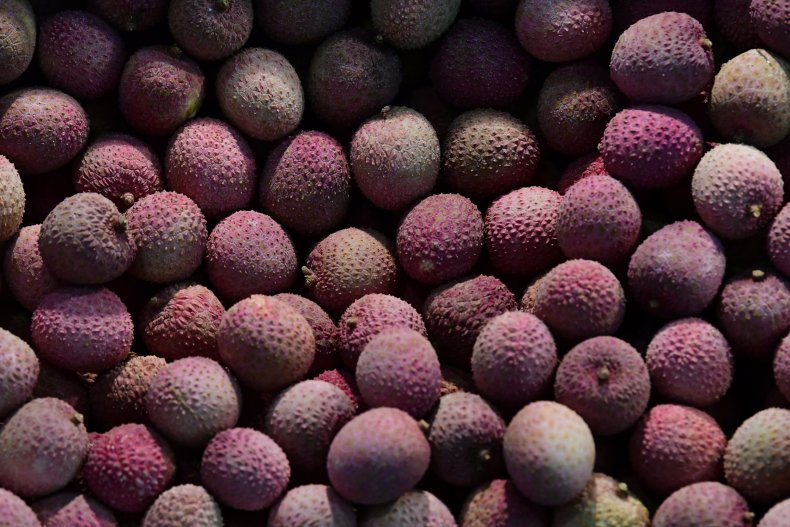 Because the lychee ceases to ripen once it is picked from the tree, only the freshest fruit will do, when typically in season from late spring in the U.S.
Beneath its hard, pink-hued husk lies tender, ghostly white flesh with a sweet strawberry-watermelon flavor.
This makes lychee a delicious standalone snack while it also accommodates other fruits in a refreshing salad.
This small fruit is recognised for its healthy properties in Asia because of its vitamins C, B-complex and phytonutrient flavonoids.
Mango
Although mangoes can be harvested year-round in warmer areas of the U.S., the end of spring is recognised as this stoned fruit's peak season.
Mangoes are one of the most popular tropical fruits due to their unique sticky-sweet flavor best savoured when perfectly fresh.
Because mangoes are packed with simple sugar fructose, eating this fruit in moderation is important.
However, a mango is also a rich source of vitamins A and C, and fat-fighting phytochemicals.
Pineapple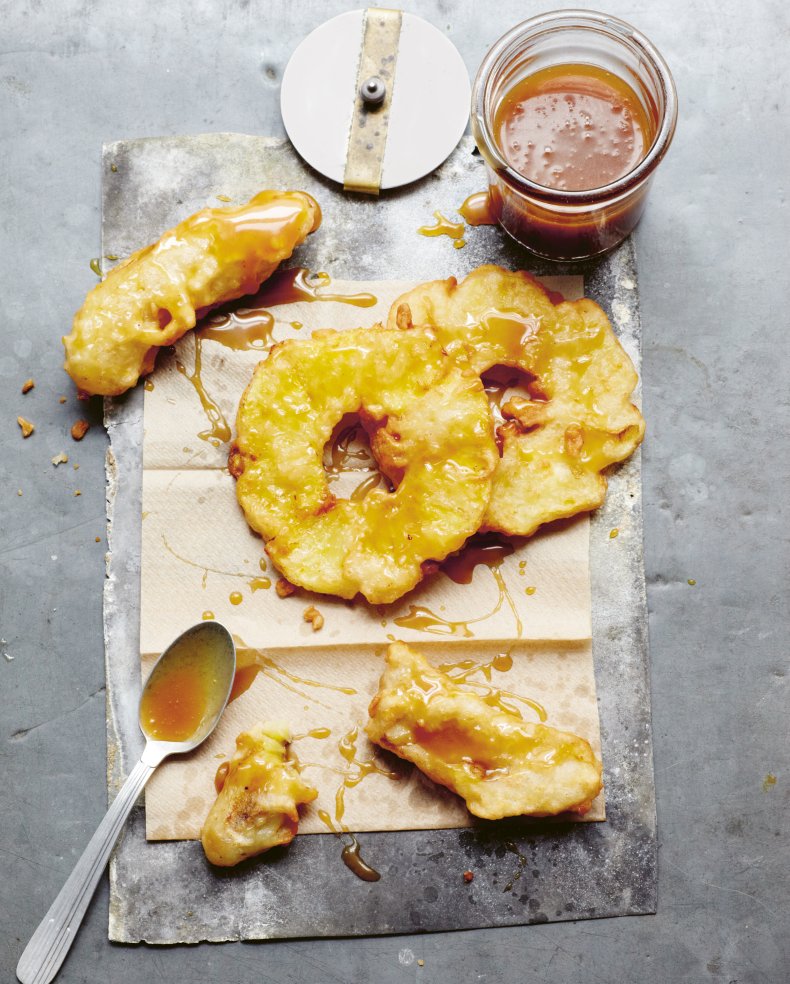 Pineapples are also available all year-round in parts of the U.S., but the very best of the fruit is probably at its prime throughout the months of spring.
The pineapple is second behind only bananas as America's favorite tropical fruit for good reason.
Not only is the distinctively grooved fruit absolutely delicious, the pineapple is also fully-loaded with nutrients, antioxidants and other helpful compounds, including enzymes.
Navel orange
Navel oranges come into season from the start of the year in the U.S. and the fruit is available until the end of spring.
Navel oranges are in full flavor at this time, making them irresistible candidates for juicing, cooking or simply devouring the fresh fruit segments whole.
Navel oranges are also one of the healthiest fruits you can eat, filled with vitamin C, fiber, potassium, while remaining low in calories.
Strawberry
Thanks to ever-hardier varieties, fresh strawberries are available for much of the year, although the season's sweet spot is usually between April and June.
The U.S. Produce Marketing Association recognises strawberries as America's third favourite fruit and the attraction is obvious.
This exceptionally sweet fruit is versatile enough to complement a wide range of dishes, but many are enjoyed simply with a side of cream.
And the bright pink berry's colourful pigments actually contain protective properties, including the prevention of inflammatory conditions and heart disease.