15 GOP AGs File Brief Supporting DOJ's Decision to Drop Flynn Charges
On Monday, 15 Republican state attorneys general filed an amicus brief with the U.S. District Court for the District of Columbia, encouraging U.S. District Judge Emmet Sullivan to allow the U.S. Department of Justice to drop all charges against retired General Michael Flynn.
Flynn, who served as President Donald Trump's first national security adviser, pleaded guilty in 2017 for making false statements to the FBI about his contacts with the Russian government.
In response to the DOJ's request to have the charges against Flynn dropped, Judge Sullivan appointed prosecutor John Gleeson to argue against the DOJ's case. In Monday's amicus brief, the AGs criticized Gleeson's involvement in the case and called for the DOJ's decision to be upheld.
"The Court should immediately grant the federal government's motion to dismiss the information against General Flynn because the federal judiciary has no authority to make the executive branch pursue (or continue to pursue) a criminal conviction," the brief continued. "And the court should grant the motion without commentary on the decision to charge or not to charge, because such punditry disrobes the judiciary of its cloak of impartiality."
Newsweek subscription offers >
Noting that Trump himself made the decision not to prosecute Flynn, the brief said, "The Court should grant the United States' motion without delay and without irrelevant or personal comment."
Even though the DOJ has called for charges against Flynn to be dismissed, that request must still be approved by a judge. Sullivan's call for Gleeson to act as an independent prosecutor rankled the attorneys who signed off on the brief, which was filed by Ohio Attorney General Dave Yost.
Attorneys general from the states of Alabama, Alaska, Arkansas, Florida, Georgia, Indiana, Louisiana, Mississippi, Missouri, Oklahoma, South Carolina, Texas, Utah and West Virginia also attached their names to the amicus brief.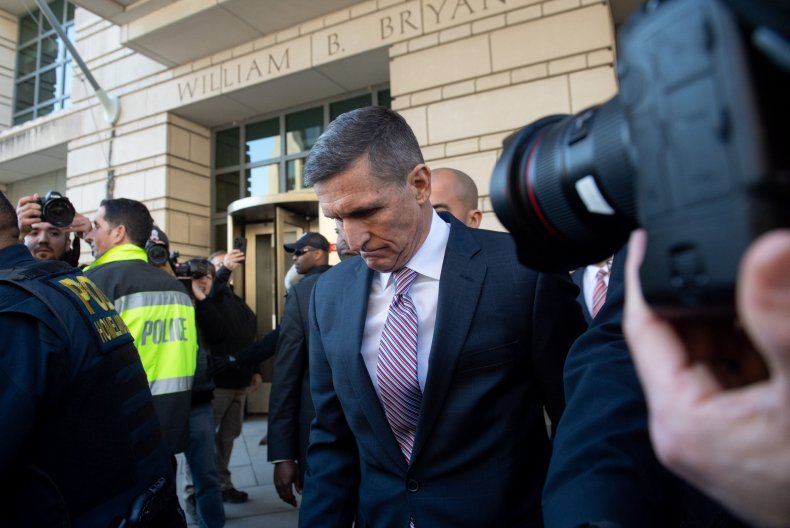 Newsweek subscription offers >
Documents in the Flynn case released in April detailed a conversation between FBI agents in which they discussed whether their interview style with Flynn should be "to get him to lie, so we can prosecute him or get him fired." The DOJ's position is that there was no reason to place the FBI's interview with Flynn under investigation because Flynn's statements were immaterial.
Trump said the new information meant Flynn was "essentially exonerated" and that the documents showed there were "dirty, filthy cops at the top of the FBI."
Others have spoken out against the DOJ's decision. Individuals who had formerly worked for the DOJ released a statement in May calling the DOJ's call for the dismissal of charges against Flynn "extraordinarily rare."
"If any of us, or anyone reading this statement who is not a friend of the President, were to lie to federal investigators in the course of a properly predicated counterintelligence investigation, and admit we did so under oath, we would be prosecuted for it," the statement read.
Newsweek reached out to the DOJ for comment. This story will be updated with any response.
Flynn was appointed by then-President Barack Obama to lead the Defense Intelligence Agency in 2012, a position Flynn held for two years. He became an adviser to Donald Trump in 2016.
As part of intelligence surveillance, conversations between Flynn and Russian ambassador Sergey Kislyak were captured, concerning sanctions against Russia in retaliation for election meddling. Flynn told members of Trump's White House, including Vice President Mike Pence, that sanctions had not been discussed. After Flynn's untruths were disclosed to Trump's administration by the DOJ, Flynn was removed from his position.
15 GOP AGs File Brief Supporting DOJ's Decision to Drop Flynn Charges | U.S.