15 Incredible Organizing Products at Walmart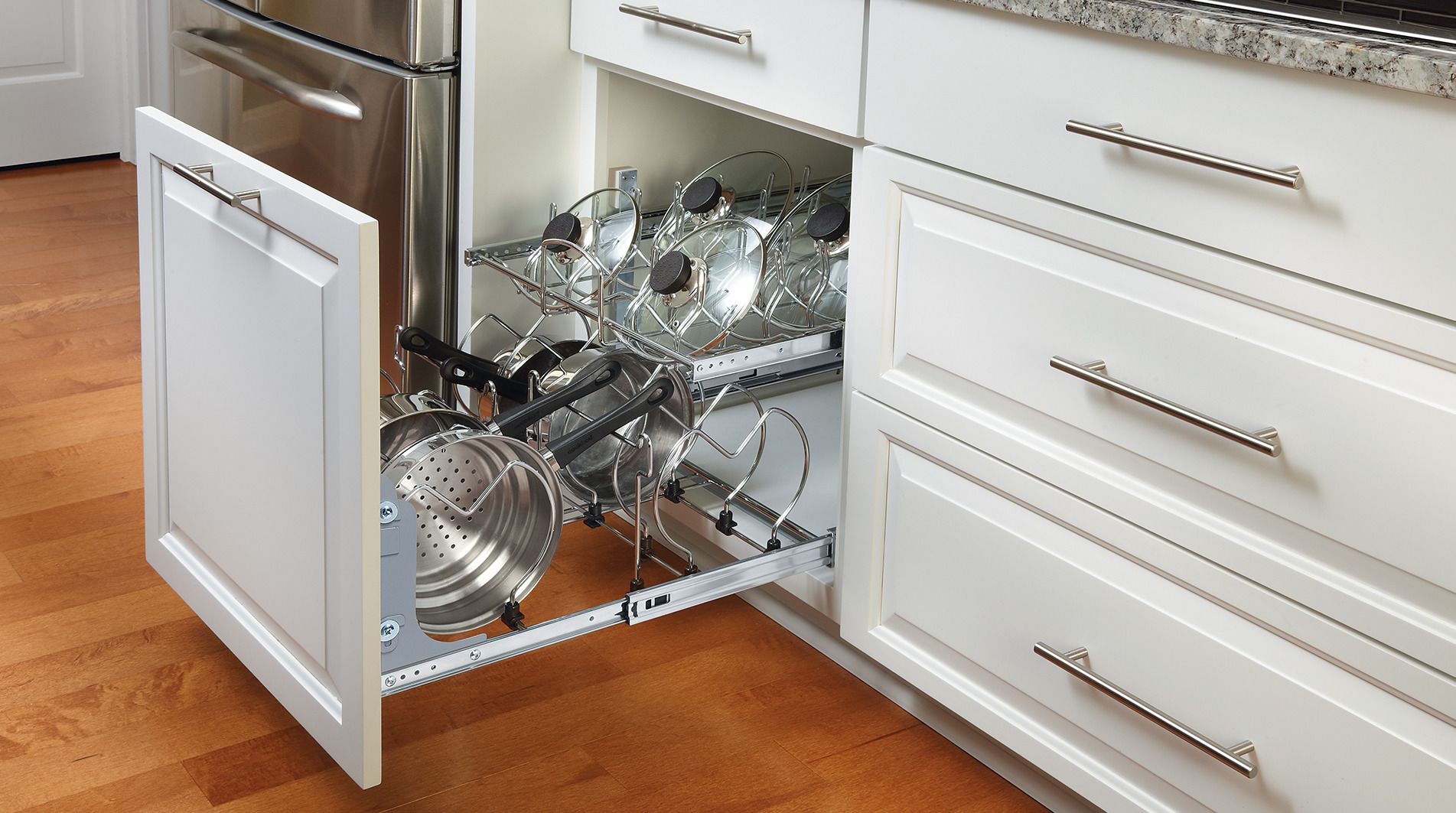 The holiday decorations are up, the mailbox is filled with cards, and holiday lights are on your trees. If you're like many of us, your holiday joy is tempered by an itch for the New Year. That's when you'll sort extra kitchen tools, pack away guest linens, file your personal paperwork and organize all the little extras that you acquired during the holidays.
We bet you've already taken a look around your bathroom, bedroom, home office, kitchen and other living spaces, and you'll likely find plenty of items here, there and everywhere. The question is how to begin to put them in some order? Our thought is to choose budget-friendly products designed for your specific objects.
Walmart has an array of top-rated shelves, drawers, dividers and more. Whether you want to arrange clothes, toys, linens, dishware or other essentials, we are confident you'll find what you need.
Must-Have Items For Home Organization
Even though you're likely in holiday mode, now is the time to start planning your home organization. No matter how small or large your living space is, there are bins, boxes, bags and other organizers that will get your house in order. And you don't need to spend a fortune to make them your own. Take a look at the 15 top-rated Walmart products we found to put you on the road to tidy. As always, the prices listed may fluctuate over time.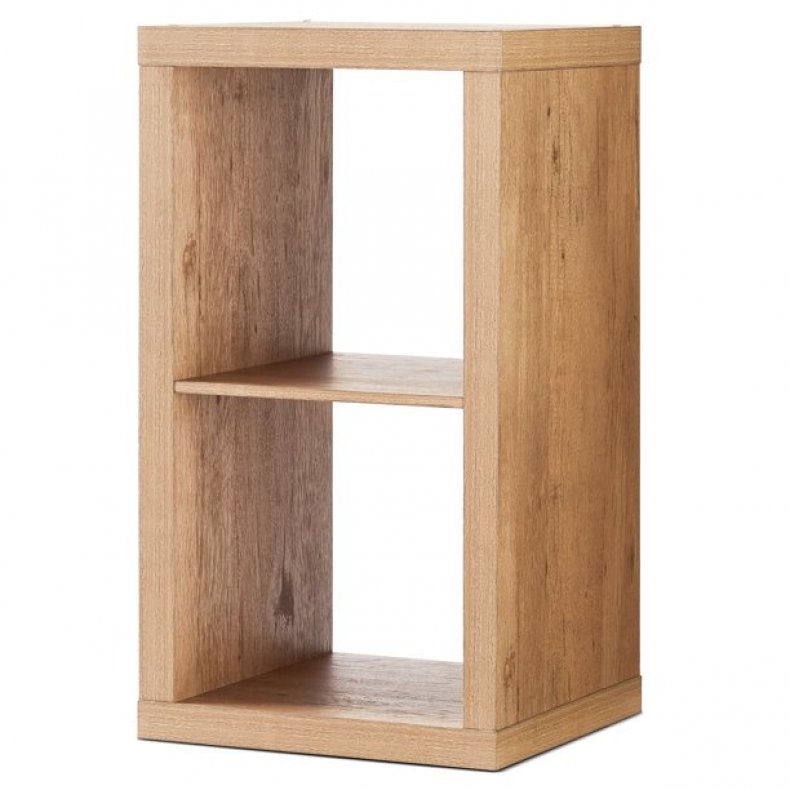 If you're like many of us, you've pulled out photo albums, DVDs, books, record albums and all types of memorabilia to enjoy during the holidays. The result may be a bit of, well, disarray. And, of course, that can lead to damage. Better Homes & Gardens 2-Cube Organizer is an ideal size to arrange your books, photo albums, baskets and more. Each cube is 13 inches by 15 inches by 13 inches with an open-back design to accommodate cable, cords and more. Position it horizontally or vertically in your home office, bedroom, playroom or wherever you need extra storage. Available in six colors.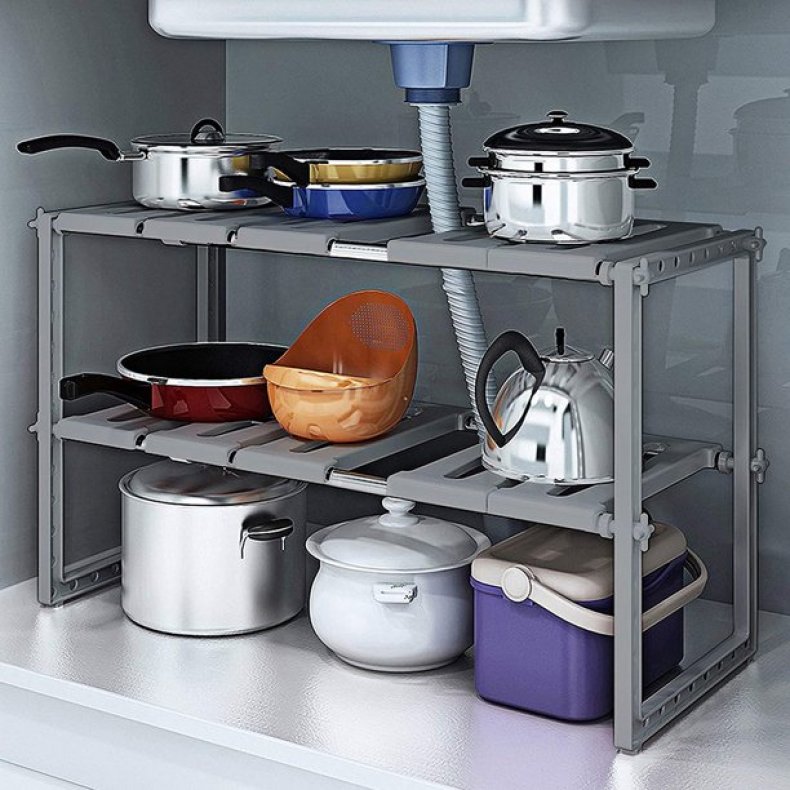 We've all seen under-sink cabinets crammed with soaps, sponges, towels, cleaning supplies and a smattering of everyday must-haves. Ok, we can admit that some of those under-the-sink cabinets are actually in our own homes. The Kudosale 2-Tier Under Sink Expandable Organizer is ideal for those under-the-sink cabinets. Buy an extra or two for your mudroom (shoes, gloves, hats, boots), the laundry room (detergents, dryer sheets, trash bags) or wherever you need an adjustable width/layer-height organizer (it raises from 15 inches to 27 inches). That means that when things change in your home, you can move it to where it's needed. This organizer is made of polypropylene and is available in gray or white.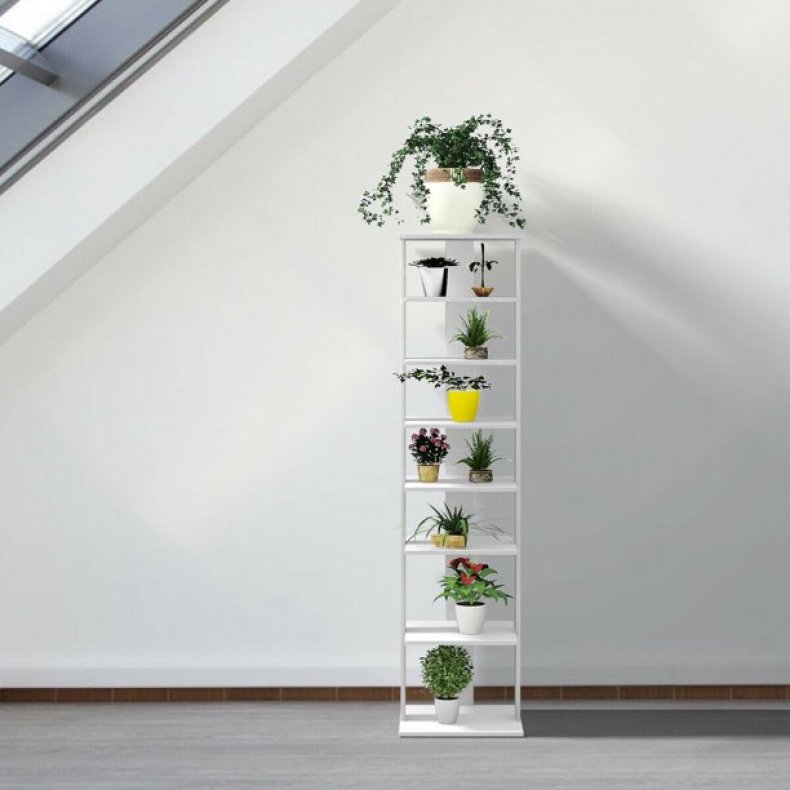 OK, you probably notice that the above photo of The Costway Wooden Shoes Storage Stand doesn't have any shoes on it. That's one reason we love this stand that is crafted for strength, stability and a clean contemporary look. Fill it with plants, framed photos, decorative lights, or whatever else works for you. This white stand is designed with seven tiers of different heights to accommodate any types and size shoes you need to organize. Of course, you can also use this organizer for DVDs, CDs, books, art, plants and more. It measures 11 inches by 10.5 inches by 43.5 inches, and each shelf holds up to 11 pounds.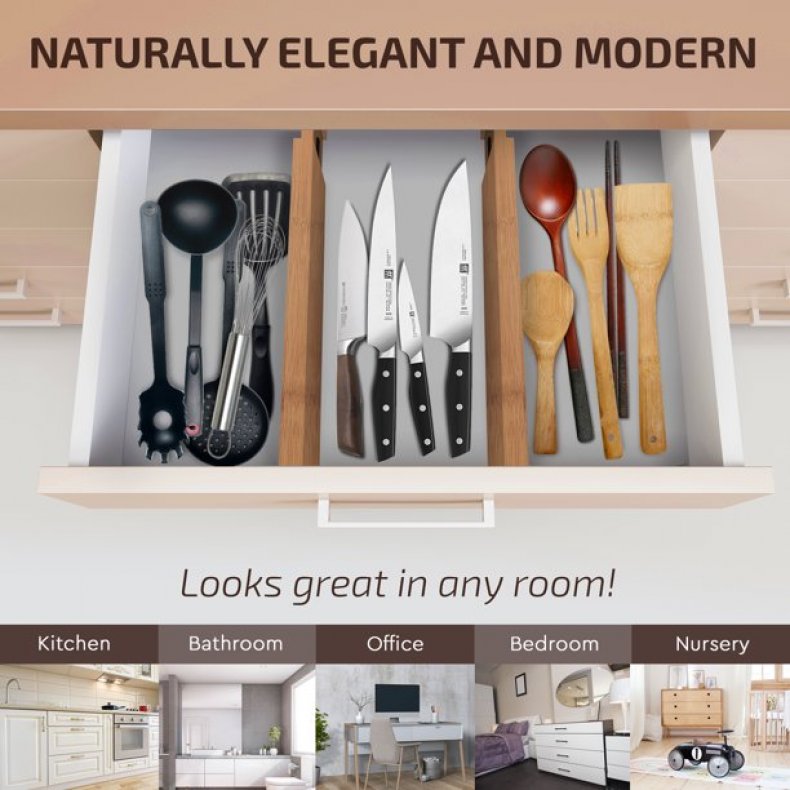 We've all suffered through "junk drawers" that are a potpourri of items jumbled together. There you might find pens, a tape measure, string, paper clips, note pads and stray keys. Suffer no more. The Bamboo Adjustable Drawer Dividers are spring-loaded, so they allow you to section off each drawer so you can craft them into the configuration you need. The dividers are adjustable to 22 inches by 17.6 inches in length. They're easy to install and remove, so you can change them as needed.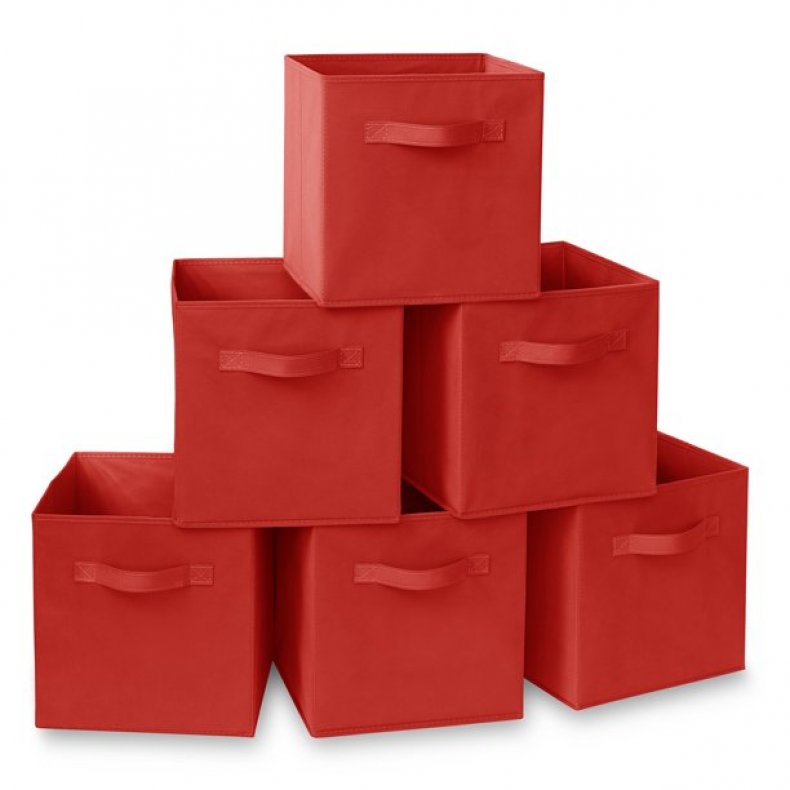 The downside to some storage bins is that they are tough to pack away when they aren't in use. The solid construction ensures they securely hold books, photo albums and other items that make them cumbersome. That's why the Casafield Set Collapsible Fabric Cube Storage Bins are such a great find. They are both sturdy and flexible enough to fold, so you can tuck them away when they aren't needed. Place the cubes in cubby storage, closets, playrooms or wherever else they are needed. Each is 10.5 inches by 10.5 inches by 11 inches and is available in seven colors.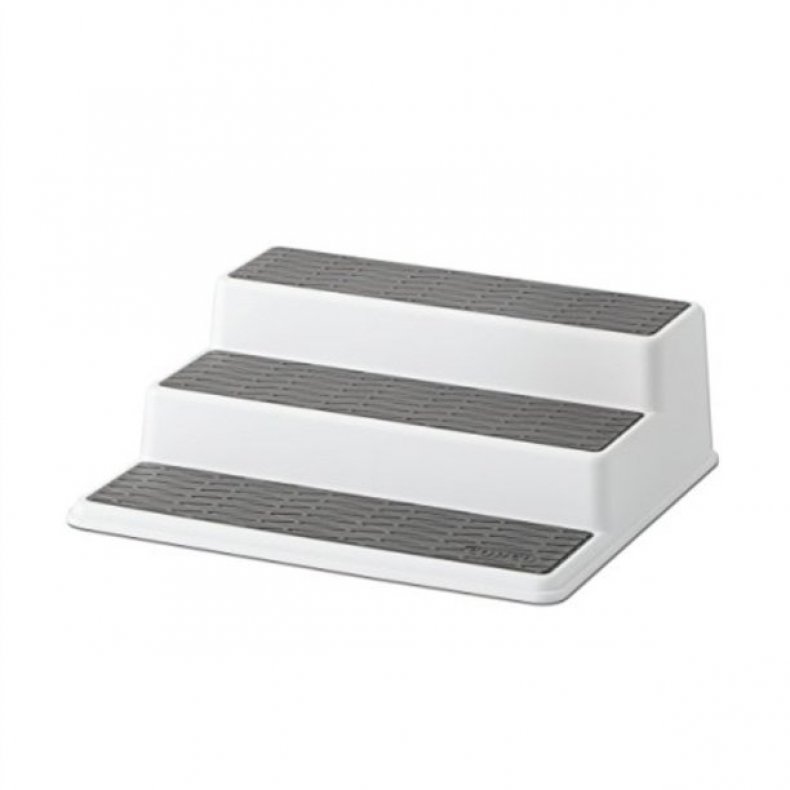 This is one of those organizers you don't know you need until you have it. The white Copco Non-Skid 3-Tier Pantry Kitchen Cabinet Organizer is ideal for your pantry, cabinet or even closet. Use it to see your cans, spices or even beauty products instantly. You can fit 18 to 24 spice jars (depending on size, of course) or 15 standard cans (five on each shelf). Each shelf measures 9 inches by 10.5 inches by 3.5 inches.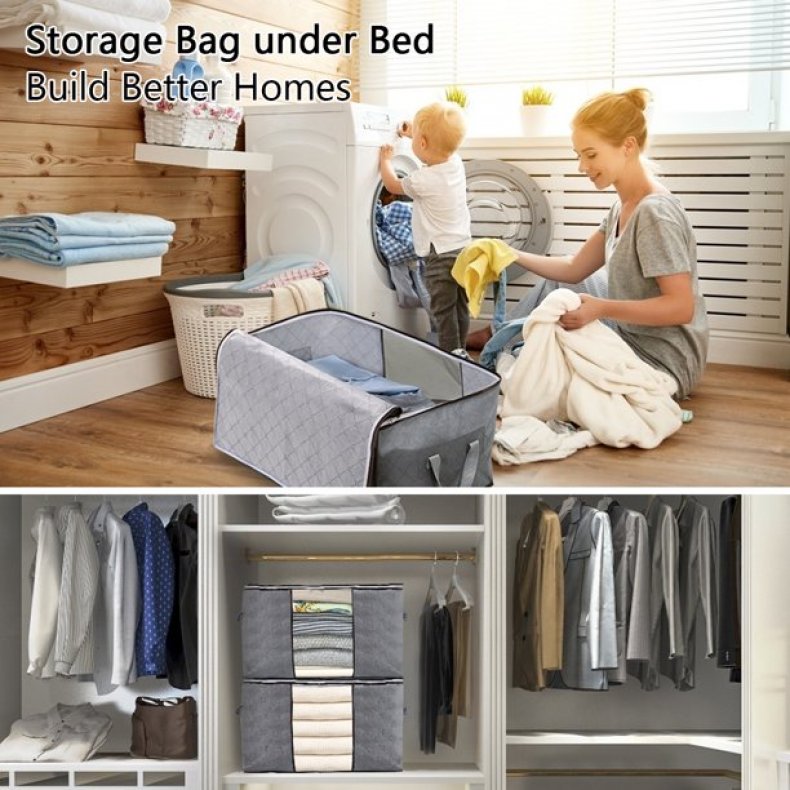 If your closets and dresser drawers are overflowing, you aren't alone. Many of us try to use makeshift storage (think bags!). Sure, they're cheap, but improper storage can damage your clothes or just move the mess to a different area. Here's the best way to pack your clothes away and keep them safe. The Novashion Large Capacity Clothes Storage Bag Organizer measures 23.6 inches by 16.9 inches by 13.7 inches, so it's also perfect for storing quilts, comforters and more. The organizer has a two-way combined zipper with double layer insurance. Plus, it's odorless, breathable, waterproof and moisture-proof. That means no mildew.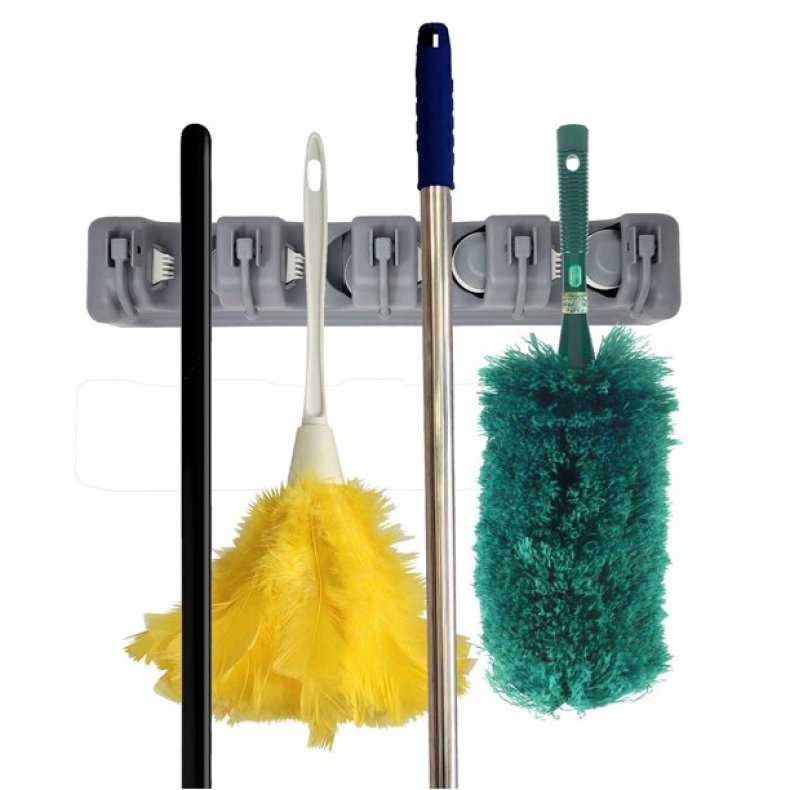 It's easy to set dust mops, stick vacuums and other cleaning tools in corners. Of course, they can fall over, break and even be tripping hazards. The dailywebdeals Mop and Broom Holder allows you to hang your brooms, mops on the wall. The gray-colored holder's rolling balls automatically adjust to each handle's thickness and grip them easily and securely. The six hanging hooks and five-tool clips hold seven to12 pounds each.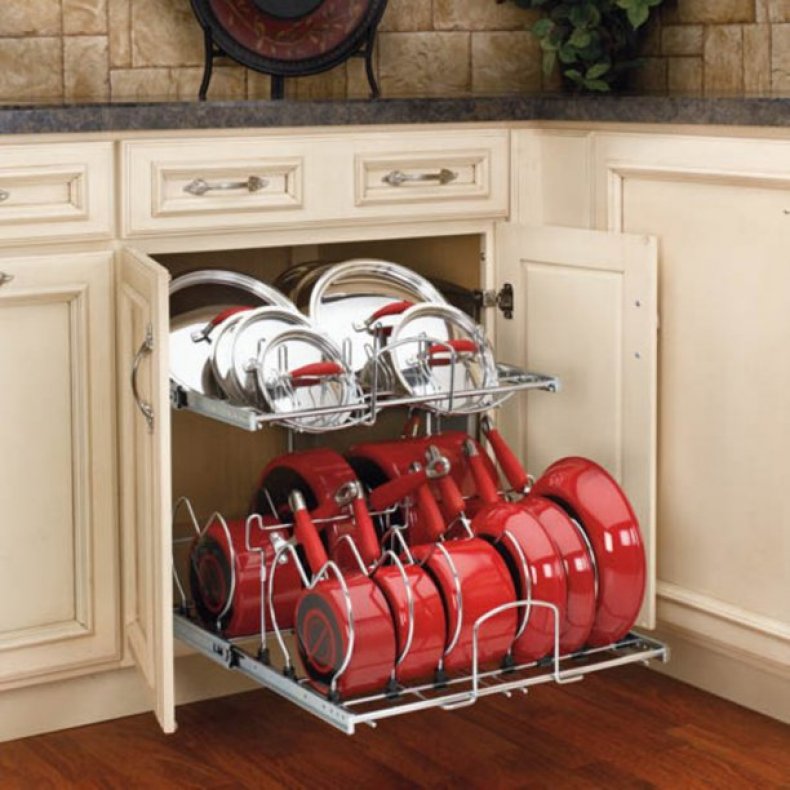 Stop struggling to organize your pots, pans, and lids. The Rev-A-Shelf Pots and Pans Cookware Cabinet Organizer keeps your cookware safe and handy. It has independent shelves so you can arrange various sizes of pots, pans and lids. It is made of heavy-duty chrome-plated wireframe and 100-pound rated full-extension ball-bearing slides. These shelves have an adjustable height of 16.75 inches by 17.5 inches by 19 inches so that you can store various sizes of cookware.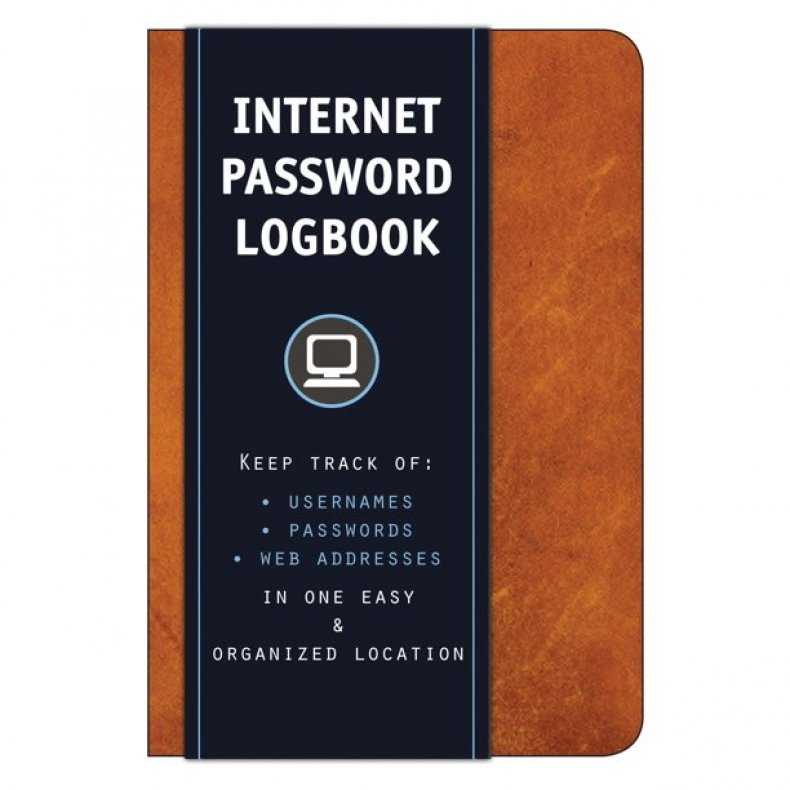 Ok, let's be honest, passwords are sometimes the toughest thing to organize––and remember! Use the Editors of Rock Point Internet Password Logbook to tame that. You will find A to Z tabbed pages, dedicated pages for record software license information, and more inside this 5.9 inches by 4.2 inches by .80 Inches. The hardcover ensures it is designed to last.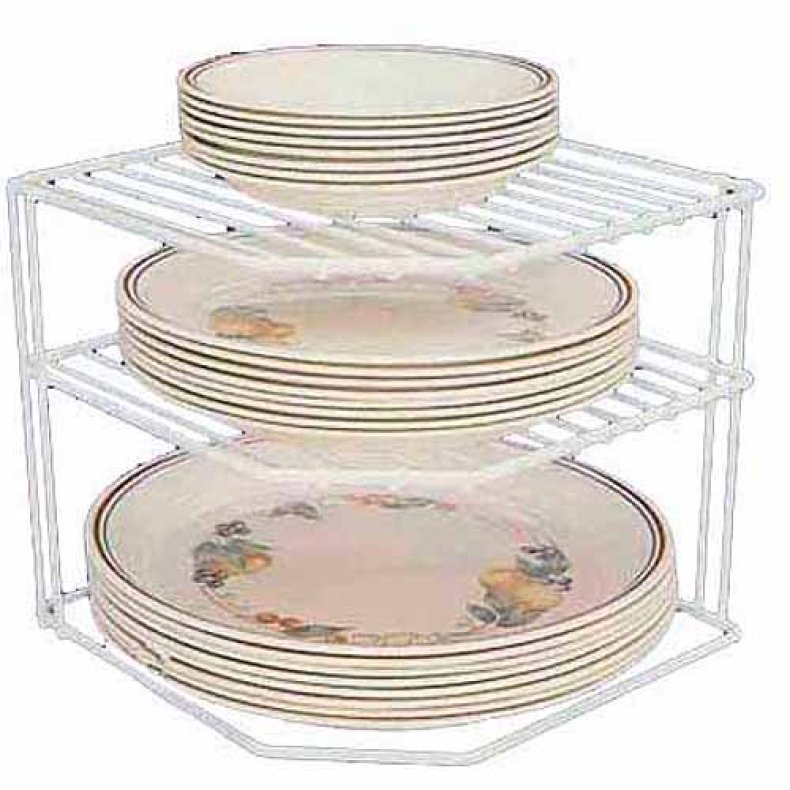 We find it's the rare person who doesn't want more kitchen or dining room space both in their cupboards and on shelves. The Grayline Housewares Panacea White Corner Organizer provides that by holding eight pieces of stoneware or 12 pieces of Corelle on three levels. It measures 9.25 inches by 10.875 inches by 8.5 inches and is ideal for a cupboard's corner space.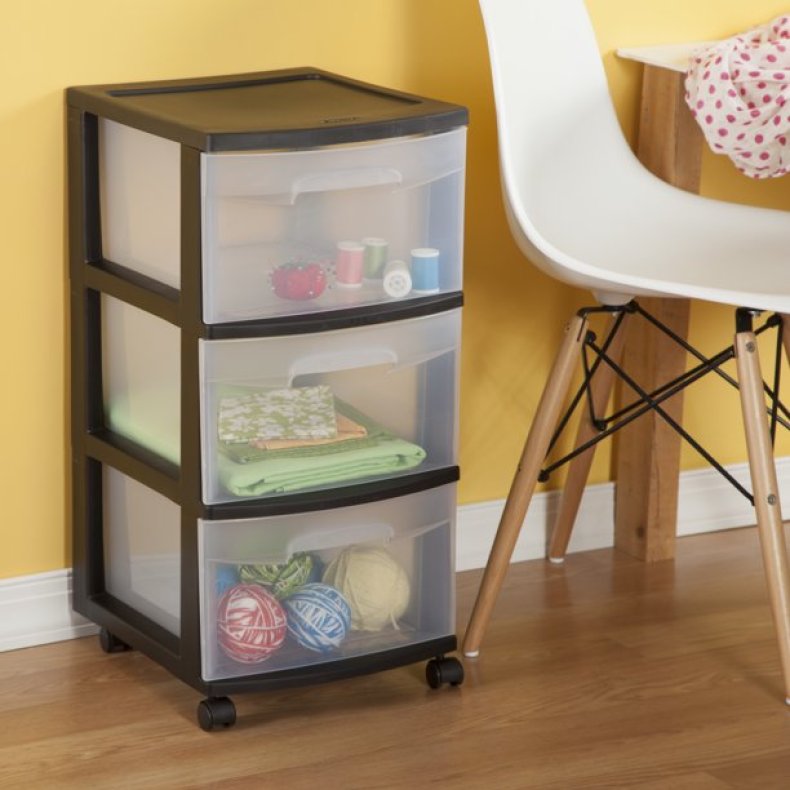 You don't need to pay a fortune to organize towels, home office supplies, cosmetics, toys and just about any other items. All you need is the Sterilite Plastic 3 Drawer Cart Black Set of two. Each cart measures 14 1/2 inches by 12 5/8 inches by 24 inches and has three clear drawers so you can quickly identify whatever you store. They also have casters, so moving them is easy. Choose from eight frame colors.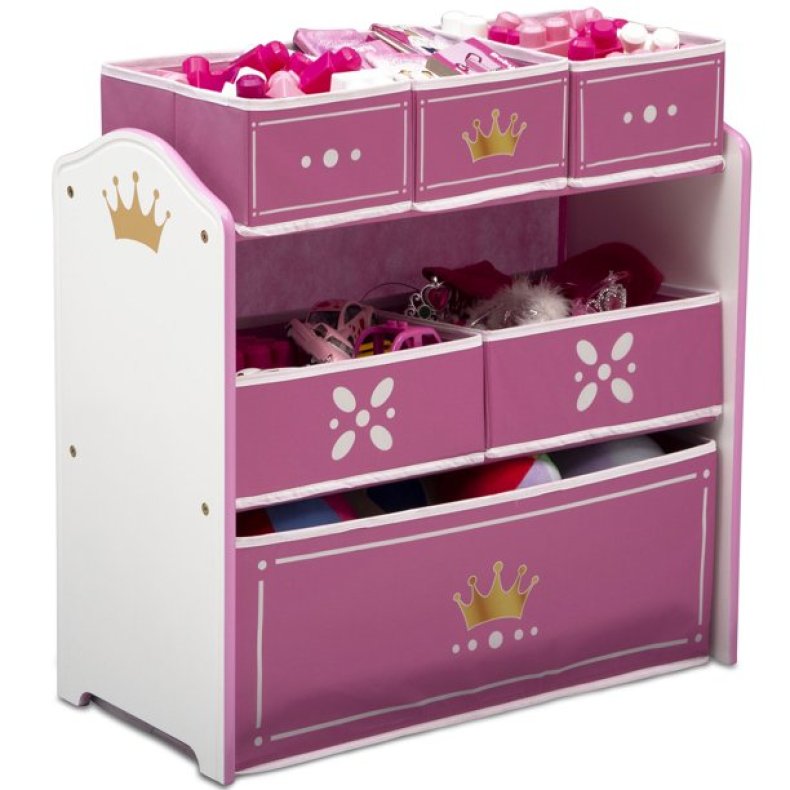 We're sure you know that many kids just drop their toys, crayons, books and plush animals wherever they last play with them, thinking they'll come back and use them again. Many times the toys just lay there and can be ruined when they're stepped on, or a family pet chews them. Delta Children Princess Crown Toy Organizer has six fabric bins to organize toys, books, crafts and other items. Kids ages 3 and older will ohh and ahh over the metallic gold crown emblems and pink trim. The overall size is 24.61 inches by 11.81 inches by 26.57 inches, so there's plenty of room for just about anything you want to stash away. The wood frame ensures it's sturdy.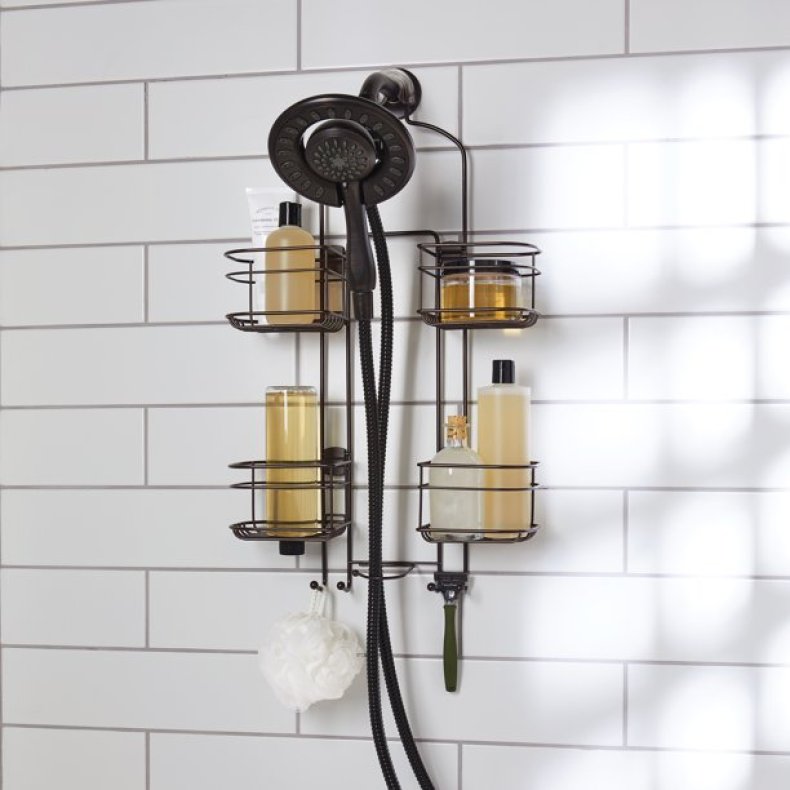 We get tired of shampoo bottles, bath poufs and body wash crashing to the floor of our showers. The Better Homes & Gardens Expandable Shower Caddy has four adjustable basket shelves, so it fits your shower head, accommodates a shower hose and keeps all your bath items handy. It measures .25 inches by 5.6 inches by 26.5 inches and has an exclusive "Lock-Top" mechanism keeping it in place. Choose Satin Nickel or Oil-Rubbed Bronze.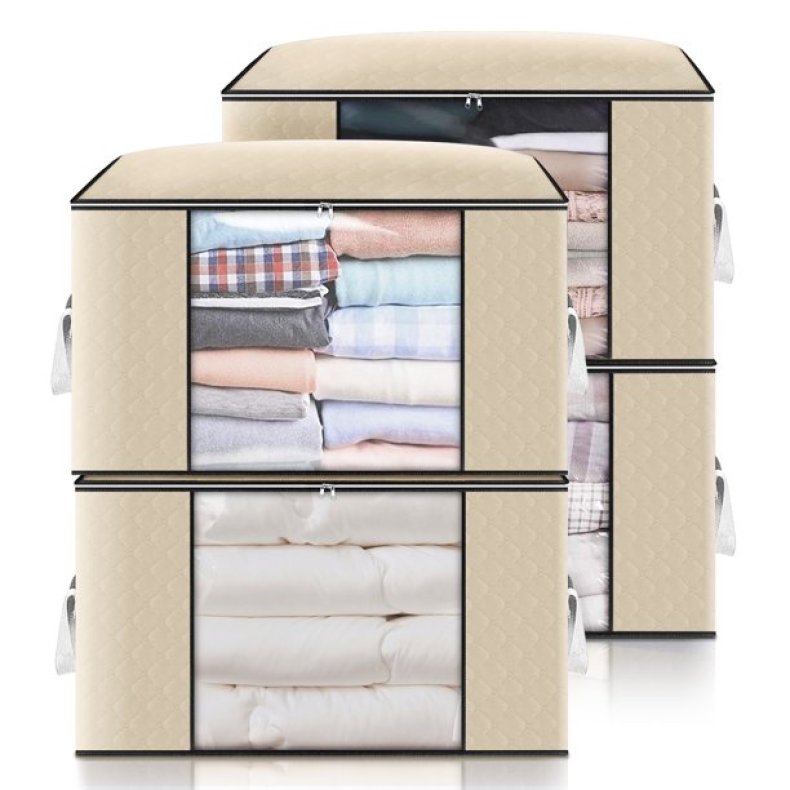 Here's another excellent way to keep your extra clothes and linens safe and handy. The Tooca Clothes Storage Bags Organizers are three-layer material that keeps clothes safe and secure. The beige bag has thick stitching, three-layer reinforced handles and two-way/dual five stainless steel zippers.
Newsweek may earn a commission from links on this page, but we only recommend products we back. We participate in various affiliate marketing programs, which means we may get paid commissions on editorially chosen products purchased through our links to retailer sites.