15 'Mean Girls' Memes for 'Mean Girls' Day That Will Live Forever: 'Get in, Loser'
Mean Girls has its very own day, and if you didn't know that already, you've probably been living under a rock since 2004. The classic teen comedy is remembered by all of its loyal fans on October 3 each year because that date comes up in one scene between Lindsay Lohan's Cady Heron and Jonathan Bennett's Aaron Samuels.
Early into the movie, Aaron asks Cady what day it is when they're in class together. She says, of course, that it's October 3, which means that October 3 is now known as Mean Girls Day. That's how things happen in our reality.
Anyway, how you choose to celebrate October 3 is up to you. Maybe you'll wear pink whether or not it's a Wednesday, or perhaps you'll create a burn book full of photos of everyone who has ever wronged you. (Probably not the healthiest choice!) You could also design a Halloween costume that's even scarier than the one Cady wears in the film, or annoy your inner circle by really trying to make "Fetch" happen. Or, you can just scroll through these Mean Girls memes that we've rounded up.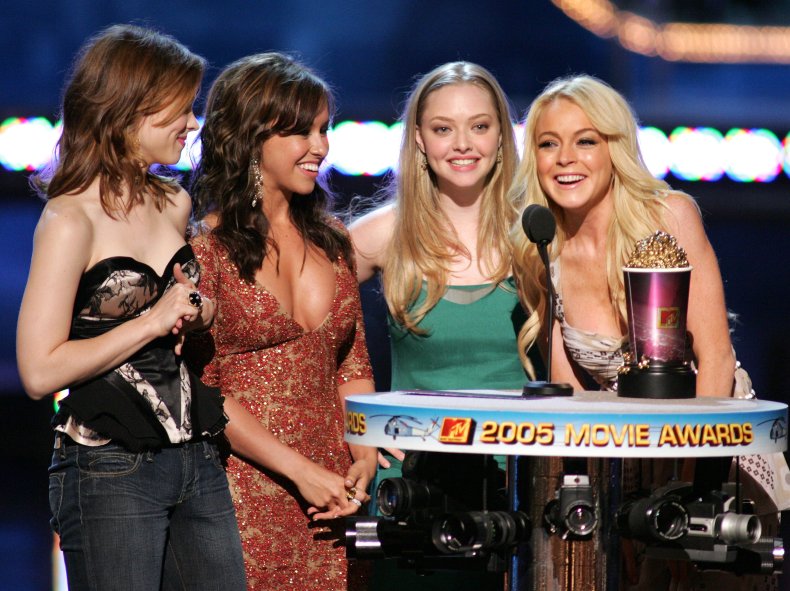 Before we really dig into our nostalgic look back, we have to acknowledge the fact that people online have just used a bunch of Mean Girls memes to respond to the news that President Donald Trump has contracted coronavirus. Just a day before Mean Girls Day, on October 2, many Twitter users referenced the teen film to express their feelings about Trump's diagnosis.
But the best moments of Mean Girls live on beyond the confines of politics, thankfully. The iconic line "Get in loser, we're going shopping" lives rent-free in our brains year-round—it also has been translated and adapted into some wildly different memes and Twitter gags.
Celebrities have even inserted themselves into the narrative. Notably, Kris Jenner, the matriarch of the Kardashian family, embraced her characterization as Regina George's mom in a 2015 tweet. It's unclear how self-aware Jenner was being in this tweet, but we're happy it exists regardless.
And the trend of immortalizing Mean Girls moments has even extended into real-life friendships and world events.
And of course, a flood of Twitter users prepped for Mean Girls Day by simply announcing that October 3 is among us, yet again.
If you choose to celebrate the occasion, which has international reach, you'll find a community of film lovers on Twitter who are ready to launch the best quotes in your comments. There are also netizens celebrating the musical version of Mean Girls, so keep your eye out for that, too. The limit on Mean Girls love simply does not exist.