15 Organizing Solutions to Keep Your Dog Supplies Neat and Tidy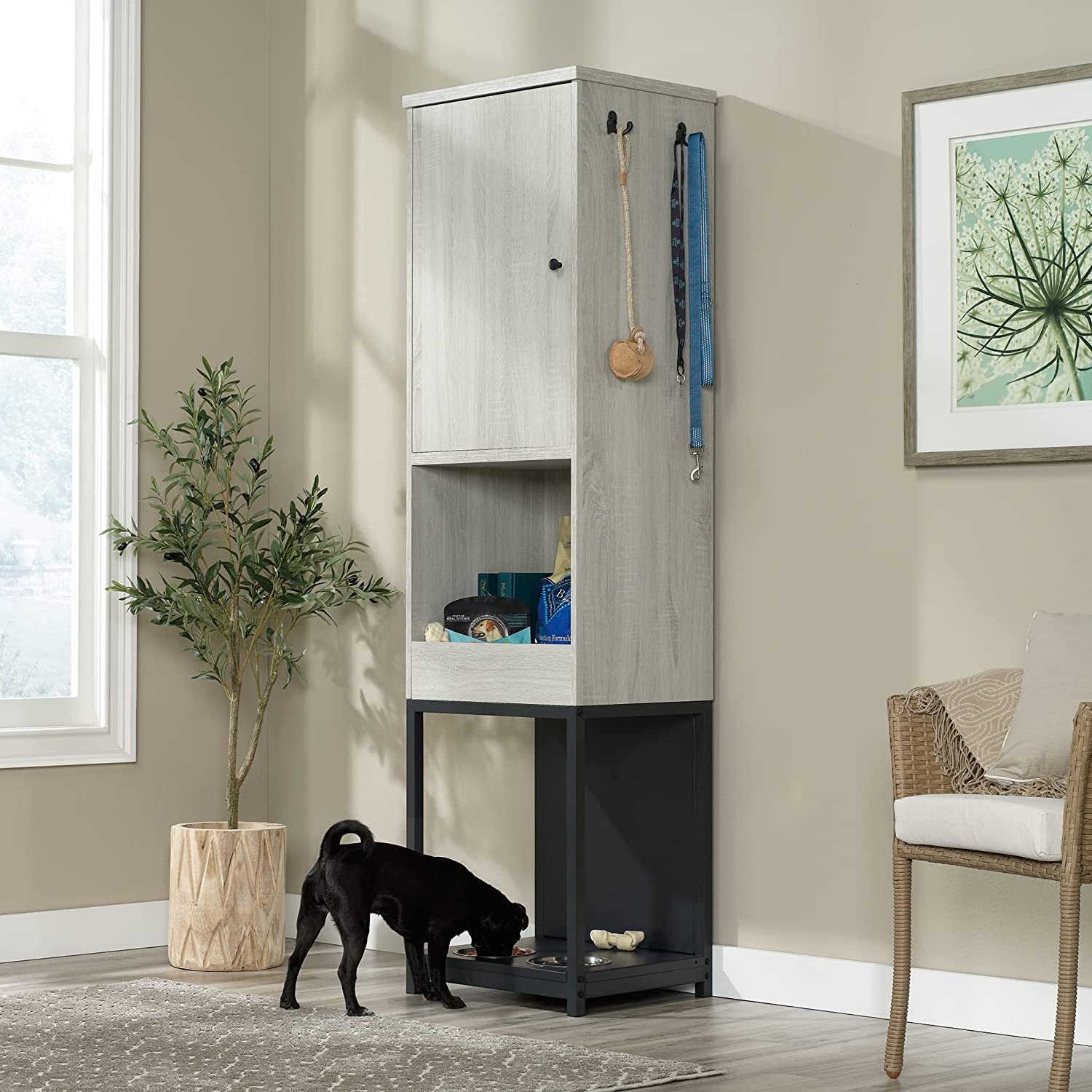 Sure, you love your dog, but that doesn't mean you aren't tired of tripping over balls or finding chew sticks under your furniture. And we believe it's the rare dog owner that isn't annoyed when they find a tangle of leashes and collars, and no one wants to spend time unraveling such a knot when it's time to take the dog out.
The answer isn't to stop buying your dog those toys, outfits, treats and other needed supplies. Dog owners may find it tempting to solve their frustrations by tossing out little-used items that get in the way of day-to-day living, but that's akin to throwing money away.
The Answers to Dog Supply Organization
We found 15 budget-friendly, highly rated products designed to help you organize gear, treats, medicine, toys and other doggie-centric supplies. The products are crafted to look great in your home or when you're on the go. Plus, they often have room for needed pet-parent items, too. As always, the prices listed may fluctuate over time.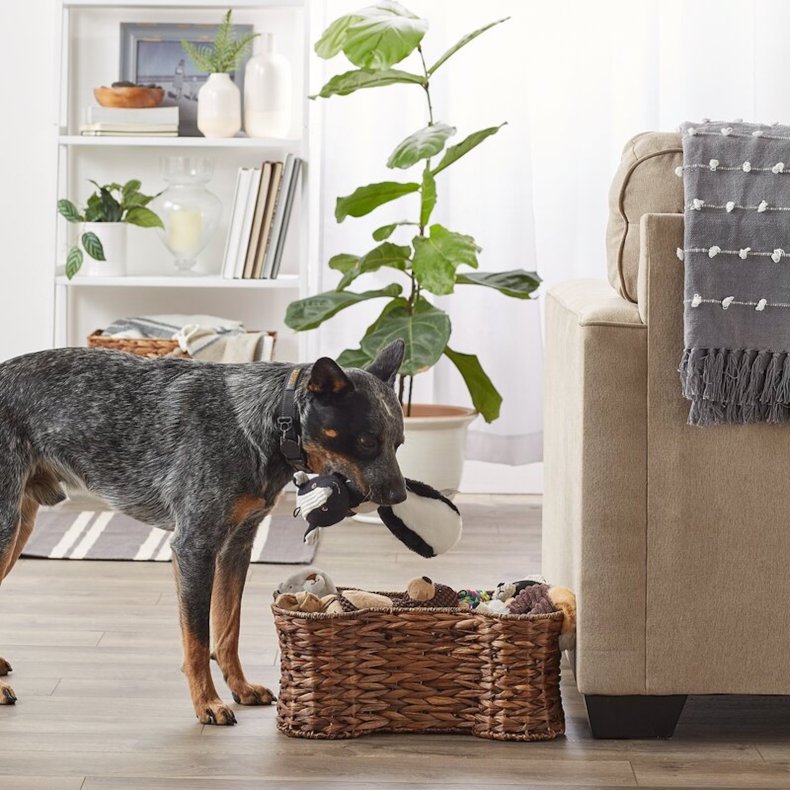 Don't you wish you could stop accidentally stepping on your dog's ball, chew bone or other toys? We can't guarantee that will never happen when you store the canine toys in the Bay Isle Home Hyacinth Bone Pet Basket, but it could definitely cut down on the instances. And the dog-bone-styled basket looks great in your home. It's crafted from leather and faux leather, so you just wipe it clean with a damp sponge. It is available in various sizes to choose what works best for you. Plus, the sides of the bin fold flat so you can take it to the pet sitter's house, on vacation, or wherever else your dog might want toys and treats.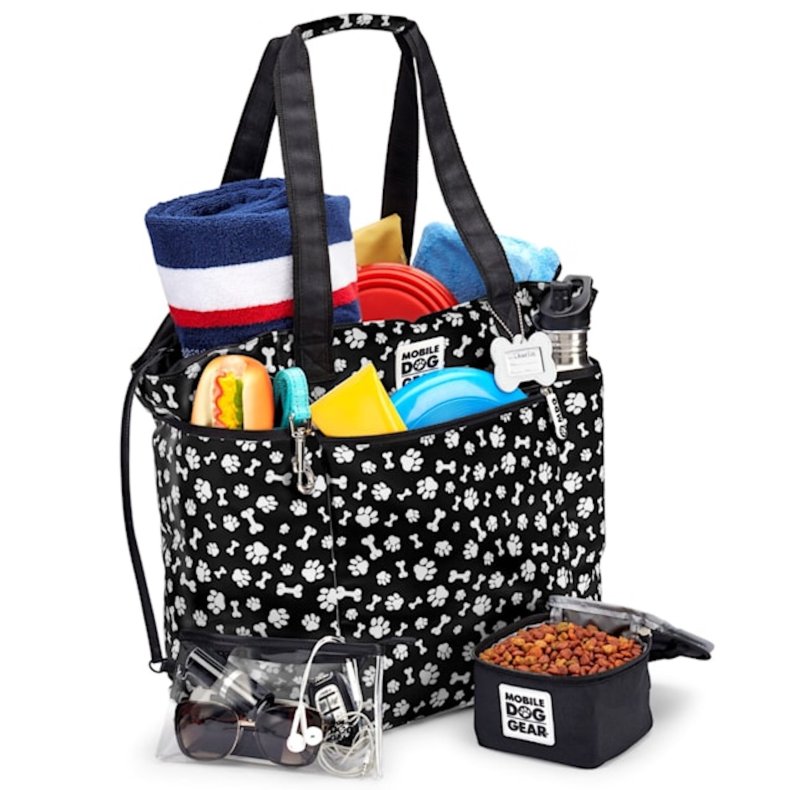 It's the rare dog owner who hasn't packed their furry friends' food, waste bags, toys and other necessities into a shopping bag only to have it break and spill the contents everywhere. The heavy-duty polyester-crafted Mobile Dog Gear Dogssentials Tote Travel Bag measures 19.5 inches by 8.75 inches by 16 inches. The paw-printed design carrier sports plenty of room for gear in its sizeable exterior zip pocket, side pockets and interior zip pockets. Plus, it comes with a 5-cup food carrier, clear zip wristlet (for your phone and other essentials) and dog-bone ID tag. (How cute! It matches the dog bone and paw pattern on the bag's exterior!). Not only is the bag stylish and organization-friendly, but it won't rip like those old grocery bags, so many dog owners use. Choose a white background with black paw prints or black background with white paw prints.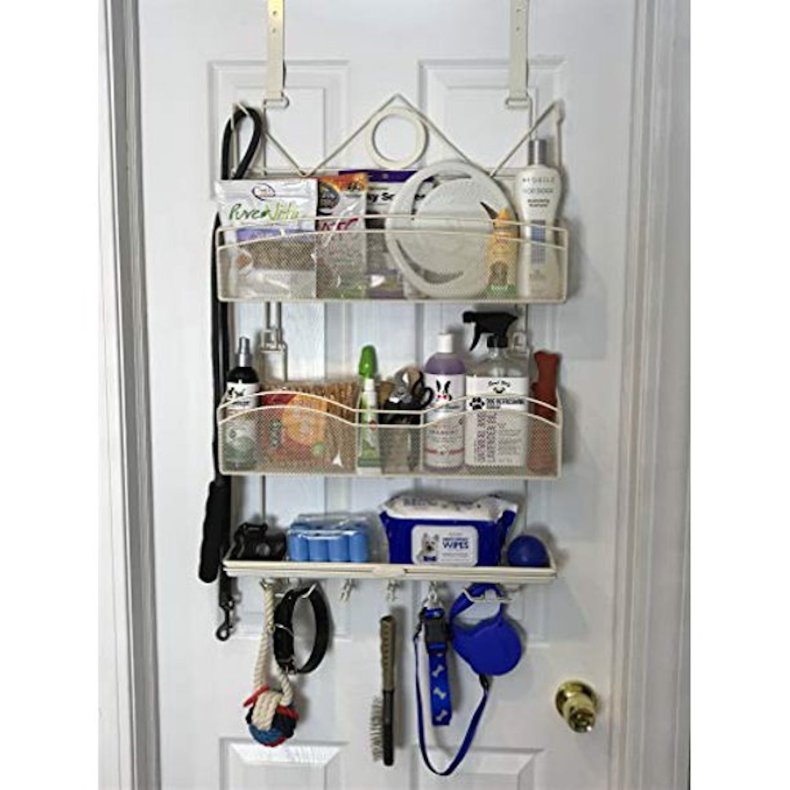 Take your dog's leash, treats, toys and medicines out of the junk drawer—you know you have one—and organize them on the Longstem Pet Organizer Hanging Accessory Storage Rack. It measures 3 inches by 20 inches by 30 inches has several compartments. You can use the two racks for things like medicine, shampoos, collars and other supplies. The two top hooks are ideal for leashes and keys, and bottom hooks for collars, toys and other extras. Secure it with one screw, two wall mounts, or the two over-the-door brackets.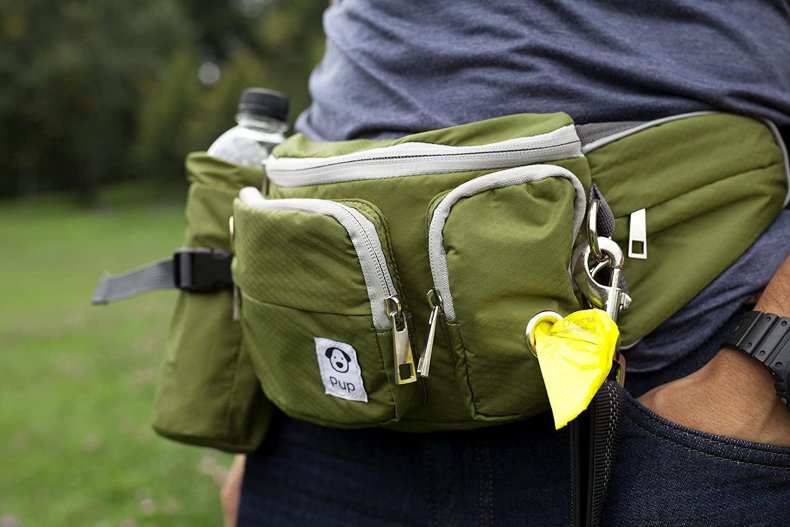 Let's be honest. When you walk your small- or medium-sized dog, we bet you often feel like a juggler. It's not always easy to hold the leash, carry waste bags and keep a bag of treats at the ready when you're canine craves high-energy action. The Pup Pouch Nookoo Dog Treat Pouch stops that particular kind of balancing act. It measures 10 inches by 7 inches, slips around waists up to 45 inches and has multiple storage areas, including three zipper pouches for your smartphone, keys, and money, areas for waste bags, treats, and other doggy essentials. It even comes with a collapsible water bowl that you attach to the pouch with two convenient D-rings. Stop struggling to hold your needed dog supplies or chase them down when dropped. You deserve to enjoy the walks too.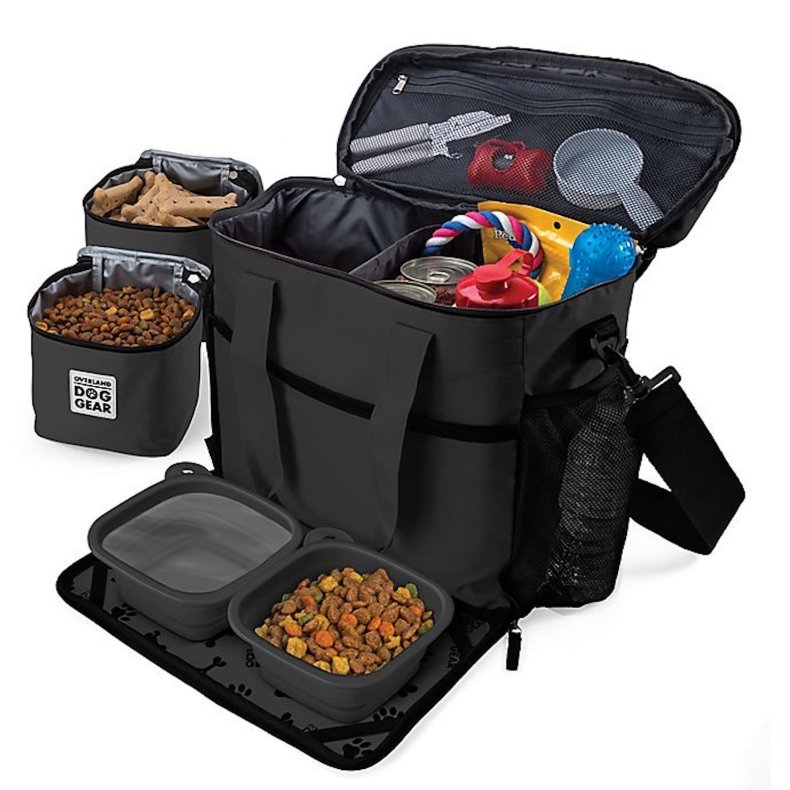 As much as you love your four-legged doggy friend, traveling with it can be a hassle. How do you ensure food, waste bags, treats, toys and other necessities are secure but readily accessible? The answer is the Overland Gear Week Away Dog Bag available for small and medium dogs. It is 100 percent polyester, so it's easy to clean with a damp cloth. The inside has two deep pockets for food, treats, toys, and food dishes. The mesh top holds waste bags, a scoop, a brush and an extra leash. It even comes with a bowl and placemat. The shoulder strap keeps you comfortable and frees your hands. The outside mesh pockets give you extra space for your phone, tickets or other travel needs.
Buy at Bed Bath & Beyond from $44.99.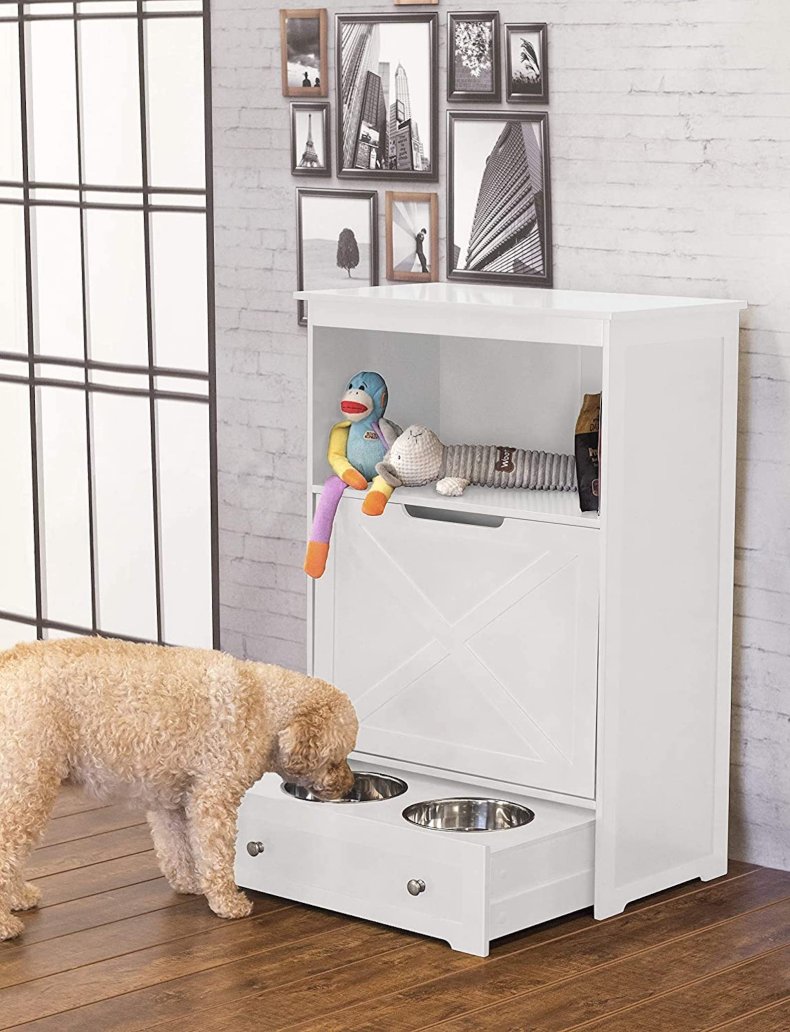 Don't leave your dog's food here, there and everywhere. Zooville Windsor Pet Feeders with Storage keeps everything handy and out of sight. This food station includes a two-dish storage pull-out drawer. Slip it out and fill the 54-ounce food and water bowls. Slip the drawer back in place after mealtime. The large hinged pet food storage bin holds up to 107 cups of dry dog food. There's also an open shelf storage for canned food, toys or whatever else your doggy needs. The unit measures 13.78 inches by 24.02 inches by 35.04 inches, so it fits perfectly with your other furniture. There are even pegs on the outside to organize leashes, toys and more. It's available in white or black.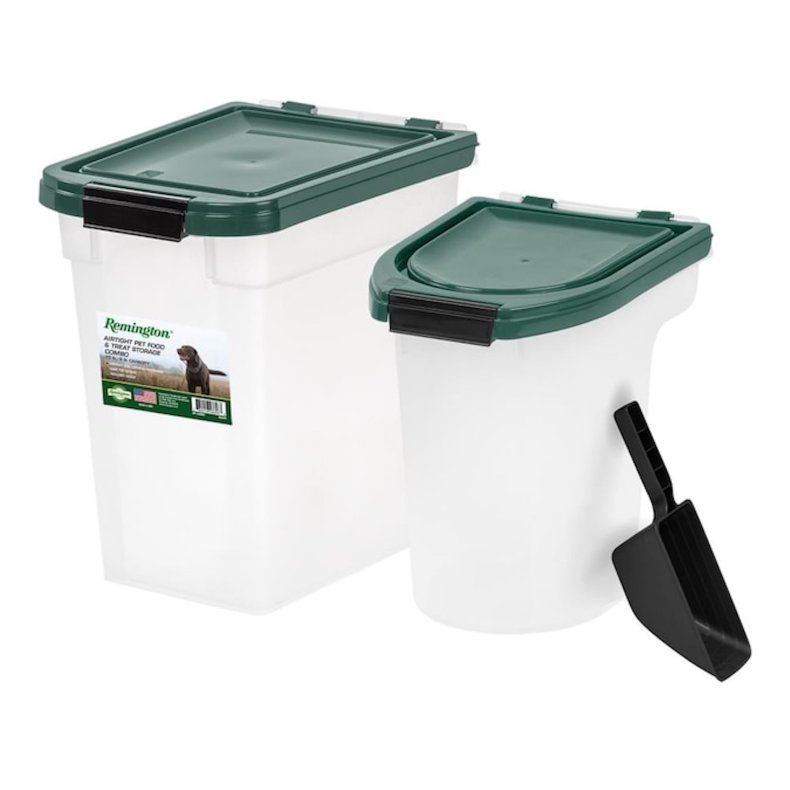 You might not think you need to organize your dog's dry food and treats until you realize they've gone stale in the bag or, worse, the bag tipped over and spilled the contents all over the floor (or carpet! What a mess!). The IRIS Remington Airtight Pet Food Storage Combo solves both issues. The 25-pound food storage bin and the 6-pound storage bin have airtight seals that lock in food freshness. Use the removable casters to roll the clear-colored bins to your dog's feeding area. Then just unlock the top buckle of the bin and use the scoop that's included to serve your dog's food. Then roll the bin back to its storage spot and know the food is safe from bugs, dust and other pollutants.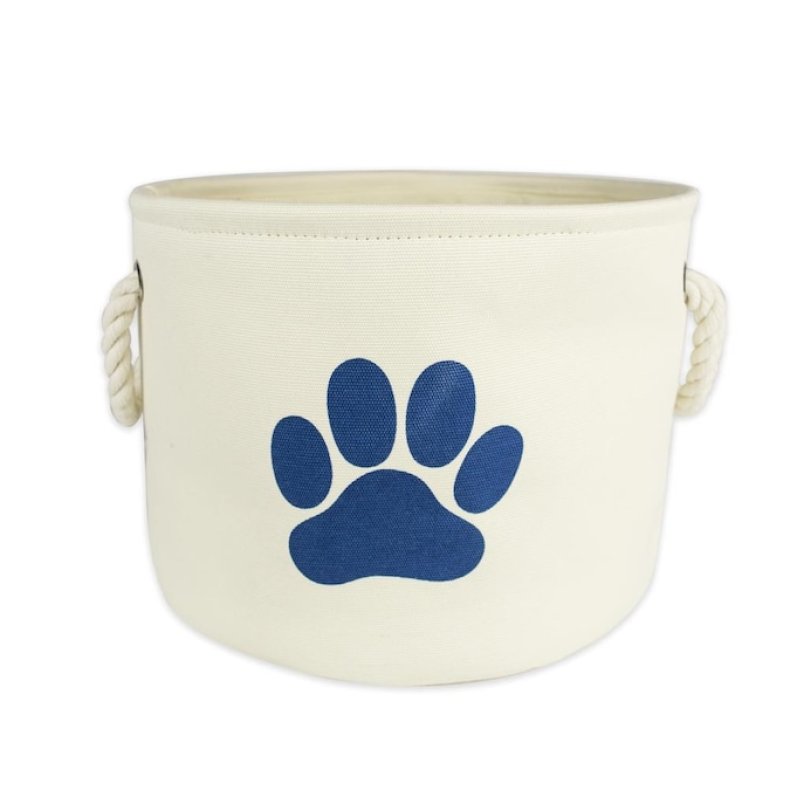 If you really want to organize your dog's many items, the Bone Dry Paw Print Collapsible Bin is a great solution. It measures just 12 inches by 9 inches by 12 inches, so you can store it in a standard-size cubby space and know it looks great. Easily grab one of two handles to pull it out when you need something inside. Don't worry. The off-white exterior will get dirty, and it's made of durable polyester so that you can clear away dirt and gunk with a damp cloth.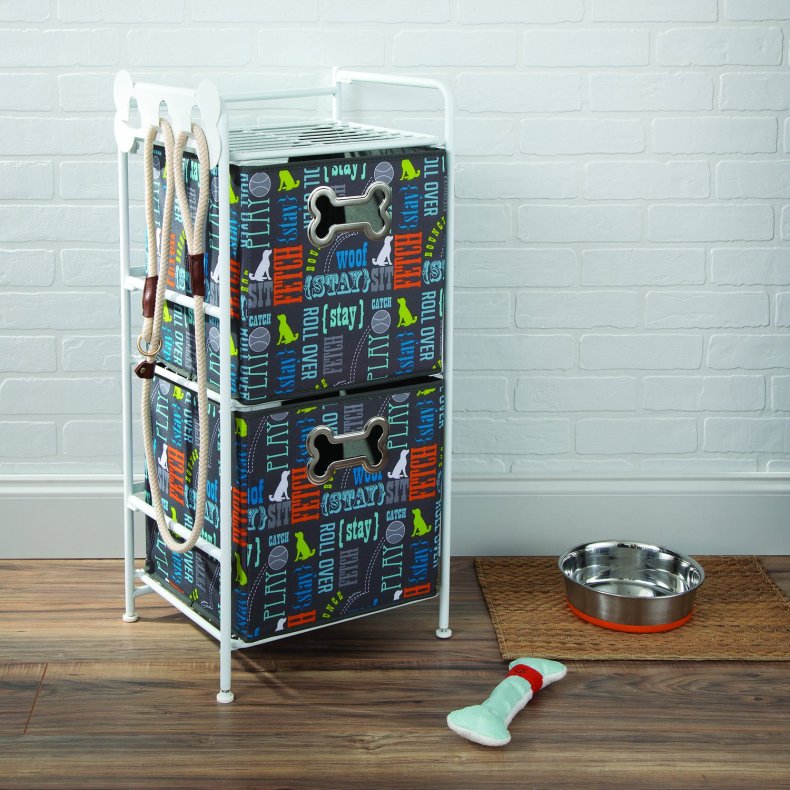 If you love the look of a doggie gear and treats station but need some extra room, Paw Prints Pet Station Collapsible Dog Bins is the answer. We love this no-assembly-required unit with two collapsible bins, three shelves, and even storage hooks. The entire unit measures 12 inches by 14.5 inches by 30.5 inches, and each removable container is 12 inches by 12 inches by 12 inches, so there's plenty of space for doggie clothes, toys, treats and extras. The bone-shaped pulls on the bins make it easy to grip them. And don't miss the bone-shaped holders on the side that are perfect for leashes.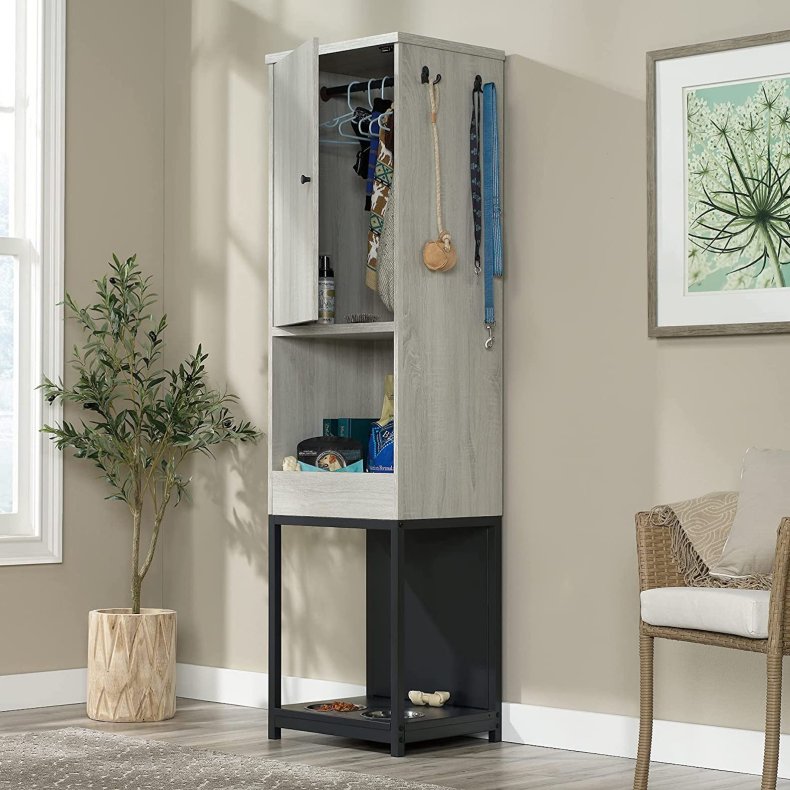 If you're like me, you want to keep at least some of your dog's organized pet gear out of sight. Sauder Furniture Pet Storage Cabinet offers storage right behind a door. Inside, you'll even find a garment rod for your dog's outfits, plus plenty of space for brushes, combs, medicines, treats and extra toys there. There's an open cubby storage area for items you use frequently (medicine? a favorite ball?) and a two-prong hook for leashes on the side of the 19.57-inch by 16.04-inch by 71.61-inch light oak cabinet. Don't miss the removable bowls on the bottom shelf, too.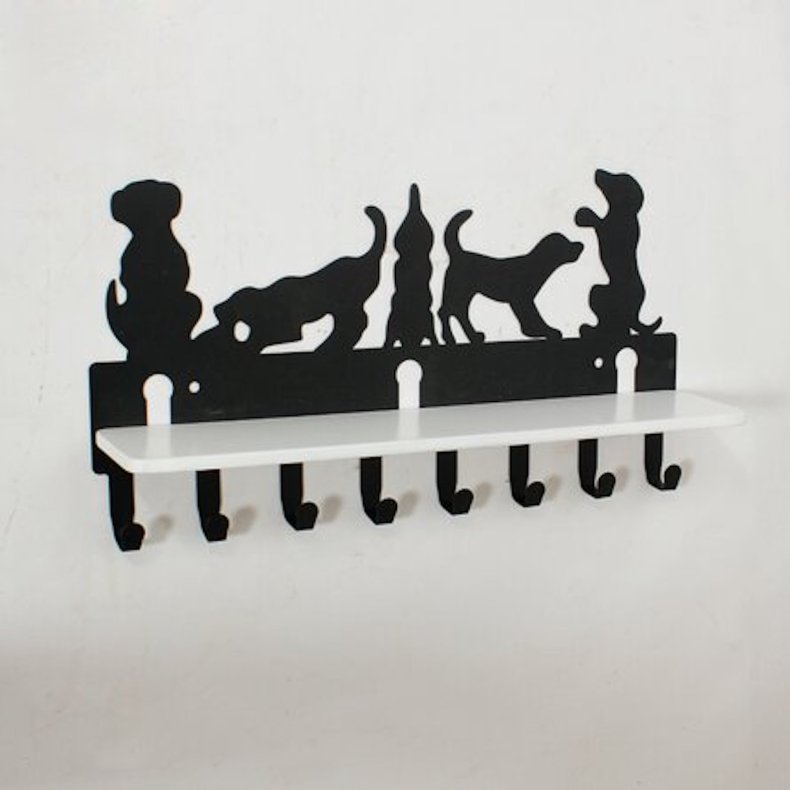 Don't let the name of the Red Barrel Studio Wall Mounted Coat Rack fool you. Just look at the doggy-themed silhouettes on top, and you'll see the eight hooks are perfect for holding your dog's leashes, long toys, outfits, and more. There's even a shelf on top of the 17.72-inch rack where you can set treats, a collar, your keys and more. The black color looks great with any decor.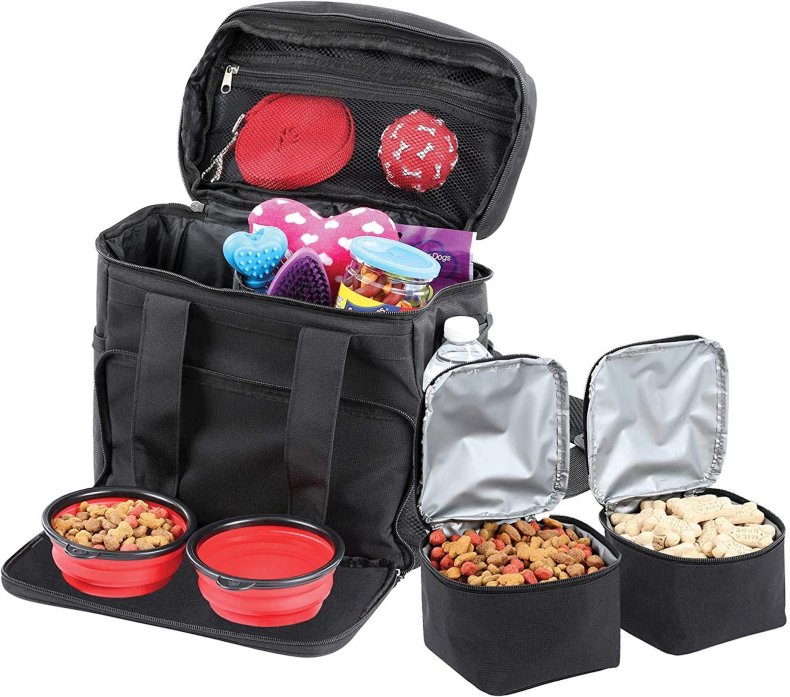 You don't have to go on a long weekend or an official "vacation" to need a roomy travel bag for all the must-haves your dog needs. Bundaloo Dog Travel Accessories is built to keep dog food fresh and secure, plus offers plenty of space for water, frisbees, balls, toys and more. There are even zippered interior pockets and deep exterior pockets for treats, balls, your phone and other extras. The kit comes with two lined carriers built for food and treats and two collapsible bowls for food and water. The black bag measures 13.25 inches by 7 inches by 10.25 inches, so it's perfect for day trips, camping and any other excursions.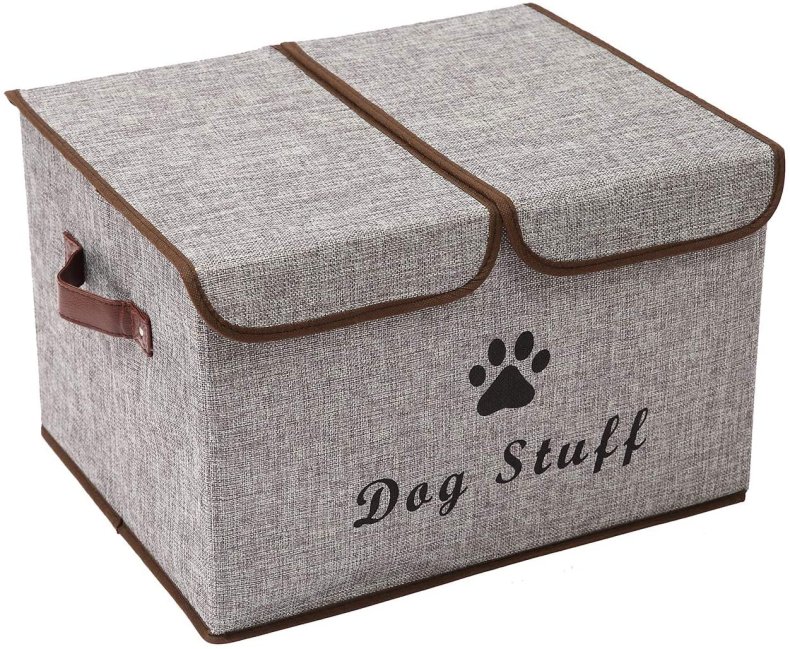 Kids aren't the only ones who need toy boxes. Organize your dog's toys in the canvas Morezi Large Dog Toys Storage Box. It measures 17 inches by 12 inches and 10 inches and has a fastened lid so your dog can't help itself to the toys, treats and other items you tuck inside. It's easy to clean with a damp, wet cloth or sponge. Choose from 18 styles.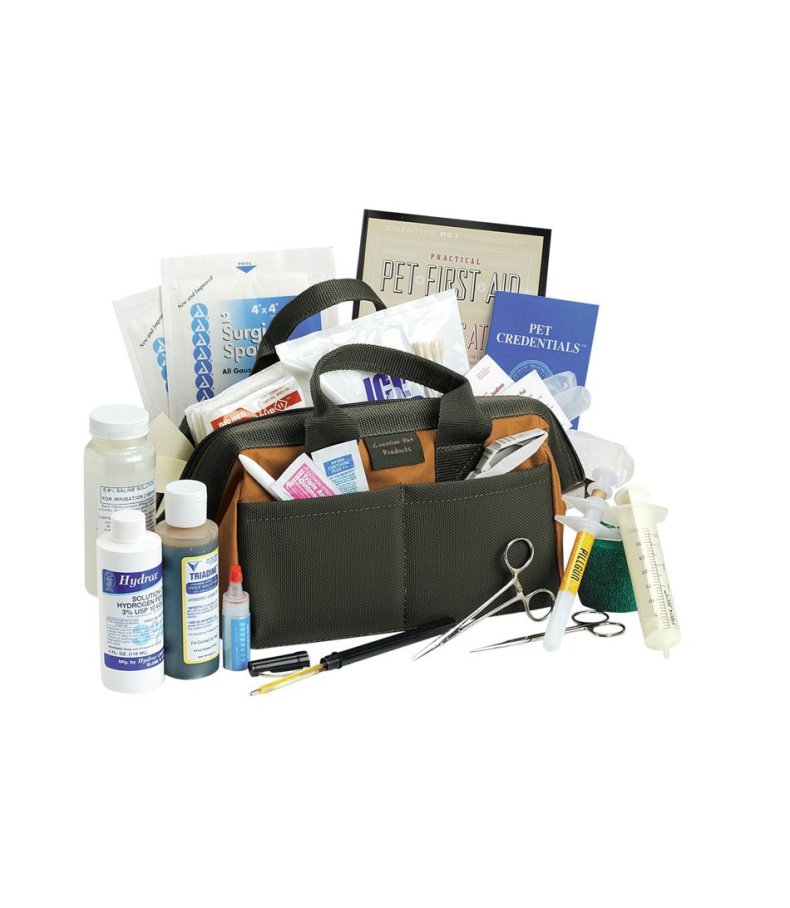 Organizing dog gear takes on whole different importance when you take your sporting dog out hunting, fishing or otherwise joining you in outdoor recreation. Sporting Dog First Aid Kit measures a trim 9.5 inches by 7 inches by 6.5 inches but holds all you need to care for your dog's cuts, bites and more severe injuries. It comes with hydrogen peroxide, styptic pencil, 2-inch flexible cohesive wrap, alcohol prep pads, a surgical scrub brush, 10 cc syringe, hydrocortisone cream, triple antibiotic ointment, a latex tourniquet and much more. Don't take chances with your dog's health. Make sure all of the medical supplies you might need for your dog are organized.
Newsweek may earn a commission from links on this page, but we only recommend products we back. We participate in various affiliate marketing programs, which means we may get paid commissions on editorially chosen products purchased through our links to retailer sites.