15 Outstanding Products to Organize Your Garage in 2022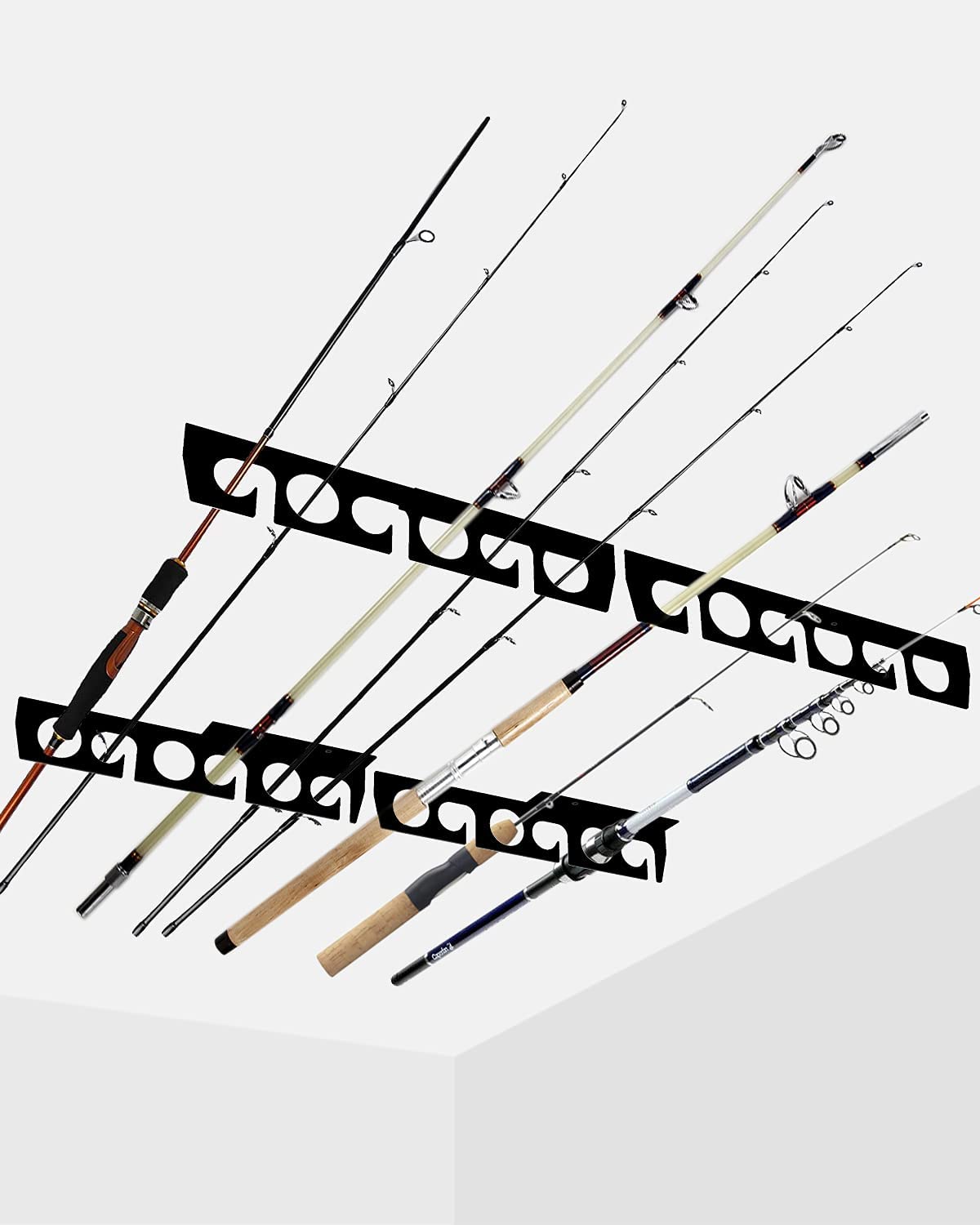 If you're like me, you sometimes wonder why your garage feels so disorganized. That's especially true after the holidays when it feels as if space is at a premium. Short of donating and discarding gardening tools, paperwork, sports equipment and other items, there seem few other ways to optimize space.
Some of us forget that many of the same organizational strategies and products that work inside our homes also work in the garage. Plus, there is an array of specially constructed products built especially for that space.
Highly Rated Products To Maximize Your Garage Space
When you want to organize your garage, the task can seem overwhelming, perhaps even more so than when you organize items in your house. At least there you have closets and space under beds! Clearly, that's not the case in your garage. Don't despair. In fact, get your gratitude vibes going because there are plenty of products to help you create the orderly garage of your dreams. Below are 15 of our favorites. As always, the prices listed may fluctuate over time.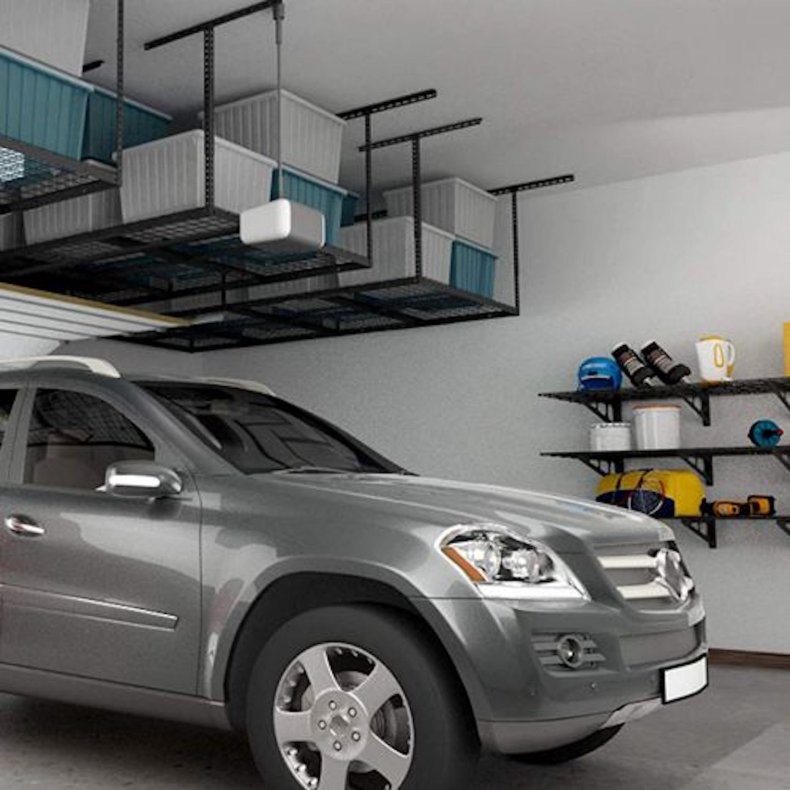 I'm one of those people with boxes of paperwork, containers of holiday items and all types of gardening tools in my garage. Sure, I could stack them all on the floor in the back, but that takes up valuable space for my car. The best solution I found was overhead garage storage. The Fleximounts Black Steel Overhead Garage Storage is a great choice because the gride is welded to the frame. That means your items––and the unit––will remain in place so you or someone else won't be injured. It measures 48 inches by 96 inches has adjustable height, so it fits over garage doors, too. That means you can install more than one if needed.
Buy at Home Depot for $229.99.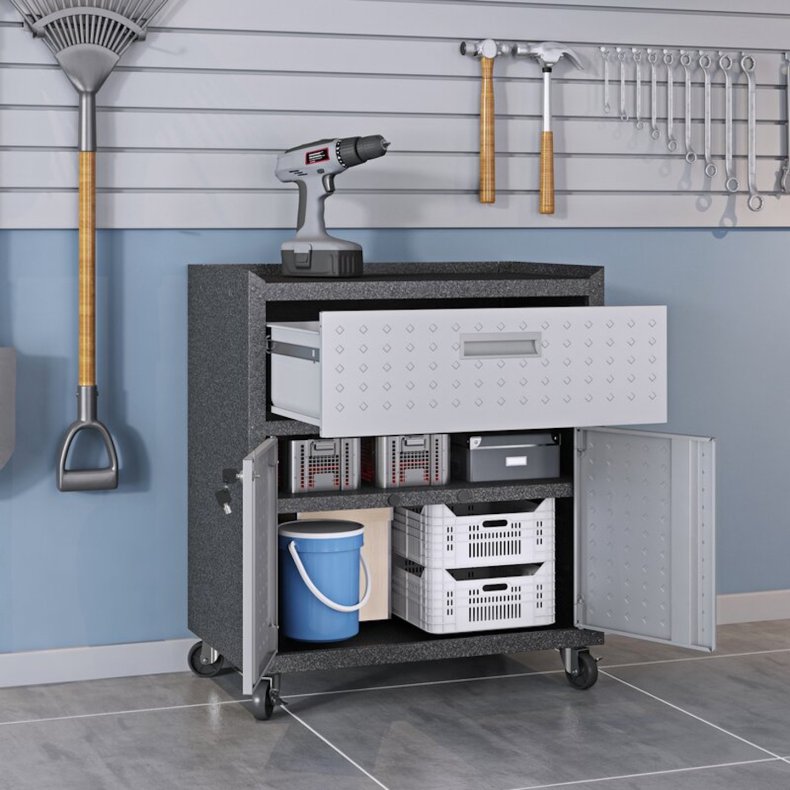 If you're one of those people who routinely have extra garage space, such as when there's one car in a two-car garage, the Dotted Line Garage Mobile Storage Cabinet is a great storage choice. The 31.5-inch by 30-inch by 18-inch cabinet has rolling casters, so you can move it wherever it fits, or you need it most. Plus, there's a locking feature, so it stays in place. The rust- and moisture-resistant steel cabinet has two diamond-shaped textured doors. Inside the gray-and-black cabinet, an adjustable shelf and a drawer roll out. It's ideal if you want to move your cabinet outside to work on tasks, too.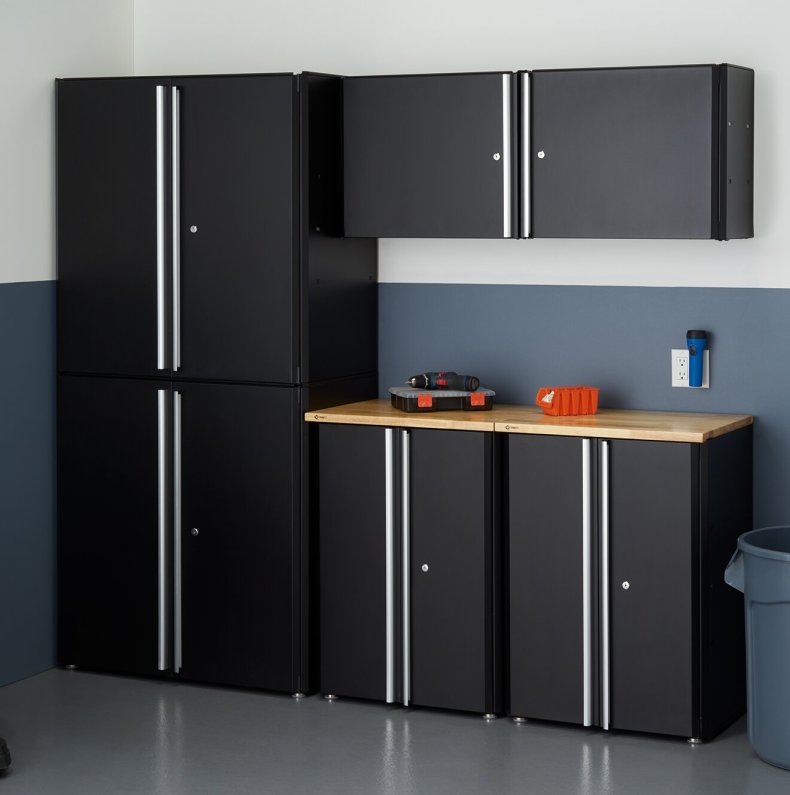 The Trinity Carsonville 6-Piece Garage Cabinet Set is a complete storage system. It boasts two base cabinets, two wall cabinets and two modular, stackable cabinets to store taller items. Don't worry about how you'd set up the 74.8-inch by 84.25-inch by 19.1-inch set that is crafted from 20-gauge steel. It has easy-to-follow assembly instructions. Worried you'll want to move it? No problem. The floor units have wheels. Safeguard your tools, sports equipment, toys or household items in this one dedicated unit.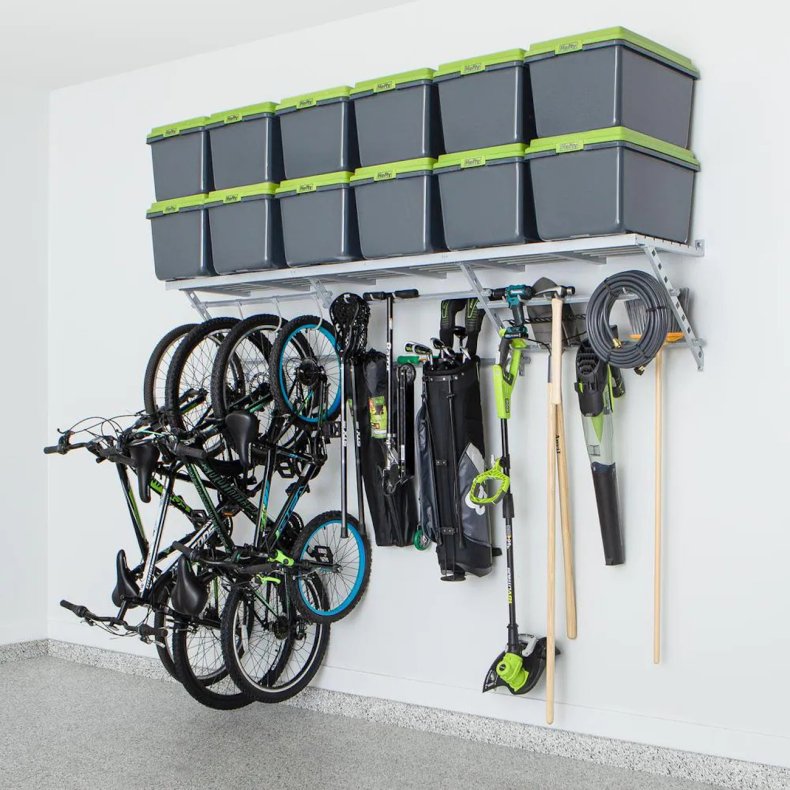 The Garage Essential Ultimate Shelf and Track Storage System gives you the best of both wall-mounted shelves and hanging storage. Stash kids' toys, holiday items and more in bins and place them on the top rack. Then hang golf clubs, kayak paddles and weed eaters from the six adjustable bars with 24 hooks. Worried you'll overload it? Don't be. You can store up to 1,500 pounds of items on the 96-inch by 20-inch by 20-inch system crafted from powder-coated steels that is durable and strong.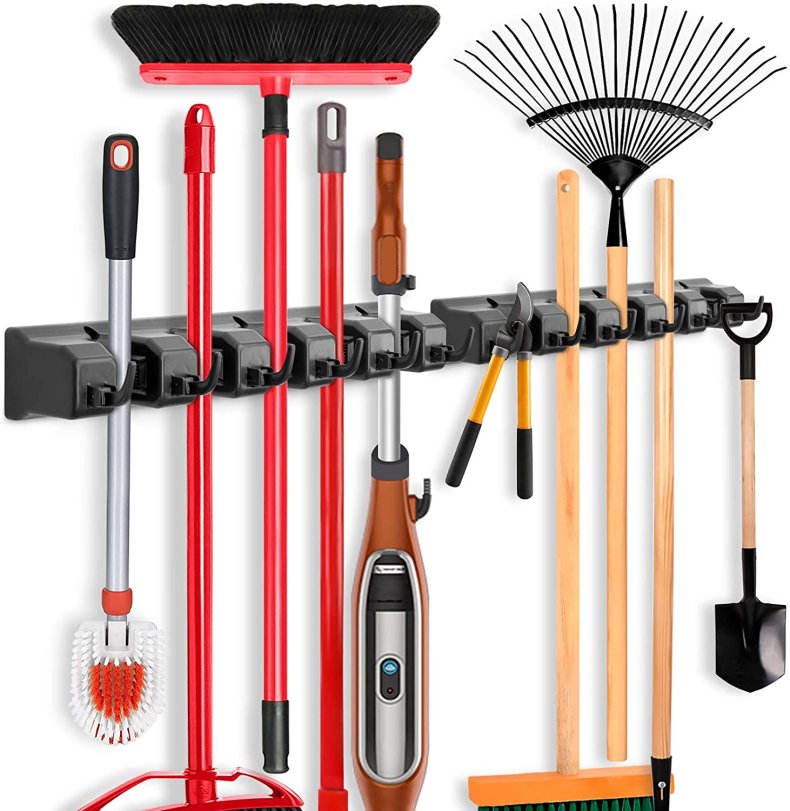 There's something about brooms, rakes, mops and other items cluttered in corners that makes me feel as if my whole house is a mess. Call me obsessive-compulsive, but my guess is plenty of other people hate to see such untidiness. The two-pack of Imilett Mop and Broom Holder has five ball slots and six hooks to hold all the odds-and-ends that you need but can't easily store. Each measures 16.75 inches by 2.3 inches by 3.15 inches and includes screws to mount them.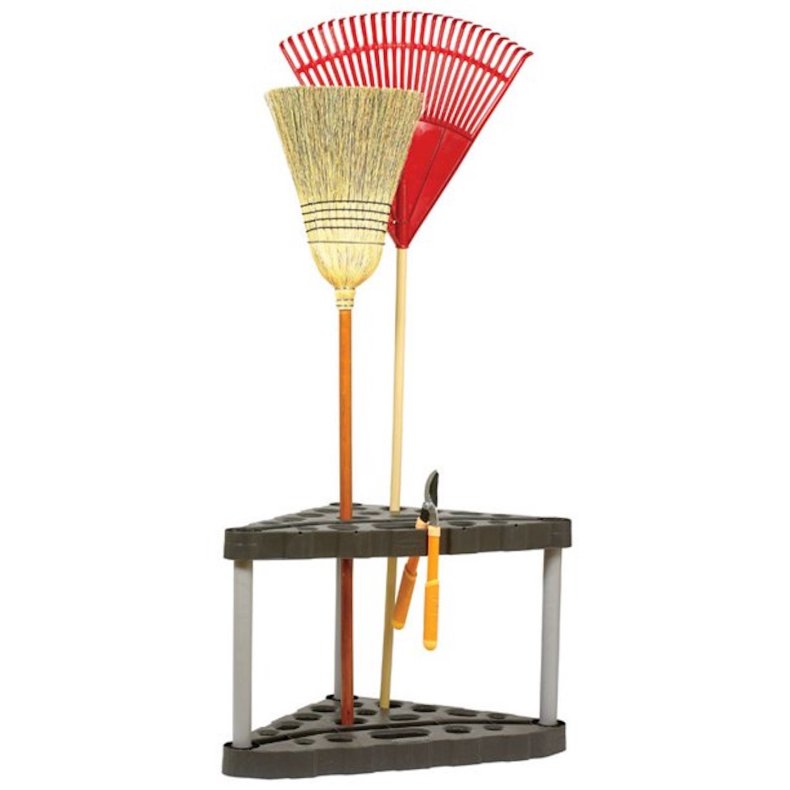 A lack of wall space doesn't mean you can't organize the rakes, mops and the other items mentioned above. The 32-inch by 18-inch by 20-inch Rubbermaid Corner Tool Rack Tower holds up to 30 items, including heavier shovels, axes, sledgehammers, pruners and more. The grey resin tower won't' rust, dent or rot. Worried it will tip? Anchor it with the pre-drilled holes.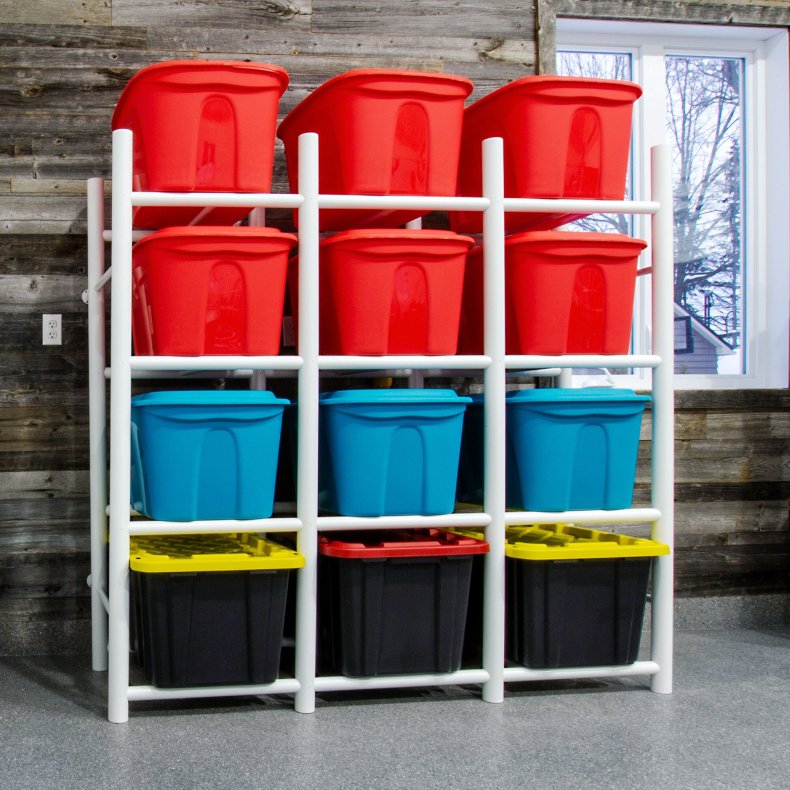 The Bin Warehouse Shelf Shelving Unit has something many similar units don't––plenty of room for large bins. This unit measures a massive 69 inches by 68 inches by 27.5 inches. That means you don't have to worry that a large bin (19.5 inches by 17 inches by 20 inches to 28 inches) won't fit or, worse, will crash off the plastic unit. It holds up to 1,200 pounds of weight, so you can fill those bins with books, files or whatever else you want to pack away.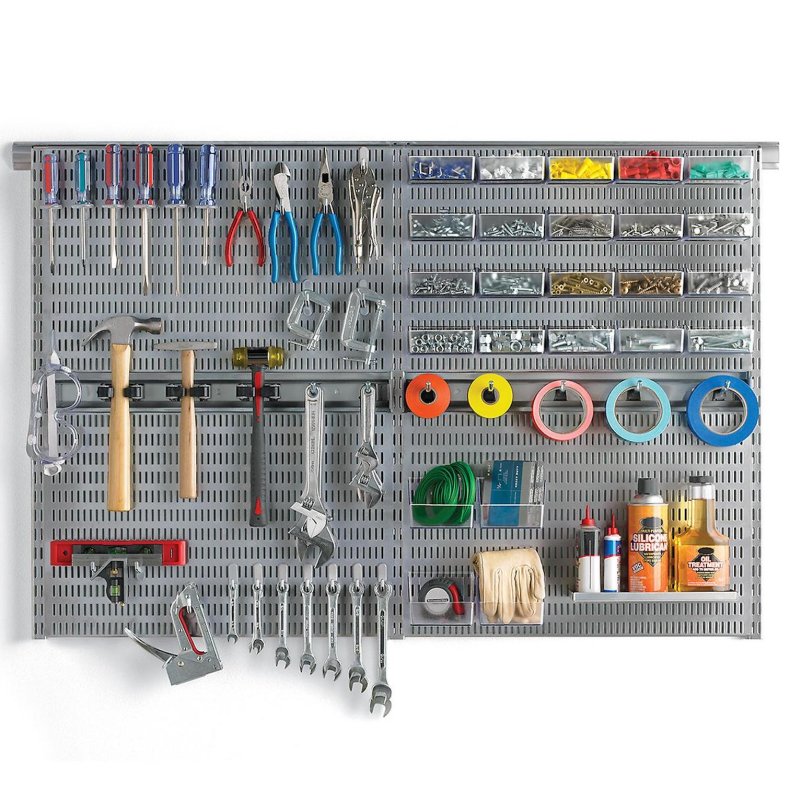 There's something about a pegboard on a garage wall that looks like the owner is on top of their organizational game. Now that I have one on my wall, I see that the impression is true. You can join the organization-by-pegboard ranks when choosing the Platinum Elfa Utility Workshop Organizer Pegboard. Mount the horizontal top rack and then put the plastic pegboard to work with the Elfa Utility Hooks and Holders. Your tools, gardening items, tape rolls and more will all be within easy reach. One note––you must have a 4-foot-wide wall to use this.
Buy at The Container Store for $477.50.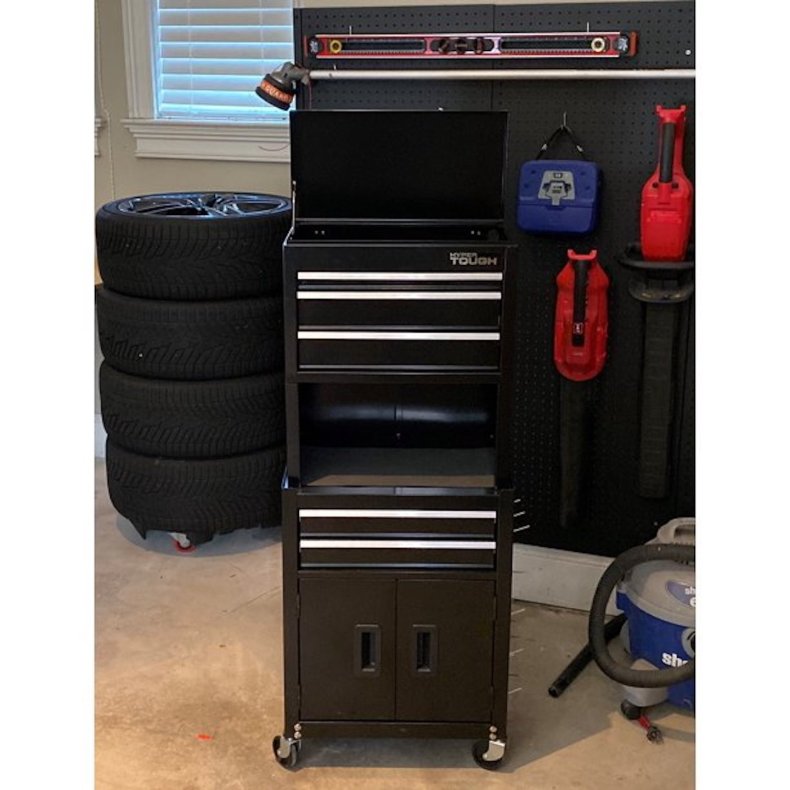 The Hyper Tough 5-Drawer Rolling Tool Chest is the ideal storage unit for the DIYer in your house. The 20-inch by 11.6-inch by 49.8-inch unit has three drawers, a top tray with an electrical knockout for cord storage, two lower drawers and bulk storage. Remember how we praised pegboards a bit earlier in this story? Good news. You'll find the lower section of this chest and cabinet has a pegboard and includes 15 peg hooks. The four swivel casters let you move it to where it's needed.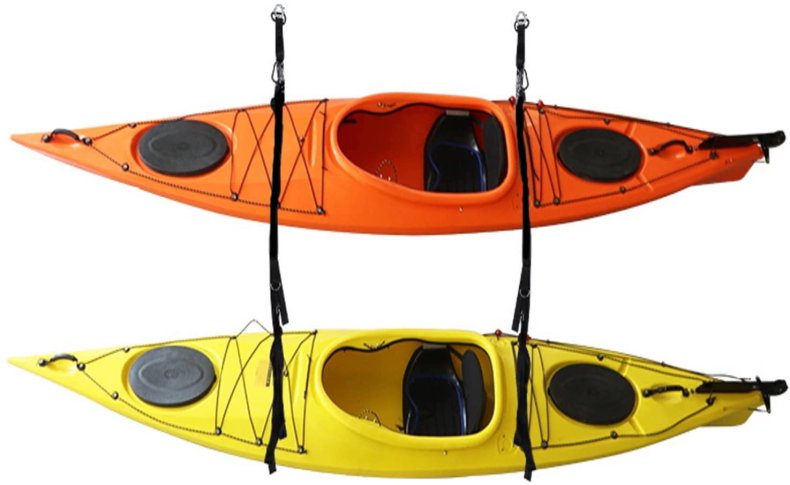 You don't have to pay a fortune to keep your kayak or other personal watercraft (PWC) off the floor of your garage. The StorMore Kayak Storage Straps are easy to use and hold up to 200 pounds. The straps are adjustable to 88 inches, have a 1.5-inch width, and come with a hanging kit that includes a D-ring closure system. It's a budget-friendly kayak storage option that gives you all the convenience and safety of higher-priced systems.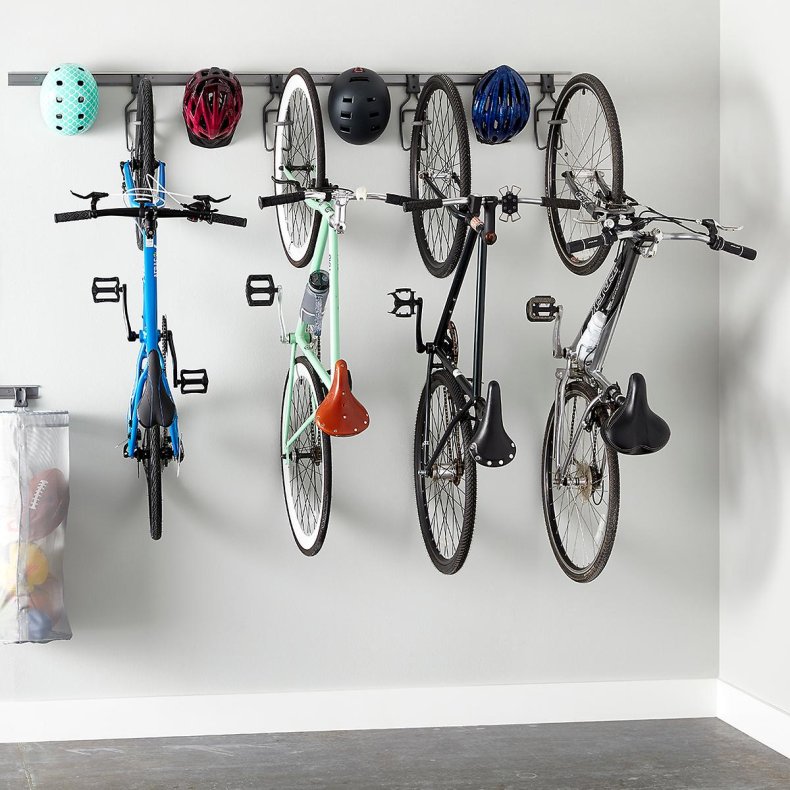 Yes, you can get your bikes and helmets off the floor by using the wall space on your garage wall. All you need to mount the 80-inch by 5.75-inch by 11-inch Elfa Utility Bike Rack is included. Once it's in place, use its vertical bike and accessory hooks to organize your cycle and gear on the four Vertical Bike Hooks and six steel accessory hooks. Each Bike Hook is cushioned, has a non-slip coating and holds up to 50 pounds. You can even hang a bike from a front or rear wheel to save more space.
Buy at The Container Store for $117.50.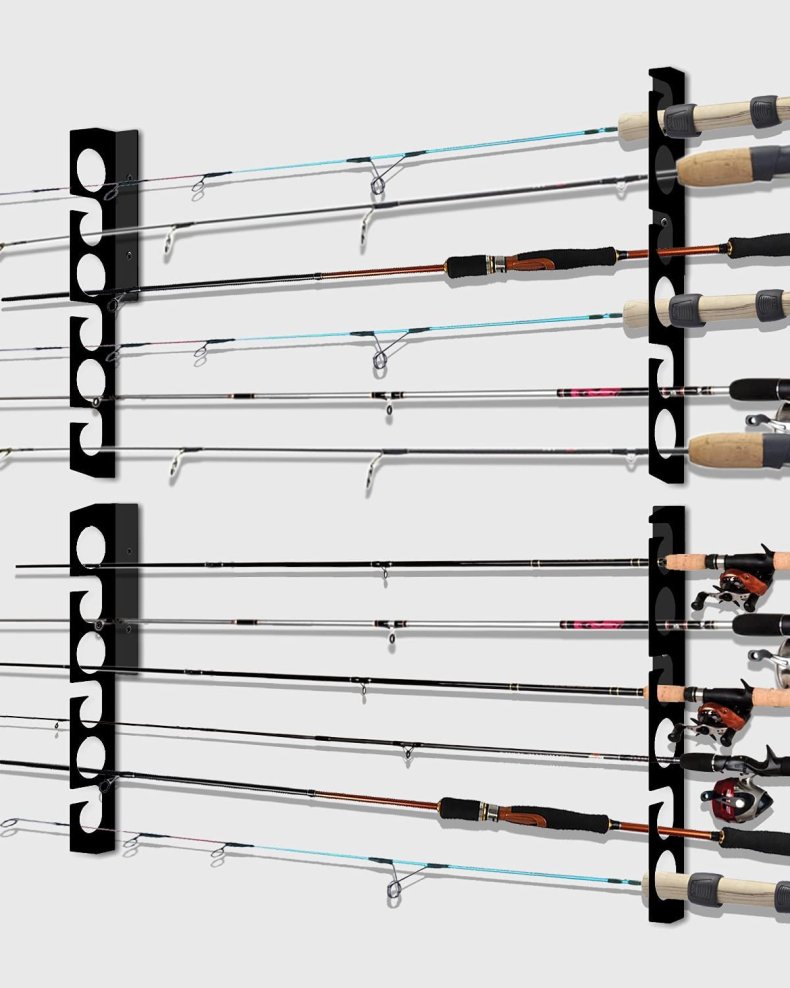 Any angler will tell you that many fishing rods are expensive. Sure, you want to care for them, but that doesn't seem easy because of their size and fragility. When you have the Wiphany Fishing Rod Rack up to 12 of your poles, including rod and reel combos, stay safe. The rack is built with deep grooves, holding the rods securely, and the black powder-coated steel prevents corrosion and scratches. And yes, the mounting hardware is included.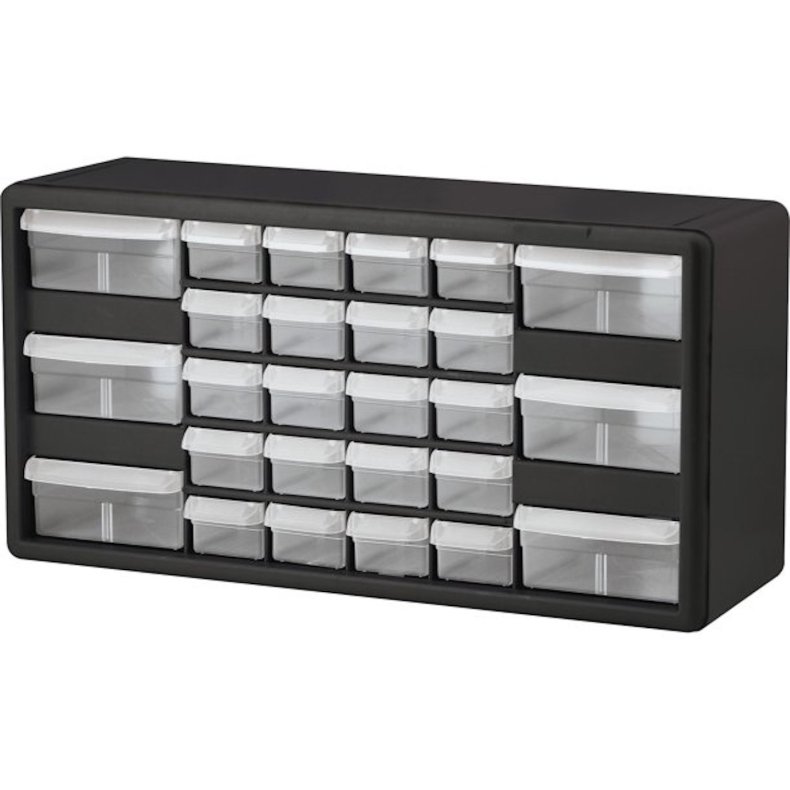 Now's the time to get all of those nails, screws, nuts, bolts and other small somethings in order. Akro-Mils 26 Drawer Stackable Cabinet is a 20.6-inch by 20-inch by 10.3-inch plastic cabinet that you can set on a shelf or hang on a wall. What makes this cabinet a standout is the 26 large and small dividable drawers with finger-grip pulls and rear stop tabs so you won't pull them out too far (and, yes, spill the contents). The large drawer measures 4.9 inches by 4.1 inches by 2.2 inches, and the small drawer measures 5.1 inches by 4.7 inches by 1.6 inches. Need more space? Buy a few. Remember, they are stackable!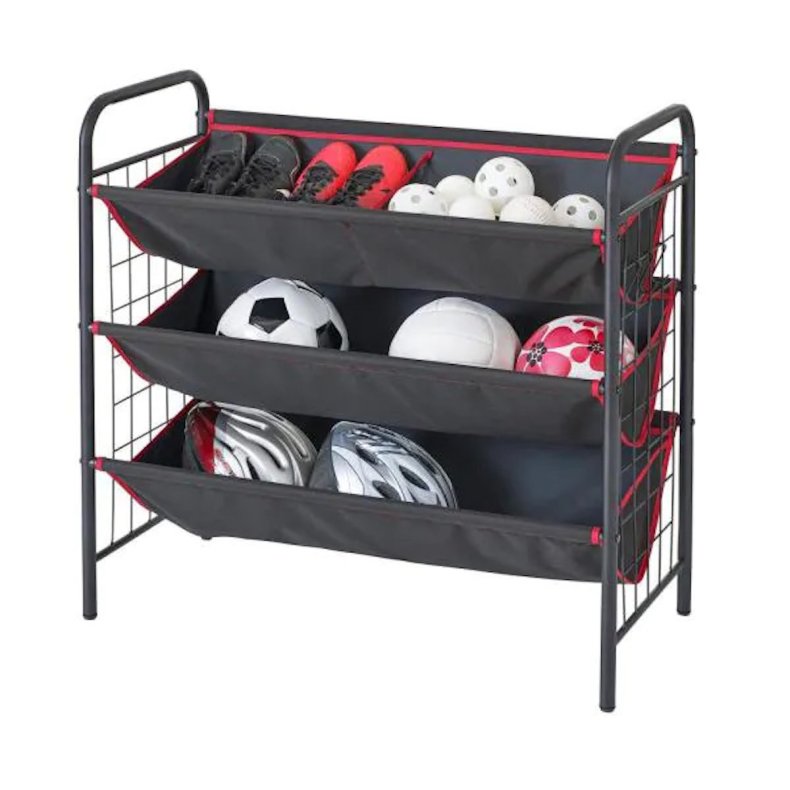 If you want items organized but not out of sight, consider the Neatfreak Black 3-Tier Sports Utility Storage Bin. It's a three-tier unit with polyester fabric bin shelves and side S-hooks for gardening tools, gloves and other incidentals. The black-with-red-trim unit measures 33.97 inches by 32.48 inches by 16 inches and has a mesh divider in the top bin so you can separate items. The leveler feet keep it balanced. We bet you'll want several so you can keep kids' toys, garden tools, sports equipment and other items at the ready but out of the way.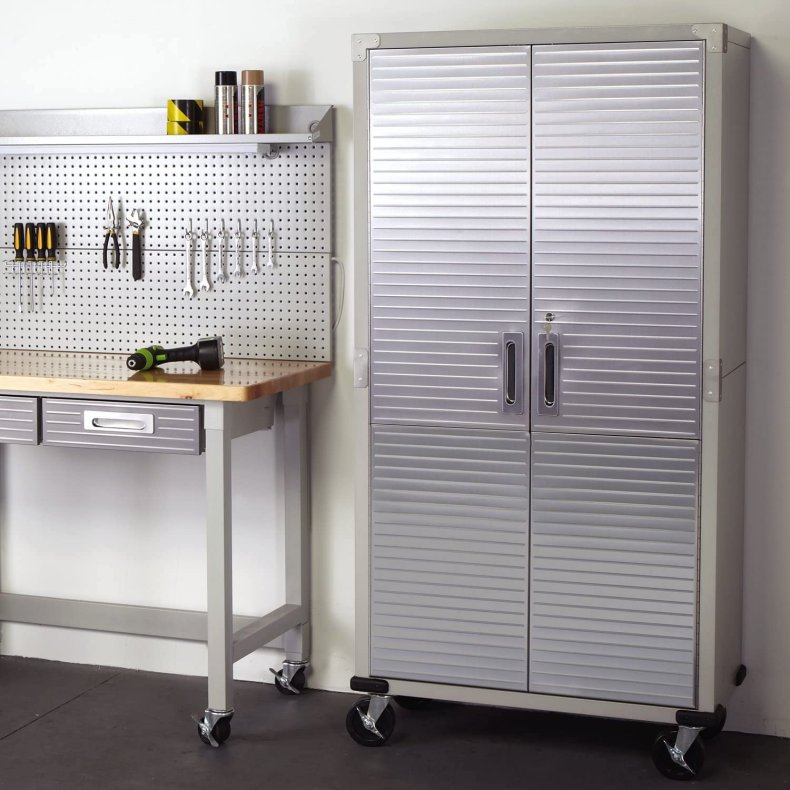 You don't want to chance expensive tools, sports equipment and other items are damaged or swiped, and the Seville Classics Cabinet Storage provides that protection. The powder-coated steel framed unit measures 36 inches by 72 inches by 8 inches, has stainless steel doors and mobile locking wheels. Inside are four shelves, including three that are removable, that each hold up to 50 pounds. And yes, the segmented stainless steel doors lock so only those with one of the keys can access what's inside. If you have valuables you want to keep secure, this storage is what you want.
Newsweek may earn a commission from links on this page, but we only recommend products we back. We participate in various affiliate marketing programs, which means we get paid commissions on editorially chosen products purchased through our links to retailer sites.