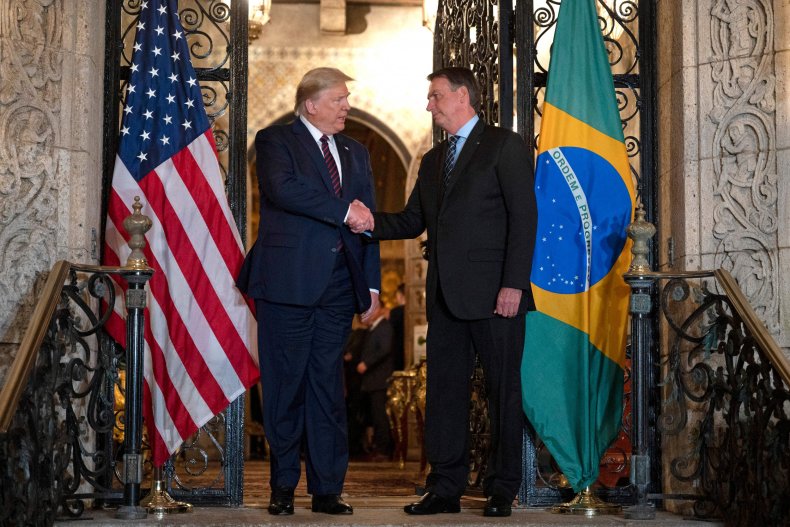 On Wednesday, Brazil's National Security Advisor Augusto Helano confirmed that he had tested positive for the novel coronavirus, marking 15 Brazilian delegates to the U.S. with positive tests. Miami Mayor Francis Suarez, who was not part of the delegation but visited with officials during their visit, also tested positive.
Helano confirmed the positive test on his Twitter account, where he stated that he doesn't have "any symptoms related to COVID-19," but is taking precaution by self-isolating at home. He tested positive for the novel coronavirus shortly after accompanying Brazilian President Jair Bolsonaro during his trip to the U.S. to meet with President Donald Trump.
In addition to Helano, the other Brazilian delegates that tested positive for the virus include, Federal Deputy Daniel Freitas, the President of the Federation of Industries of Minas Gerais Flavio Roscoe, Special Secretary for Foreign Trade and International Affairs Marcos Troyjo, President of the National Confederation of Industry Robson Braga de Andrade, Bolsonaro's press secretary Fabio Wajngarten, Brazilian Senator Nelsinho Trad, Brazilian Diplomat Nestor Forster, Bolsonaro's Special Secretary for Social Communication Samy Liberman, Bolsonaro's publicist Sergio Lima, Bolsonaro's lawyer Karina Kufa and four other members of Bolsonaro's support team. Miami Mayor Francis Suarez, who attended events with the Brazilian delegation along with Florida Senator Rick Scott, Miami-Dade Mayor Carlos Gimenez, also tested positive. Scott has been in self-quarantine but has not displayed any symptoms of the virus while Gimenez tested negative.
Each of the 16 infected individuals recently met with Trump at his Mar-a-Lago resort in Florida. Trump, Bolsonaro, Wajngarten and Vice President Mike Pence, were seen in a picture together, posted to Instagram by Wajngarten. The two presidents reportedly also shook hands.
Despite the direct interactions between the two presidents, neither Trump nor Bolsonaro have tested positive for the virus.
Bolsonaro confirmed a negative test result on his Twitter account, while the White House announced on Sunday that Trump had received a negative test result as well.
Following Trump's negative test result, a White House official informed CNN that Pence will not get tested for the virus after a White House physician said that it was not necessary.
The novel coronavirus, which causes the respiratory disease COVID-19, originated in Wuhan, China but has continued to spread, infecting over 204,000 people across the globe, according to a tracker provided by Johns Hopkins University. As of March 18, the U.S. has over 6,500 confirmed cases and over 110 deaths. According to the tracker, there are at least 350 confirmed cases in Brazil and at least two deaths.
Despite the increasing number of cases worldwide, according to the tracker, over 82,000 people have recovered from the virus.