15 Percent of Tibet's Population Transferred to Chinese Training Centers as Mass Labor Program Expands: Report
More than 500,000 Tibetans have been transferred to Chinese training centers since the beginning of 2020, as an existing mass labor initiative expanded in the region. The figure accounts for roughly 15 percent of Tibet's total population. According to a new Reuters report, published Tuesday, the militaristic recruitment program primarily targets rural farmers who are then trained to support Chinese industries.
Its presence in Tibet, fueled by quotas established by Chinese authorities, marks a significant expansion of a labor program also seen in Xinjiang, an autonomous region in the country's northwest. In Xinjiang the initiative is linked to internment camps that China officially calls "vocational" facilities, where researchers estimate at least 1 million Uighurs were detained over the past several years. Documents obtained by the Associated Press last year confirmed that those held at the detention centers were subject to ideological instruction and behavioral re-education. The Chinese government claimed to have released detainees from the camps in December, but concerns about subsequent forced labor practices surfaced soon after.
China's labor program in Tibet is suspected to enlist civilians through coercive means. A report by anthropologist Adrian Zenz, recognized for his studies on the re-education camps in Xinjiang, prompted 63 global legislators from the Inter-Parliamentary Alliance on China (IPAC) to release a statement Tuesday condemning the "apparent widespread system of forced labor in Tibet" for its human rights violations.
"The program appears disturbingly reminiscent of coercive vocational training and mass labor transfers imposed by the Chinese authorities in the Uyghur region," the group's statement reads. Summarizing Zenz's report, it referenced "accounts of enforced indoctrination, intrusive surveillance, military-style enforcement, and harsh punishments for those who fail to meet labor transfer quotas." The legislators urged the Chinese government to "halt these atrocities immediately."
Dr. Lobsang Sangay, president of Tibet's regional government, responded to the IPAC statement in a message shared to the Central Tibetan Administration's website.
"We thank all the parliamentarians for their strong united stand against the atrocities being carried out by the Chinese government in Tibet," Sangay said. "Your unwavering support to justice and basic freedoms of Tibetans sends a positive message to Tibetans suffering under the repressive policies of the authoritarian regime of Chinese Communist Party."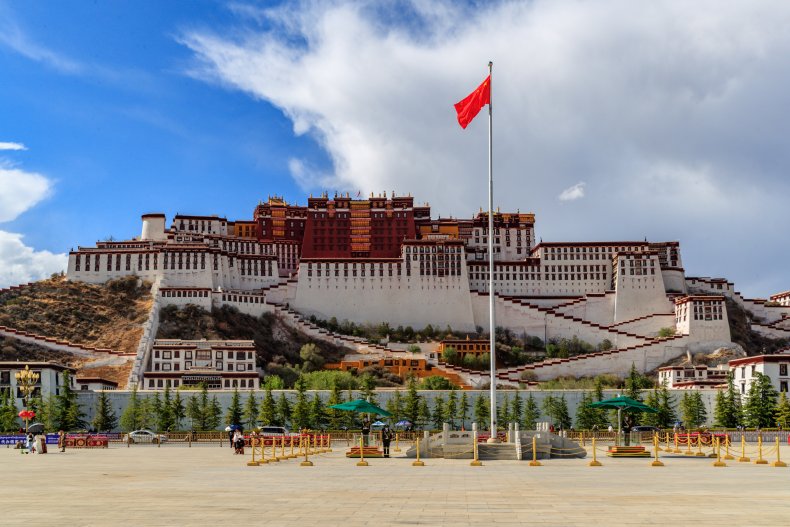 China's Ministry of Foreign Affairs denied allegations of forced labor in a statement to Reuters. The bureau said participation in the labor program is voluntary and those involved are paid fairly.
"What these people with ulterior motives are calling 'forced labor' simply does not exist. We hope the international community will distinguish right from wrong, respect facts, and not be fooled by lies," the ministry stated to Reuters.
Newsweek reached out to China's Ministry of Foreign Affairs for additional comments but did not receive a reply in time for publication.