Happy National Hot Dog Day! According to the National Hot Dog and Sausage Council, 20 billion hot dogs are consumed by Americans every year. There's even an annual hot dog eating contest in Coney Island, New York, dedicated to this barbecue favorite.
Throughout the country, there are many different ways people enjoy the hot dog. In Chicago, you'll find tomatoes and pickle spears between those buns. Meanwhile, in Atlanta, it's not uncommon for your hot dog to be loaded with coleslaw and chili.
Here are 15 different and delicious hot dogs you can make for National Hot Dog Day no matter where you're from: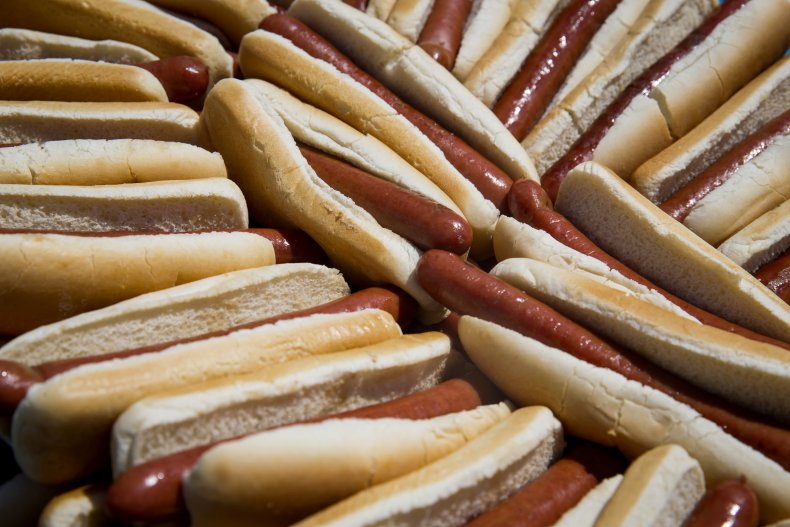 Atlanta Dogs are simple yet delectable; they consist of chili and a spoonful of coleslaw.
Chicago-style Hot Dogs feature an all-beef frankfurter served on a poppy seed bun. Made famous in the Windy City, these hot dogs have pickle spears, pickled peppers, celery salt, tomatoes and relish. And, of course mustard.
Mouth-watering Cincinnati Style chili-dogs are loaded with chili, diced onions and cheddar cheese.
Crab Mac and Cheese Dogs are super popular in Maryland. They are smothered in creamy Mac and cheese and lump crab meat, and covered with Old Bay seasoning.
In Los Angeles, a Danger Dog is one of the city's most beloved street foods. The frankfurter is wrapped and bacon and grilled. Ketchup, mustard, mayonnaise, sautéed onions, and peppers, along with a whole, green poblano Chile pepper are piled onto these hot dogs.
While in Boston, be sure to grab a Fenway Frank. These hot dogs include baked beans (because, of course they do), and are covered with ketchup, mustard, relish, chopped onions, and piccalilli (a relish of chopped pickled vegetables and spices).
Jersey Style Hot Dogs, which are also known as Italian hot dogs, are packed with peppers, onions and fried potatoes.
Kansas City-style Hot Dog are reminiscent of a Reuben sandwich. They feature a pork-based frankfurter and sesame seed bun. Melted Swiss cheese is lathered onto the hot dog, along with sauerkraut and mustard. Sometimes thousand island dressing is drizzled on top to complete this hot dog.
You can find a New York Hot Dog anywhere throughout the city on a push cart. These hot dogs are made of the hot dog and bun, along with mustard, sauerkraut and onions cooked in ketchup.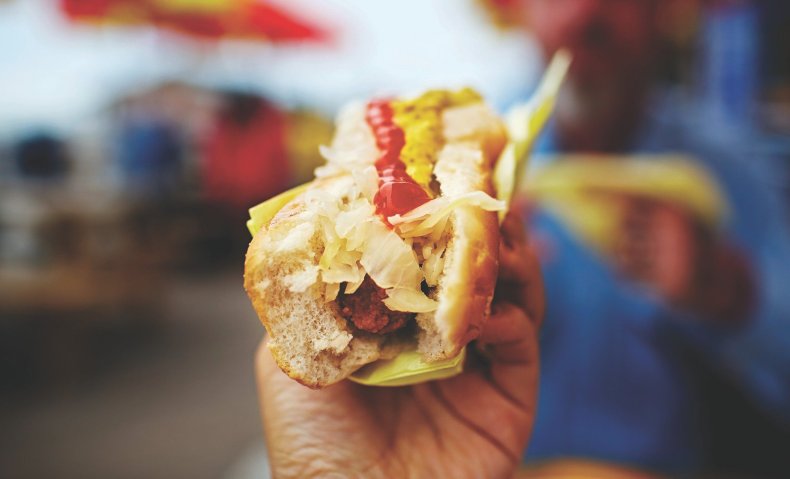 In Alaska, you can order a Reindeer Dog, where the frankfurter is made of caribou, pork and beef. The hot dog is split down the middle, and piled on with Coca-Cola glazed onions, mustard and cream cheese. Ketchup and relish are occasionally added.
Rhode Island doesn't call their hot dogs "hot dogs." The Rhode Island Hot Wieners include mustard, chopped onion, celery salt, and a heaping spoonful of seasoned meat sauce.
Seattle-style Dogs are served with cream cheese and sautéed onions. For a bit of heat, adding sliced jalapeños is the way to go.
Sonoran Dogs are popular in Phoenix, Arizona. Frankfurters are wrapped in bacon before placed in the bun. Then, pinto beans, tomatoes and onions are piled on top. Popular toppings people may add to their Sonoran dogs include mayo, salsa and mustard.
Texas Tommy is a hot dog that actually originated in Pennsylvania. These frankfurters are filled with cheese whiz and wrapped in bacon before placed between the buns.
In Hawaii, the Waffle Dog is ever popular. Frankfurters are covered in waffle batter and baked, creating the perfect combination of a sweet, crispy crust on the outside and a savory frankfurter on the inside.