15 Secret Drinks You Can Order at Starbucks
Starbucks is a staple that wakes thousands of Americans up in the morning, but there's more to the coffee chain than what meets the eye.
Fans of the coffee chain might be aware of a "secret menu" that allows you to customize your regular order, after it made headlines in 2017 when Starbucks released the Unicorn Frappuccino, a concoction of pink powder with mango syrup and sour blue drizzle.
Since, viral Tiktok videos have inspired extra complicated orders, creating a headache for plenty of Starbuck's busy baristas. It might be fun to go wild with weird and wonderful ideas, but do consider the person blending your beverage.
If you're looking to change up your go-to drink, Newsweek has you covered with 15 creative combos. Take a look below.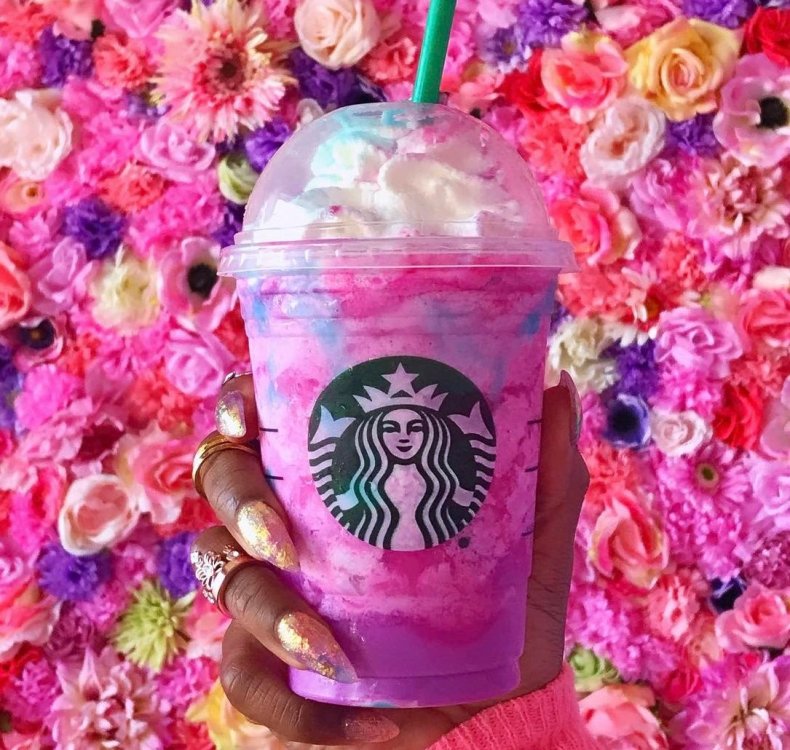 1. Cereal Milk Cold Brew
Love breakfast at any time of the day? This could be your perfect order. To try this drink, order a Salted Caramel Cream Cold Brew but substitute Vanilla Syrup.
Then, to get the Cold Foam goodness, substitute Oatmilk for the Vanilla Sweet Cream, add two pumps of Vanilla Syrup, extra Cinnamon Powder, ask for only one packet of Salt and finish with Cinnamon Dolce Topping.
2. French Toast Frappuccino
On theme with breakfast staples, why not try a take on classic French Toast.
To try this from Starbucks' secret menu, order a Grande Cafe Vanilla Frappuccino made with sweet cream. Then add one pump of Cinnamon Dolce Syrup and one pump of Hazelnut Syrup. Don't forget to top with Cinnamon Dolce Powder.
3. Very Berry Hibiscus Sunrise Lemonade
For a lighter and more refreshing drink that's ideal for a summer's day, try this combination. Ask for a Very Berry Hibiscus Lemonade without blackberry inclusions and top with light Passion Tango Tea.
4. Skittles Frappuccino
One for those with a real sweet tooth, this variation on a Strawberries and Crème Frappuccino will have your mouth bursting with flavors. Skip the usual syrup and add several pumps of Vanilla Syrup and a couple of Raspberry Syrup to try this two-tone spectacle.
5. Cookie Butter Latte
Another cookie-based delight, this drink has a sweet cinnamon-like taste. Order a Grande Iced Chai Tea Latte and substitute almond milk. Next, ask for one pump Chai Syrup and two pumps Brown Sugar Syrup.
6. S'mores Frappuccino
Bring back warm memories of camping by creating your own S'mores Frappuccino. Ask for a Java Chip Frappuccino and add pumps of Cinnamon Dolce and Toffee Syrup, before blending it with whipped cream.
7. Pikachu Frappuccino
Inspired by the cute, yellow mouse-like character, this beverage is a real flavour bomb. Pokémon fans can sample this by ordering a Venti Green Tea Lemonade and adding ten pumps Classic Syrup and six pumps Rasberry Syrup. Finish with Passion Tango Tea on top of plenty of ice.
8. Blueberry Muffin Frappuccino
If you're not in the mood for actual baked goods, try this muffin-inspired frappuccino. Begin by ordering a Grande Vanilla Bean Frappuccino with one pump of Hazelnut Syrup and fresh blueberries blended in. Then ask for whipped cream, caramel crunch topping and a handful of blueberries to top it off.
9. Brown Sugar Frappuccino
Hints of comforting caramel emerge from this dessert-inspired drink. One for lovers of Creme Brule, ask for a Grande Coffee Frappuccino and be sure to remember Caramel Drizzle inside the cup. Next, add four pumps Brown Sugar Syrup, One Pump Toffee Nut Syrup and whipped cream with a Caramel Drizzle and Salted Brown Butter Topping.
11. Biscotti Frappuccino
A more simple offering, try this Italian-inspired drink by ordering a Vanilla Bean Crème Frappuccino and blending biscotti into it. Bellissimo.
12. Cotton Candy Frappuccino
This bright pink beverage brings back amusement park memories. Originally released by Starbucks to celebrate the drink's twenty-year anniversary, you can still order this from the secret menu. Simply order a tall Vanilla Bean Frappuccino with one pump of Raspberry Syrup.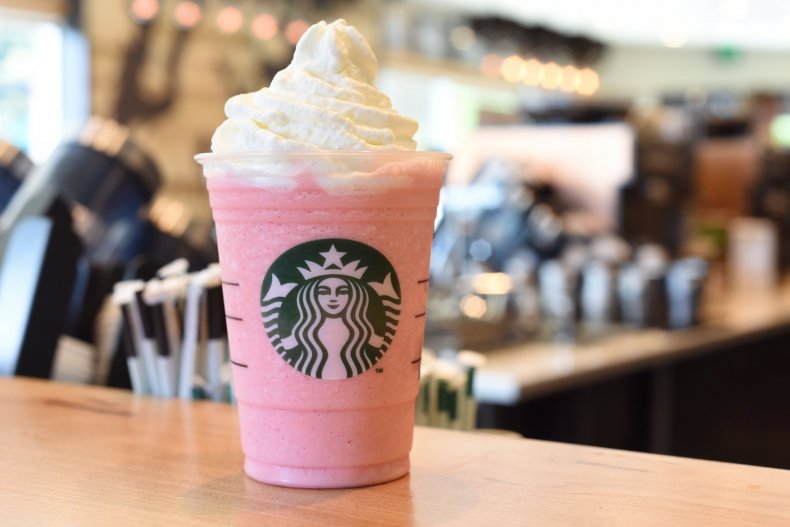 13.Tie Dye Frappuccino
Perhaps the most Instagramable on the list, this Frappuccino joins the ranks of Starbucks' bright-coloured Mermaid and Unicorn offerings.
To try this psychedelic beverage ask your barista for a Strawberries and Creme Frappuccino made with orange refresher instead of strawberry purée.
Then add one pump of Peach Syrup, one pump of Raspberry Syrup, one scoop of Vanilla Bean Powder and three pumps of Crème Base.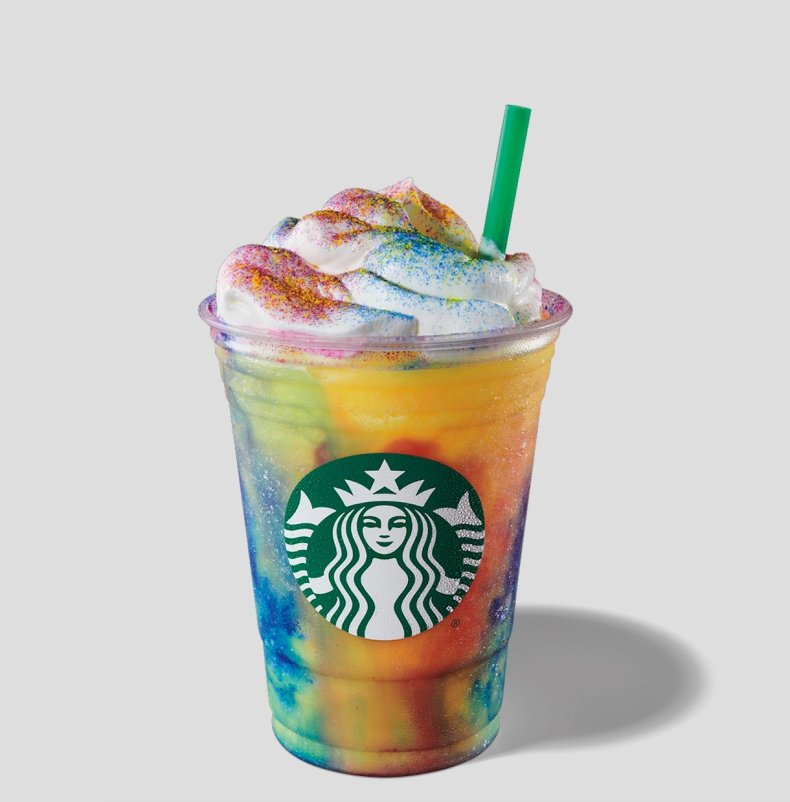 14. Berry Cheesecake Frappuccino
This can be adapted with other fruits, such as mango, but to get the berry version start by ordering a Grande White Mocha Frappuccino.
Next, ask for one pump of hazelnut and one pump of raspberry syrup. Then, get caramel crunch topping on the bottom and top of the cup, and ask for light strawberry puree on top of the whipped cream too.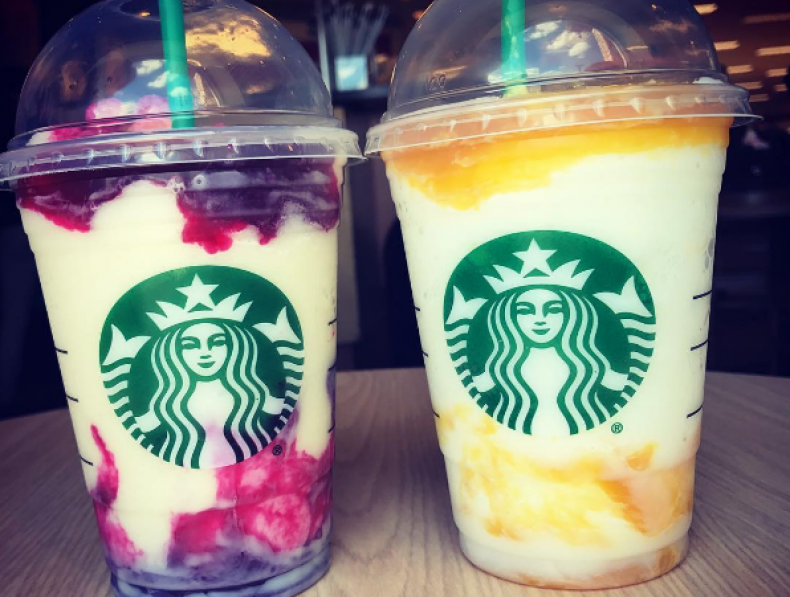 15. Vietnamese Iced Coffee
A different offering to finish, this coffee drink brings tastes of Southeast Asia to Starbucks. Ask for a Grande iced shaken espresso with one pump of White Mocha and two of Vanilla Syrup. Then, ask for extra ice and a splash of cream.