15 States in U.S. Have Been Hit by Extreme Heat So Far in 2021
Fifteen states across the country—Arizona, California, Colorado, Conneticut, Idaho, Maine, Massachusetts, Montana, Nevada, New Hampshire, Oregon, Rhode Island, Utah, Washington and Wyoming—have been hit by extreme heat this year as scorching temperatures continue to persist from coast to coast.
Exceptional heatwaves have made June 2021 the hottest June on record for the U.S., according to the National Oceanic and Atmospheric Administration (NOAA).
"The average June temperature across the contiguous U.S. was 72.6 degrees F (4.2 degrees above average), making it the hottest June in 127 years of record keeping and surpassing the record set in June 2016 by 0.9 of a degree," NOAA said in a Friday press release.
Eight of those states saw their hottest June on record while another six marked their second hottest June. And the extreme weather won't be slowing down in July either.
The National Weather Service (NWS) has issued excessive heat warnings for parts of Arizona, California, Idaho, Oregon, Nevada and Utah this weekend. Heat advisories have also been issued for areas of Colorado, New Mexico and Washington.
"Over 31 million people are currently under an Excessive Heat Warning or Heat Advisory," the NWS tweeted on Friday. "Highs well into the triple digits could threaten Las Vegas' all-time high temperature record of 117F."
The worst of the developing heat wave is expected this weekend, Friday through Monday and maybe into Tuesday.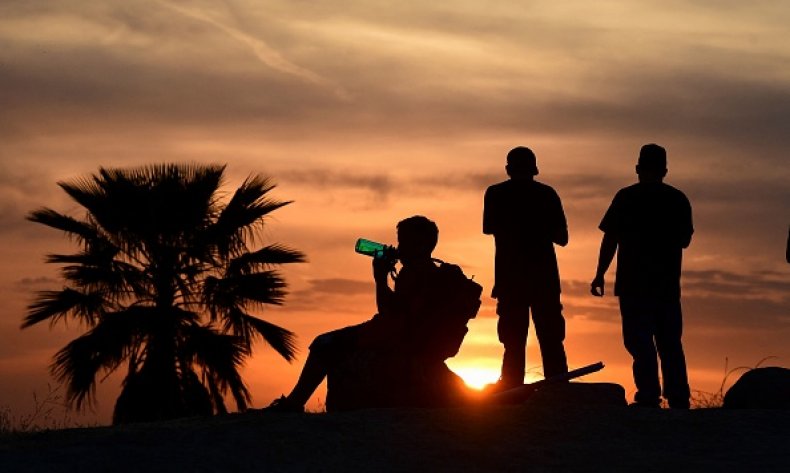 In California, the Sacramento Valley is projected to reach a record-breaking 115 degrees on Saturday and Sunday, and temperatures are expecting to go even higher in the Death Valley, hitting up to 123 on Saturday.
California Gov. Gavin Newsom urged residents to cut water usage down 15 percent ahead of the weekend as he extended the state's drought emergency to 50 of the state's 58 counties.
Reservoirs are drying up on the west coast as droughts continue to grip California, Colorado and Nevada and the extreme heat is threatening western states with another intense wildfire season.
According to the National Interagency Fire Center (NIFC), wildfire activity is ongoing in 15 states as of Friday. More than 50 large fires have burned 626,789 acres thus far.
"More than 9,800 wildland firefighters and support personnel are assigned to incidents. New large fires were reported in Idaho, Montana, Oregon and Washington," the agency said on Friday.
This year's wildfires have already surpassed last year's figures over the same year-to-date period. It is the highest number of wildfires seen in over a decade, according to data from NIFC.
Officials are warning of the dangers posed by the extreme heat and advising people to remain vigilant amid the hot temperatures.
Several hundred people in the Pacific Northwest have already died from the recent heat wave. On average, heat waves kill more people in the U.S. than any other type of extreme weather.
There is unanimous agreement in the climate science community that heat waves and other extreme weather will become more frequent and intense as climate change continues to worsen.
The first six months of 2021 have already brought $8 billion weather disasters—including four severe storms, two flooding events, one winter storm with a deep freeze and one heat wave-influenced drought—according to experts from NOAA's National Centers for Environmental Information.