15-Year-Old Shooting Survivor Lost her Family, Finds Solace in Harry Potter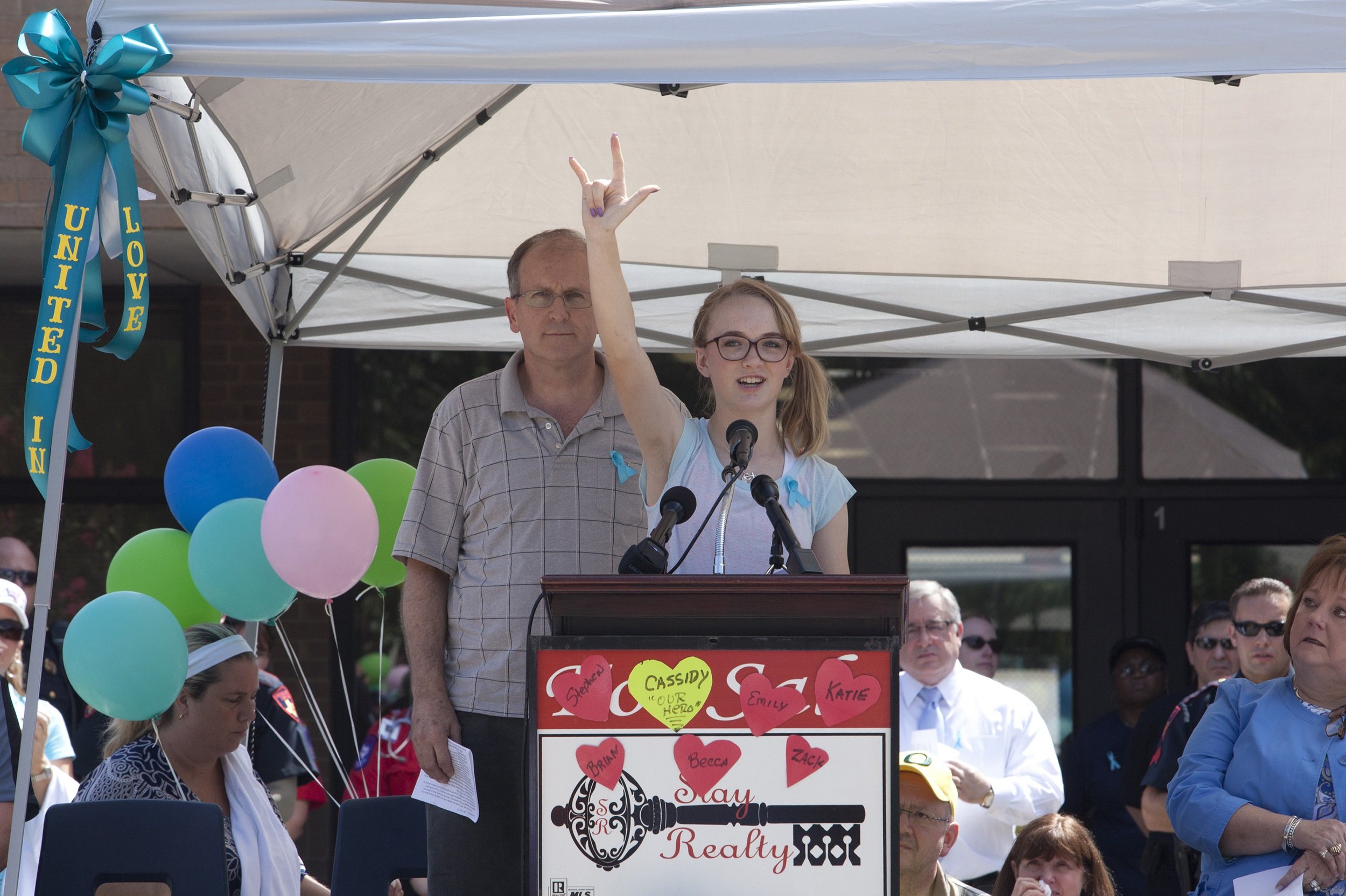 Cassidy Stay, 15, became the Girl Who Lived on Wednesday, when her ex-uncle broke into her Texas home and murdered both of her parents and all four of her younger siblings. This weekend she spoke at a memorial event at the elementary school that her siblings attended, mentioning her love of Harry Potter and the solace she gleans from a line J.K. Rowling wrote in the third novel of the series, Harry Potter and the Prisoner of Azkaban. At the ceremony, she quoted the character Albus Dumbledore, saying, "Happiness can be found even in the darkest of times, if only one remembers to turn on the light."
The series' titular character was also the sole survivor of an attack that killed his family in their home. But while the fictional Harry Potter was just an infant saved by magic, Cassidy Stay is a teenager, whose courage and quick thinking on Wednesday saved not only her own life but also the lives of her entire extended family.
The Stays' attacker was Ron Lee Haskell, 33, who was once married to the sister of Cassidy's mom, Katie Stay. When Haskell came to the house looking for his ex-wife, he went on a shooting rampage that killed Katie, her husband, Stephen, and four of their children. Cassidy's siblings, Brian, Emily, Rebecca and Zachary were, respectively, ages 13, 9, 6, and 4.
Cassidy, the eldest, survived the shot fired at her skull, but pretended to be dead until Haskell left her house. She then called the police, identifying the gunman as her ex-uncle and warning them that he would be headed to another of her family's homes next.
The police were waiting when Haskell arrived at Cassidy's grandparents' house, and a half-an-hour car chase and three-hour standoff ensued. Haskell is now in custody and has been charged with six counts of capital murder.
The theme of the gathering held in memory of the Stay family and in tribute to Cassidy at Lemm Elementary School in Spring, Texas, on Saturday was "Stay Strong." Cassidy's maternal grandfather, Roger Lyon, spoke admiringly of his granddaughter, marveling at how after having witnessed her parents' and siblings' murder and having received a gunshot wound that left her in critical condition, she still "had the presence of mind to remain quiet and to play dead." Lyon said, "She is our hero," and that he and his wife "continue to be in awe of how she was able to save us."
While in the hospital, Cassidy attributed her heroism to the angels that are sent to "protect [God's] children in times of great need," CNN reports. Recounting her words, her grandfather said at the ceremony, "After she had been shot on Wednesday, she said it felt as though the angels were there with her, putting their hands over her mouth—whispering to her to be quiet."
Cassidy publicly thanked the first responders, doctors and nurses, as well as the community for their outpouring of support. She told the crowd of several hundred who gathered to honor her family, "I know that my Mom, Dad, Brian, Emily, Becca and Zach are in a much better place, and that I will be able to see them again one day."
The community wrote messages to the family on 600 balloons—100 for each of the people lost. 9-year-old Leah Murray, wrote, "We love you all." Leah, who was in choir with Emily Stay, told NBC, "She was a sweet girl. She always smiled."
At the end of the gathering, the balloons were released, and Cassidy watched tearfully, as messages of support filled the Texas sky.