Sponsored Article
CBD for Pets? The Natural Wellness Option Might be Worth a Try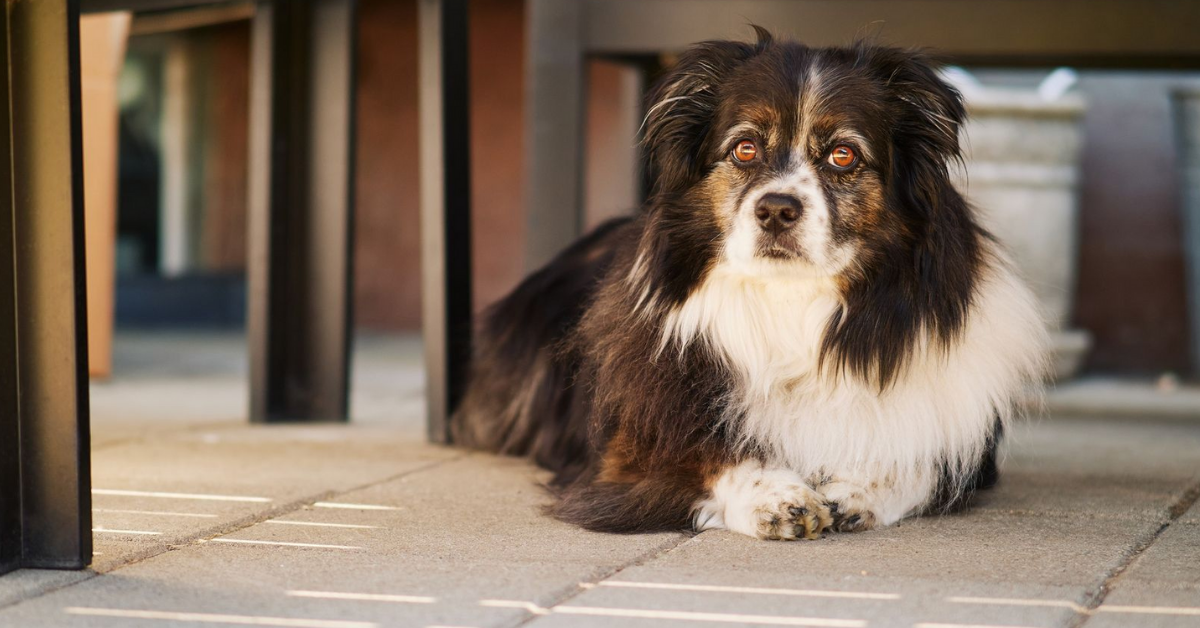 As CBD has become an increasingly popular alternative wellness option among humans, pet owners are asking their veterinarians if it might be beneficial for their pets as well.
There are many questions a pet owner might have before they give their furry friend a drop of CBD oil or a CBD oil-infused treat. Is it safe? Will my pet get high? How much do I give them? Let's start with the basics.
What Is CBD?
Cannabidiol or CBD is among the 100+ naturally occurring chemical compounds produced by cannabis plants. CBD interacts with the endocannabinoid system (ECS) that is naturally present in both humans and animals, including birds, fish, and invertebrates such as leeches and nematodes. Researchers suspect the ECS largely is responsible for maintaining homeostasis, the body's ability to maintain conditions that keep it alive. The ECS consists of a vast network of receptors prevalent in the brain and immune cells, as well as bone, liver, pancreas, skeletal muscle, blood vessels, kidneys, gastrointestinal and fatty tissue.
"Hemp extract is just another herb I use to help pets have an overall sense of well-being," says Dr. Keith Weingardt, DVM, CVA, naturopathic veterinarian at Animal Healing Arts holistic veterinary clinic in Portland, Oregon. "Like us, animals have an endocannabinoid system and CBD is a naturally occurring molecule that interacts with the receptors in that system. So, our pets experience the same benefits that humans do when we take CBD. They are more bright-eyed, move better, eat better, and just look and act happier."
The effects of CBD are subtle and supportive of relaxation and an overall sense of calmness. Unlike the other well-known cannabis compound, tetrahydrocannabinol or THC, CBD does not produce intoxicating effects or the "high" typically associated with THC. Products that contain CBD must come from hemp plants, which legally must have THC levels below 0.3%.
Is CBD Safe for Pets?
A lot of people are wondering this since the safety and risks of using CBD in dogs has not been researched yet, although several studies are now underway. When it comes to choosing a CBD product for your pet, however, there can be huge differences when it comes to ingredients and potency. Here's how to make a safer choice when shopping for CBD.
Look for pure natural ingredients. Choose CBD that is free of toxins such as pesticides, herbicides or heavy metals, and unnatural additives. You should also verify that the product actually contains the amount of CBD that it says it does. How do you do this?
Ask for the independent lab results, otherwise known as a Certificate of Analysis or COA. Reputable companies post these on their websites for any customer to refer to.
Only buy CBD that has been made from hemp grown in the U.S. Some companies use hemp from other countries that don't have the same standards and regulations we do in the U.S. Even better, buy from companies that grow their own hemp, like Lazarus Naturals, which owns every part of the process, from the farms to the extraction facility to packaging, ensuring that control over safety and quality at every step.
Look for the current Good Manufacturing Practices (cGMP) certification. This means the products were produced in a facility that has been audited by a third-party for adherence to Food and Drug Administration (FDA) standards. Those standards ensure that the company is not cutting corners and producing safe, consistent, and effective products. Any reputable CBD company will be forthright about whether or not they are certified.
Finally, read the label carefully. Right now there are lots of products containing hemp seed oil on pet store shelves. But unless these products specifically say they contain CBD, you're not getting the benefits of CBD. Hemp seed oil itself has many nutritional benefits but because it is extracted from seeds, it doesn't contain any detectable levels of CBD.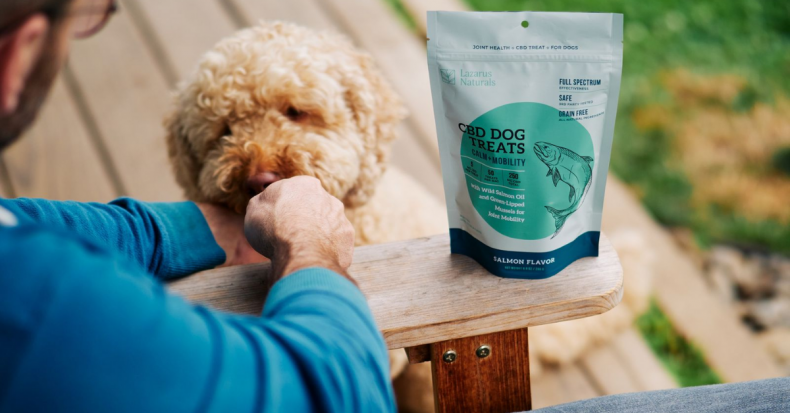 Can My Pet Overdose on CBD?
Because the legalization of hemp is so recent, there is insufficient research to determine toxic levels for CBD. However, there hasn't been a single recorded case of a CBD overdose in animals or humans to date. Anecdotally, people most commonly report sleepiness and dry mouth when they (or their pets) have taken a large serving and this can be avoided by starting with small amounts and gradually increasing the serving size.
Use the guide on the product label as a starting point to find the right serving size. Every pet will react differently so there is some trial-and-error involved. First decide on whether you want to give CBD to your pet daily for general wellness or if you will use it only in specific situations, such as when the fireworks go off on July 4th.
Start off low and watch your pet carefully. If you don't see the desired results, gradually increase the serving size. It can take up to a week to start seeing the benefits, so be patient. And always check with your veterinarian first if your pet is on any other medications if you're worried about interactions.
CBD Products for Pets: Where to Start
CBD products for pets typically come in two different forms: tinctures and treats. A tincture can be used in two ways: administering directly or mixing with their food. When the tincture goes directly into the mouth, it's sometimes absorbed faster into the bloodstream and can potentially bypass the GI tract. You should see the results within 20 minutes, although the benefits do not last as long as the other method.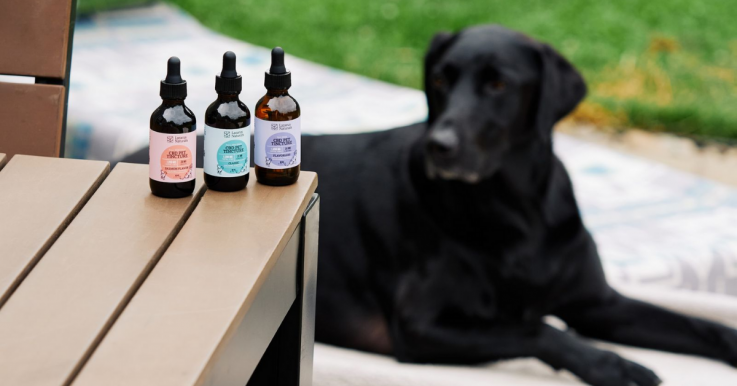 When a tincture is mixed with food, as it is in dog treats, it passes through the digestive system and the liver. It will take longer to see the effects (up to 1-2 hours), but they tend to last for a longer duration (typically 6-8 hours).
When choosing a tincture, look for products specifically formulated for animals. Lazarus Naturals offers a Wild Salmon Flavored Calming CBD Oil for Pets, which contains full spectrum CBD extract along with fish oil loaded with Omega-3's to support the immune system, the heart, and healthy skin and coat. For finicky pets, the Sensitive Pet CBD Oil Tincture has no flavor, is THC-free, and specially formulated for smaller breeds of dogs, cats, and rabbits.
Don't want to deal with oils? Go for a CBD treat, which makes it easy to find the right serving size and are sometimes made with supplemental ingredients designed to address different barriers to wellness. For example, the new Calm + Vitality dog treats from Lazarus Naturals contain full spectrum hemp-derived CBD oil along with an immune-boosting blend of organic shiitake, reishi, and lion's mane mushrooms, in addition to organic sweet potato and organic turmeric for inflammation and joint support. The Calm + Mobility dog treats are high in omega-3 fatty acids from green-lipped mussels and wild Alaskan salmon oil. They also feature organic pumpkin, fish collagen, and glucosamine, ingredients with joint-protecting properties.
Does CBD Actually Work?
Every pet is different and ultimately you won't know until you try it. A recent survey of 1,061 American pet owners conducted by americanmarijuana.org, found that 9 out of 10 of the participants said that they would recommend CBD for pets to others. Sixty-three percent of respondents had tried other medications on their pets but after trying CBD, 83% of them believed CBD was more effective. In addition, 81% of them agreed that it was safer.
Talk to your veterinarian, research reputable CBD companies, and follow Dr. Keith Weingardt's advice to "always go slow. " He recommends starting with "1/4 to 1/2 serving for several days and see how your pet responds. Then adjust accordingly. It takes time for your pet to feel the way they do, so it takes a long time to make them feel better. There's no reason to rush."