156 Mystery Boxes Discovered to Have Suffocating Puppies and Kittens Inside
Volunteers in southwest China rescued nearly 160 puppies and kittens suffocating inside sealed delivery crates on Monday after the animals were packaged and sold as mystery "blind box" pets.
The dozens of animal welfare volunteers who were called to a logistic company's distribution center late on Monday were greeted with the horrific sight of plastic crates stacked several feet high in the back of two trucks—and the sounds of cats and dogs left without food or water inside.
Images shared by Chengdu's Aizhijia Animal Hospital showed volunteers discovering some of the 156 crates, each of which was tightly wrapped in a sheet of green woven plastic and destined for a different city in China.
Local media reports said buyers, following a dark marketing trend, generally purchase these types of blind boxes off e-commerce sites such as Taobao and Pinduoduo. Customers have no choice as to the breed of their mystery pet and can only wait to be surprised when the parcel arrives.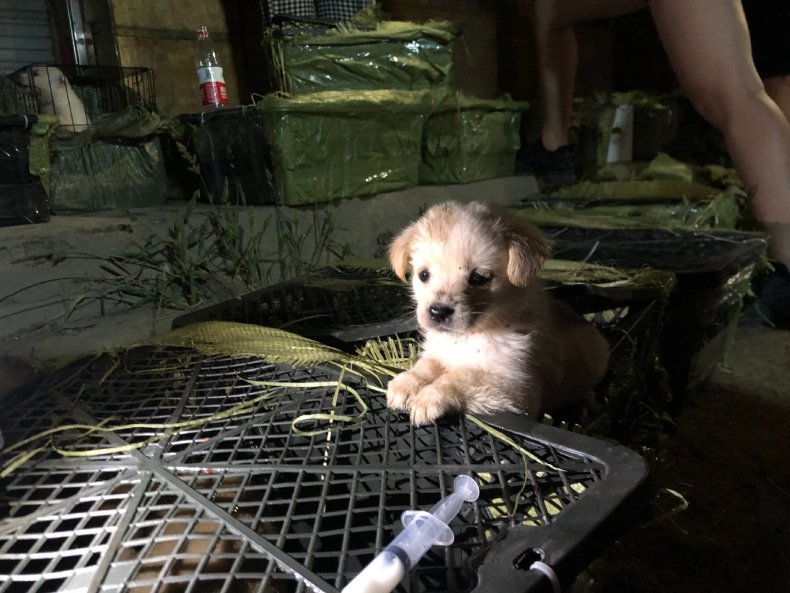 Volunteers responding to a call from the animal hospital tried to keep the animals alive—all between the ages of one and three months—by feeding them with syringes through gaps in the delivery crates, which had been disguised as regular parcels.
After local police arrived, they worked throughout the night to transport the puppies and kittens to local shelters and animal hospitals to be quarantined. Many were already on their last legs, reports said, and by Tuesday four of the animals had died.
The logistics warehouse belonging to Chinese delivery firm ZTO Express was built in late 2020, according to a report by Shanghai news portal The Paper. Local residents had seen trucks transporting cats and dogs in the past, mostly at night, the report said.
Chen Yunlian, who runs Aizhijia Animal Hospital, told the website that a number of the animals had tested positive for canine or feline diseases. Tests on all remaining animals would be completed by Thursday, and those cleared from quarantine would be put up for adoption, she added.
Transporting live animals by post is illegal without a permit and quarantine certification.
In a statement this week, Shanghai-based ZTO Express said its distribution center had violated regulations by accepting delivery parcels containing live animals. It had suspended a senior official in the Sichuan province, where Chengdu is located, and its staff are cooperating with an ongoing investigation, the company said.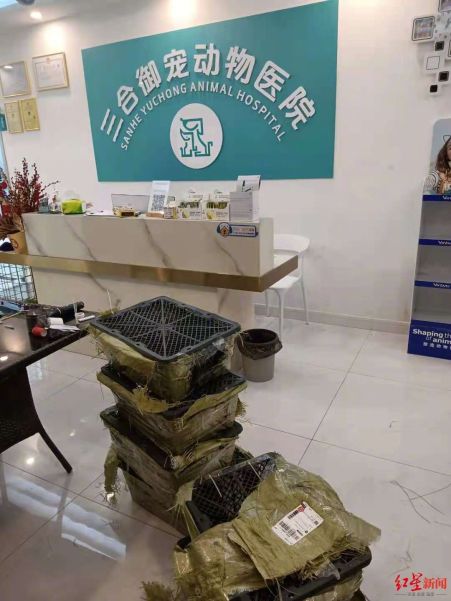 China's state broadcaster CCTV said officials from the Chengdu Post Management Bureau had opened a probe into the matter. The city's Agriculture and Rural Affairs Bureau was conducting a separate inquiry into suspected breaches of animal transportation and epidemic prevention laws.
The cats and dogs have been traced to a nearby pet market, of which breeders had found it lucrative to sell the animals online. CCTV called the mystery box business "a departure from human nature."
Despite the unlawful nature of the blind box industry, animal rights activists say the phenomenon has been ongoing for years due to China's lax regulations surrounding the pet industry and domestic animals, such as cats and dogs.
Reptiles and smaller animals like turtles and hamsters are among the most widespread mystery box products due to their size and ease of breeding.
A media officer for the People for the Ethical Treatment of Animals (PETA) in Asia told Newsweek that its volunteers had previously lobbied e-commerce site Pinduoduo to remove the listing of live-animal gift boxes.
The latest high-profile incident, however, will hopefully kill the industry for good, the PETA Asia spokesperson said.
A statement sent to Newsweek read: "Animals are not prizes. They are not a 'surprise' to be won like stuffed toys in blind boxes, then tossed aside when they're no longer interesting. PETA has already persuaded Pinduoduo to delete similar products, and we urge all e-commerce platforms to shut this down.
"Many of these dogs and cats are not going to be the 'prize' these buyers want and will end up being neglected or tossed out on the street. China already has an overpopulation of unwanted dogs, and this will make it worse. If you want to add a dog to your family, PETA encourages you to go to your local shelter and adopt a dog or a cat in need of a home."