16 Million Americans Are Receiving Unemployment Assistance as Joe Biden Takes Office
President Joe Biden faces a set of massive economic crises as millions of Americans remain unemployed amid the coronavirus pandemic.
Around 900,000 workers filed for initial jobless claims last week, the U.S. Department of Labor said Thursday. First-time unemployment claims have surmounted 750,000 per week since last summer and jumped to 926,000 for the week ending January 9.
The data released by the Labor Department also showed that 15,994,519 people were still claiming some form of unemployment benefits through all government programs as of the week ending January 2—a significant increase from the 2.2 million claims filed in the same week last year.
Biden, who was sworn into office on Wednesday, has vowed to prioritize the coronavirus pandemic and the resulting economic downturn in the early days of his administration. In his inaugural address, Biden said that "we can reward work, rebuild the middle class and make health care secure for all."
The president has laid out a $1.9 trillion emergency relief plan to tackle the twin crises of the coronavirus pandemic and the deteriorating economy. The package includes an expansion of the child tax credit, a $1,400 stimulus payment, $350 billion in state and local government aid and increasing the federal minimum wage to $15 per hour. The wide-ranging legislation would also extend the eviction and foreclosure moratoriums until the end of September.
To help curb the rising number of coronavirus cases across the country, the relief plan would set aside $50 billion for virus testing and $20 billion for a national vaccine program in partnership with state and local governments.
"During this pandemic, millions of Americans, through no fault of their own, have lost the dignity and respect that comes with a job and a paycheck," Biden said in a speech to the nation on January 14. "There is real pain overwhelming the real economy."
Before the pandemic broke out, the national unemployment rate in February 2020 was at a low of 3.5 percent. In December 2020, that rate was 6.7 percent.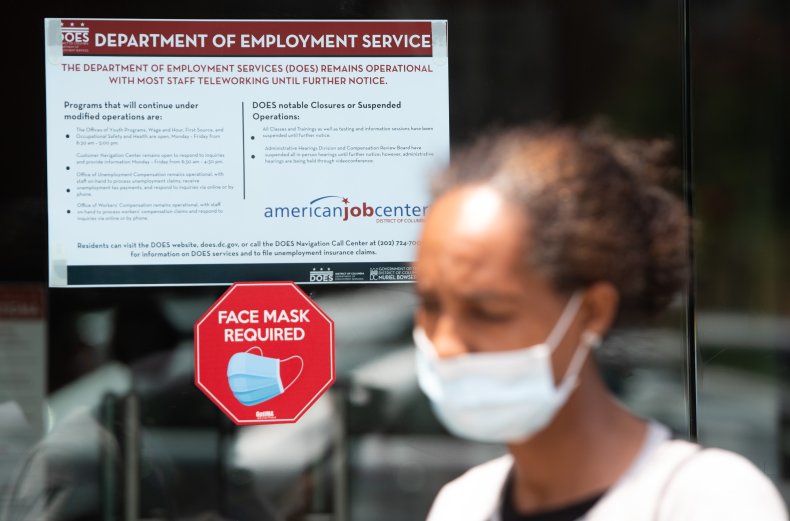 Congress temporarily extended unemployment benefits, approved $600 stimulus checks and pushed eviction protection until January 31 as part of the $900 billion relief bill passed in December.
Republicans are already voicing concern about passing another stimulus package so soon. Senator John Thune of South Dakota said he was worried about the "massive amount of debt we are racking up," and Senator Chuck Grassley of Iowa criticized the Biden plan as a "laundry list of liberal structural economic reforms."
But House Speaker Nancy Pelosi said her chamber's committees will be working on Biden's $1.9 trillion proposal next week.
"We're getting ready for a COVID package," Pelosi told reporters Thursday. "As we work on these issues, we won't be back in session until the beginning of February, but we're doing our committee work.
Newsweek reached out to the White House for comment on the latest unemployment data but did not receive a response in time for publication.