16 States Posted New Highs in Coronavirus Death Tolls This Week
As states across the U.S. began reopening their economies and lifting stay-at-home orders, 16 state health departments reported their highest weekly increases in COVID-19 deaths since the virus arrived in the country.
Washington, D.C. also saw its highest weekly increase in deaths over the last week, with 82 new cases reported between April 24 and 30, according to data compiled by the COVID Tracking Project.
Colorado, Georgia, Indiana, Maryland, Minnesota, Ohio and Washington state have reported between 150 and 375 new deaths since April 24. While states like Alabama, Arkansas, Delaware, Iowa, New Hampshire, New Mexico, South Carolina and South Dakota have not been as significantly affected by the virus as states with the country's highest tallies, each of the eight states saw their highest weekly increases in COVID-19 deaths over the last week, with new statewide deaths ranging from 11 to 94.
The biggest jump seen among states with noticeable increases occurred in Pennsylvania, which saw 862 new COVID-19 deaths reported since April 24. As of Friday afternoon, 2,354 deaths had been confirmed statewide as Governor Tom Wolf, a Democrat, announced plans to begin lifting restrictions in select regions around the state.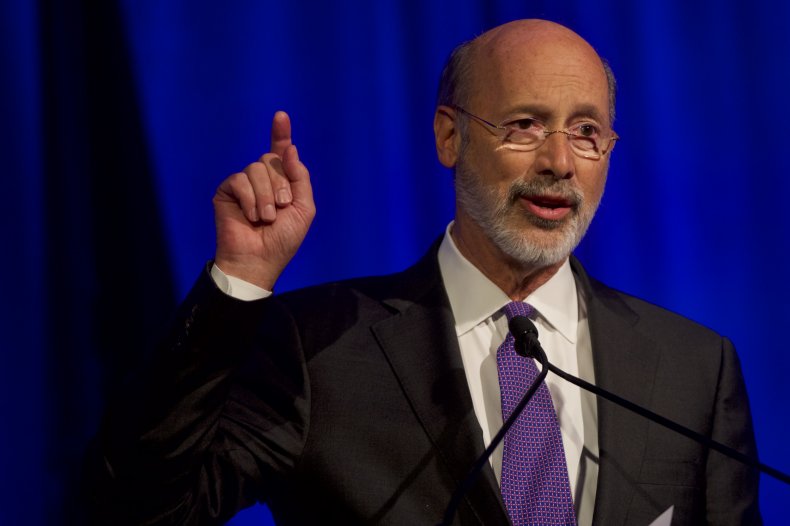 "We have seen our new case numbers stabilize statewide and while we still have areas where outbreaks are occurring, we also have many areas that have few or no new cases," Wolf said in a news release about the plan to begin reopening the state.
According to the governor's plan, restrictions currently in place to limit social interactions will begin lifting in 24 counties on May 8. The counties were chosen "because of low per-capita case counts, the ability to conduct contact tracing and testing, and appropriate population density to contain community spread," the release said.
Other states have already begun shifting away from stay-at-home restrictions. Last week, Georgia became the first state to do so despite federal recommendations that each state observes at least two weeks of consistent decreases in new COVID-19 case numbers. At the time, Georgia had only begun reporting decreases in case counts for three days.
While Georgia's number of confirmed cases has continued its downward trend, the state's Department of Public Health said 27,347 cases had been reported by Friday, an increase of more than 5,000 since last week. The state's death count has also seen its largest weekly spike since the pandemic began, with 267 new deaths reported by Friday.
Awareness of asymptomatic COVID-19 cases and lack of widespread testing has led health officials at the local and national levels to warn residents that case counts—and deaths of those who did not have access to COVID-19 testing—may be far greater than have been reported. According to data compiled by Johns Hopkins University, more deaths have been reported in the U.S. than all other countries hit by the pandemic, with more than 62,000 confirmed by the end of April.