16-Year-Old Shot and Killed By Police While Driving Stolen Car in Hawaii
A 16-year-old was fatally shot by police on Monday afternoon, while driving a stolen car in Hawaii.
According to Honolulu Police Chief Susan Ballard, the incident occurred at around 4:30 p.m. local time on Monday, when officers within the confines of the department's seventh district located a white Honda Civic that was reported stolen from Kailua on Saturday.
"This same vehicle was later linked to a burglary and car theft in Kaimuki, a purse snatching in Waikiki and, about 20 minutes before it was located, an armed robbery at a Moiliili residence where victims reported two guns were used," Ballard said during a press conference on Monday.
Shortly after police discovered it, the vehicle fled from officers, heading westbound on Kalanianaole Highway, the H-1 freeway and Kapiolani Boulevard.
While being chased by police, the stolen vehicle drove into oncoming traffic but was eventually blocked by police patrol cars.
"We believe that the vehicle rammed two marked police cars and crashed through a chain-link fence and went into the Kalakaua canal," Ballard said. "During this time, officers fired multiple shots at the vehicle."
As officers discharged their firearms at the stolen vehicle, some of the occupants fled and were chased by officers on foot. One of the passengers was critically wounded and a second was seriously injured, according to Ballard.
Another passenger was found near the vehicle with non-life threatening injuries that were "consistent with the motor vehicle collision."
According to Ballard, three other passengers of the stolen vehicle were taken into custody, with one located near the vehicle and two others located "away from the scene."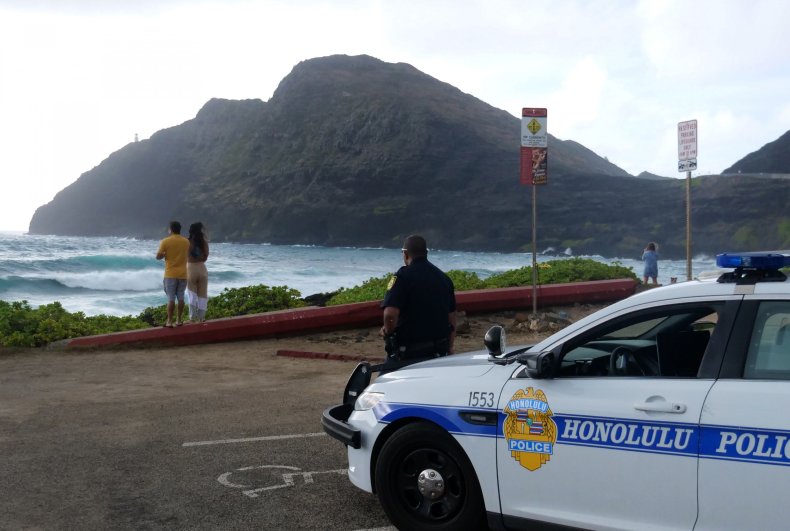 "The driver who was treated at the scene and was transported in critical condition and later died in the hospital," Ballard said. "He was 16-years-old."
Ballard said that the male who was seriously injured was 18 years old, and the ages of the other individuals involved in the incident ranged from 14 years old to 22 years old.
"The three officers who used their firearms are assigned to District 7 and have 10 years, five years and three years of service," Ballard said. "All will be afforded three days of administrative leave, as is standard procedure in these types of cases."
Ballard did not identify the names of the 16-year-old that was fatally shot nor the other individuals involved in the incident.
First-degree attempted murder and vehicle break-in investigations have been initiated by police, according to Ballard.
Ballard also said that no firearms were found at the scene, but she noted that officers need a search warrant to search the rest of the car.
"The officers, as I'm sure everybody would be, are still very shaken up and we're still trying to get statements," Ballard said, while noting that facts of the investigation could change after the department is able to watch the officers body camera footage of the incident.
Newsweek reached out to the Honolulu Police Department for comment but did not receive a response in time for publication.