16-Year-Old Trio Charged With Attempted Murder in Shooting of 3 Outside Colorado School
Three Colorado teens were arrested Monday and charged with attempted murder in connection with the shooting of three students in an Aurora high school parking lot on Friday, the Associated Press reported.
Police arrested one 16-year-old boy late Friday and two more on Sunday, The Sentinel reported. All three face charges of first-degree attempted murder.
Friday's shooting at Hinkley High School in Aurora injured two boys, ages 16 and 17, and a 17-year-old girl, police said. Aurora Police Chief Vanessa Wilson told reporters that the three injured students are expected to survive, and at least one received a tourniquet at the scene, The Sentinel reported.
Multiple shots were fired from a white pickup truck with several people inside as they drove through the parking lot following a fight during lunch at the school, The Sentinel reported.
Wilson said that a security officer—not an Aurora police officer—returned fire and might have struck one of the injured teenagers. Aurora's police chief praised the school district employee's actions, The Sentinel reported.
The shooting at Hinkley High School is the second high school shooting in Aurora in less than a week. Four days earlier, six students from Aurora Central High School were wounded by bullets fired from at least one car driving by a park near the school. No arrests have been made in that shooting. The schools are 3 miles apart.
"This is the second shooting in Aurora this week that has impacted students' ability to feel safe at school," John Kellner, district attorney for Aurora, said in a statement, according to The Sentinel. "No child or teenager should be fearful just going to class—a normal activity we can all relate to.
"Our community rightly is demanding an end to this violence, and we will stand with them in using every tool we have to prosecute aggressively anyone connected to these attacks on students."
The suspects and victims have not been publicly identified. Police have not released information about what prompted the shooting.
For more reporting from the Associated Press, see below.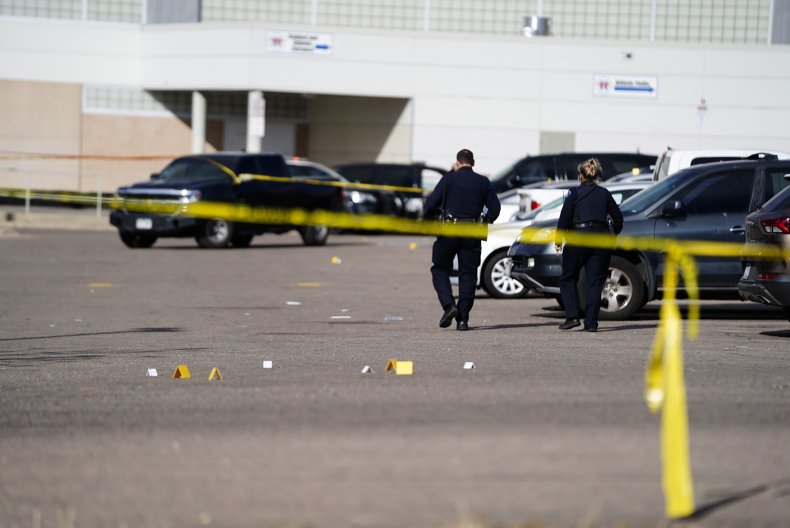 Aurora Police Chief Vanessa Williams said Sunday that it appeared the two shootings were not connected, KDVR-TV reported, and that investigators believe there was gang involvement in the Hinkley shooting.
"It doesn't look like the Hinkley shooting is connected to the Central shooting, so we have a problem," Wilson said. "There is a gang nexus to this Hinkley shooting."
She also issued a warning to criminals: "For those who didn't care and just shoot in the middle of the day, while kids were returning from lunch, we're coming for you, we are."