1619 Project's Nikole Hannah-Jones Warns U.S. Is 'Going Into a Dark Age'
Nikole Hannah-Jones, the Pulitzer Prize-winning creator of The 1619 Project, has warned that the country is "going into a dark age" where the truth is repressed and suppressed.
Hannah-Jones made the remarks as she discussed the ongoing controversy over the project during an interview on NBC's Meet the Press that aired Sunday.
The 1619 Project, now a bestselling book, began as a collection of essays re-examining the legacy of slavery in the U.S. in a special issue of The New York Times magazine in 2019.
Republicans have railed against the project, as well as against critical race theory, leading to legislative action regulating how American history can be taught in classrooms.
On Meet the Press, Hannah-Jones said she didn't initially intend for the project to be featured in school curriculums but said she see why it's problematic. "Frankly, most educators are using it to supplement standard curriculum," she said. "No one is replacing the old curriculum with The 1619 Project."
She added that laws banning the teaching of the project serve as a warning sign that the U.S. is moving towards an authoritarian state.
"I'm quite concerned about what's happening in our country because as you know, my project—which is a work of journalism by The New York Times—is banned by name in Georgia, Florida, in Texas," she told Todd.
"There are efforts to ban the teaching of this history in Oklahoma and South Dakota, in Tennessee. And when we think about what type of society bans books or bans ideas, that is not a free and tolerant democratic society. That is a society that is veering towards authoritarianism."
Hannah-Jones continued: "Unless people who believe in free speech, who believe in our children being intellectually challenged, begin to get organized and speak up, I think we're going into a dark age of repression and suppression of the truth.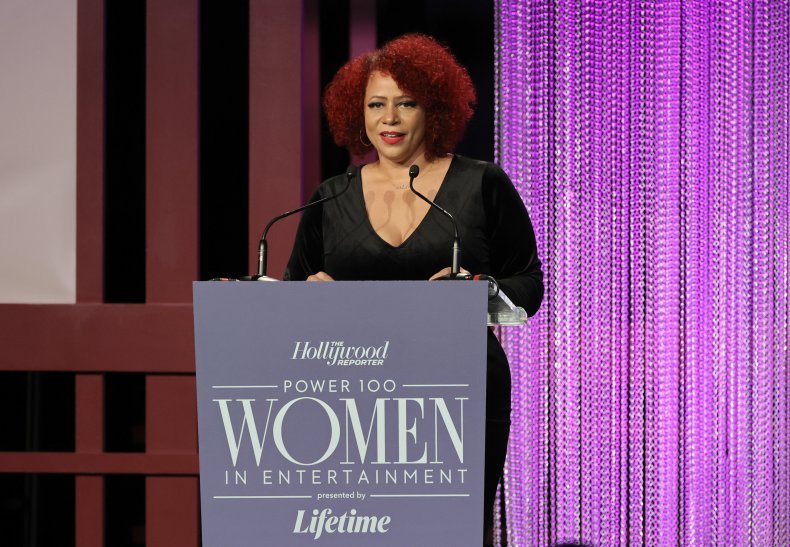 "And really, these laws are paving the way for the taking of other political rights like voting rights like women's reproductive rights, like rights for LGBTQ people. So we're gonna have to decide what kind of country we want to be."
Conservatives have decried critical race theory—an academic framework examining history through the lens of racism that is not taught in K-12 public schools—saying it's an effort to rewrite history and make white people feel guilty.
Hannah-Jones dismissed that notion during her appearance on Meet the Press, saying: "I don't think teaching an accurate rendering of history is about making white children feel guilty."
Those who have made such claims "have not been able to produce a shred of evidence that that's true," she said.
She added: "I think some students who are white probably walk away from some of these lessons feeling very uncomfortable. As we should. We should be uncomfortable with the hard parts of our past."
Hannah-Jones has been contacted for further comment.