163.5 Million Stimulus Checks Totaling $390B Have Been Sent Through American Rescue Plan
Hundreds of millions of Americans have received an economic impact payment through the American Rescue Plan, the Treasury Department and IRS said Tuesday.
The agencies released new state-by-state data of the 163.5 million stimulus checks sent under President Joe Biden's coronavirus relief package through early June. The payments totaled nearly $390 billion.
The maximum amount for the third round of payments was $1,400. The first and second rounds of checks sent under President Donald Trump were for $1,200 and $600, respectively.
"With this round of payments, the IRS and the Bureau of the Fiscal Service (BFS) have delivered more EIPs and more total direct relief than in any previous round of direct relief," the Treasury Department said in a news release. "All 50 states saw more total relief with this round of payments than in previous rounds."
The IRS said it delivered 160 million first-round stimulus checks to eligible Americans. For the second round of payments, the agency sent out 147 million checks.
Under the American Rescue Plan, individuals making up to $75,000 annually and couples less than $150,000 annually were eligible to receive the entire payment. The relief package also included payments of up to $1,400 per qualifying dependent. Those eligible who have not received a check can still receive one by filing a 2020 income tax return.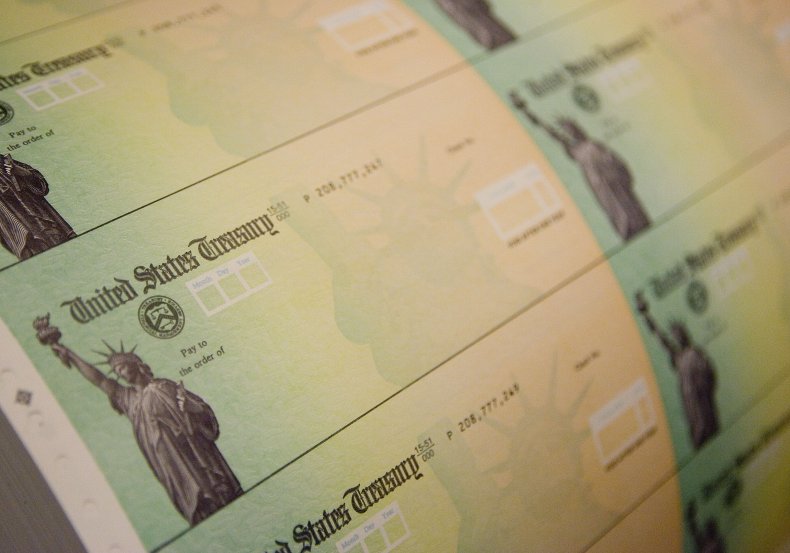 The Treasury Department and IRS said that through June 3, families received more than $108 billion in economic impact payments attributable to their qualifying dependents.
The agencies also reported that more than half of the roughly $390 billion in relief has gone to families earning less than $50,000 a year. More than 85 percent of the payments went to households making less than $100,000 per year.
"Thanks to President Biden, the American Rescue Plan delivered shots in arms and money in pockets to millions of Americans across the country to help see them through the twin public health and economic crises our country was facing," a White House official told Newsweek.
"We are experiencing a record economic recovery thanks to an economic strategy that builds from the bottom up and middle out and provides resources to those in need," the official added.
Biden also touted the $1,400 stimulus checks in his first address to Congress in April, stating it's "making all the difference in the world."
But many Americans, including some lawmakers, believe there should be further payments.
Twenty-one Democratic senators sent a letter to Biden in late March in support of recurring stimulus payments. The lawmakers argued that the $1,400 payment included in the American Rescue Plan wouldn't last long for most families.
"This crisis is far from over, and families deserve certainty that they can put food on the table and keep a roof over their heads," the senators wrote. "Families should not be at the mercy of constantly shifting legislative timelines and ad hoc solutions."
One petition on Change.org calling for recurring $2,000 monthly stimulus checks has garnered more than 2.4 million signatures. The petition, started by a Colorado restaurant owner, is less than 600,000 signatures away from its goal—which if reached would make it one of the most signed petitions on the website.
Update (6/29/2021, 4:20 p.m. ET): This story was updated with a comment from a White House official.