164 Republicans Voted Against a Resolution Condemning COVID Racism Against Asian Americans
The Democrat-controlled House of Representatives on Thursday passed a resolution to condemn racism against Asian Americans "related to COVID" with both sides of the aisle voting mostly along party lines.
The resolution, passed with 243 lawmakers in support, calls for officials to denounce all acts of anti-Asian sentiment and discrimination amid the pandemic. The measure, sponsored by Democrat Grace Meng of New York, also requests that law enforcement take actions to better address hate crimes against Asian Americans, such as to "expeditiously investigate and document" anti-Asian incidents and to maintain data to trace impact.
Though the resolution passed, 164 Republicans voted against it. The party dismissed the measure as "woke culture on steroids" and accused Democrats of merely attempting to extend their efforts to rebuke President Donald Trump months before the November election.
Democratic Rep. Mark Takano of California called the Republicans "disgraceful" and accused the president of "fueling racism and inspiring violent attacks on Asian Americans and Asian immigrants."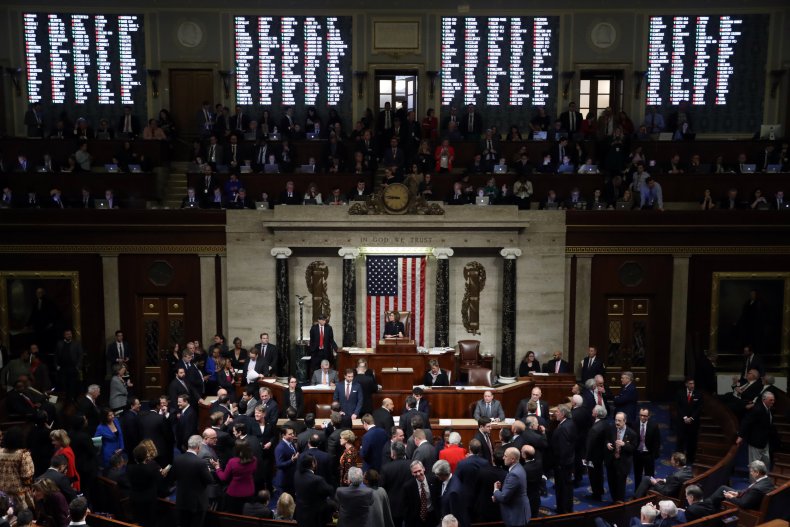 As COVID cases continue to rise in America, Trump has repeatedly blamed China for the pandemic. He often uses terms such as "Chinese Virus," "Wuhan Virus" and "Kung Flu" to associate the disease with the Asian nation, where it was first detected.
While the House measure didn't name Trump, it does say that such inflammatory language has fanned the flames of racism and anti-Asian American stigma.
House Speaker Nancy Pelosi accused Trump of demonizing China to distract citizens from his allegedly dismal coronavirus response and Russia election meddling. She also noted that the president's rhetoric comes amid a "disturbing epidemic of hate and discrimination" against Asians.
The U.S. has experienced a surge in racially motivated hate crimes against Asian Americans since the COVID outbreak was first identified last December in Wuhan, China. In July, the University of Colorado Denver School of Public Affairs released a research report establishing how the disease has perpetuated domestic xenophobia, racism and fear of foreigners.
Republicans defended their vote by insisting that Trump's aggression was directly toward the Chinese government and not to Asians. In March, the president clarified that Asian Americans should not be blamed for the "Chinese virus" amid escalating reports of violence against the community. "It is very important that we totally protect our Asian American community in the United States and all around the world," he said.
Republican House Minority Leader of California rejected the resolution as a "waste of time" and distraction from stimulus deadlock.
"At the heart of this resolution is the absurd notion that referring to the virus as a Wuhan virus or the China virus is the same as contributing to violence against Asian Americans," he said," which I will tell you no one on this side of the aisle supports."
Ohio Rep. Jim Jordan accused the Democrats of using the measure as an "opportunity" to score political points.
Newsweek reached out to House Minority Leader Kevin McCarthy for further comment.