Last Saturday, as the Russian government cracked down on protests calling for free and fair elections, a 17-year-old girl sat cross-legged in front of a line of Moscow's notoriously brutal riot police reading aloud the Russian constitution, which affirms the right to peaceful gatherings.
The image of Olga Misik photographed in this position on Saturday has turned into a symbol of pro-democracy against Vladimir Putin's hardline autocracy. It has since gone viral. The image has been shared thousands of times, likened to the iconic "Tank Man" photograph of the Tiananmen Square protests. It is being used by Russian opposition to rally support in the face of state oppression.
"I just wanted to remind them that we are here with peaceful purposes and without weapons, but they are not," Misik told the Riga-based Meduza website on Monday.
"I did not expect any feedback from anyone. I just wanted to remind them that we are here with peaceful purposes and without weapons, but they are not. It never even occurred to me that someone other than them would hear it," she said. "Then, after the riot police pushed aside all the protesters, I sat on the ground and again began to read our constitutional rights, specifying that what was happening here was illegal."
Constitutions are often waved around at such protests in Moscow, according to The Independent, as a reference to the Russian government's lack of recognition of Article 31: The right to free assembly.
The weekend's demonstrations were specifically to protest against the banning of opposition politicians from running in September's Moscow City Duma elections. But in a country where elections are widely accused of being rigged, they also called for more transparency in Russia.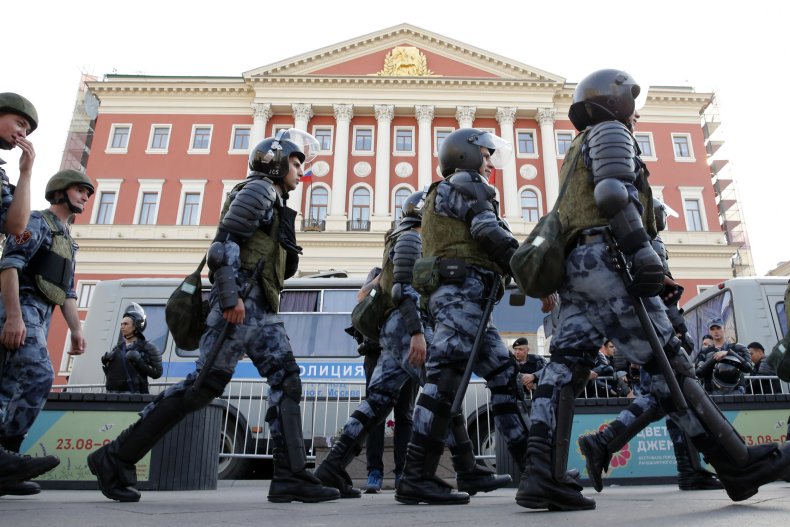 The high school-graduate herself, whose father is a supporter of Putin, was allowed to walk away after the reading but was later arrested by police.
"There was not a rally or a crowd of people in this place. They grabbed my arms and legs and dragged me down the street and through the underpass," she said. "I screamed that they were hurting me, but they told me that they knew better."
She was held until the next day and said she will appear in court next month charged with attending a public event that was held without filing a notice. She was one of more than 1,000 people arrested on Saturday.
The intensity with which the protesters were put down could be a worrying sign that the Kremlin has decided to use maximum force on protest repression, indicating its attitude in the wake of the 2021 national elections.