17-Year-Old Tyler Downs Becomes Olympic Diver After Winning Sunday's Trials
Missouri teenager Tyler Downs says his favorite diver is Olympian David Boudia. Heading into Sunday night's 3-meter springboard finals of the U.S. Olympic Diving Trials, Downs had to compete against his hero for one of the two American spots for this summer's Tokyo Olympics.
Downs, 17, didn't just beat Boudia, he beat the entire field to grab one of the U.S. quotas.
"I had no expectations going into this competition, just to have fun and that's exactly what I did and made the Olympic team," Downs said after winning Sunday's final. "I'm only 17-years-old. I still have so much to go for, but making the Olympic team at 17, it's unreal."
Boudia finished just outside of the Olympic qualifiers.
Downs realized he made the team by clinching one of the top two spots before his idol, Boudia, made his final plunge. Boudia's dive wasn't good enough, placing him four-and-a-half points out of second.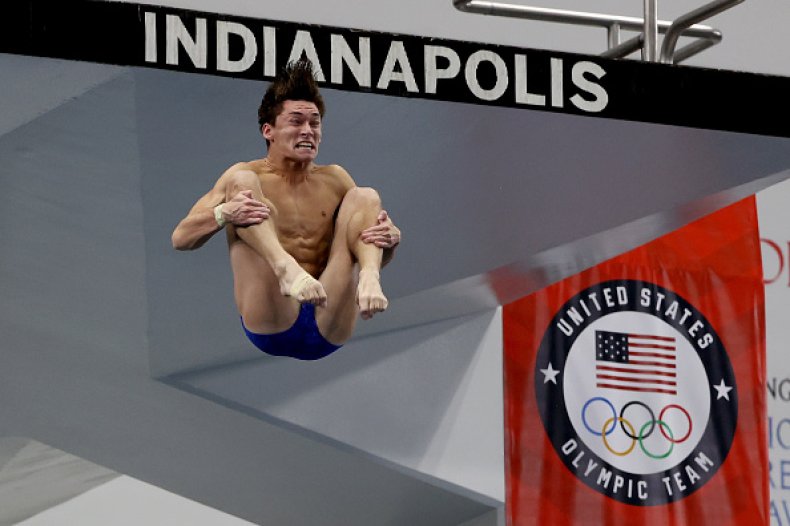 Once the meet ended, the 32-year-old Boudia gave Downs a huge congratulatory hug on the deck outside the pool.
When asked about the encounter, Tyler Downs said he was "at a loss for words now."
Downs made the finals also in the 10-meter platform. It's a double feat that not rare, but it's rarely seen. He said it comes down to coaching.
"A lot of mental training from my coach," Downs said in rather tight, concise responses to the TV interview. With an American flag draped around his shoulders "He's taught me a lot and I'm very thankful for him."
Andrew Capobianco finished second in the 3-meter springboard, making him a double-Tokyo qualifier after qualifying in the 3-meter synchronized diving event with Michael Hixon.
"When I came to IU, Drew kind to model my diving around Michael's a little bit, so when we did come together for synchro the timing was actually pretty good already. The biggest thing was learning how to dive synchro. I never done synchro in the past and coming in with your synchro partner being a silver medalist from the last Olympics was pretty crazy; he took me under his wing, and it's been pretty special."